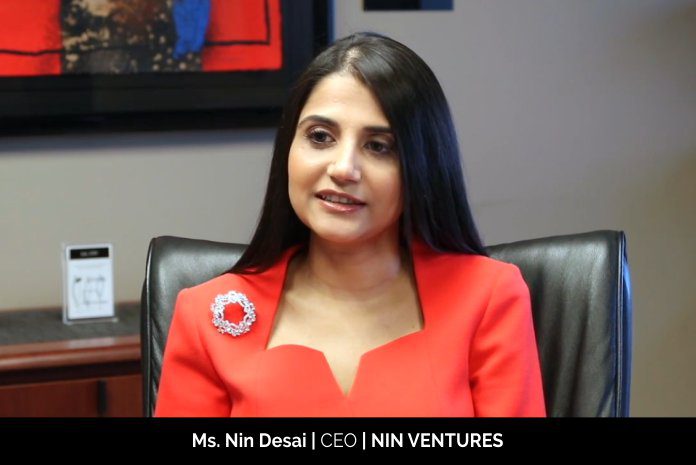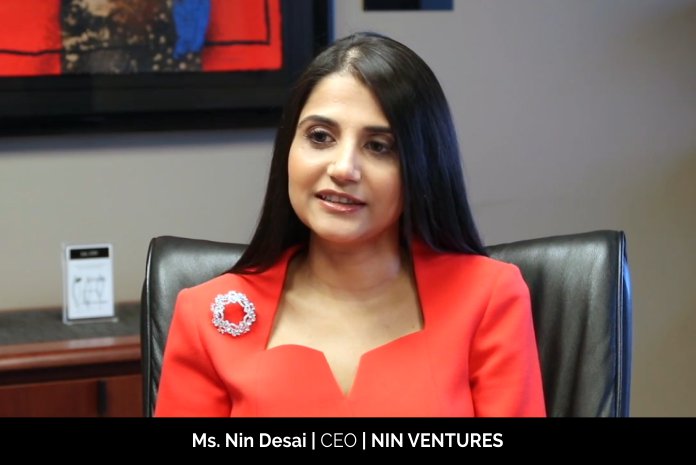 NIN Ventures or NIN.VC is a unique and first of its kind crowdfunded technology venture capital fund for accredited investors who can invest in the NIN Ventures Technology (QP) Fund with a minimum amount of $100,000 using multiple investment options like self-directed IRAs, Defined benefit plan, or a regular checking / savings account. NIN Ventures invests in early / growth stage 3D printing, the 4th industrial revolution, cloud computing, virtual reality, financial services, education software, and other disruptive technology companies.
Ms. Nin Desai is the, President and CEO, at NIN Ventures (or NIN.VC). She is a Microsoft Certified Systems Engineer (MCSE) and is a B.B.A and M.B.A in Finance/International Business from Loyola University of Chicago. She recently attended a leadership program in Private Equity and Venture Capital at Harvard Business School. In this interview, Ms. Desai shares her success story and the achievements of her company with CIO Views giving us some inspiring insights that will motivate every business leader especially women in lead.
As of 2017, 6% of the venture capitalists were women and only 2.7% women owned businesses received venture capital funding. How and why did you decide to pursue a career in venture capital?
I started my professional career at Merrill Lynch with their private client group. At Merrill, we managed portfolios of high net worth individuals. While it was great to trade stocks and bonds, I was always curious about how these companies went public. Thus, after business school I joined Pacific Crest Securities. PCS is a technology focused investment bank, with a global presence focused on software, communications, semiconductors, and Internet & Digital Media. In 2005, IPO's were at the peak and it was amazing to take number of companies public, but that led to another question, how do VCs know what companies to invest in and which ones to take public? Thus, I joined Alpha Capital Partners, a private equity firm based in Chicago, after which is launched NIN Ventures (or NIN.VC).
Necessity is the mother of all inventions, was there a reason to crowd fund your venture fund?
The 2008 Financial Meltdown led to a liquidity crisis for entrepreneurs, companies, LPs, & VCs. Fewer IPOs means no exits for VCs, no returns for LPs, and as a result venture funds were on a decline. No new funds meant less startup funding, low employment, and slow economic growth. Thus, on April 5, 2012 The Jumpstart Our Business Startups Act (the JOBS Act) was introduced which enables crowdfunding for all Americans and that's how NIN Ventures came into existence.
"Not only NIN.VC taps into a new investor pool, we also provides diversification, take a board seat on all our investments and lend the necessary support that an entrepreneur needs to build a business, like they would get at a traditional venture capital fund. And the most IMPORTANT part that investors cares about is the ability to direct invest and enjoy direct returns, which is not the case with a traditional venture capital fund."
VCs always ask entrepreneurs what is different about your company, so what is unique about NIN.VC or how do you differentiate yourself from other VCs?
A typical investor base in a venture fund would be institutions, pension funds, endowments, etc. NIN.VC is a unique and first of its kind crowdfunded technology venture capital fund for accredited investors who can invest in the NIN Ventures Technology (QP) Fund with a minimum amount of $100,000 using multiple investment options like self-directed IRAs, defined benefit plan, or a regular checking / savings account.
*An accredited investor is an individual with an income of more than $200,000 per year, or a joint income of $300,000 in each of the last two years OR has a net worth exceeding $1m either individually or jointly with his or her spouse, excluding the primary residence. For an Entity, any trust, with total assets in excess of $5 million qualifies.
If you could give advice to founders who want to raise venture capital funding, what would it be?
Every VC has a sweet spot when it comes to investing. At NIN Ventures, we like to invest in disruptive technologies. A disruptive technology is an innovation that changes an existing industry and also helps create a new market and value network, displacing an earlier technology or a way of doing business. At NIN.VC we are not afraid of investing in first time industry movers and are also founder friendly. We stand with our Entrepreneur(s) through thick or thin.
If all VCs have a sweet spot, how does one choose the right VC for their start up?
Unlike popular belief all VCs firms are the same. Find a VC that sees value in you and your product. Read the partner bio and the industries they like to invest in. Pick a partner you want to work with over the firm. Generally, VCs tend to take a board seat on their investments and often lend their advice in order to maintain good governance and achieve a successful exit. Thus, pick a VC you share a good rapport with and the one that is willing to back you through thick and thin over the next few years.
Do personal characteristics matter when picking a VC?
Often VCs invest in a company because it is a "hot deal." Avoid those investors and instead go for the one who genuinely believes in you and has a deep conviction in you, your company, your market, and your team. Startup journey is full of ups-and-downs and a VC plays a key role in lending a steady hand during those turbulent times. While it is important that your VC is upfront and direct with you, keep a look out for yellow / red flags for VC partners who are rude, have high egos, and are disrespectful.
What are some of the questions Entrepreneurs should ask VCs?
It is very important for an Entrepreneur to know what some are of the qualities VCs look for in an Entrepreneur or a Company. E.g. At NIN.VC, we start with an Entrepreneur. We invest in an entrepreneur because entrepreneurs build companies and not the other way round. Being an entrepreneur is the hardest job in the world and entrepreneurs face varied challenges when it comes to taking their disruptive technologies to market. The few attributes that we look for in an entrepreneur is the ability to dream big, experience and expertise in their industry, ability to communicate with the team and outside, flexibility to adapt to a fast changing environment, and certain personality traits like being focused, dedicated, disciplined, and working hard to accomplish their goals.
As long as the company has certain ingredients like a good management team, a disruptive technology, a viable product, and a revenue-generating strategy that forms a basic foundation that leads to long-term success. We at NIN.VC like to invest in companies that are going to stand the test of time.
From a technical perspective, it is important for an Entrepreneur to know the life cycle of the fund. Will the fund be able to write them a check or back them during their next funding rounds? How many other board seats the VCs has? Will he or she be able to devote the required time and attention to your firm? etc.
How do VCs add value to a firm? What is NIN.VC's competitive advantage?
The market is flooded with various funding options from Angels to VCs to Crowdfunding portals. Entrepreneurs now have a choice when it comes to picking the right investor for their firm. I come from an Entrepreneurial family so I can speak on their behalf. Entrepreneurs are brave and courageous bunch that are determined to change the way an existing industry functions. On that journey they need lot more than just financing. They need guidance or domain expertise, help with PR/marketing, recruiting, viable exit strategy, more often follow up financing, etc., which Crowdfunding portals are not able to support. If you need someone to add value to your business, NIN.VC or Venture Capital is the way to go. However, on the other extreme, if you are an experienced or serial entrepreneur looking for capital, Crowdfunding is a good alternative as long as they can avoid a messy cap table.
What is the best way to pitch you or NIN.VC?
The best way to pitch us is to submit a business plan on www.nin.vc
Ms. Desai's experience spans all facets of mergers and acquisitions, and corporate finance including public offerings and private placements. Her industry knowledge and experience has driven the company to success which continues to grow rapidly under her proficient guidance.