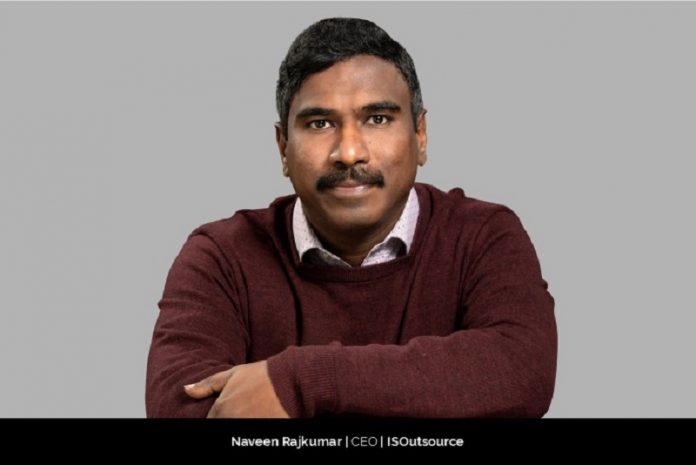 An inspiring leader with more than two decades of experience creating digital transformation solutions helping businesses strengthen the communities around them.
Strengthening communities, one business at a time" has always been a motivating factor for Naveen Rajkumar, CEO and President of ISOutsource. Naveen realized early in his career that technology would become the backbone for almost every business in the 21st century. He made it his mission to help businesses adopt the right technology solutions at the right time to increase the probability of their success. He strongly believes that successful businesses help create jobs and help communities thrive.
A full suite of products and services that manage the entire IT environment for clients.
Led by Naveen, ISOutsource provides end-to-end IT services for small and mid-sized businesses. The company offers a full suite of products and services that manage the entire IT environment for their clients remotely, as well as proactively detect security threats or other vulnerabilities that could impact their businesses. ISOutsource also provides 'Virtual CIO' services which help clients build strategic technology roadmaps and plans at a small fraction of the cost of hiring a full-time CIO. Strategic service offerings also include Governance, Risk, and Compliance (GRC) solutions for CXOs of companies who need such services.
Naveen shares that ISOutsource's services help clients by not having to hire their own technology team which includes carrying the risk of attrition, knowledge retention, technology learning, and adoption. "We are a natural extension of our clients' businesses and carry their risks at a fraction of the cost of hiring their own technology staff".
"Our clients absolutely love us – we have a long-standing average Net Promoter Score of over 70! We believe in our customer care, products, and services so much that we do not hold our clients hostage with a long-term contract. It's true, they can discontinue our service at any time. Even with such flexibility, we have over 600 active clients, most of whom have been with us for over five years!" he says about his clients.
A journey of building groundbreaking software products.
Earlier in his career, Naveen was a software developer for a software services organization and wrote code for an emerging Real Estate marketplace, an eSignature business, and a Family Tree business, among many others. A decade and a half later, all three of the above-mentioned businesses are leaders in their field, have created tens of thousands of jobs worldwide, and have made the world a better place through their products and services.
In the next chapter of his career, Naveen played a key role in providing visibility into the spending patterns of Federal, State, and Local governments for all types of businesses (SMB to enterprise), enabling them to win business deals and revive the economy, one project at a time. By providing visibility on projects, buyers, budgets, spending plans, and historical trends, his company enabled its clients to bid successfully and win government projects that helped them grow.
During the first decade of his career, Naveen worked with a boutique software services firm building software products for some of the largest technology brand names we know today. "I was blessed to have great managers who enabled me to move into roles of building and managing teams of engineers. We tackled very complex problems and solved them with the application of the right technology solutions. This phase in my career gave me opportunities to polish up my financial acumen and transform into a business executive," he recalls.
One of his clients offered Naveen a CIO role which provided him the opportunity to work with a company that traded at the NASDAQ and gave him a seat at the table to work with the board of directors to digitally transform the company. The technology and data strategy work that Naveen and his team accomplished enabled the company to triple its market value – a great outcome for the shareholders.
He spent the next two and a half years as the Chief Business Officer at an IT services firm and helped build a solid foundation for high growth. Naveen's attention to client focus and excellent software delivery helped double the revenues of the mid-sized business in just over two years.
More than two decades of experience as a hands-on software engineer, combined with executive leadership roles in three different high growth companies, helped him take this next step into ISOutsource's CEO role. "We have a great opportunity at ISOutsource to make a positive impact on our community and I look forward to establishing ourselves as a forefront brand of thought leaders and trusted advisors for our clients," says Naveen.
Technological advancements are changing the way businesses work.
"In the past 20 years, we have seen entire industries disrupted by the effective use of technology.", says Naveen. "Uber and Netflix are great examples of companies that used technology to transform their industries. Data and Artificial Intelligence (AI) advancements have allowed companies to analyze hundreds of terabytes of data and get actionable insights at the click of a button. Advancements in the IoT field have enabled systems that help provide early-warning signals before bad things happen. These are just two examples of technology advancements that change the way businesses approach Digital Transformation," he adds.
ISOutsource has developed tools and frameworks that allow for early detection and help the team make proactive resolutions on its client's technology systems before they encounter breakdowns. "We are investing in tools and products that will move our clients forward in their digital transformation journey. These tools will help them protect their systems, improve productivity and collaboration, gain analytical insights from their data, and realize multi-fold ROI from their technology spend."
'To guide companies on their technology plans successfully'
Naveen's vision for ISOutsource is to become the leading technology services provider for all small and mid-sized companies in its markets. He envisions a future where companies proactively seek out ISOutsource for guidance on their technology plans and desire to partner with them as their long-term service provider to help their business successfully grow.
Naveen has been at ISOutsource for less than 2 months (at the time of this interview) and the team has already transformed the way they think about their future. "We have realigned the organization to focus on our clients and on innovation. These changes have put us on track to scale our business effectively to meet the increasing needs of our clients."
"We stay focused on our clients instead of the competition. Our goal is to understand our clients' business and anticipate their technology needs. In doing so, we put ourselves in a great position to offer them high-end technology consulting services that help them develop a roadmap and follow that up with world-class service and support. I have always believed that the key to an organization's success is to anticipate the needs of our target market and come up with solutions and services before they even see the need," shares Naveen.
Together Everyone Achieves More
As CEO and President at ISOutsource, Naveen's responsibilities are to define the strategic direction of the company and ensure that the day-to-day execution is in alignment with the strategy. He has a great team of executives with many years of experience who help him in strategic planning. He has an equal responsibility to three different stakeholders – his clients, his team members, and the shareholders of the company.
While his clients expect him to build a team of trusted advisors who can help them with all their needs, his team members expect him to create an innovative, creative, and fun environment in which to work. "Our leadership team strives to create a work culture that enables our team to learn and grow in their careers and take on leadership positions as we continue to grow. The stakeholders expect me to create 'value' in the business, which is a combination of happy clients, motivated team members, and profitable revenue growth," says Naveen.
Naveen believes his achievements are measured by the impact his work has had on his clients and his team members. He loves building and coaching teams with an intent to create future leaders. Looking back, he sees a lot of engineers he hired right out of universities growing into key positions in leading global brands. Similarly, a lot of clients he worked with have grown from strength to strength. A combination of happy clients and empowered teams has enabled him to be a key player at three companies whose market values doubled, tripled, or quadrupled during his time with them. Naveen attributes a lot of this success to his team who shared the greater vision and were relentless in their execution of the plans.
'Inspiring others to dream more, learn more, do more and become more'
"I tend to surround myself with people smarter than I am. I hire for smarts and a positive attitude," says Naveen. He says smart professionals who have a Growth Mindset tend to act as catalysts in the organization. He openly acknowledges that "I do not have to know the answer to every question when I have smart folks on my team. They hold me accountable and help me with all aspects of the job."
Following John Quincy Adams's famous words, "If your actions inspire others to dream more, learn more, do more and become more, you are a leader," Naveen believes in inspiring others while leading them. He has compiled a set of attributes that he believes make highly effective leaders. According to Naveen, leaders are,
L – Listeners
E – Effective communicators
A – Authentic
D – Decisive
E – Empower people
R – Respect others
S – Set high standards.
Talking about his team, Naveen says, "Our team members are very client-centric. I have heard about many situations where we made the right decision for a client at our own cost. Our team members know that their job requires them to constantly be on the lookout for new tools and technologies and I am proud to see how each one of them steps up and strives to become a better professional every single day."
ISOutsource is well-positioned to grow and expand its client base. The firm has a compelling presence in Western Washington, Eastern Washington, Portland, and Arizona and the immediate focus on the agenda is to expand its clientele in each one of these markets. "Each of these is a growing market as businesses continue to move from places like California to these 'lower-cost' markets. ISOutsource is a great partner to businesses like these as they set up and expand in these regions. Our next focus will be adjacent markets like Utah, Nevada, and Idaho," concludes Naveen.