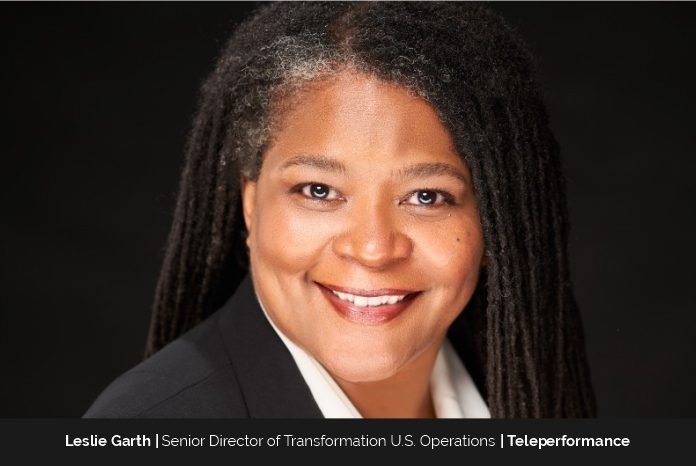 Leslie Garth, Senior Director of Solution Success at Teleperformance, is an accomplished industrial engineer who has held leadership positions at several Fortune 500 firms across a variety of industries. She has 30 years of experience, with her most recent work being in the automotive sector, helping customers and clients. She has Credentials of Readiness (CORe) and Business Analytics certifications from Harvard Business School, as well as Six Sigma Black Belt certifications from Integral Concepts.
Leslie has extensive expertise leading change in the manufacturing, technology, quality, cost-cutting, automation of inspections, and process improvement fields both locally and globally with team members from all over the world.
Prior Life and Work Experiences
Leslie began her career with Shaw Industries, where she was able to put to use all of the industrial engineering abilities she had recently acquired after graduating from The University of Alabama. Industrial engineers at the time ran very effective business from the top down. It was nice to be there as a new I.E. After working for Shaw for four years, Leslie received a call from one of her former dotted line supervisors at Shaw who had been hired by Duracell to establish a new department for cost-cutting. She recalls, "He asked me if I would join his team at Duracell, and I said yes.  At Duracell, I did everything from creating efficient conversion of packaging lines, to shift supervision, to being responsible for battery packaging quality."
Leslie shared that overseeing a global team to develop the new and improved Duracell C & D batteries was one of her favorite tasks. Leslie's team was quite strong because of the assistance of the chemical engineers as a whole. When it was over, she saw that the position had actually been more about fostering her leadership abilities. Finally, Leslie left her job at Duracell to work in the railroad sector for continuous improvement. She was once again transferred wherever there were issues that needed to be resolved and eventually elevated to director. Leslie spent almost 15 years in the railroad industry, and then she joined Teleperformance in 2021.
Joining Teleperformance
In the midst of the pandemic, Leslie started working for Teleperformance. The epidemic was pushing the need for broader application of technological solutions to support remote work across the U.S. and the rest of the world, and the company is at the forefront of the digital customer experience. In order to support other businesses in making the change to high-tech, high-touch digital remote work environments, Teleperformance was already in a good position to do so. Leslie shared that the workplace was dynamic and that she joined the business at the ideal time, despite the pandemic's many negative consequences. Which brings her to another element that she has come to greatly appreciate about Teleperformance: how much they value their employees. The team is truly global. She says, "It feels like you're working in a global environment with a broad and creative team that values diversity of thought. It makes it fun to come to work every day."  She further adds, "When you join a company that includes value statements around empathy and humility, and being approachable and helpful, it becomes immediately clear that you're going to be valued as a human-being, and that you're going to be supported in valuing others."  Leslie feels that Teleperformance's commitment to providing the best possible work environment for their employees is real and tangible, and it's reflected in Teleperformance being named a "2022 Certified Great Place to Work" in 64 countries, including the U.S.
Teleperformance
Teleperformance is a leading provider of the most digitally advanced customer experience management in the industry. To achieve business results for clients, it blends the best people with smart technologies. Through its extensive global reach, experience in providing services, and competence in solution design, the team assists businesses in resolving their operational issues. The business creates personalized business blueprints that support the transformation of customer journey management, operational optimization, and result maximization for the world's top brands. Leslie collaborates with a group of creative directors and their teams, and in 2023 the business will concentrate on making its digital technology services available to businesses all over the United States. All of the six-sigma blackbelts at Teleperformance have experience in operating and process improvement. She says, "One of my favorite things about Teleperformance is that they gave me a six-sigma test before hiring me. I was impressed that they tested the skills of prospective employees before hiring them. So, I know that I have a team that is highly competent and skilled." 
Leslie's responsibility is to serve as the team's leader by creating plans that will successfully carry out Teleperformance's objectives. Her duties have recently been modified to include overseeing U.S. strategy. Senior Director of Solutions Success, which is her new title, includes formulating strategy to produce effective digital solutions for the company's entire U.S. clientele. Currently, Leslie's typical day in her new position includes evaluating data regarding Teleperformance's prior performance and sharing thoughts with the director team as they develop a plan for 2023. The plan is always changing. She shares, "We set milestones together, and I try to meet weekly with the team to review our progress and establish any changes in direction.  I'm also in constant communication with coworkers in sales or technology roles about what they'd like to build for 2023, and how we can better service customers."
Facing Challenges with the View to Learn New
Leslie considers that challenges make people stronger. Every time she encounters a hurdle, she imagines that she is composing a procedure manual on how to handle that specific problem. She transforms herself into a student of the test. She developed the habit a long time ago, and it has been beneficial for her. Leslie makes an effort to keep in mind that she has a choice for her initial action. She gets to decide if it's manageable or not.
Being a new and unknown face in an organization or handling change have been some of the toughest challenges Leslie has encountered throughout her career. The key to success in these two areas is trust. She has learned that if she can build trust, she can become accepted in an organization and lead and manage through change. She says, "The way to build trust is by building respect, both from the results that you get and the respect you show for others. As you overcome challenges, you store them, like fortifying the roots of a tree. Then that wisdom is there to call upon when you face your next challenge."
Advancing with a Changing Tech Environment
"Technology and innovation are where we live and breathe at Teleperformance," says Leslie. So, service providers have to constantly be scanning the landscape to see how companies are supporting, retaining, and even delighting their customers. Companies have to constantly ask themselves how they can deliver better and more efficiently. So, Leslie's view of the changing landscape is to not waste one iota of talent or creativity. She says, "You never know from where a wonderful, new idea will come."
Leslie claims that Teleperformance solicits feedback from every worker within the company. It gathers these suggestions and motivates each employee to contribute to a culture of constant improvement for the benefit of the business and its clients. The increasing number of alliances it has formed with other technology suppliers is another aspect of the landscape that is evolving. The ideal solution might occasionally be created by combining many different technologies.
A Disciplined way of Keeping Balance
Leslie's work/life balance depends on maintaining her relationships with her family, her network of other working women, and her physical and mental well-being. She has been steadily and organically developing a beautiful network of women both inside Teleperformance, which she hopes will continue to expand, and outside of Teleperformance. Her family also helps to keep her grounded. She also enjoys the sisterhood she has as a member of Sigma Gamma Rho Sorority, Inc, which just celebrated their centennial year in 2022.
Leslie seeks to maintain relationships with her vast family, which is dispersed primarily around the southern United States. She also takes good care of herself and enjoys spending her leisure time practicing tennis and maintaining her physical fitness.
As far as keeping the team motivated, in addition to weekly meetings, Leslie uses every communication tool available, including email, video chat, and instant messaging.  She tries to check in with them via instant messaging, and she tries not to always make it about work.  She asserts, "Building a personal connection helps to create a comfortable, familiar space, so redirecting the conversation to work issues hopefully doesn't feel quite so demanding.  Weekly meetings are for focusing on the vision."  She goes on to say that the other communications are for catching up not only on work but also on other aspects of life.
Achievements and Recognitions
Leslie's proudest achievement was when she left the railroad industry and people from her network, including customers, peers, and former team members, wrote recommendations on LinkedIn to support her and described how she had been an expert in the industry and a person they trusted to get results. For Leslie, that was her proudest achievement because that had been her goal in the almost 15 years that she worked in that industry. Leslie wanted to be known as the best at what she does in the industry, and their words of support confirmed that she had accomplished that.
View towards Success
Success for Leslie is a tapestry of things that starts with being paid to do work that she enjoys and working with a team that she enjoys. Leslie shares that sense of joy allows her to bring passion to her work. She also needs to do work that has value and supports improvement, whether that is improving the lives of others or creating success for her customers or the company, or all three. She likes to have clear, measurable goals, and the goals can be challenging, but must not be impossible. She adds, "Success also includes being rewarded with tangible benefits such as pay, promotions, job titles, and other benefits that value my personal time to take care of my own well-being because these allow me to pursue a life that I enjoy."
Note for Other Leaders
Leslie's message to aspiring leaders is to remember that the only thing they can truly control is themselves. She says, "So focus on how you can become the best version of yourself, both personally and professionally, and focus on becoming an expert in your industry, even as you look for ways to contribute.  Remember that everyone is important." She also believes that "everyone you interact with is contributing to your professional story, so make sure that your words and behavior are aligned with who you want to be and what story you want to tell."
Planning to Bring Transformation
Leslie's expertise is in understanding how to bring data, people, and technology together to build sustainable solutions for the company's clients. It takes vision, strategic thinking, determination, and patience.
Leslie's plans for Teleperformance are to become the preferred provider of digital and technological customer support functions for companies across the U.S. Leslie is actually in the process of redefining success for 2023 and beyond. The goal is to support Teleperformance's customers' needs using digital technology in ways that might not have occurred to them.