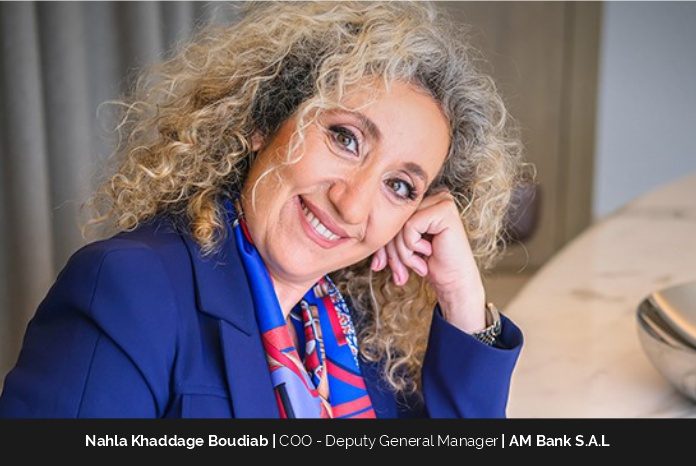 As an expert in Managing Change, Transforming Culture, and driving effective Strategy Formation, Dr. Nahla Bou-Diab has been internationally recognized as a credible leader. Throughout her career, she has successfully affected change in every institution she worked with and most recently the banking sector in Lebanon.
Throughout a journey spanning over decades, Dr. Nahla has taken upon herself to activate human potential by nurturing people's inner strength using proven approaches such as fostering a sense of belonging and positive reinforcement. Following more than 20 years of serving as AM Bank's Deputy General Manager and Chief Operations Officer, Dr. Nahla Khaddage Bou Diab has been appointed as Chief Executive Officer. Dr. Bou Diab has shown immense dedication to transforming the structure and operation of the bank; resulting in quantifiable profit and efficiency, as well as international recognition of our standards of operation.
In addition to her dedication to her career as a leader, Dr. Nahla recently launched her first book in the US and the world, telling her extraordinary story as a young girl who left her home country, faced unsurmountable odds, and turned hardship into personal growth.
By telling her own painful and extraordinary story, Dr. Bou Diab proves that overcoming obstacles and adversity then emerging successful and stronger are feasible. In her book Untamable, she shares with her readers the mindset and practices that enabled her to take control over her life and empower her to transcend the personal and professional struggles she faced throughout her life, from assimilating to new countries to navigating low family expectations for girls to managing workplace harassment.
Dr. Nahla Khaddage Bou Diab's insightful book demonstrates how to thrive, meet life's challenges head-on with confidence – providing a pathway to understanding how to manifest our dreams and live an authentic life.
Dr. Bou Diab's second book, scheduled to be launched in the first half of 2022, invites leaders of organizations to shift their leadership and activate the power of both men and women in their organizations. Nahla's second upcoming book is based on her Doctorate research.  She shares the proven methodology that she implemented in different parts of the world to evolve the culture of organizations and optimize their performance.
– Ends –
Nahla Khaddage Bou Diab is as an expert in managing change, transforming culture, driving effective strategy formation, talent acquisition and retention, and process design. She has been recognized as a credible leader, earning 7 awards for leadership excellence since 2015. She has earned her Doctorate Degree from University of Liverpool, for her research on 'Spirituality in the Organization'. She is the Head of Women Empowerment for the World Union of Arab Bankers, and in that capacity, broke new grounds by launching the first charter for Gender Diversity in the Arab World.