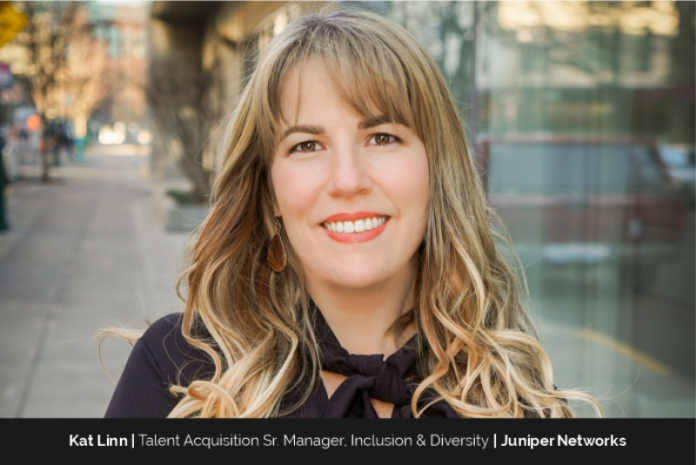 "We may encounter many defeats, but we must not be defeated." The famous words written by Maya Angelou seem to be apt for Kat Linn, the Talent Acquisition Senior Manager for Inclusion and Diversity at Juniper Networks. She is a powerhouse who radiates potency and strength. Her 'never give up' attitude makes her a natural leader in diversity, equity, and inclusion. With positive energy and enthusiasm for her work, Kat's ambition and dedication have ensured she stands out.
As the Talent Acquisition Senior Manager for Inclusion and Diversity, Kat has a unique perspective on the ever-evolving DE&I field. In this exclusive interview, she shares her insights on the shifting DE&I landscapes, the unique pressures and opportunities presented to DE&I professionals and her thoughts on the future.
Kat uses the word "determined" frequently to describe herself. Her passion and commitment have earned her the prestigious position among "The Most Influential Woman in Diversity and Inclusion 2023". She is a shining example of what can be achieved with sheer determination and a commitment to making a difference.
When asked about her opinion on success, Kat shares that success is a highly personal and ever-changing concept. According to her, we often rely on societal standards to determine success, but Kat believes we should disregard those notions. She emphasizes that everyone can achieve success, whether it's as simple as completing the day, showing compassion to others, practicing self-care, scoring a good grade, getting enough rest and hydration, receiving positive feedback from a team leader, or creating positive change by dismantling discriminatory policies and processes.
Kat explains that she views success as small daily achievements and wins, and if someone faces challenges or obstacles, they can always try again and strive to do better tomorrow. She encourages people not to forget to care for themselves and rest but to keep pushing forward, as success is attainable.
Kat demonstrates that her perspective on success evolved after observing individuals she once believed were successful but not genuinely content with their lives. She observed that some of these people demonstrated questionable morals and made unethical decisions for their gain. It led her to reconsider her definition of success, which now includes prioritizing others, giving more than taking, and working to uplift others whenever possible.
Kat's Journey to D&I Leadership: Embracing Micro-Decisions and the Call to Action
Kat's journey toward DE&I leadership was not a straight path but a series of small decisions that ultimately led her to where she is today. Her story highlights the importance of taking action and making intentional choices to create positive workplace change.
Kat shares that her decision to pursue a leadership role in Diversity, Equity, and Inclusion (DE&I) was not a single, conscious choice. Instead, a series of "micro-decisions" led her down this path. She explains that these decisions involved seeking opportunities to work with inspiring leaders and allies who shared her values, passion, and grit for making workplaces more equitable.
Kat's journey toward DE&I leadership began when she recognized the inequities in hiring practices during her early career. As a result, she started seeking out Talent through affinity groups and social clubs, participating in summer camps that introduced girls to the world of STEM, educating herself and others about anti-racism work and unconscious biases, and taking action to make processes and systems more inclusive and accessible. These actions gradually led her to a place where she could significantly impact promoting organizational change.
For Kat, the momentum and progress she witnessed due to her efforts became too strong to ignore. She knew she wanted to continue contributing and making a difference in the DE&I space. She shares, "I ultimately could not deny the pull that placed me amongst this inspiring group of humans." Thus, she took on a leadership role in DE&I, where she continues to work towards building more equitable workplaces.
Kat Linn Leads Juniper Networks to Embrace Diversity, Equity, and Inclusion
According to Kat, the Talent Acquisition Senior Manager for Inclusion and Diversity, the company's success is rooted in its "Juniper Way " culture, which is based on three values: Be Bold, Build Trust, and Deliver excellence. Kat, who joined the team in December 2022, is impressed with the palpable culture at Juniper and is excited to be a part of a company obsessed with exceptional quality and always looking for ways to improve.
Kat is passionate about infusing diversity, equity, and inclusion into each of Juniper's values. "We pursue simplicity. We challenge the status quo, including challenging ourselves. We embrace diverse ideas and the change they bring. That's what being bold is all about," Kat says. "We're obsessed with exceptional quality. Even when we've achieved it, we always look for ways to improve. And when we haven't, we fix the problem quickly."
Kat is working with her team to create a more inclusive environment at Juniper. "Our partnership with the I&D team and executive leadership is going to ensure progress continues," she says. "We're being forthright and transparent about our Inclusion & Diversity efforts by reporting what is working, what is not, and who is accountable. Rinse, repeat, and keep getting better."
Under Kat's leadership, Juniper is taking bold steps to audit its recruiting and selection practices with an inclusive lens and creating a clear action plan to improve them. The company is building trust with its customers, candidates, and internal teams by doing the right thing for equity and inclusion. With a collaborative and eager team, Juniper is on its way to becoming an even more diverse, equitable, and inclusive workplace.
Vision for Inclusive Hiring and Redefining the Industry
Kat shares her innovative ideas for driving diversity and inclusion in the technology industry. As a talent acquisition professional, she believes all selection and hiring processes must be updated to mitigate bias and standardize evaluation criteria for all candidates.
Kat recognizes that her position in DEI comes with privilege and systemic issues that impact people of color disproportionately. She acknowledges that many other leaders and mentors in her network have been in this work long before she entered the workforce. However, Kat's unique contribution is her ability to leverage her experience and education in both talent acquisition and DEI to create a more inclusive hiring process.
According to Kat, the key to solving the imbalance in hiring specific ethnicities is to design for groups that experience multiple marginalizations. This intersectional approach acknowledges how protected identities "intersect" to create unique dynamics and compound the effects of numerous systems of oppression. By designing for the most marginalized, initiatives benefit the whole group, including those not historically excluded.
Kat's vision for inclusive hiring has the potential to redefine the industry by building more balanced teams that reflect the diversity of the communities they serve. She believes that the technology industry can make the most impact by designing for the margins and intentionally solving the imbalance we have across our teams. Through her leadership, Kat hopes to inspire other leaders and TA professionals to think differently about their hiring processes and create a more equitable future for all.
In Kat's words, "It is being intentional about solving this imbalance across our teams. And we have a massive imbalance when it comes to hiring specific ethnicities that have been historically excluded."
The Transforming Landscape of D&I in the Workplace
According to Kat, a DEI expert and Talent Acquisition professional, businesses are transforming their outlook on DE&I, and it's changing for the better. In the past, Diversity programs prioritized gender, but these efforts did not benefit women of color. Kat believes that the conversation has now shifted to equity, true equity, and anti-racism. She says that organizations are actively evaluating the total compensation of their workforce by breaking it out by race and gender and making necessary corrections. Employee Resource Group leaders are paid for their work, Allyship Coalitions are becoming more common in workplaces, and conversations and needed changes are happening around accessibility.
Kat believes that this effort will have a significant impact. She explains her enthusiasm for the eventual results of her attempt to bring about a change: "I am eager to witness the rewards of this labor reflected in who is seated at the table and whose voices are being listened to." This shift in perspective is crucial to guaranteeing a more diverse and inclusive workplace in which everyone is treated fairly.
Building Talent Pipelines for Equity – The Evolution of Kat Linn's DEI Career
Kat has a unique backstory. She shares how her unconventional journey led her to where she is today, promoting workplace diversity, equity, and inclusion (DEI).
Kat reveals that after high school, she didn't go straight to a four-year university like most of her peers. Instead, she worked in food service before finding a job as a barista at Starbucks. "I loved going to work where I was able to interact with people from all walks of life in various cities (and free coffee!), and I worked my way up into various management positions," she says.
Later, when she felt ready to pursue formal education, she worked 35 hours a week while studying for her Bachelor's degree in Business. After graduation, she started her career in Human Resources, which eventually led her to Seattle, where she pivoted her job to focus more on Talent Acquisition.
Kat says that her early recruiting days were an eye-opening experience for her. "We treated our candidates like they were our customers, and that mindset enabled me to think about the candidate's hiring experience more than filling roles," she recalls.
As a recruiter, Kat discovered her passion for working with underserved communities and creating talent pipelines for them. Her focus on hiring for equity started here and evolved throughout her career, eventually leading her to become a DEI advocate.
Kat's passion for community and belonging spaces also grew, and she was able to launch and lead resource groups for LGBTQIA+, Women's Leadership, and Caregivers. However, when she joined a dedicated DEI team, her career in this area picked up the most momentum.
The inspiring quote by Alice Walker that says, "the most common way people give up their power is by thinking they don't have any," has influenced Kat in many of her professional decisions. Being part of a team that prioritized this work enabled her to deepen her understanding of the systems that either delay or advance progress. Today, Kat continues to champion DEI initiatives at Juniper Networks, and her journey serves as an inspiration to those who are still searching for their paths.
The Vital Role of Trust in Mentorship: Kat Linn's Journey as a Leader and Ally
Kat Linn's success as a leader ally can be attributed to her ability to build trust with others and create spaces where mutual growth is possible. She reflects, "I think it has been when I've been asked to be in spaces where I am an ally or when I've been asked to connect regularly as a mentor. Earning the trust of others and keeping it is very important as a leader and ally. In these relationships, there are also so many mutual benefits."
As a mentor, Kat understands the importance of having a growth mindset and being open to new ideas. She believes that leading efforts seen as unique or radical requires a willingness to learn and adapt. Throughout her journey, she has discovered the power of trust in mentorship and its impact on personal and professional growth.
Overcoming Challenges and Building Community as a Leader
In the face of difficulty, Kat Linn holds fast to the thought-provoking advice of Angela Davis, who once said, "We should seek out all the doors which still remain ajar. However, slight the opening might be."
When asked about the challenges she's faced as a woman in leadership, Kat replies, "Yes, it has been difficult. I've been knocked down, overlooked, interrupted, and seen as not the obvious promotion choice many times, and I can tell you that it will likely happen again." Despite these obstacles, she believes that building a solid community and fostering allyship is critical to creating a sense of psychological safety and support. "When you can let your guard down enough to be open to others, lift each other up, and not be in competition, you end up doing things together that you would not have imagined possible," she says. Linn hopes to influence the next generation by creating spaces where individuals can come together to support and learn from each other, creating a network of mutual growth and success.
The Daily Life of Juniper Network's Talent Acquisition Senior Manager for Inclusion & Diversity
Kat Linn shares her regular workday as a new team member, which still includes some onboarding activities to learn more about the company and its unique situations and opportunities related to inclusion and diversity.
Working remotely, Kat values spending her early morning hours with her two young children, one of whom has Type 1 diabetes. "Being close to my two-and-a-half-year-old Type 1 baby is something that I am incredibly grateful for and contributes immensely to my peace of mind about his well-being," she said. Her work-from-home setup also lets her enjoy lunch breaks with her children and has shortened her commute to 20 steps away from her living space.
Kat attends several 1:1 video meetings with Talent Acquisition and Inclusion & Diversity team members throughout the day. She is also part of project teams that meet weekly and bi-monthly to focus on creating strategy and supporting inclusive spaces and balanced teams. "Our balanced team's strategy is very intentional," she explains. "We see several levers we can pull to create intentional pipelines of balanced and equitable talent." These levers include partnering with external organizations that support Juniper's brand awareness, engaging with their network and community for hiring opportunities, and showcasing the company as an employer that genuinely cares about creating more balanced teams.
As Kat and her team continue to work with their partners and evaluate their successes, they look forward to evolving their strategies and gaining momentum in their progress.
Maintaining Balance and Motivation in the World of DEI with Kat Linn
According to DEI practitioner Kat Linn, achieving a work-life balance is crucial for maintaining longevity in the field. "There are several factors causing burnout among my fellow DEI practitioners," Kat explains. "To maintain balance for myself, I've built a network of trusted allies, co-conspirators and friends to lean on, to share joy and pain with." Kat also emphasizes the importance of taking care of oneself to show up for others at work and home.
Kat believes in sharing metrics and results to keep motivated, constantly evolving plans and increasing goals based on what's working and what's not. "We must imagine what can be instead of focusing what the blockers are," she says. By focusing on progress and growth, Kat and her team stay motivated to deliver the best services and make a difference in the world of DEI.
Juniper Networks' Future Plans for D&I: A Vision of Empathy and Acceleration
The Senior Manager of Talent Acquisition, Inclusion, and Diversity, Kat Linn, at Juniper Networks, believes that the company's commitment to diversity and inclusion is a top priority. The company aims to lead with vision, empathy, and understanding across its workforce and is constantly reviewing its processes and practices to make bold changes and investments.
When asked about Juniper's plans from a D&I perspective, Kat shares that the company is building off the momentum it has gained by prioritizing D&I and is accelerating in areas with opportunities. Kat emphasizes that the company's continued focus will be on balancing its teams intentionally with a focus on underrepresented groups and growing and retaining this talent to ensure that Juniper can continue to thrive. She states, "We are committed to creating an environment where Junivators can be comfortable showing up as their whole selves, and their unique perspective and experiences are valued and leveraged."
Kat Linn's Advice for Aspiring Businesswomen Leaders
Kat Linn, a successful businesswoman and DEI practitioner, shares her personal goals and message for aspiring businesswoman leaders. She recalls the wise words by Michelle MiJung Kim to inspire future leaders that read: "Don't confuse someone's chronic cynicism with intellectual superiority. Or write off someone's hopefulness as naïveté. It is far more difficult to practice hope than it is to give in to cynicism. Believing in something better is possible is what seeds change every single time."
Kat emphasizes the importance of positively impacting the spaces one occupies, being an ally, and seeing progress in organizations' workforce diversity and representation.
In her journey, Kat has relied on building a network of mentors, peers, and leaders to learn from and push herself outside her comfort zone. She also stressed the importance of prioritizing one's needs and filling their cup daily to achieve balance.
Kat also had a specific message for aspiring businesswomen leaders: "Be true to yourself and your beliefs. Learn from your mentors, peers, and leaders regularly; if you don't have a mentor, get one. Get outside of your comfort zone regularly and keep pushing yourself to get 1% better each day. Prioritize your needs and remember to fill your cup daily. Build trust. Be bold. Deliver excellence."
She also hopes that successful DEI practices will become common knowledge for all organizations and should not be monetized. Instead, successful progress in DEIB practices should be celebrated and shared with others like open-source code.