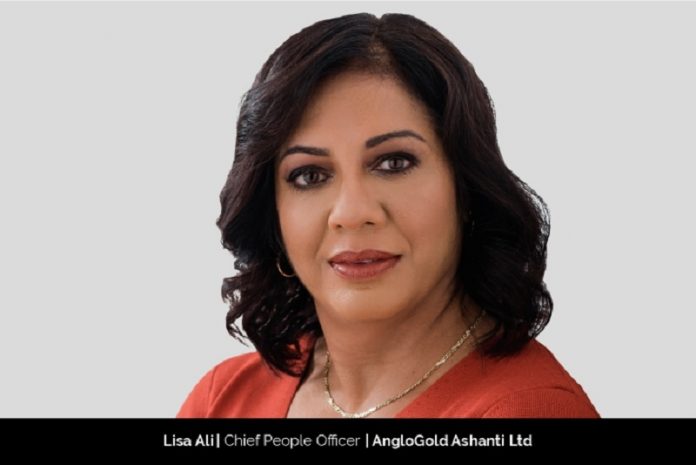 Success for Lisa Ali, Chief People Officer at global gold producer AngloGold Ashanti Ltd, is not defined by her personal achievements. Instead, success for her comes when the objectives of her organization and the objectives of its people are aligned, and when all employees have the opportunity to develop to their fullest potential.
Ali's track record of driving transformation in businesses with diverse cultures is perfectly matched to the improvement journey AngloGold Ashanti has embarked upon under its new CEO Alberto Calderon.
Since Calderon was appointed in September 2021, he has refreshed the company's executive team, introduced a new operating model, and focused on improving the performance of the company's assets.
Importantly, as part of its longer-term strategy to close the value gap with its peers, the company has consolidated a significant landholding around its Silicon gold discovery in Nevada where it plans to develop its next Tier One gold mine.
AngloGold is the fourth largest gold producer in the world with nine operations across Africa, Australia, and South America. It is headquartered in South Africa, has a corporate office in the United States in Denver, and is listed on the New York, Johannesburg, and Australian Securities Exchanges.
VALUES-DRIVEN CULTURE
Ali joined the AngloGold leadership team in April 2022, drawn by the potential of the organization's values-driven culture and its diversity.
"This organization is going through significant growth, and that provides us with an opportunity to attract and nurture the best and brightest talent," she says.
"We have a global footprint, and we have a culture where people are valued for their skills, capability, and expertise – and for their perspectives. We recognize that our people are diverse, coming from backgrounds that are quite different.
"The diverse thinking, they bring will be the strength of our organization and we are building that into the way we do business."
This philosophy has already resulted in the appointment of women into a number of senior roles, including Sung-Joo Lee as SVP Global Projects, Olga Borodina as SVP Group Supply Chain and most recently, Gillian Doran, as Chief Financial Officer.
This year, under Ali, AngloGold Ashanti's People team launched a Sexual Harassment Awareness campaign across the global business. Led by the company's executives, this campaign combines education and training and is supported by a "Speak-up Line" to enable anonymous reporting of incidents and a "Careline" which goes beyond a standard Employee Assistance Program service to provide specialized advice and care if necessary.
In 2023 Ali and her team will be working with leaders on behaviors that support the company's newly refreshed values, developed following a company-wide culture survey.
"We will be defining values, working through what these behaviors look like and helping all of them realize the best version of themselves. We're creating a respectful workplace where performance is respected and people day-to-day are respected.
"It comes back to the culture … it is one thing to shape future strategy and another to shape future culture."
Ali has been shaping culture since she completed her Bachelor of Science degree in Chemistry (Honors) and started work in the petrochemical industry in Trinidad. By the time she was 25 she became a manager in charge of technical services and production in a world scale manufacturing facility, leading a team of men, all of whom were older than her.
"It was an industry dominated by middle aged men and it was very easy for them not to pay attention," she recalls.
It was in this environment that she learned to face and overcome challenges.
"I couldn't walk in and take a 'command and control' approach … I valued the expertise of these men and engaged with them on how we could do things differently, making them part of the solution."
MOVING INTO STRATEGIC HR
The workforce in the business was non-unionized and Ali's ability to listen to views and make representations to management on behalf of the workers was noticed, along with the fact that she was in the process of completing an MBA.
"The executive team came and said, 'you have the ears and voice of the people on the shop floor, and you also have expertise in future thinking in the people space, so why don't you set up our strategic HR department?' So, I did.
"I was learning by night and implementing by day, and I was able to apply best practice from the start, with the best talent. It was a successful and progressive organization which became an employer of choice in the energy industry at the time."
Ali's career progressed rapidly, and as she dealt with strategic people issues, her technical portfolio also expanded to include risk management, quality assurance, M&A, and new project management in what was by then Trinidad's biggest methanol producer, with five petrochemical operations.
This strong commercial acumen combined with progressive HR thinking led to an offer from BP Trinidad and Tobago (BPTT) to restructure the company's HR function and position it as a business partner to deliver BPTT's growth strategy.
Because of Ali's experience in M&A she played a key role in the multinational's acquisition of significant exploration assets in Brazil and then led a program of culture change to position the organization for growth.
It was in Brazil that her ability to deal with challenges again came to the fore.
"If on the surface something looks difficult, I ask myself what in this situation am I here to learn? This allows me to take a step back and look at my role.
"Maybe I don't have the skills I need. If so, what is the gap and, what do I need to do to close that gap?"
In her new Brazilian role Ali was faced with running an HR organization that had minimal English language skills while she was unable to speak a word of Portuguese.
Her response was to immerse herself in intense Portuguese lessons in the office for six months, spending the whole time sitting alongside her team so she could absorb their discussion.
"You must accept that there are things you don't know and that you must learn from others. With that comes a certain amount of vulnerability.
"We have to be vulnerable enough to say 'I don't know what those things are' to learn.
"It comes back to success … listening and understanding and recognizing that others have ideas … you need to listen to move forward."
After Brazil BP moved Ali to the UK where she held the roles of VP HR Global Operations, Head of Upstream Talent and Learning and VP HR BP International. After a period as Head of Transformation Trinidad Petroleum Holdings Ltd and Interim CEO Paria Fuel & Trading Company, Ali was Chief People and Sustainability Officer with Australian gold miner Newcrest Mining Ltd, before joining AngloGold Ashanti.
DEVELOPING HUMAN CAPITAL
Ali is passionate working through AngloGold Ashanti to help developing nations grow their people in a sustainable way, in partnership with governments, so that the company and the country are left better off.
She believes respect for the people and the cultures of the countries where a company is operating is vital for the success of an HR leader, along with an understanding of the business and the industry that business is operating in.
"Those commercial skills are extremely important – understanding the drivers of delivery, the macro-economics and the forces that are outside our control that we have to manage.
"Investing in people is a long-term investment so you have to be able to build that business case."
HR leaders are facing a range of headwinds now, including attracting talent in a highly competitive market as a key challenge.
Ali says coming out of the pandemic people are exercising choices about what they want of an employer, and their experience of work.
People want to work for an organization that has a strong sense of social purpose, is progressive and gives them flexibility for their future growth.
"They want to be with an organization that sees them, values them, and respects their differences.
"People often underestimate the role of values and culture – they are what motivate you and keep you happy."
Ali draws inspiration from her family and her mother, a strong willed and independent woman who has been a role model, climbing barriers and crossing boundaries. Her parents came from different religious backgrounds, and brought their children up in both worlds, giving them choice.
It is an approach Ali has taken into her professional life, valuing people's customs and culture to develop what she describes as "cultural fluency", a skill valuable for any HR leader.
In the short time she has been with AngloGold Ashanti, Ali has already started to have an impact. She says success in her role will come from making a difference in terms of shaping the future of the organization and ensuring people and talent can be developed to realize their full potential.
"What drives me? Seeing an organization delivering on its strategy but also seeing people progress in the organization and feeling happy and energized as they do it."