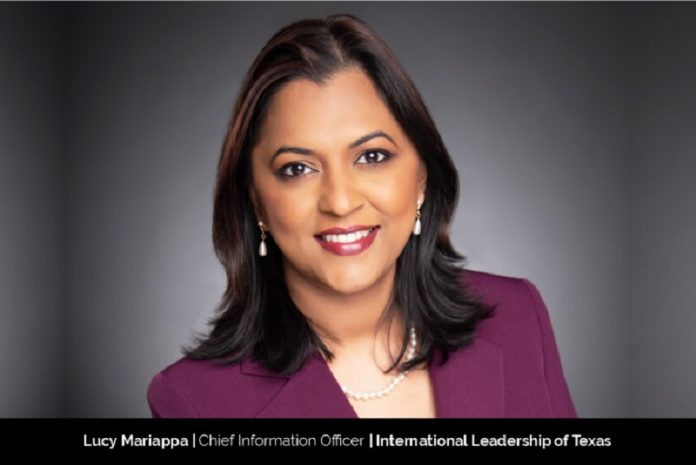 Lucy Mariappa is an Award-winning Chief Information Officer (CIO), recognized and celebrated for her Transformational Leadership, Innovation and adding business value.  Lucy is a CIO at International Leadership of Texas (ILTexas), a free public charter school system serving more than 21,000 K-12 students at 20 campuses across the state of Texas. Lucy is helping in the transformation of Technology and Education sectors through Innovation, Passion and Courageous Leadership. She is a certified CIO from the CIO Institute, a global Technology Leader and also a Speaker at various technology conferences and events.  Lucy is recognized as "10 Best CIOs of 2021" by Industry Era Magazine. She also won the distinguished global award "Top 100 Leaders in Education", by Global Forum for Education and Learning, for her contribution to the field of Education. Recently International Leadership of Texas, with its CIO Lucy Mariappa, won the "2021 US CIO 100 Award". The esteemed US CIO 100 awards recognizes 100 organizations for their achievements in Technology Innovation and Leadership. Lucy is a transformational CIO and an innovator driven to find the right solutions to the most complex business challenges, even during a crisis.
Previously to International Leadership of Texas (ILTexas), Lucy worked at top technology companies leading their world-class global product development for 32 countries. She then consulted at fortune 500 companies driving their business ahead and subsequently served at a large education organization. She worked at industry-leading organizations including SAP and Oracle.
Lucy has a complete 360-degree view and experience in IT products and solutions – from leading the global product development at top technology companies to implementing it as a Consultant for fortune 500 companies, to now using it as a Customer. She also worked in various industries in both the private and public sectors. She worked her way up from an IT developer to a CIO. Having this experience throughout the breadth & depth of Technology helps her in addressing the business needs effectively and quickly.
Pandemic and Leadership
Lucy says "The pandemic forced leaders to make decisions that they could live with and display courageous leadership through crisis. The only way was – moving forward and to do what is right. The pandemic also tested leaders' 'why', their 'integrity' and their 'resilience' in their personal, professional and organizational existence. It also taught the lessons of a lifetime in that short period – the importance of being prepared and to be resilient. Technologically, it brought to light the strengths of leaders and also exposed their weakness. The pandemic made Technology front and center of the organization, if it was not already. It accelerated digital transformation like never before. This brought another challenge to technology leaders – not just to provide technology solutions to drive business ahead, but to do it overnight and with acceleration, while still facing all other elements of the crisis. This truly tested the fabric of technology leaders and how they are made, to handle all of these at the same time".
She adds "Those that got through successfully have some real stories to share, of both successes and failures. How do leaders lead through these kinds of situations when they have not seen a sudden crisis this large in the technology world and there is no playbook to handle it?"
First Day of National Shutdown and Commitment
Lucy joined ILTexas as Chief Information Officer (CIO) on March 16, 2020, the first day of the national shutdown. When COVID-19 shut down the nation and schools, ILTexas committed to transitioning to virtual school (VS) within five days. This commitment was set by Founder and Superintendent Eddie Conger, who gathered his cabinet and made it clear that not educating students was not an option.
So, on her first day, Lucy was charged with leading Technology initiatives to pivot to virtual/remote school, which included – getting devices to every student, providing teachers with technology and training needed to launch classrooms, ensure security and support, all in just five days. On the sixth day, on March 23, 2020, more than 19,500 students and 2250 staff members logged into their new, virtual classrooms, in full uniform, ready to learn. Under Lucy's direction, the Technology division rolled out innovative solutions every week to make virtual schools successful and to lead the digital transformation initiatives to drive the organization ahead.
Lucy credits her awesome Technology division team's extraordinary efforts, a very supportive Senior Leadership Team, and Superintendent, Eddie Conger, for these successes. She is grateful to the teachers, campus leadership, and staff members of various divisions whose collaboration and teamwork was key in executing these initiatives. In a nutshell, she says "It was truly teamwork makes the dream work. I feel very fortunate to have the honor to serve and support this dream team."
The commitment to ensuring that students continued growth led to an 8 percent growth in student enrollment without opening any new campuses and despite the pandemic challenges. ILTexas was also able to maintain a 95 percent attendance rate. The success of virtual school also helped ILTexas to open ILTexas RCI (Remote Classroom Instruction) to students in the entire state of Texas, even where they did not have physical campus locations, hence helping to penetrate new markets. In the next 2 years, ILTexas is planning to open 5 more campuses.
Proud Moment as a Leader
The ILTexas pandemic response and innovative solutions rolled out by the Technology division under Lucy's leadership have received national attention and has been featured on several national media publications. Education Secretary Betsy Devos first recognized ILTexas' efforts in April of 2020 at a White House briefing, and again when she visited ILTexas and praised the efforts and innovative solutions the Technology division was able to deliver to continue education. Madam Secretary said to Lucy "Congratulations on your quick adoption of remote learning. The fact that Texas has looked to you for a platform that others can learn from is a great credit to what you and your team here has done." This was a very humbling but yet a proud moment for Lucy and others at ILTexas and the Technology division.
ILTexas, with Lucy Mariappa as its CIO, was selected as a 2021 US CIO 100 Award winner. The US CIO 100 awards recognizes 100 organizations for their achievements in technology, innovation, and leadership.  Lucy also won the Global Award "Top 100 Leaders in Education", awarded by Global Forum for Education and Leadership, in recognition for her contribution to the field of Education. Lucy says "All of these accolades are the result of the Awesome Technology division team members who have gone above and beyond to make this happen with their extraordinary efforts, passion and tireless work every day,".
Life Changing Moment
Lucy's parents, S.J. Mariappa and Powlin Mariappa, always said "Education is the best gift you can give somebody." So growing up, she and her siblings taught kids in their neighborhood and across town. They were more challenged in learning, and their parents had run out of all options. "We turned them around and never charged a dime," Lucy says. These kids went on to shine in various careers globally. And this experience showed Lucy and her siblings how education could change lives.
Lucy had a very successful career working at top technology companies and consulting at top fortune 500 companies. But, some years ago, all the extreme traveling took a toll on her health, which forced her to think, "If I leave this world tomorrow what impact did I make with my God-given life and my expertise." This was a life-changing moment for her.
"I decided to give back to the community by serving the industry close to my heart – 'Education', as technology was not a strong suite in this industry and needed a huge transformation," Lucy says "I could add my drop to the ocean by bringing my expertise and passion to help with this transformation."
Lucy says "On a personal front, I feel blessed to have a very supportive and encouraging husband, Stanny DSouza, and kids who have been my motivation and strength. They support me every day, even when my career pulls my time away from them".
Challenge is an Opportunity
Lucy says "Every challenge is an opportunity, to either solve the issue or make it better for the people it affects.  So, understanding the challenge and the roadblocks that exist, is very key to solving it,".  She believes that there needs to be collaboration with the Stakeholders right from the start, to understand their needs and pain points, and then, over communicate to keep everyone on the same page and address their concerns. "Build bridges and reach out to clients, business partners, divisions to assure them about your support, which helps you get their support in return," Lucy says.  She underscores that driving business ahead is a "collaborative effort" and cannot sustain on operating in silos.
Success Is Not Just About Accomplishing a Goal
For Lucy, success means more than accomplishing a goal or task. She measures it by assessing the impact of the success and how much it actually helped the people it was intended for. "Also, how much adversities or roadblocks did we have to overcome to accomplish this," Lucy says.
Leader Practicing Servant Leadership
Lucy says "Leadership is about being able to envision a better future state, paint the big picture, and collaborate with all stakeholders to get there effectively. It is also about solving problems and unlocking the potential in others."
And, as a leader who practices servant leadership, Lucy approaches the tasks with a servant's heart, a visionary's mind, hardworking hands along with empathy and emotional intelligence.
Innovation is a Business Driver
Lucy points out that innovation is key to drive the business ahead, especially when there is limited time and resources. "As leaders, we have to encourage our teams to try new things while also building room for failure," she says. "Only then can we create a safe space to innovate."
Her mantra, Lucy says, is simple. "Let's plan for Success. If we have to fail, let's fail fast, fail forward and fail intelligently."
ILTexas is also an innovative organization. And, Lucy considers employees as their best source of innovation. "At ILTexas and especially the Technology division, we are blessed to have passionate and innovative employees whom I feel blessed to serve and support," she says.
Vision for ILTexas Technology
Visionary Founder and Superintendent Mr. Eddie Conger has laid out a great vision and goals for ILTexas.  To align technology to these vision and goals, Lucy and her team have started a journey on digital transformation. With the pandemic and all the constant challenges thrown at education, accelerating this digital transformation journey is very crucial and they have been on full speed, Lucy says.
"This also requires us to assess our AS-IS, evaluate our To-Be and have a comprehensive plan to get there effectively," Lucy adds. "As part of this, we also have to continuously improve and align our processes, people, technology and business." And, they are working collaboratively to make this happen to move from operational efficiency to operational resilience.
Message to Women in Leadership Roles
Lucy highlights that there are too few women in Leadership and Technology. "This shrinks much further when you combine the two into Technology Leadership," she says. "Hence there are too few women whom we can follow, know and learn from. We need a sisterhood!"
She tells women leaders that if they have the passion to make an impact, willing to put their head, heart and hands, and put that extra effort to make it happen – then jump right in. "You will discover a lot of men and women who will support you," Lucy says. "In Technology, we need to be innovators, disruptors and lead change. Build your credibility. Let your work and its results define you, not your gender."
International Leadership of Texas
International Leadership of Texas (ILTexas) is a free public charter school serving more than 21,000 K-12 students at 20 campuses in the Dallas-Fort Worth, Houston, and College Station areas. Its mission is to prepare students for exceptional leadership roles in the international community by emphasizing servant leadership, mastering the English, Spanish, and Chinese languages, and strengthening the mind, body, and character. At ILTexas, education is taught from a global perspective, where all students are expected to master the English, Spanish, and Chinese languages, and graduate with the necessary tools for future success in Texas, the U.S., and internationally.  The core of the ILTexas education is their exclusive leadership program, which emphasizes servant leadership and teaches students how to live their motto, "Others Before Self." ILTexas frequently has "Speaker Series" where renowned leaders from across the world including prime ministers, world leaders and generals have been speakers. These are hosted by ILTexas students.
**********************