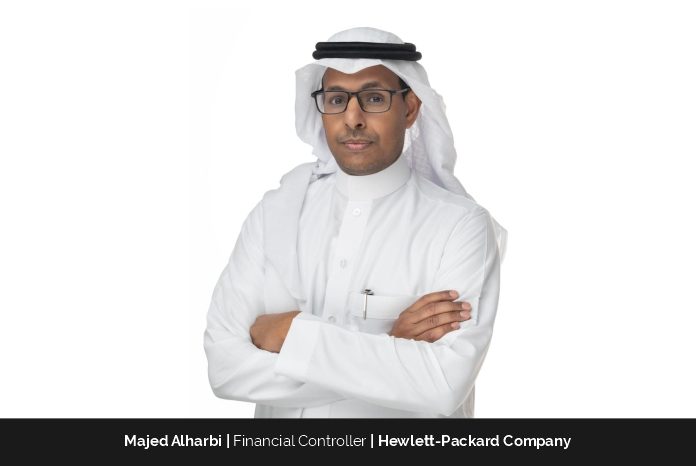 The secret of success is the constancy of purpose.
Success is the result of hard work, learning from failure, loyalty, and persistence. The definition of success means different things to different people. Majed Alharbi, Financial Controller of Hewlett Packard Enterprise In Saudi and Gulf believes success has multiple meanings. He states that success is when you see love and respect in the eyes of your family. It is the feeling you get after putting effort into overcoming challenges and obstacles. Understanding the difference between earning money and doing business in the right way and seeing value in what you do and in what you know and are willing to share with others leads one to success.
It is also the faith when you wake up in the morning and feel that you are ready to give your best to achieve the most. "Success is when you consider and search for the lessons in every challenge or bad experience to develop and grow yourself," says Majed. He also adds that success is when you see respect in the eyes of your colleagues and teammates. When you manage to differentiate between what matters and what doesn't is when you are on the right path to gaining what is most important in your career.
Challenges Only make You Stronger
Majed agrees that overcoming challenges is what takes you to the next level. Staying in your comfort zone will kill your spirit and ambition. If you want to grow and master what you do, then you have to always put yourself in new challenges.
When Majed started his career, he wanted to join a multinational firm to develop himself, so he put a target to work in one, and build a career within the organization, so, he started meeting people working in multinational companies to understand the culture and requirements to join one of those mega-companies. He also started reading books and articles to increase his knowledge and build the required skills, which grew in him the love of reading. "I invested time and money in traveling to Europe and North America to learn about the culture and to attend courses and workshops to learn and connect with the pioneers who work in multinational organizations. I managed to overcome my first challenge and achieve my goal in 2009 when I joined Hewlett Packard Company (HP) the IT leading company, as an early career in the finance department. Joining a company with more than 300 thousand employees at the time gave me self-satisfaction and motivation to overcome more challenges," he says.
The Services Of A Multinational Enterprise Information Technology Company 
Hewlett Packard Enterprise's heritage began when Hewlett-Packard Company was founded in 1939 by Bill Hewlett and Dave Packard, two engineers who believed in the power of technology and the contribution it could make to their customers' lives, communities, and businesses. For more than 80 years Hewlett-Packard Company continued to apply new thinking to improve the lives and businesses of their customers.
Hewlett Packard Enterprise Company, a publicly held corporation, was formed on November 2, 2015, in Delaware. Hewlett Packard Enterprise is the global edge-to-cloud company that helps organizations accelerate outcomes by unlocking value from all of their data, everywhere. They're built on decades of reimagining the future through innovation.
HPE delivers unique, open and intelligent technology solutions delivered as a service – spanning Compute, Storage, Software, Intelligent Edge, High Performance Computing and Mission Critical Solutions – with a consistent experience across all clouds and edges, designed to help customers develop new business models, engage in new ways, and increase operational performance.
HPE enables businesses in addressing the unique challenges in every market. Finance plays a key role in putting and making sure that companies remain on the right track to achieve their targets and meet the shareholder's expectations. Finance is a key player in understanding and treatment of consumption model and IT as services, which is now a trend while the countries are still in their early stage.
Everyday Is A New Opportunity To Begin
Majed started his career in a local company that was just acquired by a multinational French firm, so he enjoyed working and seeing the difference between 2 different working cultures. "My role, which wasn't complicated but interesting, was to transfer the business from local to a multinational mindset, which allowed me to move from a role to another and made me explore the most advanced system from a skills perspective while at the same time gave me a unique chance to interact with diverse groups coming from various backgrounds which left its touches on my skills set and this experience became a key milestone which helped me prepare to my next level which was to join a multinational group," he explains"
Majed considers his generation to be lucky. "We witnessed the automation and transformation," he exclaims. When he first started, he found himself in a role dealing with automation focusing on how to use technology to become more practical and efficient.
His contributions have been recognized several times in the various organizations that he worked for, nevertheless, he says the closest to his heart was back in 2011 when he had been awarded the HP Middle East & North Africa controller for the contributions, he has made to save company interest.
The Responsibilities Of A Financial Controller To HPE
The Financial Controller of Hewlett Packard Enterprise provides complex, financial analysis for a financial function and business. Majed establishes and maintains relationships with business leaders to guide and influence decision-making. He provides analytic support to business initiatives, typically representing a sub-function within finance for a particular business. He also identifies issues and proposes solutions to a more senior individual contributor or manager and represents finance on cross-functional teams. Majed can influence multiple cost centers within a broad scope, typically interacting with managers and directors. He has operational expertise on mergers, acquisitions, and disjoin in Saudi Arabia.
Majed believes that starting the day early is a key to success as it allows you to get better use of your time efficiently. "After dropping my kids to school at 7 I start my day. I go through my task list from the urgent to the important depending on priority," he says. He tries to schedule any out-of-office meeting before noon as the afternoon is the time when the management team meets. "I try to leave office by 6 pm to reach home on time to join the family dinner," further adds.
Balance In Personal And Professional Life
Since Majed became a father, he ensures to spare daily dedicated time for his family. He says sharing a meal or doing an activity means a lot to him and the family and it nourishes their soul. Moreover, family time over the weekend is sacred. It is during the weekend that they spend extended hours together and he always tries to schedule outing activities with them.
Setting goals is what helps keep track of progress and development. "I always set, monthly, quarterly, and yearly goals. Overcoming challenges to meet my goals means a lot and gives me self-satisfaction," says Majed. Every employee in the organization he works with is a partner in the success or failure. They keep each other updated, discuss the goals, and set expectations, support each other, and do whatever it takes to enable doing business. Majed strongly believes that leading by example is also an important methodology that helps in building trust relationships among the team and colleagues in any organization.
Change Is Inevitable
For the last couple of years, the finance function is playing a leading role in all originations, as it became a game-changer and organizations savior with all the challenges the world has faced. The new era of finance is not the same as the old finance school. Finance became more focused on high-end automation and value add activates such as analyzing business activates to support decision-making by using advanced analytical techniques. Moreover, the finance department is responsible for framing the performance decision and the road map/action needed to improve the business.
Growth Begin With A Vision And Endures Through Hard-Work
Majed states that his personal goal is to stabilize the organization to make it lean and agile to face all unpredictable circumstances.
He says that the bigger the challenge, the bigger the reward and the more you feel self-satisfied. He states that the sky is your limit unless you limit yourself. His message to aspiring business leaders is – to keep smiling as you move. It's only you who can determine your destiny. Work-life balance is a key to success and you grow up by lifting others.