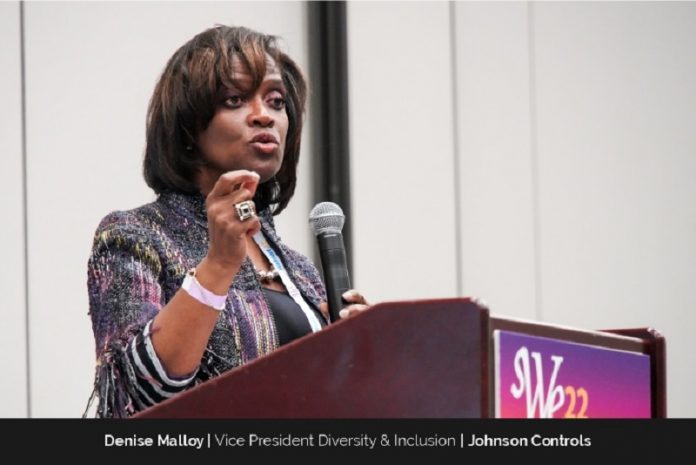 A follower and a leader differ in how they define and perceive success. Denise Malloy, Vice President and Global Head of Diversity, Equity & Inclusion at Johnson Controls Corporate, belongs to the latter. She proves why she is among the 10 most influential D&I leaders of the year. She doesn't box success as a personal achievement but advocates it as the ability or the desired state when one adds value to an organization or a team. Sharp, agile and strategic, Denise is an ideal personification. The sagacious businesswoman defines herself in one word: Transformative, and we can't agree more.
She is responsible for designing and executing strategic and day-to-day operational leadership for all global equity, diversity, and inclusion initiatives in the 150 countries where Johnson Controls operates. Johnson Controls new Diversity & Inclusion mission, vision, and roadmap were crafted by Denise. She encouraged each employee to be proactive in diversity & inclusion. Such efforts by Denise contributed to Johnson Controls being placed on the Forbes 2022 list of Best Companies for Diversity & Inclusion. Before joining Johnson Controls, she established a reputation as a brilliant relationship builder, market designer, and sales strategist. With Xerox Corporation, J.P. Morgan, and Enron, she excelled in a range of senior leadership and business development roles.
Today she has established a promising career in Diversity, Equity and Inclusion (DEI). Recollecting what marked the beginning of her profession in DEI, she says that from her first job after college, she worked for a company having a solid Diversity and Inclusion (D&I) program. She was drawn to the subject and volunteered in the local Business Resource Group (BRG). One thing led to another; she was mentored by talented and proficient people. A quick learner, Denise didn't take much time to pick the nuances and, in no time, was asked to become a mentor.
"It became a part of my DNA. The association with a BRG has always made me feel like I've had a seat at the table. When I joined a new company without this sort of organization, I saw it as an opportunity to start a BRG. In that group, I looked at others who looked like me, I shared my concerns, and we were able to build a network that created value for those who invested in working together."
When the current CEO at Johnson Controls, George Oliver, was looking for someone within the business to reinvigorate and concoct a path forward to ESG, they vested the responsibility in Malloy. It's an honor for her as her CEO was aware of her unmatched passion for it. All the work she has done before gave her the needed knowledge and expertise. Not to forget her command over the subject. Thus, she was prepared to create and execute a plan for the new responsibility.
The landscape of businesses from a diversity and inclusion perspective is dynamic and never static. What are Malloy's observations? She says it's more about 'being on a journey to Equity – it's about the We'. Every employee has a responsibility towards the culture and success of the company. So, it is shared responsibility for the physical and psychological safety of one another and to demonstrate empathy to colleagues. High-performing teams not only see the need, but they meet it as well. According to her, equity is the lever one pulls to ensure it will be an individual and collective victory.
Roadblocks
She didn't get anything served on a platter to carve her niche. It was a bumpy ride, and being in the driver's seat, she had to stay focused on the path ahead. One of the roadblocks that became glaringly clear to her was back chatter. She heard them but didn't let her mind listen to them. She kept training her resolve by reaffirming that sometimes people would not have the courage to say things to you directly. She recalls:
"I learned that it was imperative for me to become a self-advocate and go to people who are instigating the back chatter. A manager once told me that no one wanted to work with me. He wouldn't give any definitive answers when I asked for more information."
The next time she worked with that team, she opened the call with what she had heard. She also conveyed that feedback was most welcome. It would help to correct what's wrong and get better. Nevertheless, she was also loud and clear that if there's nothing to address, then the focus should be on work. And it did what was needed. Denise says no matter what, people will talk. One must own their own narrative-from time to time, we may need to take the pen back.
Leading at Johnson Controls and the operations
Denise leads the full scope of the Diversity, Equity and Inclusion team at Johnson Controls. She perceives her contribution to redefining diversity and inclusion at Johnson Controls Corporate as the single most crucial aspect of the work. It's her passion to make the work that of the employees and not the office of DE&I. Her agenda is simple: Employees need to own it and execute it. This is how it can shape a culture.
"Being so involved with the employees has given me a view into our incredible talent at Johnson Controls. It's working as designed. Likewise, people are reaching out to me to participate in our BRGs. It's the most fulfilling work of my career."
Meanwhile, DEI's innovation has positively impacted the strategic planning and vision of Johnson Controls Corporate. Denise explains how and says when a diversity of thought, experience and cultures is brought to the table, one receives the best outcomes. Instead of finding good fits for the team, the focus is constantly asking what ones are missing. It has allowed the organization to enhance its overall representation and strategy.
Responsibilities and a regular day at work
As the vice president and global head, Diversity, Equity and Inclusion at Johnson Controls, Malloy's regular day at work begins pretty early and usually ends late. It entails working with a sampling of over 100,000 colleagues to provide career coaching and solicit volunteers for one of their numerous tiger teams. The schedule also includes working streams, speaking to a group of employees or a business unit, and preparing to meet with the Executive Committee or Board of Directors. Her schedule also includes working with the data analytics team to determine how effectively the deployed strategies are working.
"Every day, I work closely with our Internal Communications, Public Relations, Legal, Talent Acquisition and Human Resources teams. All this amid fielding external calls, giving external speeches or serving on external panels — and responding to a steady stream of external and internal emails."
For her, such an immense volume of work is exhilarating. It's fast-paced; it requires deep emotional intelligence, keen decision-making skills, and the ability to persuade, inspire, understand and respond to business needs. The underlying question is: "How do I add value today?" Adding value is the key to keeping the work of DEI moving forward.
Equilibrium between personal and professional space
Excelling only in the professional sphere while relegating the personal life isn't a healthy sign. Humans are social beings. And unless the social needs that are primarily fulfilled by personal life are met, they impact the other realm. Thus, a unique equilibrium between the two is paramount. According to Denise, upholding balance is a balancing act within itself. Over years of toiling, she has found that blocking time on her calendar to complete her work is vital. Equally essential is drawing clear boundaries around the times imperative for her well-being and rejuvenation.
"Thought leadership is intentional and making time to think and innovate also is intentional. And the two must be paired to achieve the result."
Decoding motivation mantra
Any work, trivial or magnanimous, loses its value if it doesn't get due acknowledgement. If it becomes a repetitive pattern, it starts corroding the zeal. Denise had realized it from early on. Thus, she keeps her team motivated by building recognition, words of affirmation and a little laughter in each of their meetings. She also creates a space where each team member is comfortable giving and receiving actionable feedback with each other, including her. That's not all. She maintains monthly 1-on-1 meetings and treats them as sacred on the calendars. It's a time devoted solely to their personal and professional development. The idea is to keep their career aspirations front and center in this dedicated time.
Concerning her ways to stay motivated, she treats her monthly 1-on-1s with her mentors and sponsors as sacred space, as well. It allows her to receive constructive feedback from the leaders above and her subordinates.
"Keeping my growth and development in plain view is a deep motivating factor for me. I am a servant leader and believe profoundly that my real success is my successors. To see others around me thrive provides the most fulfilment."
Influencing the generation next
Malloy is a seasoned professional with over 15 years of experience in diverse leadership roles and strategic planning. Any youngster can look up to her volume of work and inspiring journey. As the adage goes, "with great powers, come great responsibilities," she has a lot on her shoulder to keep the young and restless aligned with the vision of being the catalysts of change. One of the critical reforms she expects from the next generation is for them to be courageous and take ownership of their career and the success of the dream company they want to work for. "Don't sit back and expect someone else to do it. It does not take a title to accomplish this work. Long before I got the title, I was a leader driving innovative change. Don't wait. It's a key character trait to develop and execute winning strategies."
Best recognition as a D&I leader
At the end of the summer, we recognize our interns in our future leaders' program. The students have given us feedback that this has been the best internship of their college career. They find incredible experience in participating in our innovation challenge. And at the end of the summer, they go back to their campuses as ambassadors. They tell their peers that they want to work for Johnson Controls. It's also gratifying to watch our early career professionals be mentors to the interns. The entire experience has been world class and having top-tier universities say they want to engage with Johnson Controls has been the most rewarding.
"Over my career, I've had a lot of highlights. But this speaks to the future of our company and that our future is in competent hands. It's been amazing to experience."
Denise is a member of various non-profit and corporate boards. These are committed to the rights of women and children. Her corporate board expertise has been focused on pioneering medical innovations and supporting women and minority start-ups in their progress. Her servant leadership is crucial in ensuring that she reaches back, advances forward, and leaves a heritage of activism and support for others.
What's in store?
Denise is a visionary who knows how to set her goals in advance. While destiny plays its fair share of roles, she swears by being a 'doer'. Thus, she has a well-outlined agenda for her career. When it comes to Johnson Controls, she will continue to implement the six pillars of the DEI Roadmap.
"We are on a journey to double our U.S. Minority and Global Women's representation by 2026. We will continue to drive significant triple-digit growth in our BRG structure and increase engagement in all DEI efforts. Additionally, we will take the DEI message, tools and resources to our field organization across the globe."
As an established and influential business leader, she has some simple yet profound pearls of wisdom for aspiring business leaders. She affirms that everything that one needs to be successful is within them. It is always an inward journey that unleashes boundless opportunities. Of course, there are a few criteria which are a must. She enlightens about them and suggests: "The ability to understand one's strengths and areas of improvement is the foundation upon which a successful career is built. Collaboration is the hallmark of an influential leader. Likewise, make curiosity your best guide and never stop asking questions. You own your career, development, and growth; create the brand 'You'. Be the author of your narrative, and others will take joy in reading and experiencing it."