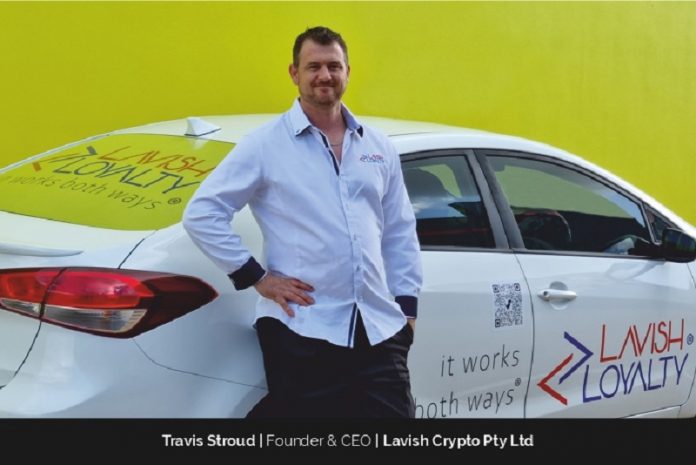 Travis Stroud is the resourceful Founder and CEO of Lavish Crypto Pty Ltd. He has successfully established his company after conquering challenges, setbacks, and doubts. One of the prime reasons for his success is his ability to admit his failings. And he is ever ready to learn, making sure that he gains the knowledge to overcome his limitations.
In March of 2020, Travis introduced Lavish Loyalty, the first product released under the Lavish Crypto brand. It is a B2B networking and decentralized loyalty platform for business owners. At present, the focus for Travis is gaining traction among the community for whom he has built Lavish Loyalty. And, as he is the sole founder, he plays the role of the multitasker.
On any given day, Travis can be found wearing many hats. Sometimes, he wears his developer hat to update the website or repair a bug identified by a customer. Sometimes, he dons his copy-writer hat to edit the web content. He puts on his marketing hat and leverages various social media outlets to draw the attention of the target audience to his website, and when he is doing that, he also wears a designer hat to create engaging content. "And I need to wear my management hat to steer my virtual assistant and outsourced digital artist, reply to emails, and look for opportunities," Travis says. "I then always have my business development hat close by when I am working on my pitch deck and ticking the required boxes for investors."
Travis can do multiple tasks himself. But he also knows what he cannot do and when his skills are inadequate for a job. So, despite being a resourceful leader, he outsources when he feels he needs help to achieve the required result.
Heartbreaking Realities of a Founder
When Travis began executing his plan to set up his company, he realised that what he had planned was not working. "Sometimes it takes strength of character to recognise that things are not going as per plan. For example, the ICO you have been promoting is not going to happen when you said it would, and you are not going to get the traction you need to prove legitimacy," Travis says.
Giving more examples, he says that one works too hard to survive and feed his kids as well as put the time into what is required, and one does that to a ridiculous standard as one is not willing to reduce his high standards for anything. And the people he trusts and thinks they are on his team, with whom he feels a connection, they turn out to be just salesmen. Travis says that they bleed him of much-needed resources. "Being a founder of a company with this sort of potential is a lonely game," he adds.
Self-doubt also crept in when Travis was planning to launch his company. People closest to him seemed not interested when he tried to bounce some ideas off them. "Are they jealous or do they doubt you?" Travis wondered.
"Your kids keep rolling their eyes at you and saying 'You have been working on this for years, but you are still not making any money.' People closest to you doubt you. This is the reality of being a high-growth company founder," Travis says. "It's not pretty. It's heartbreaking. And, you are constantly second-guessing yourself whether your assumptions are correct."
Travis has not a shadow of a doubt that within 5 years, Lavish Loyalty will be recognized globally as a must-have marketing platform for small businesses. However, he says that it is difficult for him to make his kids understand that when they ask for $50 to buy themselves some crystals and incense from Nature's Wisdom – "people are actually going to pay me to help them grow their businesses."
A Diligent Man Full of Ideas 
Travis is a man full of ideas. He began his quest to start his own company based on an idea, but he had no idea how to execute it. Travis says that it took him a long time to realise that his ideas were worthless if there was no medium for people to interact. Lavish Loyalty came into being as a result of this realisation.
"I wasted so much time and money before realising I was so cocky about my idea that I had no idea what I was doing," he adds. So, he finished his time in the Army and attended a semester at a university to learn some design and front-end web development, and then he learned more from doing online courses on Udemy. "I learned basic HTML, CSS, JavaScript, PHP, MySQL and then developed the fully interactive prototype version of Lavish Loyalty from scratch," Travis says.
The prototype version was "really ugly," but it functioned as it should. It also served as a good example, showing a developer what Travis wanted the platform to do. Following the development of the prototype, Travis realised that he needed to learn how to manage a project. "I had worked by myself until that point, but now, I needed to outsource to go to the next step," Travis says.
"I used Upwork to find a developer and spent the next five months, project managing to get the desired outcome with an Indian developer," he adds. He worked in a busy restaurant to pay the bills and stayed up until 4 a.m. most nights to manage the development team. "The most important lesson I learned in this phase was that despite the developer's great ideas, I was the boss, and if I weren't firm or borderline demanding when required, the project would not have succeeded," Travis says.
Lavish Crypto and Services
Lavish Crypto is a holding company for Travis's ideas and values. "I know that blockchain tech and digital currencies are going to be an essential part of day-to-day commerce in the future, and I want to help small businesses prepare for that," Travis says. He also believes the current regulations and digital assets are not up to the task of providing confidence to business owners – especially for B2B transactions.
By focusing more on providing accountability for small business owners and less on anonymity, Lavish Crypto expects to fill the confidence void around digital assets and technology. "I plan to work with regulators to provide a system that allows decentralized commerce between business owners and complies with current and foreseeable regulations," Travis says.
He points out that decentralization is the most important development following the emergence of the Crypto landscape. Before the introduction of Crypto, it was an unheard concept and certainly not a viable business model. "I believe that decentralized commerce is key to unlocking the global potential of small businesses," Travis says, adding that it can also help unlock the regional expansion potential.
Lavish Loyalty, the first product release of the Lavish Crypto brand, is designed to help businesses grow in support of each other through decentralized loyalty and is working perfectly without any crypto inclusion. "As the community grows, we will either develop a new crypto asset of our own or adopt one that meets the requirements of regulated B2B transactions," Travis says. "The Crypto inclusion will be there to improve a system that already works without; to provide a broader depth of services and improve global commerce potential for small business owners."
Encouraging Purchase and Loyalty 
Competitors of Lavish Loyalty use different methods to encourage loyalty. Travis says that some are attached to much larger companies and provide rewards to their members through a points system, which rewards customers for loyal interactions. They are encouraging loyalty by enabling customers to gain something for free if they continue to purchase loyally. These schemes, however, do not encourage members to purchase from small businesses, Travis points out.
The second type of loyalty system encourages loyalty by creating an internal currency that can only be used when purchasing from other members. "This system inevitably increases loyal customers but gouges profit from the small businesses, and they end up with a pile of "funny money" they cannot use efficiently for their business," Travis says.
The third type of loyalty system encourages loyal interaction at a specific store or chain by using a "get the fifth one free" loyalty card or emailing a $20 voucher to use at the store within the use by period. "Unfortunately, people end up with far too many of these loyalty cards in their wallets and forget to use them even when they can," Travis says.
Unlike its competitors, Lavish Loyalty has come up with a game-changer approach to encourage loyalty and purchase. It encourages purchase within the partner network through decentralized loyalty. Travis explains that all partners can offer an advertised discount to other participating partners, and in return, they will receive an advertised discount from all other participating partners when they purchase loyally within the community. "It is a truly decentralized, what comes around goes around, mates rates loyalty system for business owners," Travis adds. "Partners gain new loyal customers and save money on personal and business expenses. It works both ways."
Lavish Loyalty is unique because money flows freely between partners without charging any commission. Travis says that staying out of the transaction process allows them to operate globally immediately without needing to apply for any financial services licenses in foreign countries. "This will enable the community to grow exponentially and introduce small businesses to new markets all over the world in a supportive community," Travis adds.
Life before Lavish Crypto
Prior to building Lavish Crypto, Travis was a soldier in the Australian Army. He served in the infantry for 11 years. He began his army career as a paratrooper and then specialised in communications.
Travis says that it is tough to be a soldier and requires discipline and stamina, and it is his training as a soldier that prepared him well for building a start-up. "I have done things that are really uncomfortable, like laying for 6 hrs staring into the darkness in silence, 36 hrs without any sleep, and staying awake, not moving, knowing that there were hundreds of mosquitoes biting me through my cams."
After enduring the rough military life, Travis feels that nothing involved with building a start-up can be that bad, so he just keeps moving forward despite the challenges. "Adapt and overcome was our motto in the Army, and it has certainly carried through to my role as a company founder," Travis says.
Best Recognition Received as a Leader
When Travis was deployed in Afghanistan, he was assigned the task of developing a communication plan for all operations from the base involving a multi-national force. Travis says that after developing the assigned plan, he used visual aids to demonstrate them in front of his commanders. It was to ensure that it was working correctly during the operation, and when required, he could intervene. "For this work, I was given a commendation by the British Brigadier that commanded the base," Travis says. And he considers this commendation the best recognition he received as a leader.
Ticking Boxes 
Travis believes that success is derived from ticking boxes over a period of time. He explains that he starts with a vision, and to make that a reality, he needs to complete many tasks. "These tasks form a list with checkboxes, and I slowly began ticking them off," Travis says.
Every day, more tasks get added to his list. Travis says that he prioritises which ones to work on first. He feels that it is very easy for the day to day running of a business and personal life to get in the way of the bigger picture, and therefore, he always keeps the longer-term goals in focus and then prioritises daily tasks to help get closer to achieving the longer-term strategic objectives. "That way all the little boxes ticked eventually add up to a huge thing and a huge achievement and what I consider to be a success," Travis adds.
Plans for Future 
Travis wants to see Lavish Crypto recognised as a brand that offers excellent services to help small to medium businesses grow, support regional economies, and encourage tourists to visit more regional areas of his vast country.
"Building Lavish Loyalty is just step 1 with a strategic goal of building a huge community of small business product and service providers," Travis says. "Lavish Crypto will go much further and ensure small businesses are staying up to date with future payment technologies." In the future, he also plans to lead Lavish Crypto right up to an IPO.
"I will also need to step back to have a rest cycle and complete a degree at university," Travis adds.
Message for Aspiring Business Leaders
"My message to anyone with a great idea that wants to build a tech company out of it – learn how to do a lot yourself," Travis says. "There are great online platforms where you can learn anything from scratch."
He says that it is best to learn basic design and basic front-end web development. "These skills will allow you to present your ideas to potential customers and iterate rapidly, adjusting the wording and images on your website without needing any help from a paid developer," Travis adds.
lavishloyalty.com is live now and the community of business owners is growing like a plant. If you own a business, you are welcome to join the community and be a part of the decentralized loyalty revolution.