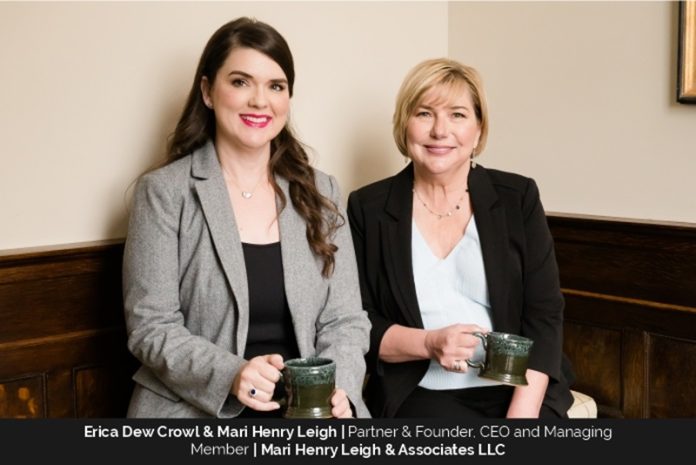 Introducing the disruptive duo that's shaking up and reshaping the legal services landscape: Mari Henry Leigh, J.D., CLMP, the visionary and founder of Mari Henry Leigh & Associates, LLC, dba Leigh-galese Legal Cost Consulting, and her Partner, Erica Dew Crowl J.D., CLMP, Strategic Partner and Director of Retroactive Audits.  Together, they and their team help clients achieve the best possible outcomes to their most complex legal fee dispute, litigation management and legal operations issues through a combination of talent and technology and an added dose of camaraderie.
A veteran of multiple law and consulting firms, Mari had a clear vision of what a "successful" firm would look like when she started Leigh-galese. Mari's vision was to create something rare in the industry – a community of talented individuals not only passionate about their endeavors but willing to work creatively and collaboratively with both colleagues and clients. The dual attributes of commitment and collaboration, combined with a commitment to exploit technological solutions wherever possible, are what consistently allow Leigh-galese to offer the most innovative solutions to clients and should place Leigh-galese at the top of your call list.
Equally enthusiastic about providing best-in-class services to their clients in a friendly, collaborative tech-friendly environment is Mari's partner, Erica. Erica's talent is her ability to make complex fee issues both understandable and manageable. For her, success means achieving professional growth and earning the respect of her peers. It also involves giving back to the industry by training and mentoring other attorneys and consultants, helping them become leaders in the fields of legal fee disputes, litigation management, and legal operations.
Redefining Legal Services: From Personal Inspiration to Legal Innovation
The inspiration behind Mari's decision to establish her own firm was deeply personal. Although Mari contemplated starting her firm intermittently for years, she eventually reached a critical juncture where she recognized the necessity of pursuing this path.
Mari realized that to continue pushing the boundaries and offering clients the most innovative and creative solutions independently and on her terms, she needed to take that leap of faith. She firmly subscribes to the notion that challenges – such as starting your own firm – are catalysts for personal and professional growth. These catalysts ultimately make her a better version of herself and make her a more effective advisor to clients.
Under Mari's leadership, Leigh-galese is dedicated to providing a range of legal and expert consulting solutions (including expert testimony). Among its service offerings, Leigh-galese assists corporate, insurance and law firm clients facing various legal fee related challenges, including direct party fee disputes, prevailing party fee-shifting disputes, independent counsel reimbursement disputes, common fund allocations, billing fraud allegations, and other cost recovery and allocation issues.
Leigh-galese also offers comprehensive litigation management and legal operations services. This includes efficient execution and implementation of cost containment initiatives, electronic discovery strategies, budgeting, predictive modelling, legal bill review, financial reporting, and ultimate exposure analysis for complex, catastrophic, and aggregate litigation such as class actions, consolidated actions, multi-jurisdictional cases, and mass tort litigation.
Collaborating with Leigh-galese has resulted in significant cost savings for its clients. Furthermore, Leigh-galese stands at the forefront of delivering tailored, highly customized databases and dashboards. These tools are instrumental in, among other things, efficiently managing and visualizing large plaintiff populations in aggregate litigation and assessing the financial exposure represented by these claims, as well as analyzing legal spend and facilitating C-Suite reporting.
Mari's expertise and those of her team have played a pivotal role in the success of Leigh-galese. The team's extensive experience across various legal practices, combined with cutting-edge legal technology, has been instrumental in solving complex problems for clients. Its proactive approach and ability to anticipate and fulfil client needs are central to their success. Leigh-galese's commitment to AI and developing customized technology solutions to address client-specific issues highlights its commitment to delivering exceptional services.
A Legal Fee Professional Who Makes Complexity Simple
Before teaming up with Mari, Erica's career had a related but different focus. She worked as a liaison between the substantive law and operations departments at a large cellular communications company. In this role, she facilitated communication and information exchange between these two departments, often dealing with conflicting needs and pressing priorities.
This experience proved invaluable in her current role as an outside consultant, as it equipped her with the ability to identify and communicate the various stakeholders' respective concerns and effectively balance their competing interests.
Erica's practice concentrates on attorneys' fees, where she collaborates with litigants, corporate counsel, litigation counsel, and insurers to tackle various legal fee issues, including resolving fee disputes, assessing fee reasonableness, allocating legal fees, and more. She also assists corporate clients in managing ongoing legal costs, implementing cost-saving strategies, and ensuring billing guideline compliance. Erica's invaluable contribution enables Mari to concentrate on strategic initiatives, as Erica consistently provides insightful analyses while maintaining exceptional efficiency.
Notably, Erica holds the designation of Certified Litigation Management Professional (CLMP), an accolade from CLM's Litigation Management Institute highlighting her deep understanding of litigation management, alternative fee arrangements, and effective case resolution. She has also earned recognition as an Emerging Lawyer from the Leading Lawyers Network.
Erica is involved in numerous professional associations, including the Corporate Legal Operations Consortium (CLOC), Claims and Litigation Management Alliance (CLM), Chicago Bar Association, Women's Bar Association, and American Bar Association. She has presented continuing legal education seminars on various attorneys' fees issues, including billing guidelines and legal analytics.
From Youthful Drive to Seasoned Success: An Unwavering Commitment to Growth and Innovation
Mari's life before and after founding Leigh-galese has remained fundamentally consistent, as it has not changed who she is at her core. She defines herself as "driven," a quality that has been a motivating force in her life, both before embarking on her independent venture and now as the Founder of her firm. Mari also finds motivation in her team's energy and enthusiasm. Collaboration and mutual support are at the heart of Leigh-galese's dynamic.
Mari's path has not been without its roadblocks. These challenges typically stemmed from a lack of shared vision or a reluctance on the part of others to broaden their perspectives beyond their comfort zones.
Many were hesitant to be pioneers or explore new, unfamiliar territories, a hesitation that Mari never shared. The invaluable lesson she learned was to trust herself and her instincts, even when they seemed unconventional or ahead of their time. This trust in her abilities and visionary thinking has been a hallmark of her success.
The Journey from Collaborator to Innovation Enthusiast
Erica's decision to team up with Mari was a natural one, led by their shared vision for providing quality client service while fostering a sense of community within the workplace.  Having previously collaborated at two different firms, Erica saw joining Leigh-galese as an opportunity for innovative work, as well as personal and professional growth.
What drew her to this decision was her deep admiration for Mari's exceptional problem-solving abilities. Mari's out-of-the-box thinking consistently pushes Erica to strive for nothing less than outstanding results.
Furthermore, Mari demonstrated a strong commitment to Erica's professional development, entrusting her with the management of high-stakes, large-scale projects crucial to Leigh-galese's mission and ongoing success.
Erica firmly believes that challenges are opportunities for personal growth and strength. In her professional journey, she learned valuable lessons, including that the legal profession can often be fraught with difficult personalities. One crucial lesson she learned was the importance of maintaining self-confidence and advocating for herself.
An illustrative moment from her early career serves as a poignant example. When paired with another attorney for a project, they both completed their respective portions. However, the other attorney "suggested" that Erica type up his notes and prepare a memo. Faced with this choice, Erica decided to assert herself rather than assume a subordinate role. She politely informed her colleague that she would handle preparing her memo and suggested he do the same.
Reflecting on that pivotal day, she recognizes that the temporary discomfort of advocating for herself was far more acceptable than enduring long-term inequality. This experience reinforced her belief in the importance of self-advocacy and standing as a peer, not a subordinate, in her professional endeavors.
Fueling Success and Embracing Change
Erica's expertise has played a pivotal role in fostering the growth and success of Leigh-galese. One of her most gratifying recognitions as a leader has been the success of the numerous professionals she has trained, who are now thriving in their field. Her adept management of large-scale projects and the training of new team members on these projects have enabled Leigh-galese to consistently tackle the challenging, complex, and sophisticated work that both Mari and Erica embrace.
As the lead project manager on most large-scale engagements, Erica has honed her multitasking skills into fine art. She juggles multiple timelines, ensuring that all deliverables, from initial stages to final work product, are well-coordinated and executed. Simultaneously, she excels at allocating and re-allocating tasks among the core team and project team members, optimizing their strengths to achieve the most efficient and effective client outcomes.
Erica's responsibilities at Leigh-galese encompass both external and internal aspects of her workday. Externally, she meets with clients, shares completed work product and manages client expectations regarding costs and deadlines. Internally, Erica diligently tracks tasks for herself, the core team, and the project team. Her day may start with checking in on project team members, reviewing their work, or initiating her projects.
She also keeps a close line of communication with Mari, addressing any needs or discussing new ideas or concepts. Erica maintains a running list of action items and takes satisfaction in crossing completed tasks off that list. However, she acknowledges that unexpected issues or "catastrophes" can arise, leading to necessary pivots in her daily plans.
One vital lesson Erica gained from her experience in training other professionals is the importance of unambiguous communication and inclusion. She firmly believes that the best results emerge when both core and project team members feel included and fully grasp the significance of their contributions to the collective effort.
Reflecting on her achievements, Erica acknowledges that as a firm, they have attained much of Mari's original vision. Yet, Erica recognizes that evolution is an integral part of Leigh-galese's DNA. The legal industry is riding the crest of a significant transformation, akin to the e-Discovery shift of the early 2000s.
The growing role of Generative AI promises to revolutionize not only the cost and delivery of legal services but also the ethical framework and expectations surrounding potential bias and shortcomings. Erica is not only excited about working in an industry poised for substantial change but also energized by the team's readiness to embrace these challenges head-on.
From Teaching to Leading: The Journey to Influence in the Legal Industry
Mari's journey toward becoming an influential leader in the legal industry began with a commitment to teaching, training, and writing in her area of expertise and related subjects. She recognizes that these activities form the foundation for becoming an "influencer" in any industry. Furthermore, she emphasizes the importance of continuous learning and staying updated on the latest legal trends and technology.
Throughout her career, Mari has made significant contributions to the legal profession. She started by teaching research, writing, and advocacy to first-year law students at a Cleveland law school. She has authored numerous articles and self-published a book on Independent Counsel. Notably, she co-authored a chapter in an authoritative treatise titled "Successful Partnering Between Inside and Outside Counsel."  Mari is recognized by her peers as a Leading Lawyer in Commercial Litigation and Legal Fee Disputes.
Mari has also played key roles, including co-chairing conferences and conference sessions, speaking at various bar associations, conducting training seminars for major insurance carriers and corporations, participating in focus groups, and serving on an advisory board. One of her most enduring contributions is the conceptualization and co-creation of the CLM's Litigation Management Institute (LMI). This certification program for lawyers and claims professionals serves as a bridge between the practice of law and the business of law.
Mari served as a Chancellor and Instructor for LMI for a decade. The program is highly selective, admitting only 100 applicants each year who undergo rigorous instructor-led and peer-to-peer training. Successful candidates earn the prestigious designation of Certified Litigation Management Professional (CLMP). Since its inception, LMI has conferred the CLMP designation on over 1,000 candidates, securing Mari's legacy as a true influencer in the legal field.
The most gratifying recognition of Mari's leadership, however, came shortly after she launched Leigh-galese. About 18 months into this venture, a young attorney joined her team as a "temporary" attorney. His temporary status stemmed from his ambition to secure a highly sought-after position as a federal law clerk, which seemed promising given his eight highest grade in the class awards.
When the young attorney secured an interview for the federal clerkship, everyone in Leigh-galese rallied to help him prepare, eagerly awaiting the results. Upon his return, the team gathered around to inquire about the interview. He described it as going "well" but revealed that they had posed a challenging question for which he had no answer.
Mari asked him to share the question, and he explained that during the interview, the interviewer had noticed his consistent references to how much he loved his current job. They then posed the question: "If you love your current job so much, why would you leave that job to work for us?"
This moment crystallized Mari's achievement of her goal: creating a community of individuals who were genuinely passionate about their work and the work environment they had collectively built. It served as a powerful testament to her leadership and the vibrant culture she has cultivated within Leigh-galese.
Empowering Legal Professionals Through Education and Resilience
Beyond serving as a trusted advisor to both clients and peers, Erica's substantial contributions to the legal industry are just the start of her journey as an influential leader. One notable aspect of her contributions is her role as an educator.
Erica provides comprehensive group training to fellow professionals on topics related to legal fee disputes and litigation management. Additionally, she co-authored a chapter on budgeting in an authoritative treatise titled "Successful Partnering Between Inside and Outside Counsel," alongside her partner and other esteemed colleagues.
Erica's commitment to knowledge sharing extends further as she has personally trained numerous professionals who have gone on to thrive in the industry. She generously offers her time and expertise, readily assisting colleagues, peers, or clients with hypothetical queries, such as advising on billing practices or resolving disputes over unpaid bills.
Erica's dedication to education and her willingness to lend a helping hand has solidified her position as an influential figure in the legal field. When asked to define herself in one word, Erica chooses "resilient." She is known for her quick ability to pivot and adapt to the evolving needs of clients and the ever-changing legal industry landscape.
Pioneering Leadership and Innovation in the Legal Industry
As the Founder of a firm bearing her name, Mari considers it her primary responsibility to lead by example, inspire, and promote her team. She places a particular emphasis on recognizing and respecting professionals like her partner, Erica, who contribute significantly to the firm's successes, especially in retrospective qualitative and quantitative audits. Mari values each team member's insights and unique contributions.
While Mari loves what they have built with Leigh-galese, she recognizes that stagnation is a mistake. Looking ahead, Leigh-galese's plans involve identifying and addressing the challenges clients and the industry face with creative and innovative solutions while preserving their sense of community and collaboration. The unique position of Leigh-galese at the intersection of talent and technology drives its intent to expand technology offerings, such as customized extranet hosting, nurse practitioner portals, and the creation of databases and dashboards for complex litigation.
On a personal note, Mari's goal is to continue nurturing her "community" and their drive for what they do. Her message to aspiring professionals and future leaders in the legal industry is clear and resolute: Believe in yourself, seek out like-minded individuals, and manifest your own destiny.
Balancing Act, Inspiration, and the Playful Side of Legal Leadership
Maintaining a balance between her personal and professional life is important to Erica. When faced with potential interference from one sphere into the other, she takes a step back, pauses, and relies on her instincts to determine the most effective way to adjust her priorities.
Erica's approach to keeping herself and the team motivated is rooted in recognizing each individual's uniqueness and professionalism while fostering a strong sense of community, a core value for Leigh-galese. She firmly believes that micromanagement is counterproductive and undermines the team's morale.
In addition to her professional demeanor, Erica brings a touch of levity to the workplace. She enjoys engaging in lively discussions about topics like dangerous animals or the best and most underrated sandwiches in Chicago. She once made a $300 bet with a team member challenging them to accomplish a task within an exceptionally short timeframe. To everyone's delight, the team member succeeded.
Erica honored the bet but added her own twist: she stayed late one night and covered their desk with $300 in nickels and dimes, creating a playful and memorable way to recognize outstanding efforts while building camaraderie among the team. Lawyers, known for their precision and "loophole" finding, appreciated the humor and sense of achievement in this unique gesture.
Erica's message to aspiring professionals and future leaders in the legal industry is to embrace resilience and be open to reinventing yourself. This might involve evolving your practice area, redefining your personal vision of success, or forming new connections with clients and colleagues. Adaptability and a willingness to change are key factors in thriving in the legal field.