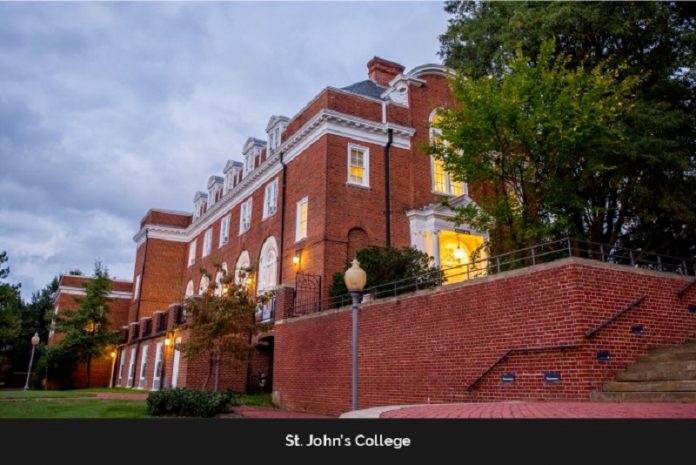 St. John's College is entirely unique in the landscape of American higher education thanks to its 'great books' curriculum.  Students sharpen their minds by reading books and engaging in stimulating discussions, which ignites the spark of intellectual curiosity and opens the doors to future career opportunities, where they excel as leaders, critical thinkers, and problem solvers.
The methodology, or pedagogy, followed in St. John's classrooms is designed to equip students with the resources needed to thrive in the modern world regardless of how that world might change. It prepares students for the jobs of the future – jobs that haven't been invented yet – and it does that without allowing market demands to influence its curriculum.  The College – with campuses in Annapolis, Maryland and Santa Fe, New Mexico, and offering both undergraduate and graduate degrees – believes in its distinctive program. Over the years, a lot of colleges have changed their curriculum, but St. John's has always stayed true to its identity, says Benjamin Baum, Vice President of Enrollment at St. John's College.
St. John's is ranked among the most intellectual, affordable, and rigorous colleges in the U.S. It is also regularly rated among the best colleges in the country for the things that it cares about, such as the quality of undergraduate teaching and accessibility of faculty. It is ranked for the social-economic diversity of its students as well. Despite the name, which likely originates from a founder's connection to St. John's College at the University of Cambridge in the United Kingdom, St. John's has no religious affiliation, and students come from all backgrounds.
The most famous alumnus of St. John's is Francis Scott Key, who wrote the lyrics for the American national anthem "The Star-Spangled Banner" in 1814. Other famous alumni of this distinctive institution include founders of some of the best-known record labels, such as Atlantic Records and Elektra Records, a sitting head of State, a U.S. Senator, a New York Times Opinion columnist, one of the co-founders of BuzzFeed, and leaders in major financial firms. "These kinds of luminaries across many different fields stand out as a great testament to what our education can do for our students," says Baum.
In January of 2022, Nora Demleitner began her tenure as the 25th President of St. John's Annapolis campus. She is the first female president in the college's 325-year history. In 2016, Mark Roosevelt assumed duties as the collegewide president and became the seventh president of the Santa Fe campus.
The 'Great Books' Curriculum
Established in 1696, St. John's College is the third oldest college in the United States. It adopted the 'great books' curriculum in 1937, which made it a completely different educational institution from others. According to Baum, the change in 1937 was a big one for the College as it was rejecting what had become the mainstream in American higher education – the idea of academic departments, focusing on specific subjects, and an elective system of choosing classes. St. John's model continues to contrast with what most American institutions are doing today.
At St. John's campuses, students do not major in narrow subject matters. All students follow the same curriculum together, which includes the interdisciplinary study of dozens of subjects such as literature, philosophy, mathematics, politics, science, music, language, and more. During the undergraduate program, they read about 200 great books. Baum points out that these books begin in the ancient Greek world in the freshman year and gradually move to the modern world by senior year. "The notion behind what we do is that instead of reading textbooks in specific subjects, we are reading the original authors in dozens of different fields and finding the connections between them," he adds.
When the freshman students say they are studying philosophy or politics, they are reading Aristotle's or Plato's writings on these subjects; while studying literature, they may be focused on works by Sophocles or Homer. For biology and the other sciences, students start with early biological observations that will lay a foundation for more serious scientific work in later years. Students are encouraged to delve into original sources and find the connections that exist between these subjects rather than focusing on just one.
"Over the course of four years, students are building upon things that they learn," Baum says. For example, in the sophomore year, students learn about Ptolemy's theory of astronomy, and eventually learn about the mistakes that Ptolemy made as they read about Galileo, Copernicus, and other astronomers. "Over thousands of years, our authors are engaged in a 'conversation' with each other where their ideas build on the ideas of their predecessors, and our students are following this conversation and adding to it themselves," Baum points out. "At the end of four years, everyone is going to graduate with the same degree, which is Bachelor of Arts in Liberal Arts." In addition to the undergraduate program, the college features a Graduate Institute, offering masters programs in Liberal Arts (similar to the undergraduate degree) or Eastern Classics (focusing on great books in the Chinese, Indian, and Japanese traditions).
Whether undergraduate or graduate, St. John's classroom discussions revolve entirely around books. Students do not have to attend lectures or sit passively in the classroom and absorb the information provided by a professor or lecturer. Instead, students discuss the books and learn from each other in a dynamic, engaged conversation.
"The model of classroom discussions combined with the books we are reading and the interdisciplinary way of study is the essence of what St. John's College is all about," says Baum.
St. John's is not a college for everyone. Some students look at what it does and say, "that is really interesting but that is not a fit for me." Baum says: "We are trying to do is find students who love what we do and thrive here."
Different Approach to Education
St. John's approaches STEM education in a way that is different from other institutions. Baum explains that they do not see subjects or any disciplines as siloed or separate from each other. "Often, people hear about great books curriculum and St. John's, and they assume that it means we exclusively study the humanities, that we study literature and philosophy," he says. "It's true that we study these subjects in the humanities, but at the same time, we are studying the sciences and mathematics through great books as well."
Take for example mathematics; students in their freshman year do not read a textbook. Instead, they are reading ancient Greek mathematician Euclid's actual writing about geometry. "Math and science are at the heart of what we do," Baum says, adding that it is a non-traditional way of approaching the study of STEM – half of the curriculum is really STEM-based.
When students first arrive at St. John's, they have their notion of what it means to study math and science because of their high school experience. They were reading textbooks, going through lectures, and doing problem sets, and in St. John's classrooms, they are reading original authors' thoughts on subjects related to STEM and discussing them. The students are not expected to memorize equations in geometry in the freshman year, but instead get to a deeper meaning behind a particular term; for example, what "what do the terms 'point,' 'line,' and 'circle' really mean?" "Our students particularly lead in math and science because of our more nuanced philosophical approach to those subjects," Baum says.
When he talks to people who have joined graduate programs in STEM or are working in labs after completing their degree at St. John's, they say that they are able to approach math and science at a much more sophisticated level. Because the college does not approach these subjects from narrow specializations, students at St. John's often can see the "big picture" that science majors may miss. The depth of study in math and science at St. John's is more akin to what students at other colleges find in graduate programs.
Conversations about Really Big Ideas
After reading great books, St. John's students come to classrooms and have a conversation about really big ideas. The books that students read at St. John's are described by the college as both "timeless" and "timely."  For example, the very first book that students read in the great books curriculum is Homer's Iliad. "We read the Iliad and, in class discussion, we explore ideas of war, peace, and diplomacy, ideas of human psychology, ideas behind religion – all of which are still relevant today," Baum points out.
St. John's students think about the future by drawing the most important lessons that they can from the greatest thinkers of all time – sometimes from the distant past and sometimes from the more recent past. "Our students say that they find St. John's challenging and rigorous, not only because of the volume of the things they are reading and discussing, but also because we study ideas about human nature and the world that make us challenge notions of who we are today," he adds.
There is no other college in the world where students come with the expressed purpose of reading books from 3,000 years of human history and talking about those ideas – that permeates every aspect of a student's life in St. John's.
Faculty and Staff
Whoever comes to work at St. John's, whether staff or faculty member, is buying into its unusual model of education. Some of the faculty members are former students of St. John's. "They went through this program, they fell in love with this place, and they returned," says Baum. He is among those who didn't go to St. John's, but when learning about the place, it resonated.
"In my own background, I studied literature, history, and ancient Greek, which is a subject that all students at St. John's study," Baum says. So, when he read about the College, he read about a place that shared his values – a place that has a great love for this life of the mind and that prioritizes intellectual adventure over everything else.
"I see a lot of people choose to work at St. John's because they are excited about what we do," Baum says. "That excitement around that mission is something that I think draws a lot of our staff to the college."
Under Baum's leadership, the admissions staff bring St. John's to students who have never heard about it before. "One of the exciting things about working in admissions at St. John's is that I get to go into high schools and I get to talk about what we do," Baum says.
St. John's College provides both needs-based and merit-based aid. The school has made particular progress on the number of students who receive Pell Grants – and go on to graduate. U.S. News recently ranked the school #17 among "Top Performers on Social Mobility" and a "Best Value," which considers a school's academic quality and the net cost of attendance for students receiving financial aid. "I go into a school environment, where maybe students don't know if they will be able to afford college, and be able to share this model of education, which they have never heard of before, and then also get to explain how we make it affordable for them," Baum says. "And that is really fulfilling way we go about what we do in admissions."
Great Moments in the College's History
Some of the great moments in St. John's history include:
1696: The year when St. John's College was founded – even before there was the United States.
1784: Chartered as an institution of higher education, right at the beginning of this country. At the time, George Washington visited the campus.
1937: It is one of the most distinctive moments in the College's history as it adopted the great books curriculum.
1964:  Established a new campus in Santa Fe, New Mexico. Baum says that they wanted to increase the number of students who could participate in their unusual curriculum, but they didn't want to make their Annapolis, Maryland, campus too large, where the community would expand beyond the ability for everyone to know each other. The campus in Santa Fe was founded to provide another way to include more people in the program.
1967: St. John's launches a summer institute for teachers, which will become the St. John's College Graduate Institute. The Graduate Institute now offers a Master of Arts in Liberal Arts, a Master of Arts in Eastern Classics, or a Liberal Arts Education Certificate, with the opportunity to take courses in person or online.
2018: The most recent distinctive moment is when St. John's lowered its tuition by one-third. Baum points out that they reduced tuition in a deliberate way so that they could make St. John's College more affordable to a broader range of students. The college, which is closing its $300 million capital campaign next summer, pays for the cut through generous philanthropy from its alumni and donors.
What Is Next for St. John's?  
"You shouldn't expect big changes to the academic experience at St. John's," Baum says. "While we are constantly reexamining our reading list, St. John's will always stay true to its mission of reading and discussing great books." The College, however, is always innovating in multiple other ways.  Notably, by lowering tuition and increasing financial aid, St. John's has become a leader in college affordability.
Even more recently, St. John's launched a freshman bridge program designed to bridge the gap for students who need extra support when transitioning from high school to college. Baum points out that they see the expansion of their bridge program so that students are prepared for the rigorous curriculum at St. John's, no matter what background they had in high school. The support structure is the key to the future of St. John, and the career development program is another area where the college continues to focus. It is constantly innovating so that it can help prepare its students for their future careers. For example, its new mentorship program allows its alumni to work directly with current students to help them find jobs after they leave college.
"There are so many ways we can innovate, but I think at our heart, St. John's is true to who we are and we are holding true to that model of education – the great books education," Baum says. "I don't think anyone expects that to change in the future, and we are proud of that."
Learn more about St. John's College at sjc.edu.