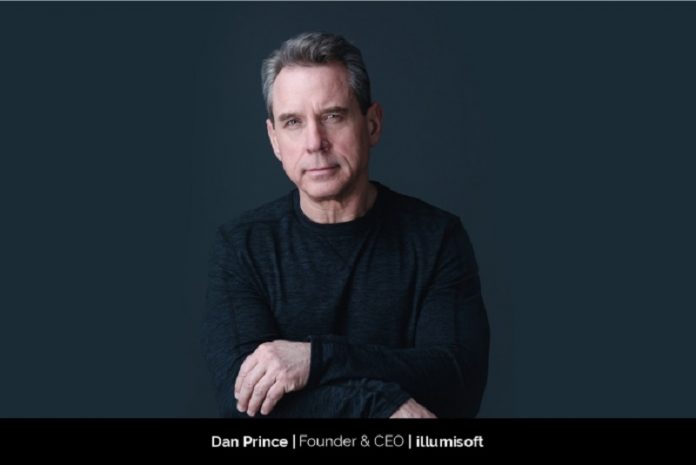 Gaining success is an art that requires outstanding vision, persistent efforts, and supreme service provision. Dan Prince, Founder and CEO of illumisoft, has a special 3P's formula for success, namely, people, processes, and performance. Being a self-made business leader, he is a true inspiration who cracked the success formula for entrepreneurs and helped several people in need.
Demystifying 3P's formula
There is a dire need to ask different questions for each of the 3P's.
People – Does the company have the right talent to deliver impressive services? Do the clients know that the company values their relationship? Is the company communicating its value to the clients perfectly?
Process – Is the company interacting with the clients efficiently? Is doing business with the company easy? Is the company being efficient internally in terms of development, project management, sales, etc.?
Performance – is the company performing well in all the key areas for its clients? Is this substantiated in the client surveys? What are the ways to get better? As a team, are they performing to their fellow team members' standards and expectations? Are they holding each other accountable?
Sharing his simple yet super effective success formula, he says, "As a leader, if I can answer all these questions with a 'Yes,' then I am doing my part, but doing my part also means realizing there are still ways we can get better and improve."
Prime Inspiration To Founding illumisoft
There were three core reasons that inspired Dan to lay the foundation of illumisoft. Explaining it further, he says, "The reasons were 1) seeing my father run short of time in his own entrepreneurial pursuit. 2) The desire to help people in need and, 3) Desire to set a good example for my sons."
He loved the way his father established a business and focused on building strong relationships. Owing to this, people always loved working with him. However, he couldn't witness huge success in life as he died early in his mid-40s'.
He adds, "His death, combined with the awareness of my own mortality, motivated me to start my business. I was also motivated to eat right and exercise. I didn't want to die before I had a chance to build and grow my own thing. I didn't want to die before I had a chance to show my sons that they could build and grow their own things."
In 2014, Dan was working in Epiq Systems in Kansas City. As a friendly gesture, when the CEO of Unidoor Enterprises approached him to know the status of his software system prototype assigned to some other company, Dan agreed to help after consistent pleading. With his analysis, Dan understood that the prototype was not prepared, and he communicated the same to the Unidoor CEO. Looking at his disappointed face, he told him that he could try to help him get the system developed.
Asking his coworkers for the same, he was able to pull in 15 people to get the job done. After that, he finally quit his job and started his business 'illumisoft.' Even though his income got squeezed, he was up for the challenge to set a good example revolving around helping others. He believed in inclining his services towards the healthcare sector to make a difference in more and more lives.
He states, "Building great solutions that delight our clients, and then realizing you've helped literally hundreds of thousands of people around the world live happier, healthier lives feels way better than just great. It feels noble and heroic and worth it."
Clearing roadblocks with strong actions
Entrepreneurship is a voyage that has mixed shares of both ups and downs. Dan states, "In late 2016, we got lucky and signed a big contract with the local hospital and research institute. We also won a couple of other large clients and several medium-sized clients. But, somehow, in early 2018, the demand dried up without much notice. We found ourselves challenged to pay our staff and had to make quick and difficult decisions, and we laid off 75% of our people, including two of my sons."
No matter what hurdles get in the way, they always teach you a valuable lesson to remember for life. This incident taught them the value of excellent customer service and always prioritizing it above technical expertise. From that day on, providing the best customer service became their biggest aim.
Even COVID-19 impacted the business and slowed its growth. However, Dan is happy to have learned a lot about business and healthcare, treating people nicely, and fulfilling all commitments on time.
Showering light on illumisoft's services, values, and culture
illumisoft mainly concentrates on developing budget-friendly mobile apps, web apps and, data integrations for the healthcare sector. With a problem-focused approach, the company mainly designs all the solutions as per the relevant problem and not any particular pattern. With mobile-first designs, following best practices for designing stunning user interfaces, and using state-of-the-art technologies, the teams like to say, "we're building apps to last."
This makes them a custom development shop that proffer solutions to easily solve the problem using simple and effective ways. With personalized software, the cost tends to go higher. However, Dan has found a solution for this as well.
He says, "To truly know the value, you have to measure the cost of the custom software against a lot of other factors. We believe, for the buyer that wants what they want and won't or can't settle for a solution that is only part of what they want, custom software from an experienced provider can be very affordable."
Conquering challenges in business truly helped in shaping the culture and values at illumisoft. He says, "We believe that people will naturally be their best when they are given the opportunity. We know that being your best means that you will stumble and fall along your journey. We celebrate our mistakes (sometimes silently) and reward growth and perseverance through failure. We have this saying, "If you don't fail sometimes, you're just not trying hard enough."
Dan shares his 5C's that define his company's culture in detail.
Continuous Personal Improvement: Driving growth in business is only possible if the employees improve and upgrade themselves time and again.
Craftsmanship: The solutions should serve the purpose and mitigate the problem in the simplest, lowest cost, most efficient way.
Consistency: Staying consistent in performance all the time is highly crucial.
Confident: Gaining confidence in your skill and yourself through personal improvement.
Courageous & Tactful: Always having the courage to be truthful but in a completely respectful and tactful manner.
During the lockdown period when COVID-19 struck, the company dynamics took a paradigm shift, and the team worked remotely. This made them adapt to the new challenges, and brought efficient work-life integration rather than balancing. With this, they were granted flexible hours freedom and spend good time with family as well.
Dan's Role in restructuring web and mobile systems for the healthcare industry
Dan has played a pivotal role in providing the best technological solutions to all his customers. When they got a project of building a system for a local children's hospital with all the clarity in terms of time as well as resources required,  the team called for a meeting to understand their request. After they understood the requirements, they came up with a proposition. They told them that they could design everything they want but in a special manner which would cost them only 40% of the total estimated cost and only take 10% of the total time.
They trusted Dan with the technological aspects and were fully surprised to get their year-long project delivered in just six weeks. Expressing his happiness, the primary investigator told them, "You guys not only hit a home run, but you also hit a grand slam!"
He shares, "We don't take orders, we listen to the ask, and we give our clients what they want and need. Which isn't always what they asked for. We marry their business/medical knowledge with our technology expertise to always produce a solution that is optimized for both."
For Dan, his greatest accomplishment is having a stroke of good luck to be in business for as long as they have. He has also started appreciating a plethora of things that he didn't know before. Now he values all clients and works in every way to provide the best services possible.
He says, "Running a technology services company is definitely a house of cards. You do your best to balance all the cards in the right way and recognize that, in theory, everything is where it should be. But you also have to realize that, in reality, anything can come along and destroy it all without much difficulty."
His team has learned many essential lessons along the way, especially understanding that relationships are the key to sure up the most fragile companies. It is not too difficult to build relationships. All you need to do is work at it. Being practical with your goals and delivering the best always is vital. In case of mistakes, acceptance is necessary, and remembering them for the future is crucial.
The important thing to note here is that you render true value to the people you work with, both internally and externally.
He further adds, "You never boast or say you can do more than you can, and you never criticize anyone but yourself. Take responsibility for resolving a situation whenever possible. That is, add more action items to your list than you do to anyone else's." According to him, The more you help, the more they'll want you to help.
Life Before and After illumisoft
Before beginning illumisoft, Dan has served in several positions for 20+ years. With his rich experience in coding solutions and architecting systems of solutions, he pursued learning communication in terms of what those systems did and did not do but also in terms of gathering business requirements and converting them into elegant designs.
He adds, "Once I learned how to do that, I spent a good bit of time learning how to build and lead teams of high-performers. It wasn't until I had put all that together that I was lucky enough to put it to use for illumisoft. In my case, it was very true what they say, "luck is when preparation meets opportunity."
After starting illumisoft, Dan wakes up at 4:00 o'clock every morning and gets to the gym by 4:30 and finally starts his work around 7 or 7:30. For him, exercising and eating the right food is vital to leading a good life.
He is a genuine leader who keeps everyone working with him motivated at all times. He is glad and lucky to hire people who are looking for their own greatness and not just working in fear. All of them give their best to unleash their potentials in the best way. They are still trying to witness their capabilities and figure out what their best will produce.
For Dan, finding a work-life balance does not mean pitting the two against each other. He doesn't believe that there exists any balance between personal and professional fronts and rather takes it more of an integration. He says, "If your life is arranged adequately, you will be able to accomplish everything that you want to accomplish personally and professionally."
Future Roadmap of illumisoft
Dan has the chief aim of satisfying every single client they have right now and strives hard to keep them happy while working with the firm. He feels, "As long as we can maintain that level of excellence, we want to share that with new clients."
In the end, the firm wants to become the premier custom healthcare technology provider across the US and Canada and then extend its branches across the globe.