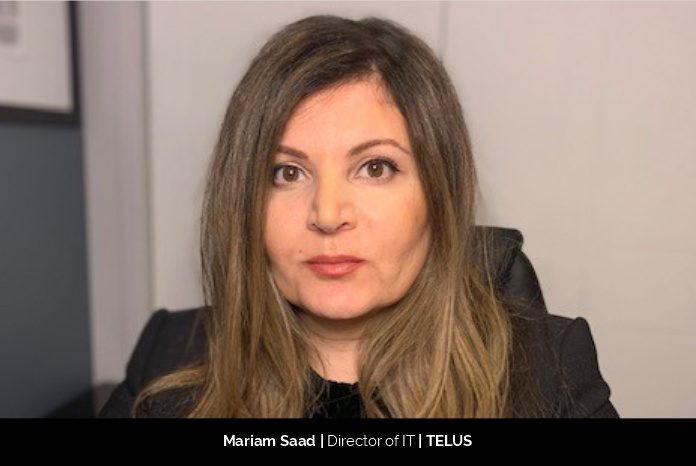 Mariam Saad is a commerce graduate from Concordia University in Montreal in International Business with a Minor in Marketing. She has more than 20 years of experience working in the procurement sector. Her career journey began as a Team Leader; after which, she eventually made her way into more senior positions. Today, Mariam is the Director of Procurement, IT, and Technology at TELUS.
Success is liking yourself, liking what you do, and liking how you do it – Maya Angelou
Every person's definition of success may vary and will be different. Mariam's version of success comes from what she tells her kids every day; "You try your best in all aspects of your life even if it doesn't lead to big results, as long as you are proud of your efforts."
Success is often defined by what you CAN accomplish, and failures are defined by what you CANNOT, if you believe you can, you will succeed. Self-belief and self-confidence don't come naturally to everyone, and you need to work on your mindset to tell yourself that you can achieve the goals that you have planned and are making great strides in achieving them. "I remember an article about Oprah Winfrey where she was asked about her definition of success. For Oprah success isn't being known by just her first name or being one of the world's wealthiest women, success to her is all about feeling fulfilled. Whereas, for Barack Obama: success isn't about how much money you make. It's about the difference you make in people's lives;" states Mariam.
A challenge becomes an obstacle only when you bow to it.
Every challenge in life is an opportunity for personal growth. Challenges test your commitment to your goals and when you overcome them, you grow as an individual, both emotionally and mentally. They make us more resilient. As Mariam progressed in her career, there were many roadblocks that she faced; some were small, and some were big. She embraced them because she knew in the end she would personally grow from the experience.
"One such example is from a few years ago, when I wanted to transition to a new role in my career, it felt as though there were no growth opportunities within the department, and I knew that to progress forward, I would need to leave. However, before deciding on that path, I decided to create my own opportunity and put together a business case for a role for myself. The challenges and roadblocks I have faced all resulted in better outcomes for my career," she says.
TELUS – its services and contribution to redefining the industry.
TELUS is a dynamic, world-leading communications technology company, providing not only telecommunications services such as mobility and internet to customers, but also leveraging global-leading technology and compassion to drive social change and enable remarkable human outcomes – a value that sets them apart to provide better offerings for their customers. "We always strive to put our customers first and every aspect of our business works with this focus in mind. We believe in making a difference in the communities we serve, and our social purpose is underpinned by four key pillars: empowering Canadians with connectivity, transforming healthcare, caring for the planet for future generations, and giving back to our communities," asserts Mariam.
Whether through their leading virtual health offerings at TELUS Health, their commitment to supporting sustainable agriculture with state-of-the-art technology at TELUS Agriculture, or their corporate impact funds investing in purpose-driven start-ups such as the TELUS Pollinator Fund for Good, TELUS is committed to connecting people, resources, and information that can improve the lives of those in Canada. Their team has contributed more than $900 million and 1.8 million days of service since 2000 to support their passion for connecting people for good and giving where they live.
Sharing and collaboration are an integral part of learning and growth. "At TELUS, we strive for continuous improvement and value creation which ensures that I'm constantly learning and educating myself, my team, and the business on the latest technologies," she says. She also has the opportunity to speak at events such as Procurement Supply Chain Digital, innovation councils or round tables with procurement leaders, supplier diversity events, or within IT summits to discuss the latest issues, trends in IT, and the digital space.
Giving back whether to her team, within TELUS, within her network, or with her suppliers, Mariam considers it a privilege and a responsibility to pay it forward to those that have supported her. Most recently she had the opportunity to speak at a round table at aim10x where they discussed next-gen planning, the need for investment in supply chains, the power of data analytics, and how it will change the journey overall. "I also value being considered as a thought contributor for important discussions around cloud transformation, and evolving strategy between private, public, single, and multi-cloud vendors," she exclaims.
Plans for the future of TELUS.
Mariam says, "I'm very passionate about what I do and will continue to focus on learning and growing in my field and ensure that what I do has a purpose and impact." What she loves about her work at TELUS is that she can work on solutions and solve problems that will assist others. For example – feeding the world, by improving the quality and safety of food, and working on technological solutions to make healthcare available and accessible to all. She wishes to continue to mentor women professionals and others and soon lead a procurement or supply chain organization.
Empowering women is the key the building a strong and great future.
Multiple studies have shown that strong female leadership improves employee productivity and increases corporate profitability. According to the Harvard Business Review, https://hbr.org/2016/02/study-firms-with-more-women-in-the-c-suite-are-more-profitable companies that increased the number of women in executive and board positions to 30 percent saw a 15 percent increase in profitability. This demonstrates how crucial it is for us to build a pipeline of women leaders who are empowered in their roles. "I have been mentoring throughout my career, with a focus on helping young women progress both in supply chain and procurement roles, among other fields," states Mariam. She works closely with her mentees on self-confidence and leadership. Teaching them that they have a voice, that they are sitting at that table, in that meeting, in that room for a reason, to lean in and not to be afraid to contribute – to put up their hand for that promotion, to have the conversation with their managers about their careers and to own their career.
"I have a young girl at home who is now a teenager and what I'm constantly teaching her is about leadership," she says. Leadership skills build confidence and should become second nature to young women. Women empowerment means that women gain more power and control over their own lives. It is an important factor in reaching gender equality. "As leaders, we need to ensure that we keep feeding that pipeline of women leaders. This is why I'm so passionate about mentoring young professional women who want to advance their careers. For me, it is about paying it forward," she further explains.
Mariam's life before TELUS
After graduating, Mariam pursued a 1.5-year Leadership Certificate at the Executive McGill MBA program. She worked across multiple industries like formation technologies, natural resources, and telecommunication. Mariam says that she has developed extensive experience in IT sales and procurement operations. Her focus throughout her career has been on revenue generation, cost savings, delivery, and value creation. She also claims that with each successive role the experience and expertise developed have sharpened her focus on value generation.
Professional achievements and responsibilities as a director.
"I'm proud of many of my professional achievements. I'm proud of my work and contributions at TELUS and proud of my team and all the hard work they do every day. What I'm most proud of is the mentorship work that I do. I'm also very proud of all the supplier diversity work that we do and being able to contribute and help in this area is key," Mariam exclaims with joy. She sits on the Women Business Enterprises Canada Council's (WBE) Business Development Committee, where the goal is to advance economic growth across Canada through the certification, development, and promotion of women-owned businesses.
Mariam defines herself as an 'authentic leader'. Her role in procurement at TELUS has been heavily weighted towards board sweeping transformation and seeking to mature their overall capabilities. She's also involved in a lot of innovations helping develop solutions to deliver on their promises to their customers. "I spend a lot of my time with our key partners discussing co-innovation or co-development opportunities and brainstorming potential solutions," she says. From a day-to-day delivery standpoint, she supports the following portfolios:
IT software and hardware
Cloud, technology services, and professional services
A team of 20+ people and has a dedicated team that supports all of TELUS' divisions.
Maintaining a work-life balance
Mariam mentors a lot of people, especially young women who are driven, and all the time she gets asked about work-life balance. Her first answer is always to define what balance means to you. "Is it having dinner with your family every night, making time to go to your kids' soccer practice, working a certain number of hours, etc… then set up your boundaries and ensure you have a support system and network both at home and at work," she explains.
At work, she always tries to lead by example. She has implemented team norms which set up how they are going to work as a team and support one another. They review them together as a team every quarter and ensure that everyone is respecting them. They have further implemented things like no meetings on Friday, respecting individual working hours and time zones, turning off notifications after working hours, monthly social events for team engagements, etc.
"At TELUS we have one of the best flexible work-life balances with our Work Styles program – enabling us to work from wherever we need and where we are most effective. We empower people to take time for themselves and to manage their working hours. I think this is important as it truly leads to a more engaged team," she says.
Mariam's message to aspiring women leaders is: Don't be afraid to try new things, don't wait for the perfect opportunity, create your destiny, and don't be afraid to fail, you will come out stronger.