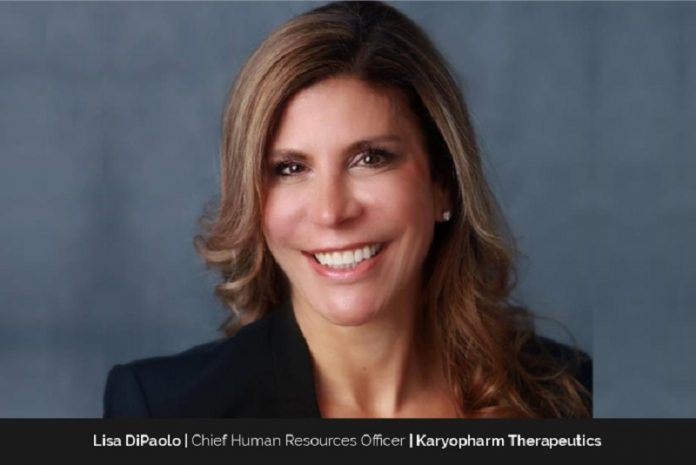 Lisa DiPaolo is a veteran of the HR industry, with a career spanning more than two decades. Although she originally had no intention of pursuing a career in HR, she has carved out a special place for herself in the industry. One of the reasons for her success is her resilient attitude. Lisa is currently making a mark as the Chief Human Resource Officer (CHRO) of Karyopharm Therapeutics, an innovation-driven pharmaceutical company.
At the company, she heads Total Rewards, Talent Management, Recruiting, and Diversity, Equity, Inclusion & Belonging initiatives, and Corporate Communications and Engagement. Lisa aims to make the company the "most enviable" mid-sized pharmaceutical company by creating and fostering a strong culture where employees love to work while maintaining the allure and charm of a smaller, non-bureaucratic pharmaceutical company.
Entering the HR Industry by Chance
A young Lisa had no plans of becoming part of the HR industry. She got into it by chance. While in College, Lisa started working as a communications intern at UPS. She reported to the Director of Human Resources there; under that leader, she began to become curious about the inner workings of helping employees– what it meant to work in HR as an employee champion. She also began to learn how critical HR is in enabling the business. Lisa's initial curiosity about HR as a career was sparked by this role. "It inspired me to pursue it wholeheartedly," she says.
Following her time at UPS, she worked at Hertz before making the move over to Life Sciences. In 1997, Lisa joined Pfizer, where she worked for three years as a business partner and in a unique policy role. She joined Novartis in 1999, where she had many opportunities to grow and advance her career. Lisa started out supporting the commercial organization and was then asked to be the Chief of Staff to the Head of HR. "I used that as an opportunity to accelerate my Master's while moving on to the HR leadership team and working on several high-visibility projects that cut across the HR organization," Lisa says.
In 2007, she moved to Switzerland to support a new leader who was transforming his team. In that capacity, Lisa worked closely with leadership to implement a number of talent strategies aligned with the new vision. After that, she was asked to lead the new Vaccines division that was being established in Boston. Lisa eventually left Novartis after a great 9-year run to lead a North American organization at a medical device company.
During her tenure at the company, Lisa was responsible for integrating a host of companies that they acquired over the years. She recalls that after a short time, she felt the itch to go back to pharma/biotech and was recruited to join Syntonix, a small company acquired by Biogen.
Eventually, that small company was consumed into the broader Biogen where she then spent 8 years in various roles with increasing levels of responsibility, including HR Business Partner, Head of Shared Services, Head of Executive Search, and Global Head of Talent Acquisition; in her last role as the VP of HR, she supported the commercial and medical organizations across the globe: the U.S, Europe, Asia/Pacific, and Latin America.
Lisa was then recruited to Head HR for Ipsen North America. At the company, she was responsible for leading a huge transformation, which included moving the commercial headquarters to Cambridge and establishing Ipsen as a veritable biotech amongst the ecosystem. Lisa says that this involved branding the organization to literally getting it on the map as well as building her team and capabilities, upskilling the leadership team, and shifting the culture to be more accountable and collaborative. She was also responsible for turning a nascent Global Talent Acquisition function into a sophisticated center of excellence with the capabilities, structure, and strategy to be successful.
Shortly after she joined Ipsen, Lisa assumed responsibility for Business Development and the Global R&D function, which was undergoing a significant change effort. She supported the Head of R&D through this transformation by evaluating and right-sizing their global footprint, building the structures across the organization, hiring new leaders to build out the leadership team where there were gaps, and backing efforts to build a strong culture. "And that brings us up to now- where I am already up, and off and running at Karyopharm," adds Lisa. She joined the company in September of 2022.
"Today, as I reflect on my career in this industry, I am always reminded of the privilege that it is to sit at the table as an HR executive and support/enact decisions that have the power to positively impact employees and define the culture within companies," says Lisa.
Company Undergoing Significant Changes
Karyopharm's core technology leverages the inhibition of nuclear export as a mechanism to treat patients with cancer and other medical conditions. Its culture, like in other companies, is its 'X' factor. At Karyopharm, there is a great science, great people, and a great opportunity for growth, according to Lisa.
The company is currently in the midst of shifting from a founder-led organization, where decisions were primarily made from the top, to a more collaborative and accountable organization. The transformation process includes inculcating the ICARE values – Innovation, Courage, Alignment/Accountability, Resilience, and Energy – and engaging employees at all levels of the organization while delivering on the company's vision and strategy.
Lisa's extensive experience and background in HR and in Biotech makes her a driving force to enable the business to deliver on its four core programs along with supporting the critical change journey for employees at Karyopharm. "Coming from best-in-class companies has given me a solid foundation to leverage as I reimagine HR in a smaller-sized pharmaceutical company and assist with implementing long-term strategies," she says.
Lisa's goal is to provide an employee experience that connects employees to the mission and drives high engagement and, ultimately, results. In addition to that, she also plans to redesign professional development programs to ensure that Karyopharm becomes a top talent destination for potential employees.
Collection of Right Data
Lisa firmly believes that the right data can help someone make the right decisions. In recent years, according to her, people analytics technology has come a long way, and it is now crucial for leveraging talent and making decisions. She also notes the need for the right technology, which can enable people to get the right data so that one they glean insights about programs that they are thinking about implementing. "It's those analytics that help you to show the value that you bring as an HR function," Lisa adds.
As someone who is a big believer in cutting-edge technology and programs, Lisa is always on the lookout for new, efficient methods of data collection.
Success and Achievement
"Success is not final, failure is not fatal: it is the COURAGE TO CONTINUE that counts" is Lisa's favorite quote from Winston Churchill. She, too, sees success in a similar way. According to her, success means the ability to fail and continue with the same level of enthusiasm.
As one gains career experience, one is bound to experience both successes and failures, Lisa points out, adding, both are important learning opportunities that one can use to their advantage to become a better leader.
"Ultimately, if you're always learning positively from what you've overcome, you'll leave a workplace better than you found it and help people achieve things they never thought possible- which should always be the goal when working in HR," she says.
Lisa's career has been stellar in the HR space. Her many achievements are a testimony to that. She is proud of all her achievements, but she is the proudest of what she accomplished as the Director at a company in 2010. At the time, she was working with a new CEO who was tasked with transforming the company into a nimbler biotech.
The CEO entrusted Lisa with the responsibility of leading the change so that the organization would ultimately have fewer committees, less bureaucracy, and be able to make swifter decisions. Lisa recalls that she assembled a small but mighty team to help support the new program leadership teams, roll out large-scale changes, and work closely with the executive team to create an inspiring company credo and values to then be instilled throughout the organization. "It was through this approach that I co-led the team to roll out this large-scale transformation throughout each level in the organization," she adds.
Lisa considers it an honor to be asked by the CEO of mid-sized biotech to tackle such an instrumental task. "While you can't measure change immediately, I am proud of the culture that I, and my team at the time, created and put forth," she says.
Work Day and Life Balance
Lisa's typical day starts with a cup of coffee, meditation, and a workout. She works out at 5 a.m. and then meditates for a half hour, pre-work. This helps keep her grounded and sets her day. "Daily rituals like this help keep me in the right frame of mind, especially when things get stressful," says Lisa, who does not have a typical day when it comes to work.
It is not the same day every day for Lisa on the job. In the morning, the first thing she likes to do is tackle her emails. It helps her get organized. But it is not something that she may end up doing every day. "Depending on business needs, any number of things could happen," Lisa points out. "I could be diving into daily meeting prep, brainstorming with team members, preparing to meet with our Board of Directors, attending Executive meetings, interviewing potential candidates, working on budgets, or taking external meetings."
There is really no 'regular' day at Karyopharm, which is what makes working at the company exciting for Lisa.  So, how does she maintain a work-life balance? "Well, first, I'd like to start by saying that I call it 'Life Balance' rather than 'Work-Life Balance," Lisa says.
She strongly believes that everyone, no matter their level in the company, must do what they need to do to manage their life calendar. As a wife and mother to two young children, Lisa is mindful of the times when she needs to balance taking care of herself, her family, and her work needs. "Especially now in the time of hybrid working, you must be a bit selfish with your time and make sure that you're doing what you need to do to take time for yourself," she says. That's why she introduced a blended approach to work at Karyopharm called KaryoFlex. This hybrid-model of work blends in-person collaboration with flexible schedules that enables employees to have the best of both worlds.
Just as she embraces managing her own life calendar and taking time out for herself, Lisa also encourages her team to do the same. She tells them to take time to step away, whether it is for a cup of coffee, a doctor's appointment, or a school drop-off. She reminds them to be on top of managing their life calendar because it will help them recharge and bring their best self to work.
Embodying Authentic Leadership
"What doesn't kill you makes you stronger" is a mantra that Lisa subscribes to. She is a boxer – in her spare time – and therefore, she believes that sometimes in life, one needs to fall or get proverbially punched in the face in order to have the opportunity to look for the wisdom in what one has just experienced so that one comes out stronger on the other side.
According to Lisa, how to portray authentic leadership is one of the challenges that rarely gets discussed, although many people, including herself, have faced it.  "In many ways, as a leader, you're expected to behave, look, and act a certain way," she points out.
When she was growing in her career, Lisa was dismayed to find that the idea of diverse, authentic leadership was not discussed or accepted until recently. These days, it's clear and accepted that there is no one-size-fits-all to what leadership looks like. Lisa says that it can really be disheartening to grow in a career where only one type of leadership is modeled and valued.
"So, if I'm suggesting some wisdom on the other side of this challenge, it's this: Keep showing up, keep being authentic. Your leadership style is needed," Lisa says.
Message to Aspiring Leaders
Lisa often quotes, "continuous effort — not strength or intelligence — is the key to unlocking our potential." Her message to aspiring leaders echoes the point made in the quote.
"Be bold, think big, and don't get hung up on failures," Lisa tells aspiring leaders. "Look at each setback as an opportunity to reframe and learn from what happened. Don't look back, keep moving forward."