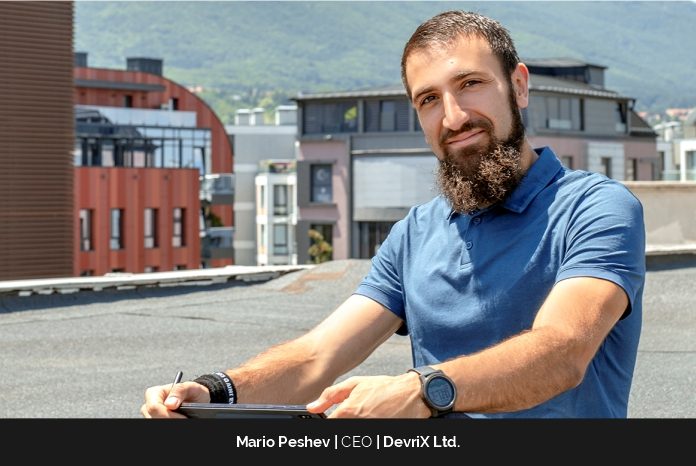 Every leader has a unique definition of success. For example, Mario Peshev, the CEO of DevriX, is a great business advisor. He helps small/medium-sized enterprises and fast-paced startups build high-scale and complex WordPress-driven platforms, bootstrap effective digital strategies, and increase their visibility through a healthy mix of tech and marketing. His definition of success revolves around the pursuit of happiness. "Upon building my personal value map, I've established that continuous learning through experimentation, combined with the ability to transfer knowledge through coaching and blogging, is my ultimate goal," says Mario. Hence, any business endeavor he undertakes is based upon the opportunity to learn, apply new techniques, inspire business leaders, and develop talent further.
Leading A Company to Success Is Not an Easy Road To Take
Mario built his first website as a kid back in 1999. Tech has always been an industry he has been passionate about – and one that facilitates continuous learning as well. His engineering, training, and blogging background naturally evolved into a larger venture with 50+ talented experts, paving the way to a top 20 worldwide vendor in the WordPress space.
Since day one, Nietzsche's adagio "That which does not kill us makes us stronger" is an integral part of Mario's journey. He believes that evolution does not exist within our comfort zone. Striving for continuous improvement is a constant effort that depends on overcoming challenges one step at a time.
He says that hundreds of practical examples have contributed to becoming a better leader. From contract loopholes to missed opportunities in negotiations, flaws in the recruitment or onboarding processes, or purely tactical mistakes – every lesson turns into a future opportunity. Best practices are adapting business insights from MBA textbooks, biographies of business leaders, and practical lessons learned on the field.
DevriX And Its Services
DevriX was founded in 2009 as the bridge between WordPress and the enterprise. Mario's background in corporate engineering serving MNCs, telecoms, banks translated to the modern web found a unique niche serving growing businesses on top of the most popular CMS on the planet. "Back when we started, WordPress merely powered just over 10% of all websites out there. Nowadays, 43.4% of all digital platforms run on top of the system," he states.
What makes DevriX unique is a business model they coined in 2015 called "WordPress retainers." They combine the best aspects of the popular management principles in development – outsourcing, building one-off solutions, and maintenance. As a result, DevriX offers blended month-to-month solutions as a digital partner to SMEs, providing tech, creative, digital consulting services tapping into their internal talent pool of veterans in different niches. As a result, they have successfully scaled tiny startups to unicorns, technical SaaS solutions to businesses acquired by companies like Facebook or Microsoft, publishers delivering hundreds of millions of monthly page views, eCommerce sites run by international sports brands.
"Our team has facilitated the digital transformation of banks and automotive manufacturers – and more importantly, we keep evolving along with dozens of our long-term accounts over the years," says Mario.
Redefining The IT Services Industry
There are multiple areas where DevriX played an essential role in transforming the IT industry for the better. Their WordPress retainers are now adopted by over a thousand companies worldwide. Mario says, "We are more than happy to share our business insights and lessons with the broader community, enabling more businesses to leverage professional services and build stronger connections with their vendors."
Focusing on WordPress and growing clients from small businesses to corporations employing thousands of people helped invest in WordPress Core contributions, establishing the better presence of WordPress in the enterprise world, and facilitating the adoption of the platform to a broader percentage of the web.
Their internal technical track also allows further talent development toward a "project owner" role – a blended position for experienced engineers with business acumen working alongside their project management department in senior engineering discussions, tech architecture decisions, and participation in the design of bleeding-edge solutions together with their clients.
Innovation Is a Key Ingredient In Building Long-Term Relationships
"Since our business model is based on long-term partnerships with our clients, we brainstorm daily on new paradigms, trends in design and technology, marketing techniques, conversion rate optimization strategies, and different ways to align the core business objectives of our clients with our professional capabilities," explains Mario.
Thanks to their recurring revenue model, they can afford to recoup the time in pitching businesses and instead double down on growing their portfolio of clients. The more they contribute with insights and solutions that grow revenue, the more their involvement (and billable time) evolve over time.
Vision For DevriX to Influence Change
Being an agile consultancy in the space is an important differentiating factor for DevriX. "We cannot afford to outgrow the personal touch both internally (across our team) and externally (to our partners and clients). This puts the bonus on maintaining and nurturing a strong core team of experts, focusing on efficiency and ROI as our guiding light," says Mario.
To keep their processes flexible and practical, they invest in tooling that maximizes the output of their solutions. Over time, they plan to either release some of the tools as products sold separately from their retainer plans or spin-off smaller companies profiling in a specific service (marketing, headless development, data science, or something else).
The future of DevriX depends on its core team. Together, they learn and grow as one strong unit, a network of experts putting their minds together toward building innovative, efficient solutions for the web. This consultancy model has no limits – and the evolution of WordPress opens a new market for them daily.
The Beginning of Mario's Successful Career
Mario states that there are different milestones he is grateful for towards his professional journey. "From my first site in '99 through my first freelancing efforts, my contracts as a writer for international media outlets, co-organizing the largest tech events in the region, and participating in the first technical training academies in the country. Running digital forums in the early days of forum systems and building a tutorial channel on YouTube landed me my first public speaking engagements around Europe, contracts with CERN and Saudi Aramco, consulting engagements with SAP and Vmware, and various key initiatives that made me a better leader and a multi-disciplined executive," he further explains.
Responsibilities As Chief Executive Officer
Mario, who defines himself as a "Hustler," states that his wallpaper right now is a black background with the dictionary definitions of three words: Grind. Execution. Hustle.
His day-to-day activities start late and usually wrap up around 2 am local time. "I spend 15min in the morning unblocking some pending tasks and get back to my early rituals – listening to audiobooks, preparing a French press with one of my favorite coffee blends, and heading to a workout session. Then, once I'm back and take a shower, I step in back at the office for strategic meetings or sifting through my email," says Mario. He often has 7 to 9 meetings in a day, which is why he maximizes his off-time in Asana and his email, ensuring he can touch as many different teams as possible throughout the day.
Mario's schedule is quite diverse – it could vary from helping strategize a crucial technical solution, scoping a project estimate, reviewing new landing pages for the marketing team, interviewing applicants, bouncing ideas back and forth with the sales teams, or picking new amenities for the fun room at the office. "Variety helps my creative juices flow throughout the day!" He exclaims.
Balance In Personal and Professional Life
Variety and the ability to learn constantly is Mario's fuel. Being able to wear so many different hats throughout the day is crucial for maintaining motivation. "I make the most out of my mornings and balance family time and work on weekends. As for my team, my management crew meets weekly and iterates on our quarterly OKRs," he explains. They work together on devising career and feedback plans for all of their colleagues and work closely daily to keep the process flowing. Mario claims that the family spirit is what their great talent thrives on – it's a unique culture that works differently than most workplaces, but when it clicks, it keeps them going for years.
"Aspiring business leaders need to find their purpose – along with their 'Why,' says Mario. As long as you are passionate about building a solid team and serving your clients, and your unique proposition has been demanded – the business will thrive over time.