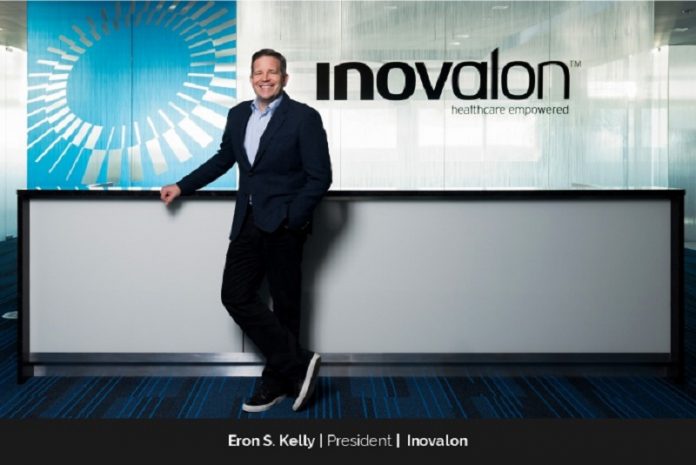 After working for Amazon and Microsoft, Eron S. Kelly joined Inovalon, a provider of cloud-based platforms empowering data-driven healthcare, as Corporate President in June of 2021. During his stint at Microsoft, he created the business foundation of Office 365, and at Amazon, he was responsible for the worldwide product marketing for many of Amazon Web Services (AWS) biggest services like EC2 and S3. At Inovalon, Eron has ushered in change by introducing some of the best practices that he learned at his previous companies. And, in just six months, his efforts have helped the company grow in several key ways.
In this exclusive interview with CIO Views, Eron talks about his responsibilities at Inovalon, his vision and future plan for the company. He briefly discusses his time at Amazon and Microsoft and his role in the development of Office 365, and he also shares his views on success and challenges.
Every leader has a unique definition of success. Tell us about your thoughts about success and why do you feel that?
I think of success in two ways. The first is straight forward – did you set a bold goal and achieve it? Examples of this might be achieving revenue targets, shipping an important release on time, or beating your launch metrics for a major release.  The second way I think about success has less to do with whether or not you achieved the goal, but how you achieved it. Did you create a new mechanism that will allow your team to achieve the next year's target as well, or did you benefit from some good luck or a low target? I am always weary of what I call "watermelon" goals – they are green on the outside (you hit the target), but red on the inside (you got a lucky deal or the targets were set too low). For me, success is not only about achieving your goals for the current year, but it is also about creating sustainable mechanisms to achieve your goals every year.
Leading a company to success is not an easy road to take. What inspired you to take the step of faith? What led you to the Information Technology & Services industry?
My interest in technology started in high school. I liked learning about how things worked. Calculus and physics were my favorite subjects. That interest led to a degree in Electrical Engineering at Princeton and my first job as an officer in the Air Force Research Lab leading infrared window materials research. I left the Air Force to get my MBA, and during business school, I set a goal to one day lead a technology company. I didn't set a specific timeline, but I have always gravitated toward opportunities where I can learn and grow with this long-term goal in mind. My time at Microsoft and AWS were opportunities to learn from the best while creating global impact, but they didn't represent the end state of my career. I look back at my time at Microsoft and AWS as stepping-stones to my role now at Inovalon.
Challenges make you stronger. What is your take on this? What were the roadblocks that taught you valuable lessons in your professional journey?
I have found throughout my career that overcoming challenges not only makes you stronger and wiser but also gives you more confidence to tackle the next challenge. As you overcome more obstacles, your confidence grows which leads you to take on bigger and bigger challenges. But, along the way, you need to approach each challenge with a growth mindset – what I am going to learn as I tackle this problem that will help me in the future? As I reflect on my career, there are several lessons that have stuck with me. One is maintaining commitment to your long-term goals. The most impactful work takes time, and along the way, you will face many obstacles; but you always must keep the destination in mind. Where are you trying to go and more importantly, what does it look like when you get there?
During my early days at Microsoft in 2000, we believed BizTalk Server could evolve into a full-fledged e-business suite, but we got distracted by a short-term opportunity with a specific customer. That detour ended up costing us too much time, which caused us to miss the market and we never released a version that supported the bigger vision. Later, when I was leading product management for Office 365, we took a different approach. We remained laser focused on the destination where every user was in the cloud, even if it took several releases to get there. We created a separate team that was entirely committed to moving to the cloud and wasn't bogged down by the quarterly results of our server software business. This relentless focus to get to your destination as quickly as possible without distraction, is a lesson that I am using today to drive our product strategy at Inovalon.
Tell us in brief about the products and services of Inovalon.
For over 20 years, Inovalon has been using data to improve healthcare outcomes and economics across different segments in healthcare. Our products may have evolved and expanded over time, but that core mission has stayed the same. Our SaaS products leverage the largest, primary sourced health care data set in the country that includes over 348M lives and 68B medical events. We use that data and our experience to build and improve market leading SaaS products and data solutions for the benefit of the healthcare ecosystem. We help Payers with quality measurements and risk score accuracy, enable Providers to process claims and improve revenue cycle management, help Specialty Pharmacies manage increasingly complex treatments, and provide insights and expertise to Life Sciences companies so they can achieve greater outcomes in research, development and go to market strategies. Inovalon is well positioned for the future because it sits at the intersection of three big trends in the industry: cloud-based technologies, data, and vertical solutions for healthcare.
Tell us about your contribution in redefining Information Technology & Services industry.
I would say the biggest impact that I have had so far on the Information Technology industry was my role in creating what was Office 365 and is now called Microsoft 365. I led the product management team that developed the initial business case and strategy that transformed Microsoft's enterprise server products into cloud services. My team was responsible for designing and implementing the new cloud business model, partner model, go to market strategy, field sales model, marketing campaigns, customer experience and product strategy. At Microsoft I built the business foundation of Office 365 that is still largely in place today, and I can see a similar journey with Inovalon as we transform healthcare with data and the cloud.
What are the core values of Inovalon and how does the company stay abreast with the growing competition in the industry? How do you ensure a culture of integrity and innovation in the company?
Inovalon's core values start with the patient. How can we use our data and technology to improve their outcomes? From using our analytics to identify patients who have gaps in care so they can be addressed by a health plan's program, to delivering a patient's history in real time at the point of care so a pharmacist can design the safest treatment protocol, to helping a pharmaceutical company better understand the efficacy of their therapeutics, to making it easier for providers to process their claims faster so they spend more time with patients and less time on paperwork. Our innovation starts with improving outcomes for the patient, and we work backwards from there.
Tell us how the company has grown under your leadership? Share with us your proud moment as a successful leader.
In the 9 months that I have been at Inovalon, we have grown in several key ways. There has always been a deep bench of healthcare and technology experts at Inovalon, and I was able to bring some of the best practices that I've learned over the years at Microsoft and AWS to the organization. We have embraced a new mechanism for product planning that I learned at AWS that starts all new product plans with a working backwards document that includes a press release for the new product. The team has really leaned into this new approach because it forces the product management team to clearly describe the customer's problem and how we are going to solve it. This clarity makes it easier for everyone to understand what needs to be built which has led to better execution across product management and engineering.  We are starting to see the results with major product announcements in each of our business units over the last few months.
As a visionary and an established business leader, what is your vision for the company? How do you keep yourself and your employees motivated to deliver the best services?
What is great about Inovalon is our vision for the company hasn't changed since its inception – we have always been, and will remain, focused on improving outcomes in healthcare using data. I have found that having a consistent vision that is clear and easy to understand is also the most effective. Anyone in the organization can look at our vision statement and understand where we are going and how to make tradeoffs. If what you are doing doesn't help improve outcomes or economics for patients and our customers, then why are we doing it? This vision can endure over time and can't fully be achieved at any one moment. This forces you to take a long-term view, which ultimately leads to greater value creation for your customers, your company and your team.
Tell us about your life before Inovalon.
My working career started in the military as an officer working at the Air Force Research labs in Dayton, OH. After 4 years in the Air Force, I received by MBA from Harvard and then joined Microsoft as a product manager on BizTalk Server, an application integration product. I transitioned over to the Exchange team to take over the new opportunities team and ultimately lead the creation of Office 365. I then spent time on SQL Server and Microsoft's data platform before ending my time at Microsoft as the World-Wide Sales Leader for Office 365. I then moved "across the lake" to AWS where I led world-wide product marketing for a broad section of the AWS portfolio including compute, storage, networking, end user computing and business applications.
What are your responsibilities as the President of Inovalon? Walk us through your regular day at work.
I am the Corporate President at Inovalon responsible for the management, operation and P/L of Inovalon's multiple business units which include the product strategy and business results, sales and marketing performance, customer experience and service delivery. In addition to leading the business units, our marketing team, HR team and clinical team report directly into me. A typical week at Inovalon might include a meeting with a customer or partner, a working backwards document review to help shape the direction of our product, meetings with our clinical team to understand new requirements to better support healthcare providers, or our weekly engineering and product reviews to keep track of the roadmap execution and business results by product. In addition to tracking our progress with products, I'll spend time in our weekly sales review to track progress and provide coaching, or the weekly check in with our HR team to review metrics and design new programs. My meetings with marketing center on reviewing our lead generation plans or the launch calendar for upcoming releases.
What are your plans for the future of Inovalon? How does the company plan to extend its services, globally?
Inovalon's future is very bright. We are very well positioned in the market with the largest primary sourced healthcare data set and market leading SaaS and data products that serve the needs of a broad set of the healthcare marketplace. We are riding the wave of cloud adoption across our different business units and have an exciting wave of innovation coming out in 2022 that will deepen our partnership with our customers and deliver even better outcomes for patients. We recently went private with Nordic Capital, Insights Partners and 22C, which has made it easier for us to implement new operational mechanisms and focus on a bright, long-term future.
***********