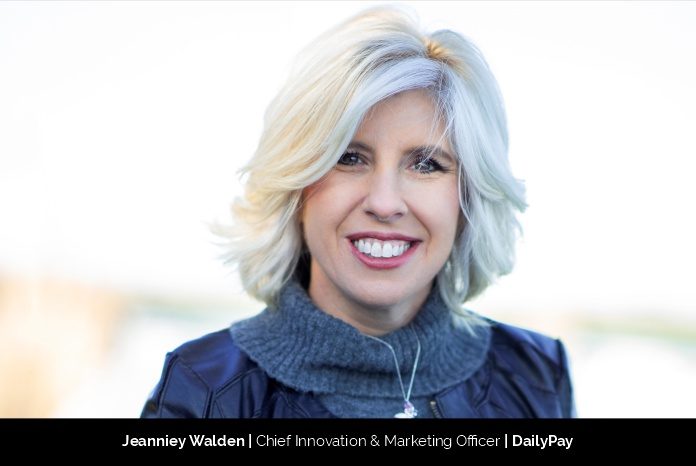 From the Barter system to hard cash transactions, the world has seen a huge metamorphosis in the financial industry landscape. Industries increased, and so did the number of employees who worked on daily wages. Whether it was $100 or $200, every penny counted to feed the family and keep them happy.
While the need for cash every day was so huge, the means of payment remained underdeveloped.
To address this problem faced by all and make the payment system even more convenient, DailyPay      was founded in 2015. Jeanniey Walden, The Chief Innovation and Marketing Officer of this financial services business, led this company to new heights.
It was her commitment to her role and her efforts that brought her to the forefront. She has become one of the most recognized women leaders who, with their work efficiency and enthusiasm, set a precedent in this male-driven industry and encouraged many women to stand on their own and acquire a significant position for themselves.
A Sudden Interest that Turned Over a New Leaf
Jeanniey had an ardent desire to be a primary school teacher and to impart her knowledge. Little did she know that her whole life was going to change one day, and her career was going to seek an alienated path.
The thought of business and the curiosity of technology emerged when she worked in JCPenney, her mother company. Data-driven marketing combined with technology instilled a passion in her.
Addressing the issues faced by the working class, she says, "Hard-working Americans needed money to support themselves and their families but had to wait two weeks (or more!) to get paid, often putting them in dire financial situations. The two-week pay cycle wasn't working. People were getting second jobs just to get immediate funds to make ends meet. There had to be a better way. Jason and team created a revolutionary new "pay experience" for both the employee and the employer."
Jason Lee is the CEO and Co-founder of DailyPay, where Jeanniey works and meets her milestones. Her passion, which has given the organization a new shape, draws more employees and blue-chip firms to join them and expand their team.
Substantiating her point, she adds, "DailyPay works with 80% of the Fortune 100 companies that offer on-demand pay."
Blockades on the Pre-Destined Course
Although the global pandemic impacted many businesses, Jeanniey's company saw a different scenario throughout the lockdown. During this period, she and her team prospered and grew tremendously.
Since employees should have the choice of opting for their preferred mode of payment for their hard-earned capital, Jeanniey's firm did wonders at this crisis. The enterprises understood the value of options and turned to DailyPay to lend a helping hand.
She explains, "For employers, offering DailyPay became an unlikely source of tremendous savings. Employees with the DailyPay benefit stay up to 50% longer at their jobs, saving companies millions on recruiting costs."
Using the incredible thought process of providing the working class with a convenient and quick payment solution, Jeanniey and her team set the trend. As an innovative and far-sighted marketing officer, she leveraged her research and made it possible for the Rehire America Index to establish itself.
Her idea behind this index was to track employee hours in several key industries and understand hiring trends.
To simplify the purpose of her idea, she explains, "These insights helped business leaders get a bird's eye view of employment and hiring trends, helping to inform their strategies and approach to hiring."
DailyPay: A Boon for the Finance Sector with Several Benefits
Jeanniey's firm provides financial services for a wide range of clients nationally. DailyPay is a pioneer in the on demand pay industry with a gold standard badge attached to it. This company provides top-notch services to its clients while empowering American workers to gain unprecedented flexibility and control over their pay. Moreover, this ground-breaking platform provides a lot more than you can think of.
Jeanniey states, "DailyPay's revolutionary pay experience platform, PayEx, offers employees unique products and digital, rewarding experiences to help them achieve financial stability. With PayEx, employers can gain a competitive edge by reducing turnover, increasing productivity, and rebuilding trust with their employees."
Since DailyPay offers a suite of products and services, there are prominent ones that change everyone's perception of DailyPay. Inc.
The PayEx TM platform comprises of innovative products:
PAY: Employees can control how and when they get paid with instant access to earned income, transparent fees, and 24/7/365 access to up to 100% of their earned income
SAVE: Employees can save their pay in three different ways — scheduled automatically, rounded up when they make a transfer, or directly whenever they choose. With DailyPay, all savings tools are 100% free
CYCLE: Payroll teams can disburse digital, contactless off-cycle payments anytime, from anywhere (e.g., missed shifts/termination pay) anywhere (e.g., missed shifts/termination pay)
By providing these services and products to clients, she and her team have successfully climbed the ladder of success. She has managed to bring about a significant change in the conventional practices of payment of wages.
A Woman in Lead who Changed the Face of DailyPay
Initially passionate about becoming a primary school teacher, Jeanniey never thought she would end up in the financial services industry. Though nothing had been planned before, sudden changes were set to fall on their own.
While this company took shape, there was very little awareness of its benefits and services.
Explaining the scenario, she says, "When we would go to conferences and vendors, no one recognized us or knew about the on-demand pay industry."
Although the road seemed rocky, the first ray of hope came from their first client, who was optimistic about the company. With the forecast of a massive impact in the near future and a great success, Jeanniey and her company's journey began at full speed.
Since then, she has never turned back and remained firm on her choices, which have made her the role model she is today.
She states, "Since then, the industry has exploded, and we have companies coming to us to learn more about DailyPay, which is a great accomplishment and serves as a testament to the real need for our services."
Even though her aspirations were different, fate played its part in getting her to a position that is in demand today. Associating herself with this organization gave her new opportunities to make the most of her expertise and experience to benefit others.
"I've helped increase DailyPay's revenue by +300%." She adds to mention her contributions to this company that is now the top leader of this industry.
Before joining DailyPay, Jeanniey gained invaluable marketing experience by starting her own startups and companies. These endeavors made it possible for her to imbibe more skills and use them to bring about a drastic shift in her personality and business.
For Jeanniey, helping DailyPay support millions worldwide was the biggest accomplishment of her life. She plans to keep inspiring others by playing her part and helping those in need. Her happiness lies more in the achievements of others than in her own accomplishment and appreciation.
She adds a cherry on the top by saying, "When I have the time, I try to give career advice and take on speaking engagements to help inspire the next generation of leaders to launch their career and spur innovation."
Her constant motivation is to positively impact others' lives using the pay tool and make their lives better. She says, "Our product is a lifeline for employees and their families. A DailyPay survey indicated that with our on-demand pay benefit, employees save on average $1205 per year. Knowing that our work is creating a bigger change in the world is very rewarding and encourages us to continue to push out quality products and services."
A Long-term Vision to Empower and Turn the Financial Landscape
Affecting millions of lives in a good way and reducing the hardship that the workers are going through is Jeanniey's wish that promises a better future. Eradication of the traditional payroll structure is another factor that she plans to alter by using her business resources, which aspires to make a significant change in this field.
To explain her visions regarding this company, she mentions, "Working with DailyPay for over two years now, I have seen how DailyPay serves hard-working employees and their employers. I want to continue to build the DailyPay brand and have businesses nationwide understand how our unique differentiators can make a positive impact in the lives of their workers and on their bottom line."
She can see her visions transform into reality as the industry blossoms over the years. The period of crisis contributed to DailyPay's success and propelled it forward to hit its milestone. It was because of the pandemic that people recognized the value of payroll and approached DailyPay to get the assistance they wanted.
DailyPay  is experiencing an upward trend due to its convenience and speed. More and more companies are using DailyPay's services to please their employees and drive down operating costs      by making it easier for them to get their pay and satisfy their requirements. The rewards they reap using DailyPay's solutions and services are a bonus to what they get from working hard to make ends meet.
To conclude her long-term vision, she adds, "Over the next few months, as some businesses open up again, offering a daily pay benefit will be essential in recruiting quality new employees."
A Business that Remains on Top of other Lookalikes
Jeanniey strongly thinks that the secret sauce to success lies in the knowledge of oneself. Through understanding the future rivals, goods, and deals well in the market, Jeanniey and her team manage to remain ahead of others. Had she not embraced this approach, she would have suffered many losses, and DailyPay would have taken a back seat.
"We also pride ourselves on leveraging the most innovative, cutting-edge technology and funding capabilities. We are able to scale to fit any organization's needs and have an amazing team that's aligned to our mission and purpose." Jeanniey adds to explain how her company stays abreast with others.
Striking the Perfect work-life Balance to Fan the Wings of the Company
Although it is difficult for some to combine their personal and professional lives with ease, Jeanniey finds it fascinating and calls it a "work-life blend." It is her passion that has pushed the company to climb the ladders of success and continues to do so.
To put it in the proper manner, she adds, "It's important to not overwork yourself and rest when needed. I always prioritize self-growth activities and try to get myself moving. I think it's easier for me to maintain this balance because DailyPay encourages employees to have a good balance and offers a lot of benefits to help me maintain that balance, like unlimited PTO."
For her, the roadmap of DailyPay further success has a well-planned course to follow. She is very clear in her thoughts and knows what has to be done to skyrocket her success. She explains her clarity of vision by saying, "With the pandemic further solidifying the necessity of flexible pay, an increasing number of businesses are turning to DailyPay. Employers recognize that DailyPay isn't just a lifeline for employees – it's a necessity for businesses to thrive. Interestingly, a recent Harris Poll showed that 36% of employed Americans say they rely on financial assistance programs offered by their employer for financial guidance and advice."
She says, "In five years, we expect that at least 75% of U.S. businesses will offer a daily pay benefit." It is this ideal balance that she is now looking to globalize her services in the near future.