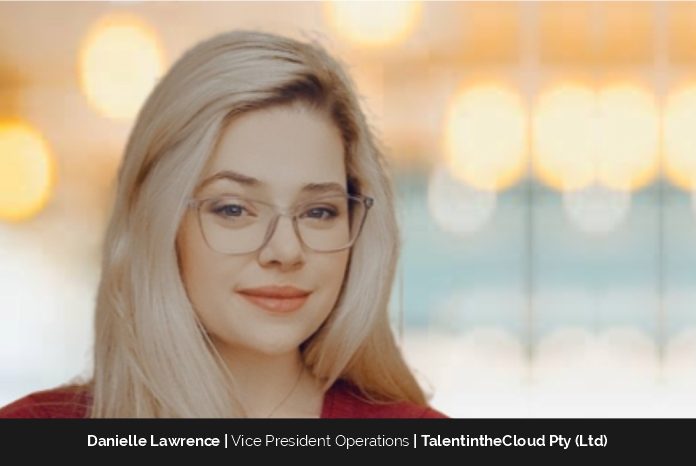 The ability to hire and develop great talent is critical for today's smartest companies. In staffing and recruiting industry, companies help various organizations find staff and groom them for the required job. A great staffing & recruiting service helps set you up for success.
Danielle Lawrence is the Vice President of Operations at TalentintheCloud Pty (Ltd) – the leading Executive Search firm focusing on leadership that hires across the FinTech and Payments sector across EMEA. TalentintheCloud is headquartered in Mauritius with offices in London and Cape Town. Danielle is responsible for designing and implementing business operations, establishing policies that promote company culture, vision and performance, as well as overseeing operations of the working executives in each department including sales, customer experience, legal, HR and finance.
TalentintheCloud's growth and contribution in the staffing space
TalentintheCloud Pty (Ltd) started in 2016 with 1 client, DPO Group. Since that start, through a pandemic and economic difficulties, their team has grown to 15 people globally and their client base, exponentially. They've recently partnered with the Fintech Association of South Africa and assisted them in hosting and launching the first association in South Africa dedicated to the growth and voice of the Fintech ecosystem, and they are representing talent in the Fintech industry at numerous conferences and events all over world in the coming months.
"Our contribution to staffing has been great – with our core focus being the placement of women within leadership capacities, specifically in Africa," states Danielle. TalentintheCloud strives and succeeds in connecting like-minded people, bringing communities together, and (as cliché as it sounds) changing the lives of those people they work with, whether it is finding them their dream position in a growing or established Fintech, or growing their start-up business to more than they could have ever dreamed by fuelling the fire with exceptional talent. Their values are simple, but they strive to make a difference every single day – that is something Danielle claims to be very proud of.
Successful businesses need solid leadership 
Danielle thinks there is a massive difference between being a boss and being a leader. A leader is one who puts the team first, the business second and themselves last. If that principle of leadership is followed then success, for her, is defined by the happiness of the team, the ability of the business to strive towards a toxic-free culture and the achievement of that and lastly, the successful drive of the team to grow the business to greater heights.
"If we, as leaders, commit ourselves to the personal and professional growth of our teams, lead by example, and drive inclusivity, the business will automatically grow and flourish which, at the end of the day, is what success looks like from the outside," she states.
Going through challenges, helps you become stronger
There is an old saying: "the same pot of boiling water that softens the potato hardens the egg." Danielle tries to remember that, because it's not the challenge that makes you stronger, it's how you deal with it that beckons the end result.
Danielle has faced many roadblocks, some that she couldn't control and some that she could but the lesson she says she learnt through all of them was that her attitude towards the roadblock will ultimately determine the outcome and where she will be.
She remembers struggling to find focus and drive when remote working became mandatory. Danielle procrastinated, rushed her tasks, and accepts that she sadly, let her CEO at the time, down. Instead of hiding the fact that she had learned a difficult lesson through her own mistakes, she proudly told her team about it, she did everything she could to achieve better time management skills, and then realised that roadblocks and mistakes are necessary in the strive for personal growth. "Hiding them and not sharing the lessons we learnt is such a shame and out of all of this not only did I learn how to work better but also that talking about our roadblocks might help someone else overcome theirs – that's a great lesson!" she exclaims.
Working towards being a great leader with great recognition
Danielle started working in her parents business (she used the term working lightly) when she was around 16 years old. She learnt then that business is complicated and she enjoyed watching her dad navigate the complexity, thinking, she wants to do that one day. "I suppose I never dreamed of a life in staffing but when I was called for an interview in my very first recruitment job, I fell in love with the problem-solving, the research and the speed at which top recruiters work. It snowballed from there," she says.
In terms of recognition, Danielle thinks her leadership has flourished during her time at TalentintheCloud Pty (Ltd). The support, loyalty and commitment she gets from her team, who gives her those things because they feel taken care of and valued, is probably the biggest and most special recognition in she claims to have received in her career to-date.
Responsibilities at TalentintheCloud Pty (Ltd)
At TalentintheCloud Pty (Ltd), Danielle is responsible for ensuring operational excellence throughout the business. She has oversight and provides input in all departments, managing and advising on strategy and execution. Those departments are: sales, marketing, customer experience, recruitment, HR and legal.
Before TalentintheCloud Pty (Ltd), Danielle worked in the recruitment space as a recruiter in South Africa, as a Business Analyst in Dubai, navigating the stress of working remotely. She says she learnt a lot from her previous company, and her CEO there taught her how to operate successfully in the recruitment space. "I believe I've been quite fortunate in working with exceptional leaders who have all given me nuggets of information that I used to be where I am today," she further says.
Danielle knows a few people would describe her differently than how she sees herself – but she describes herself as a passionate person, and this is her greatest strength and sometimes her biggest weakness. "I find myself obsessing over the creation and implementation of business processes and procedures, ensuring that whatever we implement is right, not only for the business but for the team. Sometimes, this obsessive mindset leads to the absence of agile thinking, but at least self-awareness is not lacking," she states.
Staying motivated and maintaining a work-life balance
Danielle states that in her career, she has never really found a good balance between her personal and professional life and she thinks that, specifically, a lot of women struggle with that. "Developing a career whilst caring for and offering mental, emotional and financial support to your children, being sure to get yourself into the gym, shopping for household needs, finding time to do washing and ironing – it's really difficult," she says. Recently, she has started taking stock of her life as a whole and in doing so, she realised that there were certain decisions she needed to make in order to simplify her daily life.
Motivation comes in many forms. Every single one of us have days where we lie in bed at 6am thinking "I wish I could call in sick today." Danielle is driven by her daughters. "I want to give them an excellent life, an opportunity to study abroad one day if they so choose, and a role model that, hopefully, they will look up to when their time comes to be a leader and mother. That is enough to get me out of bed every single day with a smile on my face, ready to face whatever is thrown at me, whether that 6am call-in-sick moment comes or not," she states.
Motivating others is impossible if you, yourself, are not in a good head space. Every Sunday evening, Danielle sends an uplifting message or article to her team. "I tell them that I believe in them, that I am there for them, that I'll take whatever bullets I can for them during the week ahead, and most importantly, that I trust them to fulfil their weekly commitments. I believe that encouragement goes a long way, but so does trust when motivating the team. In other words, I trust that if you phone me telling me that you need a mental health day, that you'll take it and return ready for the next day or week or month," she says.
Knowing that your leadership team is supportive of your needs, regardless of what they are, is an excellent motivational strategy and one that Danielle has instilled within TalentintheCloud Pty (Ltd).
Danielle's future plans for herself and TalentintheCloud Pty (Ltd)
"Talentinthecloud Pty (Ltd) is an incredible organisation. Darren Franks is an amazing CEO – he has vision and drive, all for the good of the company and his staff and with someone like that at the helm, I can only see great things coming," Danielle exclaims.
As a company they plan to triple their size within the next three years, they are exploring new methods of work within our various departments and they always have their eye on global expansion. "I have no doubt that sticking to our fundamental foundations, growing and grooming our leadership team into leaders that put the needs to those who we are fortunate enough to work with above self-preservation, and ensuring that we remain focused on the people element just as much as the financial element, that we will enter the future with marvellous achievement and tenacious hunger for more," states Danielle.
On the personal side, Danielle see herself in a Managing Director position within the next 3 years or so. She thinks she has a lot more to give and, with the correct platform, she will be able to achieve more, not only for the business she's in, but for the industry as a whole.
Danielle wanted to be a doctor desperately. She tried to figure out working full-time and studying full-time with a newborn and that ended as well as anyone would expect it to. She then came to the conclusion that their dreams need to be fluid. So far, at 30, she feels that she has achieved a lot and it might not have been white coat but she's in a position where she has the ability to change lives and raise the leaders of tomorrow to be empathetic, kind and caring – something she thinks that business today could use a bit more of. So, in a sense she feels that she has achieved what her core desire was and is hoping to achieve more.