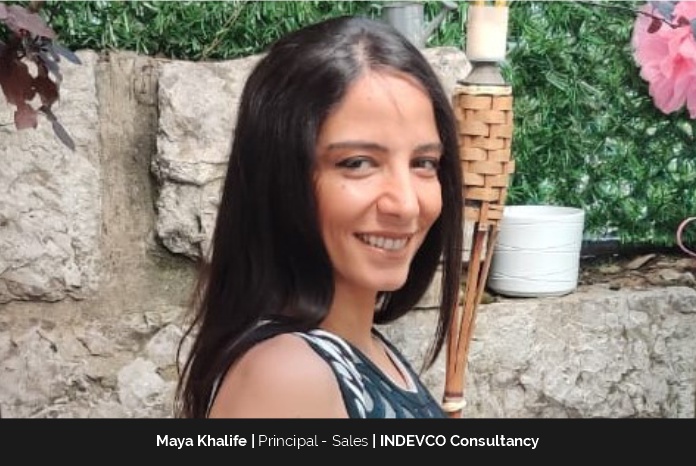 As a senior management professional, Maya Khalifeh works with organization leaderships to transform businesses to achieve identified strategic plans. A seasoned leader in sales, strategic and key account management, Maya is currently the Principal, Sales at INDEVCO Consultancy.
A brief about INDEVCO Consultancy
INDEVCO Consultancy leverages on INDEVCO group's 6 decades of industrial and operational experience to provide its clients with holistic and optimal solutions to create business value. By taking a partnership approach, they help transform organizations ambitious goals into reality by analyzing pain points, recommending and executing customized and agile solutions.
Services include: Customer Experience & Retention Strategies, Lead Generation & Customer Acquisition Programs, Marketing & Sales Enablement, Risk Assessment & Internal Audit Advisory, Strategic Sourcing & Supply Chain Optimization, People Strategy & Organization Development, Exhibition Strategy & Management, Sustainability Strategy & Governance, Business Process Improvement & Excellence, Information Systems & Business Intelligence, Insurance & Safety Risk Management, and IT Solutions & Consultancy.
The darkest hour of the night is right before dawn
"In my opinion, success is a mix of hard work and strategic planning so that the leader is ready to take advantage of opportunities when they emerge. Most people would consider it a sign of good luck," states Maya.
There is a lot of work going on behind the scenes, exactly like the iceberg model, where individuals only perceive what is showing, but the mental capability and structural growth, as well as the patterns and trends, are hidden from the outside view perspective.
Maya says that it is critical to her well-being that the projects on which she's focused stretches her mind. Performing the same tasks repeatedly does not fill the spark inside her. During the Corona Pandemic, "INDEVCO Consultancy" was born out of a belief in "listening to change".  Accordingly, they planned for the whole strategy, processes, communications and services along with how to maneuver each to pass the economic crisis and Corona virus effect on businesses.
Maya's contribution in redefining the industry with integrity and innovation
Maya plays a key role in connecting the dots and addressing technology and digital transformation from a business point of view. To achieve effective win-win solutions for many involved entities at work, she relies on her capabilities to grasp multiple points of view with strong emotional intelligence and executive maturity.
"Despite all the challenges that I had in my life, I feel that it is imperative that I lead a life of a role model to the young girls around me, by being ambitious, positive, resilient, happy and self-fulfilled," she says.
Entrepreneurship is a key value at INDEVCO Group and Maya feels it is in their DNA to be innovative, to add value in what they are involved in as well as listening to change and acting upon it.
Being a strong leader and paving the way for women in business
Arab women continue to lead the struggle for economic empowerment and gender rights and equality at work. Maya Khalifeh, believes that as a mother she has a responsibility to her daughter and other women to advocate for women's rights, particularly in the workplace. Despite the difficulties she has faced, she believes it's critical that she lives the life of a role model for the young girls in her community by being ambitious, cheerful, resilient, fulfilled, and full of joy and gratitude.
Maya's career life before INDEVCO Consultancy
Maya was a long-term volunteer with United Nations Volunteers (UNV) throughout her time at university, engaging in programs such as Lebanon's first national marathon. As a child, she always wanted to work in UNDP's regional headquarters. After that, she joined the INDEVCO Group as a trainee just as she was finishing up her undergraduate studies, and it was there that she developed professionally and personally, ultimately leading to her current position.
Maya has had many turning points in her life that she claims helped her shape her profile as a businesswoman including earning her Executive MBA from ESCP Europe, winning 2020 Customer Experience Professional of the Year in Dubai and being on the list of inspiring women for younger generation to follow.
Other career accomplishments include leading large-scale digital transformation projects, setting up INDEVCO's Customer Experience service unit, and introducing strategies and vision in data management and visualization.
Responsibilities as the Principal, Sales of INDEVCO Consultancy
"INDEVCO Consultancy's strategic growth and development are at the heart of my main responsibilities," states Maya.  She leads INDEVCO Consultancy sales. She is responsible for driving the revenue generation, new customer acquisition strategy, current account expansion, & overall sales. Maya also manages key customer relationships and participates in closing strategic partnerships & opportunities.
"I am a morning person, and my daily routine involves casual checks on my team members and colleagues. Now that the pandemic has passed, my days are dominated by online meetings, and the rest of the time I do a lot of writing and storytelling approach at work," she says.
Maya thinks that "resilience" has been her companion throughout her life; she tends to navigate storms calmly and rationally. "We all fall at some moments in life but with resilience, we rise again. Being resilient helps us to be compassionate and understanding in the face of difficulties. By being resilient, we turn pain into power, chaos into peace and wounds into wisdom," she explains.
Maya's future plans for herself and INDEVCO Consultancy
By using their profound expertise and industry know-how, the plans at INDEVCO Consultancy are to keep working with all involved parties intensively and in a strategic manner to help businesses in the Middle East and GCC create long-term, sustainable value and accelerate their growth. Businesses will be able to navigate smartly the new normal and better respond to their most complex challenges. "Accordingly, the economy will perform better and the communities we belong to will thrive," Maya states.
On a personal level, Maya plans to keep on sharpening the saw, having conscious openness and awareness of trying new things and new ways of doing business, planning for success and taking action to improve different aspects of her life.
Staying motivated to maintain a balance and deliver the best services
Maya states that her professional and personal lives are intertwined; there is no formal split in between. "It is essential for me to succeed in both," she says.
Maya has 3 kids, Mikael (9 years old), Alexander (8 years old) and Yasmina (3 years old). She proudly states that they are her dream come true. She ensures to spend quality time with them, as compared to only being present. Maya fills up their schedule with activities and studies that do not include much dependence on her, so that she can easily, without disturbing them emotionally, achieve success in her professional life including attending work engagements and business traveling as well as being able to achieve her dreams on a personal development level. "It is equally important for me that my kids see me as a role model, every major decision in my life is taken while considering them as a main influencer and with the question in mind, 'Will this benefit and inspire my kids?'" she states.
Maya's message for aspiring businesswomen is to not be demoted by challenges that they will face in their careers, to keep their self-confidence and to engage always in meaningful discussions that will help with the growth both on their work and personal levels. "Finally, please remember, 'When one girl stands for herself, unconsciously, she is standing for all women around," she asserts.