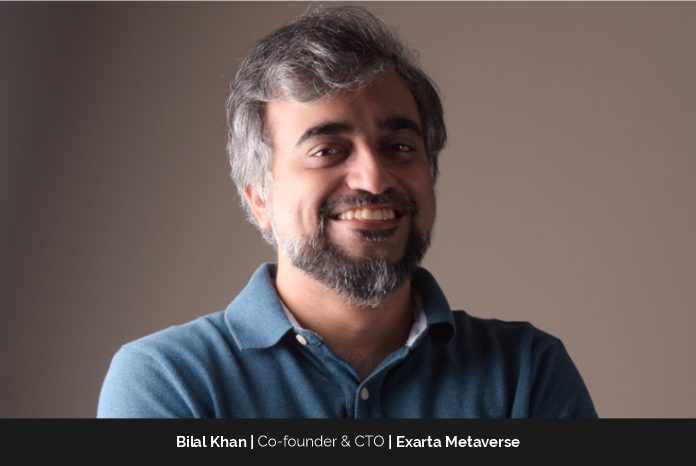 A new era has begun with the way modern business is run. The success of many businesses, especially technology-led ones, is attributed mostly to technical ability, according to rapidly evolving, disruptive technologies and integrated systems throughout the whole company environment. Members of the C-suite are under tremendous pressure in this new digital environment to continuously adapt and navigate the complexity in order to succeed. Effective CEO, CTO and COO roles need various distinctions that might make the transfer challenging to overcome. The lack of operational experience is frequently viewed as the main barrier to landing the top position. Professional management differs from becoming an industry leader in terms of innovation and taking the bigger picture of technology into account. It demands a good deal of charm as well as the capacity to create and carry out a vision.
Bilal Khan is Exarta Metaverse's co-founder and chief technology officer. The company is driving technological innovation on the Metaverse frontier with retail experiences and AI at core. He is in charge of Exarta's platform and software development as well as the company's Asia office and technology strategy.
Journey of Transformation
Bilal has had the fortune to face difficult design challenges from the beginning of his professional career. With a background in engineering and product design, he first worked with a quite distinct set of "real world" design issues. Bilal was awarded the prestigious "UK Alumni Award 2016 for entrepreneurship contributing to innovative new business opportunities with strong growth prospects in Pakistan" His work was showcased at various international exhibitions including Dutch Design Week and won various international competitions in 3D Printing and product design.
However, Bilal immediately saw that the digital world was the future and would be the most important sector in the following ten years. Bilal built and established a real-time visualization studio using cutting edge techniques to offer unique solutions that were not yet available on the market, combining his managerial abilities, design expertise, and software design capabilities. Since then, the project has gained widespread acclaim around the world and has become a renowned studio in the MENA area, winning several international awards.
At Exarta. the journey only got more intense and exciting alongside his co-founders at Exarta. He asserts, "We started building our dream of this future social (retail) platform, which would deliver unprecedented, gamified experiences and take the utility of online retail, analytics, AI, and immersion to the next level." During the team's short journey since unveiling the platform, the response has been overwhelming, it has been trusted by some of the top global brands, and Exarta has been identified as a Global Top 32 Metaverse (Business Leader Magazine).
Dream that Become Reality
Exarta is the culmination of a decade of dreaming. Three friends with a shared interest in tech, sci-fi, gaming, and community. The story began back in 2014. The founders shared a common dream that they still relentlessly pursue: to become the best at delivering world-class visualization and immersive experiences on robust architecture. Utilizing Web 3 and blockchain technology and seamlessly transitioning retailers, organizations, and individuals into the Age of the Metaverse.
Exarta is an innovative technology and design company that is constantly pushing the boundaries of what is possible. By leveraging the latest technologies and infrastructure the company aims to facilitate organisations and web users alike to enter the Virtual Reality stratosphere.
Place of Innovation
Exarta is a place of limitless potential where scalability, design, and creativity converge. The company's mission is to build an environment that enables individuals from across the world to connect without language barriers, participate in immersive events and shop from thousands of companies, and, most importantly, feel a sense of community within a dynamic online community.
Bilal asserts, "We are developing our A.I/ Machine Learning systems and designed our virtual world, with a focus on making the transition from Web 2.0 to Web 3."
Exarta will continue to offer countless opportunities for Community ownership and governance, learning and human growth, shopping and virtual commerce marketplaces, play to earn, and real-world utility mechanisms. Bilal says, "Our first City, Valayt, is an adaptation of London in a futuristic timeline built with Exarta's unique vision, set in a timeline where technology has progressed significantly."
With the aid of Zeniva, a virtual AI representative, the Exarta team allows its retail clients to push the frontiers of technology. Zeniva's translations are essential for the convenience and control of users everywhere since Planet Exarta will be made up of virtual towns in many different continents and countries, simulating the real world. Exarta's innovative AI Retail platform, which is deeply immersive and is embedded across all of our cities, will provide users with a wholly original, gamified experience.
Zeniva's AI integration into the Exarta platform is intended to provide considerable automation and scalability inside the Metaverse, according to the company's vision. It can achieve its aim of widespread adoption. Bilal states, "Our jewel of the crown is our newly developed, state-of-the-art proprietary AI system, ZENIVA, which functions as a language translation tool and provides additional virtual assistance services to help our cities remain accessible for any user across the globe."
Seeing Solutions beyond Challenges
During his entrepreneurial journey of over 10 years and a few start-ups Bilal has come to realize that challenges are something that one takes on-board as your +1 co-founder. He says, "You will not be able to create space for your idea if the solution to it is already out there. Therefore, it's that challenge that really sets the vision for the product or solution."
According to Bilal, there are some common difficulties and obstacles, particularly when developing cutting-edge technology. These include the need for trained personnel, hardware constraints, network coverage issues, and problems with scaled delivery, all while keeping business viability and profitability in mind. These are a few of the main obstacles the Exarta team faces every day. As long as the long-term goal is in sight, ideas are refocused while problems persist and lessons are learned.
Personal and Professional Balance
There is a reason why it is said that one never succeeds as an individual and that one's surroundings are those who deserve the most credit. Bilal finds it to be a difficult one to balance and that frequently the personal life suffers. Since rarely many individuals get to do what they love on a daily basis, Bilal believes that the job the Exarta team does is sufficient to keep everyone on the team happy and motivated. To keep employees engaged, the organization organizes a variety of sports and team-building activities. The workplace space also features games like pool, the gym, foosball, and table tennis.
Passion Fuels Success
Being an Engineer at heart, Bilal's definition of success is not too philosophical. "Build to serve a purpose bigger than yourself," is the mantra he goes by. He finds that often success is defined at the very start of one's journey based on his or her vision of it. He shares, "It has been my experience that if you start with a set state of mind with a $ figure in your head, you are bound to crash and probably never achieve that dollar amount or fulfilment. However, if you are fuelled by the passion to explore and add value to whatever you dive into, money and fulfilment will follow."
Bilal's message for the aspiring techprenuers is to "Be ethical. Build tech with an aim to solve a problem. Build relationships and honour them."  
Aiming to Bringing Transformation
Exarta's team aspires to lead the internet's evolution by delivering viable futuristic solutions at scale and quality. Bilal's lifelong goal has been to give back to the community and provide quality opportunities for people to develop something that will last longer than themselves and benefit more than just one person. He says, "I think we have already achieved a portion of that, and we are well on our way to achieving the dream."