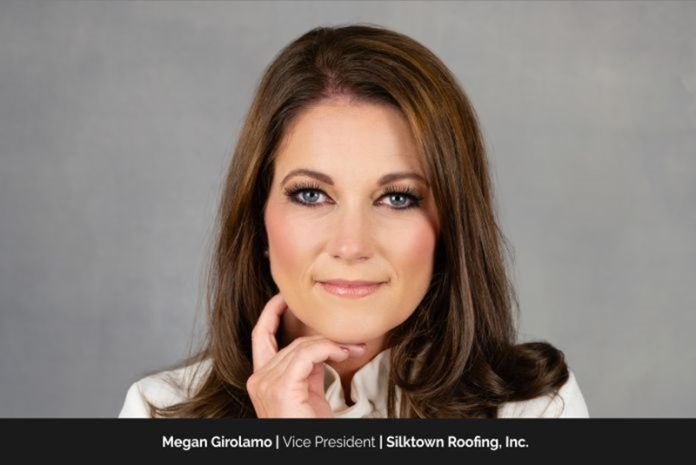 Megan Girolamo, Vice President at Silktown Roofing, Inc., is a seasoned executive in the commercial roofing industry, known for her remarkable track record in financial analysis, project estimating, turnkey project management, negotiation/contract analysis, analytical prowess, and astute risk management skills. She embodies the values of teamwork and transparency, which serve as the bedrock for enhancing overall efficiency within Silktown Roofing.
Megan's role at Silktown Roofing encompasses many facets, but she places paramount importance on fostering a robust connection between the back office and field operations. Her philosophy is simple but profound: complete visibility of field operations equips internal teams with the insights needed to make informed, strategic business decisions. She is a relentless advocate for continuous improvement in internal systems and operations, constantly seeking the most efficient and effective ways to streamline daily processes at Silktown.
Beyond her dedication to operational excellence, Megan is on a mission to spotlight the capabilities of women in the industry. With unwavering commitment, a strong work ethic, and a willingness to challenge conventions, she strives to break down barriers and inspire future generations of female leaders. Megan's expanding network in commercial construction has revealed a growing community of influential female leaders who, like her, proudly wear hard hats and occupy executive roles. Together, they uplift and champion one another, forging a path towards greater diversity and inclusion in traditionally male-dominated fields.
A Corporate Beginnings
Megan's journey has been closely tied to Silktown Roofing, Inc., a company that has been a part of her life for as long as she can remember. Her father established the business two years before her birth, and although it was always present in her life, Megan officially joined the Silktown Roofing, Inc. team after 34 years.
Upon completing her education at the Dolan School of Business at Fairfield University, Megan embarked on a career in corporate finance and accounting, gaining valuable experience with notable companies such as General Electric and Louis Vuitton Moet Hennessey. However, in 2010, she took a leap of faith and, together with her now-husband, established a small non-union commercial roofing company. This venture provided her with an opportunity to immerse herself in every aspect of the business, from estimating and HR to project management and on-site crew support. She successfully managed her own company for a decade before transitioning to a new role with Silktown Roofing, Inc.
During those eventful 10 years at the helm of her own business, Megan and her team experienced significant growth. Amidst these professional achievements, she also celebrated personal milestones such as marriage and raising three wonderful children. These experiences illuminated the profound importance of achieving a work-life balance, a lesson that Megan holds close as she continues her journey.
Listening to Inner Calling
Megan reflects on her journey into the roofing industry, a path that wasn't initially her childhood dream. She initially aspired to become a child psychologist but eventually found herself on a different trajectory. After completing a bachelor's degree in finance and economics, she embarked on a corporate finance career in Manhattan.
However after seeking advice from her parents when she hit a cross-roads of career opportunity she took to a profound piece of advice from her father: "Life is short, be true to yourself." Taking this wisdom to heart, she made a bold decision to leave her corporate finance job and venture into entrepreneurship by starting her own commercial roofing company. It was a pivotal moment that revealed her true passion for the industry, one that had been overshadowed by the allure of a glamorous corporate job.
Being the third generation of her family in the roofing industry, Megan had witnessed the dedication and hard work that went into building Silktown Roofing, Inc. over four decades. While the industry didn't initially capture her interest as a child, she always respected its demand for a strong work ethic and its capacity to provide for families.
An Advocate for Females in Construction
Megan acknowledges that the commercial roofing and construction sectors remain predominantly male-dominated, a reality she encountered when entering the industry as a young woman. Her initial presence in job trailers and conference rooms often raised doubts among her peers. However, rather than being discouraged by these doubts, Megan used them as motivation to become the most prepared and informed voice at the table.
Her commitment to being well-prepared allowed her to engage in educated conversations on various aspects of project discussions. This approach not only established her as a confident and knowledgeable professional but also helped dispel gender and age-related assumptions that she initially faced. Over time, Megan's hard work and expertise earned the respect of her colleagues and industry peers.
"I am constantly seeking to be a positive advocate for females in construction to hopefully break down some of these assumptions that posed early on challenges," says Megan.
Comprehensive Roofing Services
Silktown Roofing, Inc. is a prominent commercial and industrial roofing and waterproofing contractor known for its unwavering commitment to service excellence within the roofing industry. Established in 1984 with a modest beginning of just six employees and a few trucks, the company's core mission was to uphold the highest standards of professional workmanship.
Today, Silktown Roofing has grown significantly, boasting over 300 employees and expanding its footprint on a national level. The company's comprehensive roofing services encompass everything from emergency leak response to the execution of large-scale roof replacements and installations on some of the most logistically challenging projects. Their expertise covers various roofing and waterproofing applications, including built-up roofing, single-ply systems, tile, slate, shingles, metal roofing, and comprehensive waterproofing solutions for entire building envelopes.
Despite its substantial growth, Silktown Roofing remains true to its founding values of prioritizing quality workmanship, integrity, and exceptional customer service. The company's reputation for excellence has enabled it to undertake projects across the United States, from Hawaii in the west to Puerto Rico in the east. With the support of trusted manufacturers, vendors, and distributors, Silktown Roofing can successfully complete a wide range of commercial roofing projects.
Over its four decades of operation, Silktown Roofing has witnessed significant industry changes. However, the company's dedication to staying at the forefront of the roofing sector through the adoption of technology and innovation has remained a constant priority. They actively participate in cutting-edge projects, including those focused on net-zero buildings, and consistently seek out sustainable product options to align with evolving industry trends and environmental concerns.
Adaptation and Resilience
The emergence of COVID-19 presented Silktown Roofing with significant challenges that affected its daily operations and required rapid adaptation. Two major roadblocks stood in the company's path during this time.
The first challenge was the immediate need to develop a strategic plan for safety protocols. Ensuring the safety of essential workers became paramount, and it was essential to create a working environment that complied with each client's specific safety protocols. This involved various tasks, such as acquiring the necessary personal protective equipment (PPE) and adding extra fleet vehicles to maintain proper spacing between crew members during transportation to and from work sites. Safety and compliance were critical priorities during this phase.
The second hurdle was the disruption caused by the COVID-19 supply chain crisis. This presented a major challenge for Silktown Roofing's business model, which required rapid adaptation to secure essential materials to fulfill contractual commitments. Unprecedented supply chain disruptions meant that traditional material quotes were no longer feasible. Products faced long lead times, and pricing was no longer stable. As a result, the company had to bid on projects without fixed material costs, leading to uncertainty about potential escalation costs that Silktown might encounter when projects commenced. This situation necessitated the allocation of additional resources to secure materials, manage escalation costs, and ensure the timely transportation of materials to job sites.
These challenges highlight the agility and resilience required of Silktown Roofing to navigate the evolving landscape brought about by the COVID-19 pandemic.
Inspiring message for young individuals
Megan offers valuable advice to her 18-year-old self, emphasizing the importance of passion, determination, and self-advocacy in pursuing one's goals and overcoming any perceived limitations. Her advice can serve as an inspiring message for young individuals, especially women, who are embarking on their own journeys:
Find Your Passion: Discover something that truly ignites you and pursue it with dedication. Passion can be a powerful motivator.
Strive for Excellence: Don't let age or gender limit your aspirations. Aim to excel in your chosen field and push yourself beyond your perceived limits.
Be Your Own Advocate: Take an active role in shaping your future. Don't wait for opportunities to come to you; create your own path and set clear goals.
Seek Mentorship: Look for mentors who believe in your potential and are willing to guide and support you on your journey to success.
Megan's words reflect the importance of self-belief, determination, and seeking support from mentors as essential elements in achieving personal and professional goals.
More Than a Workplace
Megan holds a strong belief that the team at Silktown Roofing, Inc. is exceptionally fortunate. The company is founded on the bedrock of highly self-motivated employees. What sets Silktown apart is its unique environment; despite its size, it operates in a way that feels akin to a family-run business.
In this exceptional setting, everyone, regardless of their position or role in the team, is regarded as a valuable asset. The company is committed to fostering an environment that recognizes and appreciates each individual's contribution. Much like a family, Silktown relies on the collective strength of its members to tackle everyday challenges and celebrate shared successes.
Being part of something larger than oneself and feeling genuinely appreciated for one's role in the company's success creates a highly motivating atmosphere at Silktown Roofing, Inc. This sense of camaraderie and shared purpose inspires and drives the team to excel together.
Approach to Work-Life Balance
For Megan, achieving work-life balance is a dynamic process that she's continually working on honing into a personal, ever-changing masterpiece. She strives to be fully present, giving her 100% to both her work and her home life. As long as she feels she's given her all to both aspects, she considers each day a success.
Megan's daily routine is a testament to her commitment. She begins her day before the sun rises, putting in long hours at work and then returning home to be there for her family. Her schedule extends from the early hours until her home responsibilities conclude. With her children actively engaged in sports and extracurricular activities, she finds herself equally dedicated to supporting them on the sidelines and shuttling them to various commitments. It's a hectic life, but Megan embraces it, recognizing that these chaotic days will one day be cherished memories.
Her motivation is deeply rooted. Megan witnessed her parents start the business four decades ago, observing the sacrifices they made, including missed dinners, interrupted holidays, and the physical toll of hard labor including pitch burn and heat-induced strain on the body. This firsthand experience of the dedication required to achieve the level of success Silktown has attained is a powerful motivator. Megan is committed to preserving the impeccable reputation of Silktown Roofing, Inc. and contributing, to all extents, to the legacy of the business.
Beyond that, she is driven by a profound sense of responsibility toward the 300+ colleagues of hers at Silktown. Megan is motivated to do her part to ensure that each of them can return home safely at the end of the day, with the ability to support their families. This dedication to both her family and her professional family at Silktown is the driving force behind her unwavering commitment and tireless work ethic.
Trust-Based Relationships as the Cornerstone of Success
Silktown Roofing, Inc. is committed to ongoing investments in both its employees and the business as a whole. Megan and her team have a clear vision: to create a safe and successful working environment while fostering the company's growth. However, they are determined to maintain a balanced approach, ensuring that growth never compromises the company's integrity or reputation.
The foundation of Silktown's success lies in the trust-based relationships they have built with clients, vendors, distributors, design professionals, and general contractors. These relationships are always at the forefront of their decision-making process.
Remaining at the cutting edge of technology and staying updated with state-of-the-art industry techniques and capabilities is an ongoing mission for Silktown. They are dedicated to embracing the latest advancements in their field.
Another common goal for the future is sustainability. Silktown Roofing, Inc. is committed to playing its part in building a more sustainable future. They actively seek opportunities to be involved in green, solar, and net-zero roofing projects, demonstrating their commitment to environmental responsibility.
Making a Difference in Others' Lives
Megan reflects on her evolving perspective on success over the years. As a 21-year-old college graduate, success was primarily defined by career objectives and the pursuit of a corner office in a prestigious Manhattan skyscraper, working for a major Fortune 500 company. It was a vision centered around professional accomplishments.
However, since starting a family, Megan's definition of success has broadened significantly. She now views success as something that extends far beyond her career achievements. It encompasses finding a delicate balance and fulfillment across her professional, family, and personal life. True success, in her current view, is achieved when she can go to bed at night knowing that she has given her absolute best in every aspect of her day, be it professional or personal. A happy family whose life she is fully present in is, and always will remain, her biggest accomplishment.
What's particularly inspiring for Megan is the realization that her achievements in her professional role have the potential to positively impact not only her own life but also the lives of Silktown Roofing, Inc.'s employees, vendors, and clients. True success, in this context, becomes a force that can reach into the lives of all those connected to the company, helping them fulfill their own aspirations for success, both in their careers and personal endeavors. Success, to Megan, is about making a meaningful difference in the lives of others.
Self-Belief and Commitment to Continuous Growth
Megan recognizes that the commercial construction industries are currently undergoing a significant generational turnover. In this evolving landscape, she emphasizes the importance of networking and building strong working relationships with the next generation of decision-makers. Megan believes that this will be a critical priority for achieving the next level of success in the industry and maintaining Silktown Roofing's space as the respected and trusted commercial roofing contractor within their markets.
Her overarching goal is to always operate in a manner that upholds the name and reputation of Silktown Roofing, Inc. Megan is dedicated to facilitating organic growth for the business while providing opportunities for employees to advance their careers along the way.
Megan's message to aspiring professionals is clear: Dare to challenge the status quo. She encourages individuals to recognize the value of their own voices and dynamic perspectives, emphasizing that they deserve a seat at the table (or job trailer). Megan underscores the importance of being one's own biggest advocate, seeking out strong mentors, and building a professional network that aligns with their career aspirations. Ultimately, she believes that personal success, however one defines it, is a pursuit that begins with self-belief and a commitment to continuous growth.