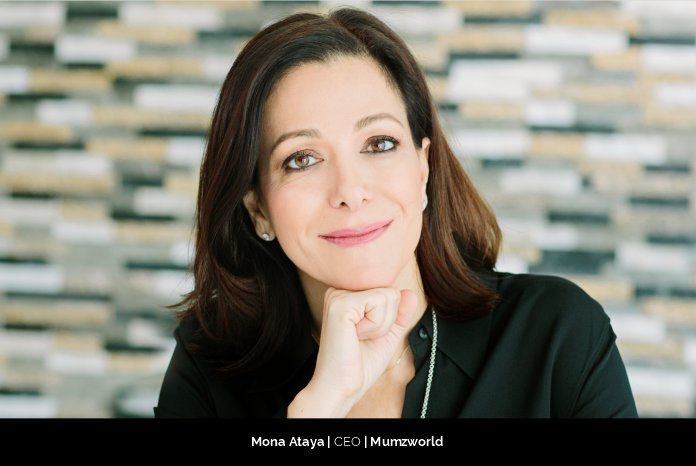 Being a mother is the most wonderful feeling that every woman experiences in her life and undoubtedly, once she is a mother her responsibilities never seem to end. In the bargain of providing the best for her child, a mother makes small sacrifices that have great impacts. Hence, the bliss of motherhood needs to be celebrated with the gift of comfort and luxury. With this thought in mind, Mona Ataya a mother to three wonderful boys and a proud CEO of Mumzworld set out to bring about a change in the moms' lives. She realized that a shop that offers all products for mothers and babies from birth until their pre-teen is the need of the hour. Times are changing and so is technology. Using this to her benefit Mona established Mumzworld, a one stop shop for all mom and kids products which is the pioneer and leading e-commerce shopping destination for mothers in the MENA region of Middle East. As we put together the successful story of Mona Ataya, we wish you bring forth an inspirational tale of a successful mother of the modern age.
The Beginning of a Wonderful Story
Mumzworld was born when they identified key consumer need gaps amongst the mother consumer that were not being addressed. Mona had been an entrepreneur for years and already had experience in building leading brands.  When she became a mother in Dubai, she experienced first-hand the many frustrations mothers in the region were facing. In 2011 this was the ecosystem: 1. Access to quality choice of products for mothers was limited 2.  Prices were significantly higher than global averages in a distributor led market. 3.  Information about these products especially in Arabic was very limited which was not allowing this time starved, information hungry consumer to make informed decisions 4.  Easy and quick access to these products was difficult and finally, a tight knit community of mothers who can engage together and share and learn from one another did not exist.
This very important consumer was deprived of luxury products that was not being addressed and so Mumzworld set out to solve these problems. They set out to provide the regional mother easy access to a wide range of quality products, at the best everyday low transparent prices, comprehensive information for her to make informed decisions and the largest community of mothers for her to tap into and share information with and learn from.  They would offer this mother a superior online experience to empower her to make the most informed decisions for her family.
Mumzworld was created behind an obsessive desire to empower mothers to make informed purchase decisions during their pregnancy and for their children from new-born up to pre-teen. They are obsessed with their customers and while the ecosystem has been very difficult for them in the first few years with slow deliveries, payment gateway issues and more, they have now grown to a size where they are self-sufficient allowing them to deliver faster than ever before with almost 50% of their 250,000 products delivered within 24 hours with Free delivery and the rest delivered within 2-3 days. They deliver unique products and services that only Mumzworld offers with exclusives that no other retailer in the region carries. They will continue giving mothers great offerings to make her life easier in the years to come.
The ecosystem was underdeveloped and for ecommerce to succeed, the ecosystem needs to support you. Couriers were slow, payment gateways for credit card were not sophisticated and customers did not trust paying using credit card online. Tech talent was scarce, and suppliers did not have enough supply to cater to very high demand. These were just some of the challenges they faced in the early days.  Add to that limited funding and they had an uphill battle ahead of them.  However, they overcame every challenge becoming the pioneers, the first in the field and are the largest by far.  The first movers in the specialized ecommerce space in the region.
The Services of Excellence that Savor Motherhood
Mumzworld is solving a 360-degree solution to mothers in the MENA region and penetrating the regional household with a loyal customer by:
Offering her the best products sourced directly from manufacturers, registered distributers and retailers locally and globally they have today become the go to destination for global mother and child brands that want to reach this important consumer and to this end on board on average 300 new brands on our site every month for mothers to seamlessly search, compare and buy. Many of these brands are exclusively found on Mumzworld in the region. Best sellers, award winners, mother must haves; they have it all.
Comprehensive information is available in Arabic and English for the mother to make informed choices
Best Everyday Low prices. Our prices are the lowest on Authentic products.  If a mother finds cheaper, they offer an immediate Price Match guarantee.
The largest community of mothers who engage regularly online through our blog and social channels and offline events that they host exclusively for our customers
Free 24-hour delivery on over 100,000 products and 2-3 days for the rest of the 250,000.
Easy returns and exchanges delivered direct to a mother's door.
Unique services catered just for the mother, including subscription program, loyalty, baby registries and more.
At the heart of Mumzworld, is its customer obsessed mission and the largest community of mothers that has been created through an interactive online marketplace, with innovative technology and specialized solutions for this audience.  This coupled with comprehensive bilingual factual information about the products, everyday low pricing, fast and Free, delivery to 20 countries in MENA, and best in class customer service, gives moms the most convenient and tailored shopping experience around.
Beyond the household name it has become, and the impressive growth it has undergone (15x in 8 years), Mumzworld is the admired vertical ecommerce brand for the regional household, on a path of continuous progression toward long-term sustainability. It has grown to considerable size and weight in the industry supply chain and has become the go to destination for global brands wanting to reach the consumer in the Middle East region. Working with over 4500 retailers, distributers, manufacturers and brands in the region and internationally, Mumzworld has over 250,000 products – the deepest quality selection in the region and onboards 300 new brands monthly.
Today Mumzworld is the first point of call for all global brands entering the region in the Mother baby and child vertical. As a trusted partner, Mumzworld has been able to provide brands with the support and access in record time to successful entry into GCC.  Mumzworld focuses on bringing consumers the latest in global solutions developed Globally by innovators with quick and safe access without impacting brand core brand values and showcasing the brands at their best.  This approach of value creation has made Mumzworld the leading platform for key innovate player such as Tommee Tippee, Munchkin, Chicco, Babyzen, Medela, Maxi Cosi, Haakaa, Snuz and many more
Growing a Business in the Middle East Market
The competition in the Middle East is good as it ensures that you are always at your best. The team of Mumzworld respects and admires competitors who carve out niche positions and add a unique consumer value.  The "copycat" competitors in the market are much smaller than Mumzworld and operate on price and low fundamentals. They are less concerned with these players as they focus on giving the customer the best service in the market.  They look forward always at their customer first and foremost.
Mumzworld has doubled its topline revenue every year since they started. Importantly they are growing the business with solid fundamentals and creating true consumer value.  They carry the widest range of baby and child products in the region with global brands relying on them as the first and often the only point of call to reach this regional consumer.
Mumzworld is the first and only regional women led ecommerce business, funded by 6 of the top regional institutional investors and international VC. An award winner by excellence, Mumzworld stood out in Forbes 2018 rankings as #1 on the 12 Up and Coming Companies.  Beyond this, Mumzworld, has won over 200 regional and international awards since the company's inception, including: The Small Business of The Year Award 2013 and Best Kids Online retailer by Timeout Kids in 2015, 2016 and 2018; Middle East Best Brand Award for 2018 by CMO Asia; Forbes Top 10 Arab Women 2017, 2018 and Forbes Top 10 Arab Women Entrepreneurs Making Waves 2018; Arabian Business100 Most Powerful Arabs 2018, and Arabian Business Startup SME Leader of the Year Award 2018.
A Company that Defines Success
Mumzworld is a very different brand from any other in the market.  They are significantly larger across all metrics than any other mother and baby brand in the region. They reach over 2.5million mothers, have the widest catalogue of 250,000 products of which a large percentage is exclusively found on Mumzworld. They source directly from the brands and sell only authentic products. They do not engage in deep discounts after regular price fluctuations which deceive customers. Instead they carry an everyday low-price strategy and only discount end of season or overstock items.  They offer a price match guarantee as they are very serious about their everyday low-price strategy.
Mumzworld has the largest community of mothers engaging with them daily and host seminars, lectures, a content blog and a host of educational and community events to allow mothers to engage together. They Ship for Free across the region. They are the ONLY fully bilingual mother and child on app, mobile and desktop. They offer services that are first to market such as diaper subscription, baby and gift registry and more. They are mothers for mothers. They are from the region, for the region. They are driven by an obsession to empower a mother and everything Mumzworld does is about offering these unique and relevant services for mothers. They were the pioneers and they look only at what mothers want and need and will continue to grow a brand with strong unique and relevant intrinsic customer value. These features make Mumzworld different from the rest of the market redefining success.
The Mastermind Behind the Successful Business
As she grew up Mona always dreamed of being involved in projects that were meaningful, that had positive impact on her surroundings. To do things that matter and to continue to learn every day and be surrounded by smart inspirational people. She is driven by constant learning and by turning the needle on ecosystem impact. Everything else is a bi product. She is a mother of 3 boys and a serial entrepreneur.  She spent 10 years in the corporate world working with large consumer good giants P&G and J&J in the US and Europe before she returned to the region to start her journey as a serial entrepreneur with a mission to create positive regional impact to a region that is home.
Mona equates herself to a conductor of an orchestra.  There are beautiful instruments and very talented, skilled people playing these instruments. Her role as the CEO of the company is merely to direct, encourage and ensure they are all playing to the same beautiful tune and that they wow the audience with a tune that is meaningful, unique and lets them gasp with awe when they hear it.
What keeps the team of Mumzworld motivated? Well, Mona says, "Customer positive impact and creating a winning gold standard ecommerce global brand that has unique customer value, from the region. We try to hire self-motivated very smart people who are passionate about our vision as we are."
The Global Growth of Mumzworld
The Middle East market is growing and influence the business world globally too. Mumzworld is already dominant leaders in the GCC and expanding to North Africa in 2020.  They will continue to expand the brand across the east leveraging best practices that they have learnt in the GCC. The market for baby & children products in the Arab world is underpinned by a young population and some of the highest birth rates in the world. The region is wealthy and tech-savvy, especially in key markets UAE and KSA with these 2 markets ranking amongst the highest in the world in mobile penetration and social media consumption.
E-commerce penetration in the GCC is below the other developed regions but is starting to catch up quickly indicating enormous growth potential. Specifically, MENA ecommerce penetration in 2017 was estimated at 2.2% versus 12.8% and 11.2% for As Pacific and North America respectively so the potential for growth to catch up with global averages is tremendous. The market demographics are also ripe for opportunity. There are 65+ Cities, Only 4 cities with a population of more than 1 million, 45% of population outside the cities and 40% with no access to any retail center. This combined with the fact that there is limited retail supply makes ecommerce even more attractive.
Mothers are more avid online shoppers than the general population, but they lack options in the GCC before Mumzworld pioneering this space. With important initiatives from KSA to facilitate licenses and activate affordable ecommerce enablers, Mumzworld expect this space in the Kingdom to grow from strength to strength. Following global trends, they expect to see horizontals continue to gather strength and one dominant vertical play per segment. Mumzworld is that vertical leader in the mother, baby and child segment.
Mumzworld has established its leadership position in the mother and child ecommerce segment across all the GCC.  Saudi Arabia has always been a very important market for them and 18 months ago they aggressively expanded setting up infrastructure and teams on the ground and anchoring their leadership in this segment in KSA. Mumzworld today offers the largest choice of products for the Saudi customer delivered very fast with superior localized offerings. Importantly Mumzworld is the only Arabic App in the region dedicated to mothers. In their customer obsessed commitment, they are ensuring that all their touch points are tailored first and foremost to this Middle Eastern customer who has unique psychographics and demographics.  Mumzworld DNA is a brand from the region for the region so the brand is well positioned to understand and deliver to this customer superior service and offerings.
Mumzworld has a proven execution model that has established leadership in the diverse GCC countries, and this will be leveraged for further expansion.  So, Beyond the GCC Mumzworld will continue its aggressive expansion plans across MENA in 2019. Mumzworld on the ground exclusive institutional partners and stakeholders in the kingdom will also allow the brand to continue to expand its footprint and anchor its leadership.