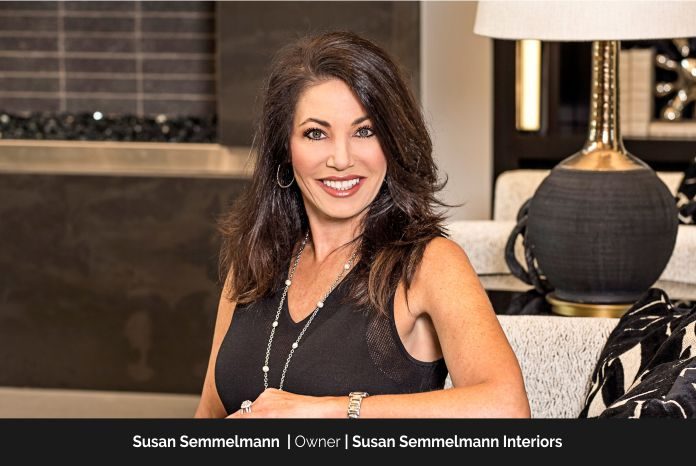 Successful leadership is no longer measured by money and power
Susan Semmelmann, the owner of Susan Semmelmann Interiors is a passionate leader who appreciates all of life's blessings and wants to give back all that she can so that others can experience a fun, exciting transition in their new homes. This process happens through her unwavering commitment to building trust and strong fellowship in her sphere of influence. Her definition of success centers around her impact on those around her. "If my family, team members, clients, and community thrive because of the care and effort I am putting forth every day, I call that a major success," she says.
The growth of her company is a direct reflection of her heart-centered approach to business and her strong foundation of faith. Of course, the bottom line is always important, and she is laser-focused on employing best business practices, but she also believes that the heartbeat of a company should be in the driver's seat to propel it forward. Susan Semmelmann Interiors was established on a foundation of giving; 'The spirit of living is in the giving' has been Susan's mission statement from the beginning.
Every road to success is not paved with an easy path
Leading a company is definitely not easy, but nothing worth having usually is, right? When Susan launched her brand three years ago, it was the realization of a dream and a vision that had been
growing and developing for several years. Taking that leap of faith was a pivotal time in her life and her career for many reasons.
"I am living proof that it is never too late to chase your passion and turn it into reality! I see building a business much like the construction detailing services we offer; if you care for and nurture the foundation and attend to the smallest details, the result will be seamless and beautiful," she states.
Every challenge is a chance be become strong
"One thing I know about challenges is to always expect them; they are a part of life, and the response we choose determines our trajectory moving forward," says Susan. The learning curve is steep when starting something new and exciting, and she sees every curveball as an opportunity to learn, grow, and develop more expertise.
One major life experience set the tone for how she deals with adversity – just over ten years ago, Susan's husband developed a very rare, life-threatening form of bone cancer. During that time, every day that she woke up and he was still there was a gift. Thankfully, he beat all odds and is still by her side today. This season developed her grit and determination, her heart of pure gratitude for the supportive community that rallied around them, and her mission to give back. She states that it planted the seeds and laid the foundation for everything her business stands for today.
Susan Semmelmann Interiors and its services
Susan Semmelmann Interiors is a full-service design firm – start to finish. They have every aspect of construction and design covered, from renovating an existing home to walking their clients through a new build from the ground up with their construction detailing services. They have their own manufacturing facility for their Susan Semmelmann Interiors Collection of furnishings, bedding, and drapery so their clients can have a fully custom design experience if they prefer. Their experts can take a design vision from CAD to reality in no time at all! They go directly
to the mills to source their luxury fabrics; the options for customization are endless. "We also carry hundreds of fabulous vendor lines to fill the need for any taste or style. Our Fort Worth Design Studio will open to the public so we can share our resources and expertise with the public and other designers as well!" says Susan.
Susan's contribution in redefining the interior designing industry
Another foundation of Susan Semmelmann Interiors' brand as they connect with their clients is "Our style is your style." They bring their skill and creativity to the table to collaborate with their clients and bring their home dreams to life. Approaching each meeting with open hearts and open minds, they are always ready to hear the overall vision for the finished product, then join in that vision to bring it to reality.
They love the creative process that flows with every client, often shifting and moving as everything starts to materialize and take shape. "Our custom design and in-house manufacturing services allow us to think outside the box and bring unique solutions to every project. Recently, we sketched a range hood on a napkin, gave it to our CAD team, and brought it to reality. Innovation and cutting-edge design are our calling cards!" Susan explains.
Susan wants her company to grow, but most importantly, she wants it to grow well. In her mind, the more successful the company is, the more it can give back – it's that simple. Her goal as a leader is to always be an example to those around her, to work hard, and never rest on her successes. "Helping people brings fresh air to my lungs, it's the life force and the joy in my world. We have the privilege of sitting across from our clients every day, hearing their hearts and helping them realize their home dreams. We also have the honor of paying this joy forward to charitable
organizations near and dear to our hearts like A Wish with Wings, Raquel's Wings for Life, and many more as we continue to grow our capacity to give," she says. They strongly believe that "Home is a sanctuary. Family is everything. Faith is the foundation. Giving is the response."
Strong women empower, they do not compete
While Susan does want to be a role model by inspiring women to believe in themselves and pursue their passions, she says that she truly wants to be that person for anyone and everyone; man or woman. She desires for people to look at her journey and see what it takes to roll up
their sleeves and do the work to breathe life into a dream; "It's so worth it!" she exclaims.
Susan's story is relatable to anyone who knows there is a passion and a calling in their life but needs that push to start along the path to pursue it. "I didn't know everything before I started my business; I simply started, and everything has been revealed along the way at the right time. I put one foot in front of the other every day and learn as I go," she states.
Susan's life before becoming a successful entrepreneur
Aside from family life with her amazing husband and three wonderful kids, Susan has been in the construction and design industries for 25 years; she says that this line of work has always been a natural fit for her. She and her husband owned a construction company for many years, which helped shape the way she sees all aspects of design. She gained years of experience integrating design elements into the foundation stages of a home during the construction detailing process.
Creating something beautiful from the ground up, from the framework to the finishing touches is pure magic. "It's the realization of a dream for my clients, and I am grateful to be part of that process. Giving back to those around me is the common thread that flows through everything I do and everything my company stands for – it's our cornerstone," she proudly asserts.
Responsibilities and achievements as the Owner of Susan Semmelmann Interiors
Susan's days consist of early mornings taking care of the details of running her business, and the rest of the day is spent out in the field with her team and clients – and she says that she wouldn't have it any other way! She doesn't have a desk or dedicated office in the building because you won't find her there; she thrives on face-to-face and shoulder-to-shoulder interaction. She wants to be on-site and available. "My clients hire me, so being present is the most valuable thing I can do for them. I am a giver, hands down; that is my one word. I do all of this so I can give back to my family, my friends, my clients, and my community!" says Susan.
Susan's work, and the work of her team, speak for themselves through awards acknowledging their professional and philanthropic pursuits, including Philanthropist of the Year, Best of Design,
Best of Houzz, Best Luxury Interior Design Firm in Texas, Most Influential People in Fort Worth, Entrepreneur of Excellence Award, Most Innovative Interior Design Firm, and 10 Most Powerful Leaders Revamping the Future. She is also a five-time, award-winning Fort Worth Magazine Dream Home designer.
Life is like riding a bicycle, to strike the right balance, we must keep moving
Susan's personal and professional lives are intertwined; Susan Semmelmann Interiors has been a family affair from the beginning, though Susan understands the importance and value of being off the work clock, and they make that a priority. They are all invested in developing and maintaining a culture founded on faith, family, friendship, and, as they like to say, "fingers in the dirt."
The team at Susan Semmelmann Interiors is close-knit and always looking out for each other's best interests. They work alongside each other, and it's understood that no one is above or below any task – no one. This mindset builds trust and camaraderie that conveys outward as they engage with clients and the community. Every team member brings great value to the overall environment with various strengths and talents to round out the big picture of their company's offering. If people are recognized, valued, and affirmed, they flourish, and at Susan Semmelmann Interiors, they are a "people first" company.