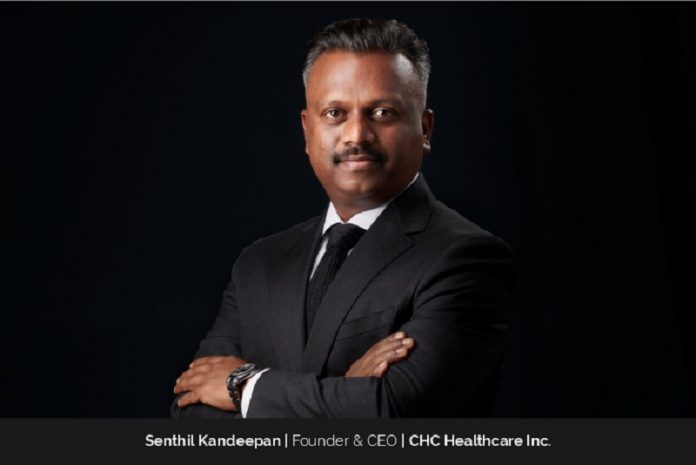 Almost two decades ago, Senthil Kandeepan saw that India lacked access to the best global equipment and practices in healthcare. He could not understand why the disparity in healthcare existed. Instead of accepting the status quo or waiting for someone else to solve the problem, Senthil decided to do something that could open access to modern medical equipment. He established CHC Healthcare Inc. in 2005, to transform India's healthcare system infrastructure.
Today, India's healthcare providers are equipped with modern medical equipment. Senthil and his company have played a significant role in reducing disparity and ensuring parity in access to world-class facilities and equipment.
As CEO of CHC Healthcare, Senthil continues to be zealous about bringing a positive change in the functioning of the healthcare system. His focus is on ensuring the wellbeing of patients, their employees, and partners. "If this is ensured, I can be certain the company will do well," he says.
Not Ready to Settle in a Routine, Cushy Job
Senthil spent his childhood in a small mountain town adjoining a tiger reserve in Tamil Nadu. While growing up, he dreamed of joining Indian civil services; and he even moved to New Delhi to "ardently" prepare for that. But then one thing led to another, and Senthil ended up serving in the hospitality industry. He, however, had no plans of accepting a routine job as his permanent career path.
"I always knew that I wasn't one to 'settle' in a cushy job and run the routine," Senthil says. "What I really wanted to do was make a difference to society, have a positive impact, and I had to find a way other than the civil services for it."
"Thanks to my supportive wife, I quit my job without a definite plan," he adds. After doing that, he began to research what the healthcare industry needed. That eventually led to the founding of CHC.
Senthil says that he decided to establish his own company because of the inherent itch that most entrepreneurs have – of taking a problem and solving it; of looking at a situation and improving it; of wanting to be a part of a positive change, of enablement; and of dreaming of the future and wanting to be involved in its fruition.
First and Last Word on Non-Invasive Cardiac Diagnostics
CHC has now become the first and last word on anything to do with non-invasive cardiac diagnostics in India. "Through Healthwatch, a CHC company, we offer remote cardiac rhythm monitoring 24 hours a day, 7 days a week, and 365 days a year, with absolutely record turnaround times and quality metrics," Senthil says.
Healthwatch's services include ECG interpretation and event monitoring. Senthil points out that they have clocked over a staggering 2 billion hours of ECG interpretation to date and handle over 365,000 hours of it every day, serving some 10,000 patients in three centres of excellence in India. Healthwatch serves clients in four continents.
The other key service offered by Healthwatch is at-home Holter tests using the revolutionary myPatch Holter device, which weighs all of 28 grams, is completely free of wires, and is totally waterproof. The device makes it easy for patients to take the test at home. There is "virtually nil" disruption to a patient's life, Senthil says.
Built on the core values such as honesty and compassion, education, appreciation and gratitude, respect for humanity and nature, trust and trustworthiness, and service to the needy, Healthwatch has successfully carved the "future of healthcare with the scalpel of technology."
Competition and Vision
Senthil does not believe in knowing what competitors are doing. Instead of paying too much attention to what others are up to, he and his team focus on their own work. They proactively strive to get better and stay ahead of the time. "As leaders in our domain, we believe in setting the tone and pace for others to follow or emulate," Senthil says.
One of the reasons why CHC has been a leader in its domain is because it is clear about what it intends to achieve in the long run. Senthil says that his company's vision is to save every human life possible through the timely delivery of incisive health intelligence at affordable prices and uncompromised quality.
Realization of Being on the Right Track
The introduction of high-tech medical equipment for CHC MediTech made Senthil understand the realities of the healthcare industry in India and other countries. He could see the stark difference between what was available in his home country and overseas. "It held a mirror to the potential as well as the challenges that lay in the bridging of the gulf," Senthil says.
And when he was on a quest to do something that could make a difference to society, he identified the healthcare, education, and food industries as his areas of focus. It was MediTech that gave him the confidence that he had done the right thing by choosing healthcare.
"It was then a matter of learning more and finding out where I could create value and solve problems," Senthil says. "So, when I managed to set up a process for heart rhythm monitoring, it became clear that I was on the right track and that the hospital and healthcare industry was where I wanted to make a difference."
Success Begets Success
Senthil is a successful entrepreneur. He, however, does not have a standard definition for success.  He believes that the definition of success is variable and highly individual. And he considers those definitions "too myopic and narrow" which aren't to do with helping others succeed, whether it is at doing their job better or living to see another day. "The reason I feel this way is very simple: happiness begets happiness, and success begets success," Senthil says.
"In an increasingly dehumanized world of virtualization, we are tending to isolate ourselves into silos of self-importance, and forgetting the fundamental reason for humanity's resounding success on the planet – at least in terms of longevity and population, which is cooperation, co-existence, transaction, relationships," he adds.  "Without these, we could never succeed as a species, let alone as individuals, and so my idea and sense of success is constantly informed by staying conscious of this fundamental nature of our existence."
Challenges Are Engines of Progress and Innovation
Senthil's success story is not without chapters on challenges and roadblocks. He has faced multiple roadblocks, but he prefers not to talk about them. "I don't remember them much, for that would be like driving forward while looking back," Senthil says. "What I do remember are the lessons learned, and there have been many."
He believes that challenges are the engines of progress and innovation. And he sees every stumbling block as an opportunity to discover something new about himself, whether that may be a strength or a weakness. "This knowledge is crucial to tiding over the weaknesses," Senthil adds.
Being A Good Leader Is a Basic Necessity
CHC, the company that Senthil built from scratch, has grown enormously. He, however, does not consider the number of employees or the revenue as the only indicators of growth. "Growth is also about how we've evolved and continued to create value over time and managed to serve as a thought leader, an exemplar, in the industry, in service of society; and I'm truly gratified that we have done just that," Senthil says.
And, for him, being a good leader is not a matter of pride. He considers it a "basic necessity" and a "sacred responsibility." Senthil also says, "when you have people counting on you, your fundamental full-time occupation is helping those people succeed."
Senthil's leadership style is not autocratic. He believes that a leader is only as successful as his team. "If he or she can serve his or her team to enable them and empower them to outperform themselves in pursuit of a larger goal, success happens as a natural outcome," Senthil says, adding, that is exactly what he has always tried to do. He has trusted people, given them responsibilities, and encouraged them to make their own mistakes and learn from them.
Senthil also points out that leadership success is not a one-time affair. "Good leadership is about always putting your team first and doing everything you can every day of every week, year after year, to set them up to deliver," he says.
He thinks that most people have a mistaken and inflated notion of what a CEO is. He says that just as a captain on a sports team cannot win a match on his or her own, so is it impossible for a CEO to do everything that's needed for success, or even just sustenance.
"I rely on my team, each with their own individual talents, to do what they've been entrusted to do, with passion, involvement and sincerity," Senthil says. "My job is to set the direction and spell out consistently what's important to us; that's all. It's the team that does everything else."
And, Healthwatch has a culture of caring for its employees beyond anything else. "We consider them not merely a spoke in the wheel but the very wheel itself, so we do everything we can to empower them to achieve their personal and professional goals and feel fulfilled," Senthil adds.
In the Service of Saving Lives
Senthil wants his company to be as much a service provider, changemaker, and innovator as a business. "I've been very clear since the beginning that we are in the service of saving lives, which is certainly the noblest kind of service you can aim to provide," he says. "And, for every employee to be motivated and devoted to doing their best, it is critical for them to be aware of this every minute of every working hour."
"If they never lose sight of why they are doing what they are doing, they will always do their best," Senthil adds.
Future of CHC Healthcare
Clients of CHC Healthcare are global. "And the equipment we've dealt with for CHC MediTech has all been internationally sourced, so we already have global DNA, in a manner of speaking," Senthil says.
The company also has an offshore office in the U.S. But, Senthil points out that their focus is firmly on their work and not the geography in which they have a presence. "We want to do great work for as many people as possible, and in this age of remote work and the phenomenon of the world being a global village, we do not necessarily see a need for physical presence across the globe in order to have a global impact," he says.
"Still, we have some very exciting plans to introduce new products and services that aspire to change how things are done, and you will hear of them in due course," Senthil adds.
Senthil's rise as a successful entrepreneur in India's healthcare industry is an inspirational story as it has grit, a purpose, and a deep-seated desire to serve others. And his continued focus on finding the answer to the question, 'how to save lives,' has made him a man worth emulating and learning from. Making a difference in every person's life is one of Senthil's dreams, and through his products, he is realizing that every moment.
For more information please visit: www.chchealthwatch.com