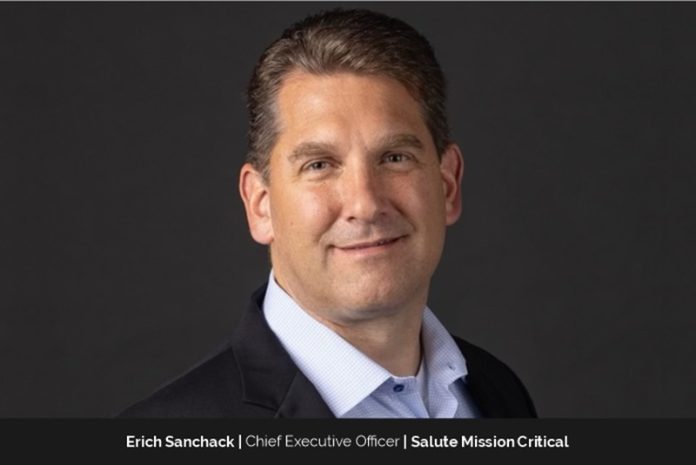 Erich Sanchack is a military veteran, with over 30 years of technology and data center experience. Erich recently joined Salute Mission Critical as the CEO, with one of his key aims being to bring fellow veterans into the industry.
Erich has been recognized through various programs and awards for his leadership in sustainability, community engagement and veteran stewardship. Given his extensive history in both the military and digital infrastructure, there is no doubt that Erich is uniquely qualified for his position as Salute's CEO. As a former officer in the Marines, Erich has a personal connection to these veterans who want to make a similar career pivot.
Salute Mission Critical
Salute is the largest global service provider of full data center lifecycle services spanning design, building, operating, sustaining, extending the life expectancy and all associated management activities towards managing a digital asset or campus. A key part of Salute's mission is to provide its customers with the best service offering achieving their ambitions with delivery in a sustainable manner.
Operationally, Salute focuses on resiliency in their offerings to meet customer ambitions sustainably, utilizing emerging technologies like AI and autonomous capabilities. They aim to deliver sustainable solutions in a sustainable manner.
"As we have expanded our portfolio of offerings, we have built key strategic partnerships within the digital infrastructure ecosystem to bolster our expertise and coverage for key customer concerns and needs," says Erich.
Additionally, Salute has restructured their go-to-market approach and established new organizational governance to align growth initiatives with customer ambitions. They have brought in new talent in key areas for global coverage and success. Salute Mission Critical invests in learning programs to develop talent and provide meaningful career paths for employees.
Salute is on a fantastic trajectory – to see continued growth in the marketplace as they expand their global reach. From a geographical perspective, their goal is to strengthen their growth in North America while establishing the EMEA region.
Future plans for the company include expanding into the APAC market and scaling its presence in South America. They plan to continue to focus on customer pain points to improve service offerings, achieving their mission cost-effectively and sustainably.
"For me, this would imply some more travel," says Erich, delightfully.
"Authentic servant leadership fundamentals are about empowering from within. It thrives on cultivating a culture where the foundation is built upon each individual's untapped potential, guided by collaboration as our true north, and propelled forward by the unwavering engines of endurance and consistency. By kindling the flames of empowerment, a leader ignites the trail towards innovation, resilience, and ultimate success." – Erich Sanchack, CEO of Salute Mission Critical
Redefining the industry with extensive knowledge and experience
With over 30 years of experience in the technology and data center sectors, Erich has had the privilege of witnessing the evolution of critical infrastructure firsthand. His deep industry knowledge, coupled with leadership opportunities across multiple industry verticals, has been instrumental in shaping the vision of Salute Mission Criticals' strategic direction and helping drive growth.
Erich has seen the half-life of technology development in the infrastructure space, networking distribution, hardware capabilities, and software development rapidly accelerate. Recent trends indicate a hyper-convergence in design considerations for interdependence across domains, with the industry shifting to address the next generation of racks, chips, and operating conditions, despite the fundamentals of power, space, cooling, and network remaining largely unchanged.
At Salute Mission Critical, they have taken leadership position in the industry in several ways and Erich explains this in detail below:
Social Responsibility and Sustainability: We have redefined the industry by prioritizing social responsibility and sustainability. The industry has been redefined by prioritizing social responsibility and sustainability. By focusing on responsible data center decommissioning and recycling, adhering to strict environmental standards, and promoting sustainability, the company drives positive change. This approach extends beyond environmental practices to governance, organization design, and market approach.
Exceptional Service Delivery: Our focus on delivering exceptional service is evolving with the maturing market. We prioritize customer satisfaction by providing tailored solutions, maintaining high uptime, and delivering superior support that is targeted to support each customer's individual ambition. Our dedication to excellence has earned us a reputation as a trusted partner and a provider of choice for critical data center services.
Strategic Workforce Development: We empower our workforce through our comprehensive training programs. Over time, we have helped the critical infrastructure industry shift its talent landscape by focusing on hiring and training veterans and military spouses. This has led to a significant increase in leadership, discipline, and technical skills, bridging the gap between military service and the private sector.
Success is the sum of small efforts, repeated day-in and day-out.
Erich Sanchack believes that success goes beyond just achieving financial gains or acute personal accomplishments. Success is accumulated through a spectrum of perspectives that ultimately drive towards achievement coupled to an overall sense of purpose or sustained impact. Financial gains are certainly a part of that consideration.
For Salute, Erich says that their services being an essential part of the global digital infrastructure is the core element anchoring the organizations' success criteria as leaders in driving the digital economy. "As a leader in the digital infrastructure industry, it is critical that our company's core values are aligned with having a positive impact on the continually evolving nature of the digital economy and further enabling follow-on services," he further states.
Some of the leadership principles to enable Salute's core values include:
Embracing Innovation
Fostering a Growth Mindset
Building Strong Teams
Creating a Customer-Centric Approach
Developing Strategic Partnerships
Staying Agile & Adaptable
Leading with Ethics & Responsibility
Investing in Continuous Learning
"These principles are not new; however, the balanced and sustained consistency of the principles position for a culture of success. Underpinning these principles is a sense of adaptability, resilience, and a willingness to learn from failures," Erich explains.
Everyone has unique and individual career stories
Erich finds that each person's unique career underpinned by taking on calculated risks and willingness to challenge the difficult have ultimately good end results. Still, achievements are rarely done completely alone in a vacuum. While there are many valuable lessons learned, a couple of conditions are consistent and relevant right now.
Fast-growing markets like the data center industry are tremendous opportunities and tend to serve as a reminder of the fundamentals of supply and demand. The market growth demands can be tricky because it can serve as an accelerant but also an inhibitor. Eventually, the economics of the ecosystem will find a way toward a healthy balance of supply and demand and a competitive landscape that is built on the foundation of sound business practices.
Another lesson remains in the area of people and organizational development. Developing and growing an organization on a global scale requires discipline in culture and core values. Technical capacity has to be balanced with organizational or cultural fit. I find when people get too close-minded about how things should be done, that tends to be the first step in the erosion of an organization.
Erich believes that with the changing landscape of the digital infrastructure and the limited number of people available, organizations focusing on learning and development will have longer-term sustainable success.
Building a strong and unforgettable legacy
Erichs' service in the US Marine Corps marked the beginning of his career. During his service, Erich had the opportunity to build experience in transferable skillsets like finance or other elements of business governance; however, leadership was the most foundational skill set uniquely forged from his service.
The best recognition a leader can receive is workforce sustainability after departure. "The ability of your organization to continue to succeed, perform, and operate efficiently and effectively after your departure is a testament to the sustainable model you've built as a leader," Erich states.
Erich doesn't refer to his dreams and aspirations in the past tense. He believes that he is still on the path to achieving all of his aspirations. He also believes it's essential to maintain a hunger for development with an acute sense of self-awareness. Personally, he has always enjoyed leading organizations towards growing them for global operability and scale. "I like having that sense of accomplishment for lasting impact," he declares.
Prior to Salute, Erich's been building his leadership components since his time in the United States Marine Corps. He claims to have enjoyed leadership roles in fast-moving consumer goods, defense contracting, telecommunications and real estate sectors. Erichs' has worked in both private and publicly traded companies. He has also enjoyed key leadership positions in Fortune 50 companies and developed an understanding of corporate governance in a meaningful mission environment. As his career progressed, he's had opportunities to help smaller companies focus on building up to scale.
Core responsibilities of the CEO of Salute Mission Critical
Erich's responsibilities encompass setting the vision and strategy, developing the team, managing stakeholders, driving financial performance, engaging in industry thought leadership, and fostering the company culture. By fulfilling these responsibilities, Erich aims to lead Salute Mission Critical toward continued global growth, while making a positive impact on their customers, employees, and communities.
Erich explains his work and duties in detail below:
Vision and Strategy: One of my key responsibilities is to define the vision and strategic direction of Salute Mission Critical. I work closely with our executive team and board of directors to set long-term goals and objectives for the organization. I analyze market trends, assess industry opportunities, and identify areas where we can expand our services and make a significant impact.
Leadership and Team Development: As the CEO, I am responsible for leading and developing our talented team. I provide guidance, support, and mentorship to our employees, fostering a culture of collaboration, innovation, and accountability. I believe in empowering our team members to reach their full potential, and I strive to create an environment where everyone can thrive and contribute to our collective success.
Stakeholder Management: I oversee the management of our key stakeholders, including clients, partners, and investors. Building and maintaining strong relationships with our stakeholders is essential for our growth and success. I actively engage with them, ensuring their needs are met, addressing any concerns, and seeking opportunities for collaboration and mutual growth.
Financial Performance: I am responsible for ensuring the financial health and sustainability of Salute Mission Critical. This involves overseeing financial planning, budgeting, and forecasting to drive profitability and long-term growth. I work closely with our finance team to monitor financial performance, identify areas for improvement, and make informed decisions to optimize our resources.
Industry Engagement and Thought Leadership: As the CEO, I represent Salute Mission Critical in industry forums, conferences, and events. I actively engage in discussions and initiatives that shape the future of the critical infrastructure industry. By participating in industry associations and sharing our expertise, we contribute to thought leadership, promote our brand, and stay at the forefront of industry advancements.
Company Culture and Values: At Salute Mission Critical, we are guided by a strong sense of purpose, social responsibility, and commitment to excellence. I ensure that our culture remains ingrained in every aspect of our operations, promoting a positive and inclusive work environment that aligns with our core principles.
Staying motivated and maintaining a work-life balance
"As a leader, you always have to keep yourself motivated. You are always leading by example," states Erich.
Erich believes there is no balance between personal and professional life – only harmony. The key is to keep harmony between personal and professional life in a way that they both have synergistic build with each other, or they will end up working against each other. To maintain harmony, you have to consistently work at developing yourself and knowing your limitations.
Similarly, to keep your employees motivated, you must have the continued hunger and drive to develop your organization – most importantly, to stay consistent in your behaviors. Consistently leading by example is the way to foster the culture you aspire to for the organization.
Modern technology and its impact on the digital infrastructure industry
From a data center industry perspective, the COVID pandemic profiled the importance of digital infrastructure to the overall digital economy. In fact, the US Department of Homeland Security characterized digital infrastructure and the people supporting the digital infrastructure as "essential".
Modern technologies continue to evolve at faster and faster speeds, for which the impacts are still being distilled.
"For example, modern technology has revolutionized citizen services. Technology today has transformed travel, research, communication, and thought processes. The digital economy offers efficient citizen services with trust. As these services become more dependent, demand for computing capabilities increases, leading to large data demands and storage demands. The data center industry remains unaffected by this trend," Erich explains.
"In the digital infrastructure industry, innovation isn't just a choice – it's an imperative. As we navigate the ever-evolving landscape of technology, let us remember that every challenge is an opportunity, every setback a stepping stone, and every collaboration a catalyst for progress. Together, with unwavering determination and a shared vision, we can achieve feats that once seemed impossible, and in doing so, pave the way for a future defined by excellence and resilience." – Erich Sanchack, CEO of Salute Mission Critical
Driving innovation and creativity
Salute team members enjoy driving innovation through participating as a collective – participating in committees. Creating committees within an organization enables collaboration and diverse perspectives. These committees promote cross-functional collaboration by bringing individuals from diverse departments, fostering ideas and knowledge sharing, enabling innovative solutions, problem-solving, and decision-making.
Specifically, Salute's Innovation and Technology Committee is a dynamic and forward-thinking group within the organization. Comprising experts from various technical disciplines, this committee is dedicated to driving innovation, exploring emerging technologies, and identifying opportunities to enhance service offerings. The Innovation and Technology Committee is dedicated to research and development, staying updated on digital infrastructure trends, ensuring continuous improvement and delivering exceptional services that surpass industry standards.
"Additionally, as we foster an environment of creativity and collaboration, we have implemented 'Operation Innovate'. It gives every employee, regardless of title, the opportunity to make an impact. Perhaps they've developed a new product concept, a more efficient way of handling customer service, or an innovative marketing strategy. Whatever the idea may be, we want to hear it. Not only does it benefit the business, but it also gives them the opportunity to see their ideas come to life and make a real impact on our business," says Erich.
Erich's inspiring and motivating advice for aspiring leaders:
Believe in yourself and your abilities – Have confidence in your skills, knowledge, and potential. Trust that you have what it takes to positively impact and drive change. Embrace challenges as opportunities for growth, and never underestimate the value of your unique perspective and ideas.
Embrace continuous learning – The technology and digital infrastructure industry is constantly evolving, and staying relevant requires a commitment to learning and staying ahead of the curve. Embrace new technologies, industry trends, and best practices. Seek out opportunities for professional development, whether it's through certifications, workshops, or networking events. Be curious, and never stop expanding your knowledge base.
Embody consistency in your requests and behaviors – Consistency is an underappreciated element of leadership. Before setting visions and strategies for your organization, you must show the people above you, below you, and across from you in your role that you will continuously progress toward your objectives. Without that foundational trust in your ability to consistently deliver, others will lack confidence in your capability to execute.
Lead with integrity – Leadership is not just about making decisions and driving results; it is also about being a role model and inspiring others. Lead with authenticity, honesty, and transparency. Foster a culture of trust, respect, and collaboration. Empower your team members and provide them with opportunities to grow and succeed. Be open to feedback and continuously strive to improve as a leader.
Erich further states, "Leadership demands dedication, resilience, and personal and professional growth. Leaders must be passionate, innovative, and empathetic, embracing challenges and seizing opportunities. Leaders must be adaptable, must lead by example, and inspire others in the technology and digital infrastructure industry. The future lies in your hands!"