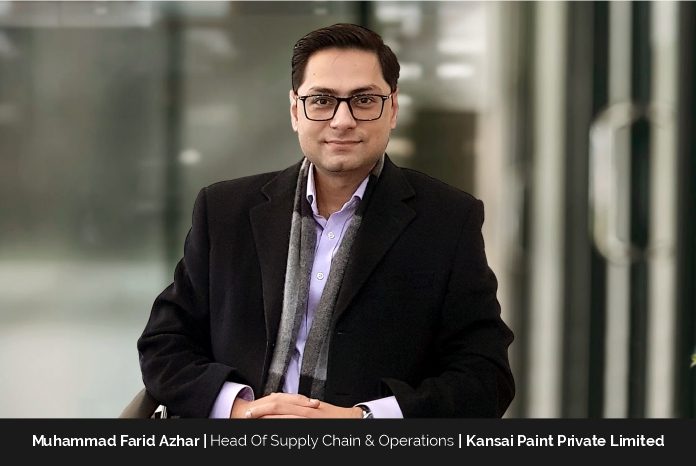 With over 15 years of extensive experience in Strategic planning, Operations, Lean Manufacturing, Supply Chain Excellence, Facilities management, Strategic Procurement, KPIs and Projects management, Farid Azhar is a resourceful, multifaceted and result-oriented management professional. His international exposure has honed his team leadership skills, enabling him to manage diverse teams across the globe consisting of over 13 nationalities.
As the Head of Supply Chain & Operations at Kansai Paint Private Limited, Farid's expertise lies in effectuating innovative solutions to increase efficiency and productivity through process mapping and integrated business planning by streamlining supply chain functions. He is an effective and excellent communicator, with strong analytical, problem-solving, and organizational capabilities. With his ability to ensure execution of time-bound deliverables, Farid is a key asset to the Kansai Paint Private Limited team.
Importance of Adapting Leadership Style to Organizational Needs
The most suitable leadership style for an organization can vary depending on various factors such as the organizational culture, industry, size, and goals of the business. Farid has found that the Transformational and Participative leadership styles are effective in inspiring, motivating, and involving team members to reach their full potential. These styles are particularly useful in organizations those prioritize creativity and innovation. However, Farid advises against using Autocratic leadership style as it can damage the healthy working environment of an organization.
A leader should be flexible and adaptable in their approach to leadership and be able to use different styles based on the situation at hand. By understanding the unique needs and characteristics of their team and organization, a leader can choose the most appropriate style to facilitate effective teamwork, achieve desired outcomes, and foster a positive work culture.
Lessons Learned from Industry Leaders and International Exposure
Prior to joining Kansai/Kaizen Paint, Farid worked for several top multinational and national brands, including Tetra Pak and Treet Group, who are the industry leaders in Packaging and FMCG sector. Working with such highly reputable organizations and industry leaders provided Farid with a valuable skill set, a strong foundation in business acumen, and an understanding of the importance of key business indicators and their impact on organizational growth.
Farid's experience has enabled him to achieve remarkable success in strategic planning, supply chain excellence, operations management, cost control, project management, process mapping, lean manufacturing, and facilities management. Additionally, he has gained international exposure in team leadership and managing diverse teams across the globe, working with over 13 different nationalities. These experiences have helped Farid to develop a versatile and adaptable approach to his work, enabling him to effectively lead and manage teams across different cultures and regions.
"Challenges can be a valuable prospect for growth and can help to make you indifferent, more effective and influential leader."
Embracing Challenges and Collaborative Leadership
Farid strongly believes that challenges can make a leader stronger. As a leader, you face many obstacles and difficulties, and how you choose to respond to these challenges defines your success. By embracing challenges and succeeding through them with a positive approach and a collaborative attitude, you can inspire and persuade your team and achieve success in your organization.
Challenges can test a leader's resilience, problem-solving skills, and ability to adapt to changing circumstances. They also provide opportunities for growth and wisdom, allowing leaders to develop new skills and perspectives that they may not have gained otherwise. Facing challenges can help leaders to build trust and credibility with their team members and stakeholders.
Farid also disagrees with the misconception that leaders should fully take responsibility and face challenges alone. As a leader, it's essential to have faith in your team and your network for assistance when needed. Working together and leveraging the strengths of your team can help you overcome challenges more effectively and efficiently.
The recent COVID-19 pandemic, Suez Canal incident, and present precarious economic crisis have been major challenges that every industry has faced. Farid is proud to mention that his team has been successful in keeping their production line operational and maintaining a steady supply chain without facing any shortages. This was achieved by proactively mapping the risks and implications on their supply chain and taking appropriate measures to address them. This approach highlights the team's maturity, hold, and aptitude to manage crises effectively.
Approach to Effective Planning and Passionate Execution
Achieving work-life balance can be challenging in the demanding corporate sector, but Farid strives to complete all his pending tasks on time through effective planning and execution. He starts his day by setting priorities and planning how to accomplish his tasks within their designated timelines. Although it can be difficult when facing strict deadlines, Farid believes in working passionately to ensure successful delivery. He shares, "Find very small reasons of happiness in your day-to-day affairs and cherish the moments, as Success is not the key to happiness, instead happiness is the key to success. If you enjoy what you are doing, you will be successful."
Farid motivates his teams by setting clear goals, providing regular feedback, identifying areas for improvement, recognizing and rewarding good work, creating a positive work environment, and leading by example through hard work and dedication. Additionally, he has an open-door policy for every worker in the organization. Anyone who needs to discuss concerns, challenges, or obstacles can reach out to him at any time to find solutions to their bottlenecks.
Vision to Improve Operations and Processes in the Organization
Farid believes in continuous improvement, which is also the motto of the organization. The company's identity is based on the concept of Kaizen, which involves finding different ways to improve and identifying weak areas to bridge gaps. There are numerous examples in the corporate world where well-reputed organizations failed to adapt to the dynamic world, resulting in obsolete technology and techniques. As the world is rapidly moving towards digitalization, Farid plans to digitize all of the organization's operations, machines, and production lines to create transparency and better visibility of process gaps and losses in real-time. This will be directly linked to the organization's ERP, enabling data-driven solutions to be found immediately without any delay.
"Success is not a destination to achieve, Instead, it's a continuous journey and the courage to continue, that counts."
True Meaning of Success
Farid believes that success is a subjective concept that can have different meanings for different individuals, depending on their goals and objectives. Success can be measured using various metrics such as enhanced efficiency, reduced costs, increased sustainability, and improved customer satisfaction. However, he believes that success is not only about achieving goals but also making a positive impact on society and leaving a lasting legacy.
However, despite all these achievements, Farid considers his greatest accomplishment to be the development of his team members throughout his career. He takes immense pride in having mentored several influential team players and leaders for various organizations. Farid believes in the advice of his mentor, Mr. Syed Babar Ali, who once said, "If you plan for a year, plant a seed. If for ten years, plant a tree. If for a hundred years, teach and develop people. When you sow a seed once, you will reap a single harvest. When you teach and develop people, you will reap a hundred harvests." Farid believes that when you develop people, their contributions towards society will keep you alive forever.
"Believe in yourself. If you will not believe in yourself, No one else will."
Message to Aspiring Leaders
Farid's message to aspiring leaders is to never stop learning and continually strengthen themselves through knowledge and wisdom. He believes that leadership is a journey, not a destination, and that there is always more to learn and new skills to develop. Farid advises aspiring leaders to seek out opportunities to learn from others, whether through mentorship, interaction, or reading books and articles. He suggests defining a clear vision and pursuing your dreams rather than just chasing money, as money will eventually follow. Farid encourages aspiring leaders to be open to feedback and willing to make changes based on that feedback. He emphasizes that being a leader is not only about achieving individual success but also about empowering and inspiring others to reach their full potential. Farid advises aspiring leaders to always lead with integrity and be true to their values, as their actions and decisions have a significant impact on those around them. He wishes aspiring leaders' good luck in their journey.