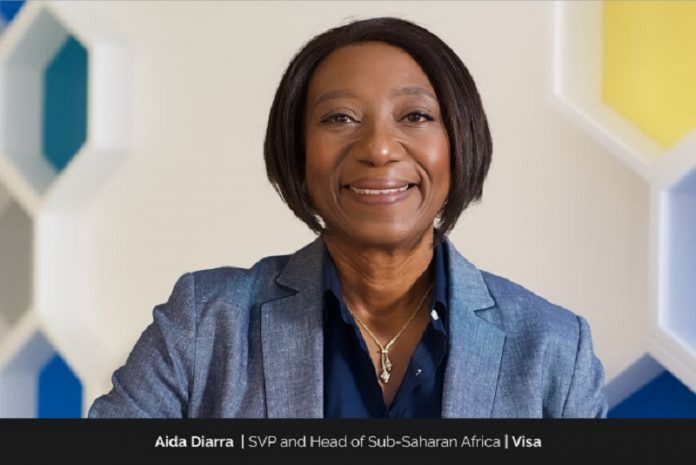 Access to secure, convenient, and affordable digital payments is foundational to the future of money movement and the creation of an inclusive economy.
Aida Diarra, Senior Vice President &Head of SSA at Visa, is helping provide a safe and convenient way to move money for Africans and building financial parity and equitable access to digital payments for everyone, everywhere. She is also supporting African women entrepreneurs in increasing their digital capability and accepting online payments.
Building a career in the payments industry
An accomplished and visionary Senior Management and Leadership Executive, Aida has tertiary qualifications (BBA and MBA) in the field of Finance, but that was not where she started her career.
"One of my early jobs was working for the Welding Institute in a marketing role in France," Aida recalls. "After that I became a partner in a US-based business called Electro Inkjet, where I was responsible for Business Development in electronics, computers, and network & telecommunication accessories focusing on the regions of Europe and Africa."
It was while she was in this role that Aida was offered an opportunity by Western Union to work in the finance and payments space as the Director for US outbound payments into Africa. "This role was very much aligned to my career goals at the time because it allowed me to manage the profit and loss aspects of a business," she says.
In her tenure at Western Union, Aida's initial responsibilities included defining the right strategies and implementing them across the US to better support the African Diaspora to address their needs of supporting their family in their country of origin. She then chose to support the continent from within and moved to Casablanca, Morocco.
Catalyzing economic development with Visa
"After this dynamic journey, I joined Visa three years ago, where I now hold the role of Senior Vice President and Head of the Sub-Saharan Africa business," says Aida. "What I love about the payments industry is that it enables growth at both a macro and a micro economic level, as well as being a catalyst for economic development."
Visa is a world leader in digital payments, facilitating more than 215 billion payments transactions between consumers, merchants, financial institutions, and government entities across more than 200 countries and territories each year.
"Our mission at Visa is to connect the world through the most innovative, convenient, reliable, and secure payments network, enabling individuals, businesses, and economies to thrive," says Aida. "We believe that economies that include everyone everywhere uplift everyone everywhere, and we see access to digital payments as foundational to the future of money movement."
Working towards financial parity and the creation of an inclusive economy
Strong and decisive, with a proven track record of leading successful operations, as well as innovative business development, Aida is a resourceful, goal-oriented professional who creates a shared vision for her team. She leads from the front to build, empower and motivate multi-cultural and cross-functional teams to achieve goals in competitive environments.
"I see my work as part of the efforts of an incredible leadership team at Visa," she says. "Over the past two years, our focus for the business has been on helping our employees, partners, and the communities we serve, navigate the impact of the pandemic. We saw how consumers and businesses shifted towards digital payments almost overnight."
With a wealth of experience in leading innovative strategies that have transformed performance and improved revenue in the financial services and digital finance industries, Aida hopes to empower people and communities everywhere through the creation of an inclusive economy that provides everyone with access to secure, convenient and affordable payments.
"Leveraging the power of our network, Visa is paving a path to financial parity through equitable access to the payments system. To do this, we are co-creating innovative technology solutions with partners to ensure access to the seamless movement of money for billions of people across the globe," she elaborates.
Passionate about empowering African women entrepreneurs
Aida notes that the number of women entrepreneurs is growing around the world, with the highest percentage of these women being in Africa, where 26% of them have started or manage a business.
"This is a huge growth area and one that deserves our attention," she says. "I want to make sure that by the time I retire, women in business are in a better place. As a leader, I use my position and my voice to drive this agenda. I am fortunate that I work for a company that shares the same passion for empowering women through various platforms within our business, as well as empowering women to drive much-needed commerce within our region. This includes a segment that I am very passionate about – women entrepreneurs."
Africa has the highest percentage of women entrepreneurs in the world. Women make up 58% of Africa's self-employed population, yet there are still significant imbalances between men- and women-led businesses on the continent, including opportunities to scale, access to funding, and training.
Aida observes that women entrepreneurs across sub-Saharan Africa continue to earn lower profits than men – 34% less on average. Across all levels, African women entrepreneurs face economic and social challenges, which are stifling the growth of their businesses, and this has only been exacerbated by the Covid-19 pandemic.
In 2021, Visa conducted research that showed that 65% of women entrepreneurs in Africa want to increase their digital capability due to consumer shifts to online transactions. "To address this need, we launched She's Next in Sub-Saharan Africa a few months ago, and over 19,000 women-led businesses have interacted with our digital capabilities programme. We intend to grow this number over the course of this year," says Aida.
Visa's ambition is to grow access to digital payments within the entire ecosystem, namely mobile network operators, Fintechs and their traditional clients. Aida notes that SSA has 261M unbanked people and is still cash heavy, with an estimated 85 to 90% of transactions (approximately $800B) being in cash.
A visionary, determined, and action-oriented leader
Describing herself as a determined leader, Aida's current role and responsibility is ensuring that Visa realizes its ambition of growing access to digital payments, as well as harnessing the tremendous opportunity of the region, which in turn drives value for the company's shareholders, partners, and the communities they operate in.
Her regular day at work starts with listening to the news across the continent and then connecting with her team to ensure progress. "I then focus on helping to unlock any challenges or bottlenecks in the system. More importantly, I also focus on connecting with clients and partners," she says.
Being well, both mentally and physically, is key to Aida's success at work. "I try to set aside at least an hour before work for exercise, which is typically a game of tennis, and I find that this energizes me and gets me focused on the day ahead," she says. "When it comes to our team, we invest a lot in promoting overall wellbeing and making different resources available to the teams in our care to ensure their health and productivity."
Aida believes that challenges are meant to give you lessons and enrich your experience, whether you are a junior employee, middle management, or senior management.
"As a leader, you deal a lot with people management and managing outcomes and, naturally as a woman, I have encountered specific challenges. I do believe that challenges are par for the course both in life and in the workplace," she states. "However, I have learnt that you must find your voice and ensure you continually show your value and ability to make an impact."
As a visionary leader who is action-oriented and skilled in resource allocation to achieve deliverables, Aida's communication skills, natural authority, excellent negotiation and conflict management skills have helped her build robust relationships with clients and stakeholders to drive engagement.
She believes that her strengths as a leader include determination, good listening skills, and a drive for growth. "I think that it is important for a leader to have these attributes and they have stood me in good stead during my career," she states.
Success is an everyday commitment to be the best one can be
Aida's people management, marketing management, and risk management skills have helped her successfully build new businesses to achieve early, sustainable efficiency and spearhead pioneering initiatives in revenue generation and new market entry.
She also stresses the value of connection and the fact that working remotely has made this challenging. "I am proud of the efforts of the SSA team in staying engaged and connected with each other both personally and at work. This, I believe, has helped us to continue to deliver and achieve success in terms of our commitments to the business," she states.
Among the many accomplishments she has achieved as a leader, Aida is most proud of contributing to provide a safe and convenient way to send money to Africa, and in helping Visa's clients, consumers, and employees navigate through the pandemic, as well as continuing to expand payments for the benefit of clients and consumers.
"For Visa, we see the incredible opportunity for digital payments in Sub-Saharan Africa," she states. "I previously mentioned the size of the opportunity, and this is what keeps us motivated – being part of creating a future where there is financial parity and equitable access to digital payments for everyone, everywhere. Technology continues to unlock a lot of opportunities in the digital space."
Aida's main personal goal is to continue to learn, and she advocates the same for other women in leadership, or those who are aspiring towards a leadership role. She believes that success means different things to different people.
"I define success in three ways – driving business growth, achieving personal goals, and transforming the communities we serve," she elaborates. "Learning is also an important aspect of success. In addition, as a leader, success means helping my team to achieve our mission as a business. In short, I do not see success as a destination, but I see it as an everyday commitment to make myself, and those around me, be the best they can be."