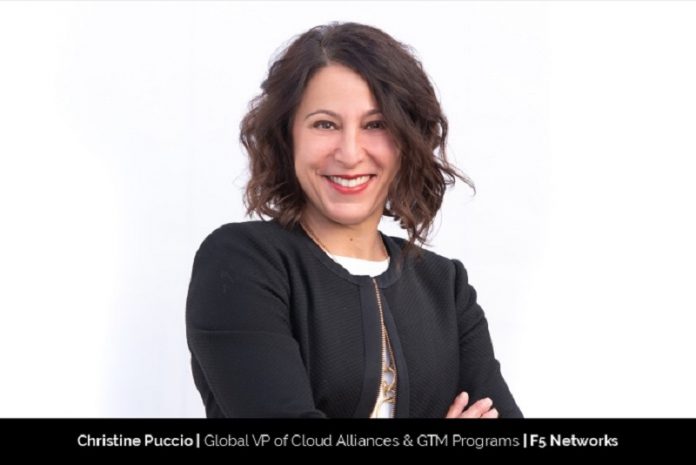 Some legends opt for their success route by hard work, while some are pushed into it by fate. One such thought leader in the field of Cloud computing is Christine Puccio. Her path from being a "numbers person" to the Vice President of Global Cloud Alliances & GTM Programs in F5 Networks is quite an inspiration for everyone who believe in the essence of hard work.
Being a firm believer of the old adage, "The best way to get started is to quit talking and begin doing," Christine has never let the roadblocks in her life to hinder her success in any way. Her strong zeal and enthusiasm are the keys to her applaudable efforts not just in her career but also while fighting for her daughter's equal rights.
Stepping Into The technology Domain
Having completed a BS in Accounting and Marketing from Cal State East Bay- College of Business & Economics, Christine always considered herself a fan of numbers and started her career as a financial analyst. She was always fascinated by economics and desired to pursue investing later. Computer Science was never her first love. Even though she took one computer science class during her college days, she had no interest in it and decided to continue her path in accounting and marketing.
However, fate had some other plans for her career. Her friend drifted her into technology to enable strategic economic access to move through the economic ladder by recruiting her inside sales role at Pacific Bell Internet services. She adds, "I wanted to build a better life for myself in the expensive Bay Area, and so I took a job with inside sales. In the end, technology became the industry I would stay in."
Over the years, partnerships and alliances became her favorite positions to work at, while High tech still held the topmost spot being her lucrative option to help her achieve a prosperous life.
As she kicked off her technology journey from handling inside sales at Pacific Bell, she managed to conquer this arduous task by reading O'Reilly's Getting Connected. This book pumped confidence in her to quickly learn and understand switching, routing, and networking. This confidence also helped her connect with customers and design local and wide area networks and become a subject matter expert to Pacific Bell Account Managers , across various segments, and became a trusted member of virtual teams.  Not only did she work with customers reaching out to Pacific Bell Internet directly, but leveraged the voice and data account managers as her "channel".
Along with this, she started interviewing the top sellers in her company to discover their secret sauce to the highest sales. This also paved the way for her to develop her sales strategy.  Moreover, these small steps let her fast-track her growth in this new career. "I moved from inside sales to outside sales to sales management within 2 years.  Today, 25 years later, I negotiate multi-million-dollar strategic alliance contracts with Fortune 100 companies, including Microsoft, Amazon, SAP, and Google, to name a few.", She adds.
F5 Networks Comprehensive Range of services
F5 Networks is a top company with its primary emphasis on Application Delivery Networking (ADN) and Application Services. She states, "F5 helps organizations deliver and secure the extraordinary digital experiences that customers demand by enabling adaptive applications that, like living organisms, will naturally adapt based on their environment—growing, shrinking, defending, and healing themselves."
It has spread its wings in different arenas to impart high-end support in a multi-cloud environment. There are mainly 4 types of Application services proffered by F5 Networks:
Rapid Traffic Optimization
Outstanding security suite backed by F5 Networks security experts
Flexible and Scalable SAAS solutions
Advanced agile app services with optimum quality
Ever since COVID-19 rose to its peak, all businesses have leaned over excellent and smart digital experiences with top-notch security features. Also, Cloud computing is innovating at a super-fast pace. Being a global industry, enterprises around the globe are facing several technical hurdles. To explain this further, she further says, "This is because today's digital experiences require a combination of multiple networks, clouds, CDNs, and edges that are manually stitched and integrated together. This exposes new ways for attackers to exploit vulnerabilities and creates complexity because each platform has a unique set of tools and services. "
For that, F5 is striving hard to deliver a better end-user experience to interact and transact with the excellent technologies in a unique way.
Their integrated partner solutions help in offering the utmost security and performance of applications that can be accessed across any cloud in a jiffy.
"Through a portfolio of automation, security, performance, and insight solutions, F5 empowers organizations to create, secure, and operate these adaptive applications, which increases revenue, reduces costs, improves operations, and better protects users.", she adds.
Huge Metamorphosis in The Realm of Digitization
Christine is witnessing a huge shift in F5 Networks from the past year in the Digitization landscape. She states," For the past year, I've seen the company completely shift to capitalize on two key digitization trends, including acquisitions and product integrations."
F5 Networks is setting foot to acquire companies that would augment their service levels. For Instance, Nginx acquisition took place to connect the dots between NetOps and DevOps in 2019. She adds, "I worked on the integration team for this deal and integrated Nginx's cloud position into F5. I would continue to lead the cloud alliances to capitalize on that acquisition. F5 also acquired Shape in 2019. The goal was to put a stake in the ground to continue our leadership in security with a goal to counter fraud and abuse protection services to support our customer experience. "
She also headed the product integration teams across various F5 organizations to provide the first-integrated cloud service ever. Talking about her experience, she states, "I'm also on the team that led the integration between F5's instant out-of-the-box SaaS security solution for protecting web applications, and Amazon CloudFront, a fast content delivery network (CDN) service from Amazon Web Services (AWS) that securely delivers data, videos, applications, and APIs to customers globally with low latency and high transfer speeds, all within a developer-friendly environment. This is the first time we've integrated with a cloud service and further reflects how F5 is adapting to rapid digitization."
All this is done to build solutions that cannot be attacked by hackers to exploit all vulnerabilities. Since every platform is developed in its own way, attackers may look for new loopholes and missing attributes to make the end-product quite complex. Thus, to cater to such cloud and system weaknesses, it is crucial to formulate a multi-cloud security solution that encompasses everything in one thread. She further adds," F5's mission is to deliver the deepest and broadest portfolio of multi-cloud application security and delivery solutions that reduces this complexity and runs across all environments, including all public clouds."
Job Roles and Responsibilities as a Thought Leader
Christine's leadership proved to be quite fruitful as she facilitated a plethora of strategic agreements and developed joint programs to come up with the brilliant outcomes that all customers expect. During complex digital transformation initiatives, such as in 2019, F5 spread its wings wide through different strategic cloud alliances like Amazon Web Services (AWS). She further adds, "As part of this project, I led the team that negotiated and closed the multi-million-dollar AWS contract. This successful partnership led to our first integrated solution, along with our first co-developed program, the Workload Migration Program."
Along with this, she helped in reinforcing F5's brand as a diversity and inclusion market leader through her work with Women in Cloud (WiC). She states, "I am proud to serve on the board of advisors for this incredible organization, and this year I was honored to be named one of the Top 10 Most Influential Women in Cloud by Insights Magazine."
While leading as the VP Global Alliances & GTM Programs of F5 Networks, her chief role is to come up with profitable and revenue-generating partnership plans and develop strategic partnerships to build a strong cloud position in the market. Most recently, F5 announced in October 2020 that we surpassed $100M with our cloud business with over 50% of the cloud business in security.
She further adds, "I serve as a key adviser to F5's executives, Directors, and the sales group with regards to F5's overall global cloud alliance strategy.  A large part of my role is to collaborate with Sales, Product Groups, Support and Marketing teams to develop new product offerings within existing and new lines of business. I am also responsible for measuring and reporting results of alliance sales plan execution and identifying areas for improvement, and act to implement positive change." Her multi-faceted role keeps on extending to work directly with operations, legal and other core teams as well.
Life before Joining F5 Networks
For the past 20 years, she has worked in numerous Fortune 500 companies such as Lockheed Martin, Pacific Bell, Sun Microsystems as well as Red Hat. From starting as a financial analyst at Lockheed Martin, she has climbed the success ladder and reached the zenith by entering into tech giants such as Google, SAP, Amazon, and Microsoft.
She is a firm believer of the famous saying "Failure Will Never Overtake Me If My Determination To Succeed Is Strong Enough." With this, she states, "What I've learned from the beginning of my career to today is that overnight success takes 15 years. It's been a long and steady climb and not always a straight or clear path. However, even when faced with life's toughest challenges, I have been sustained by the confidence my mother taught me, the work ethic my father showed me, my grandmother's grit, and my unfailing love and devotion to my daughter, Cassidy: the great love of my life."
Motivation That drives Work-Life Balance
F5 Networks CEO François Locoh-Donou is directing the company in an exceptional growth direction. She is excited about the company's future success roadmap and wishes to excel further on the same road. "I think what keeps the employees motivated is the human-first approach that he has instilled throughout the company, which has kept people optimistic and safe during a time of great uncertainty. I think it's important to feel stability with the company you're at.", She adds.
Being a technology leader and a mother is quite tough, yet she is ready to face each challenge with a broad smile and makes sure that she spends ample time with her fourteen-year-old daughter Cassidy as well. Since the beginning, her priorities have always been straight regarding spending regular time to connect with her daughter. Besides this, she even takes time to perform physical exercise, meditation, regular yoga practice, and maintain healthy nutrition every day.
For her, Creativity Is Intelligence Having Fun. Her passion drives her to give her best in everything she does.
She states, "I am passionate about everything I do, from projects to my daughter's school, to home projects to my work. I am persistent, and I'm all in. Despite life's obstacles, I never give up, and I work past bumps in the road to victory in all of the activities that matter the most."
She is a true example that Success is never hard to achieve if you make consistent efforts in the right direction.  It is all possible because she completely focuses on the old adage, "The Pessimist Sees Difficulty In Every Opportunity. The Optimist Sees Opportunity In Every Difficulty." This has helped her fight the battle against the existing system. It is the only reason that made her an advocate for her daughter against the U.S. legal and education systems to seek an amazing life for autistic children.
Future Face of Success in F5 Networks
F5 Networks is all set for taking their vision of bringing the best application security services. Christine will work hard to get engaged in more ecosystem partnerships to create advancements in solutions that drive high value outcomes for our customers.  As companies around the world are transforming their office culture into a 'work from home' paradigm, it is time to witness more quality digital experiences in the best way possible.
With the current strategic acquisitions and global partnerships, she is a key stakeholder that will take the company's success to the next level.