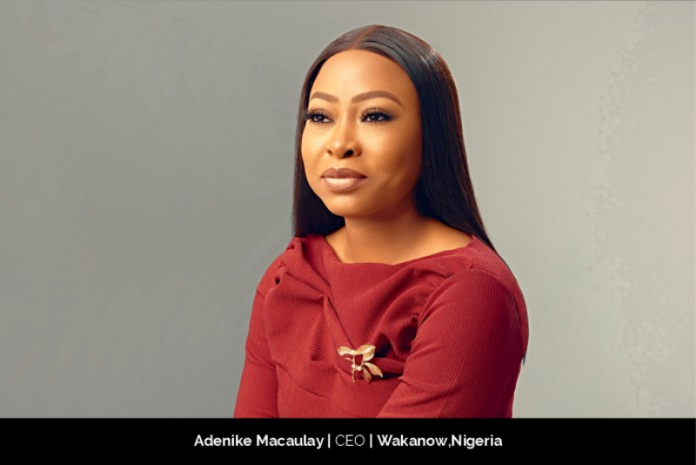 Adenike Macaulay, the Chief Executive Officer of Wakanow, Nigeria, is an accomplished leader with experience in the travel industry. She has been leading commercial activities for the company since July 2021 as Chief Commercial Officer and was appointed CEO in January 2023. Mr. Bayo Adedeji, the Group CEO of Wakanow, Nigeria Group, said Macaulay's appointment was an invaluable addition to the management of Wakanow, Nigeria. She has been instrumental in consolidating the company's growth trajectory in Nigeria.
She holds an MBA from the University of Warwick in the UK, a BSc in Systems Engineering from the University of Lagos, and a Professional Diploma from the Digital Marketing Institute, in Ireland. She was recognized by Leading Ladies Africa as one of Nigeria's 100 most inspiring women in 2019, by Guardian Nigeria as Woman of the Week in March 2019, by Poets & Quants as the 'Top 100 MBAs' worldwide in 2020, recognized in 2021 as Top 30 Tourism & Hospitality influencers in Africa by The PYNE awards and most recently in 2022 as 100 most powerful people in Africa Hospitality by the International Hospitality Institute.
"Believe you can, and you're halfway there." – Theodore Roosevelt
The Ever-evolving Meaning of Success
When asked about her thoughts on success, Macaulay shared that success is subjective and relative to each individual's aspirations, which also evolve. To her, success today differs from five years ago and will likely differ in another five years. However, a few constants, such as progress and balance, remain essential to her.
Macaulay's barometer for success is mainly looking into a mirror, where she evaluates if she is evolving into a better version of herself, living life on her terms, and feeling happy and fulfilled with her life. She emphasizes that success is not necessarily about how one appears to others or the world.
Winston Churchill's quote, "Success is not final, failure is not fatal: it is the courage to continue that count," resonates deeply with Macaulay's beliefs on success. She believes success has a progressive impact, beginning with oneself and extending to family, friends, team, customers, organization, industry, and society. Macaulay firmly believes that charity begins at home.
Role of Early Exposure in Shaping Macaulay's Career
Macaulay Adenike dreamed of becoming a nurse and administering injections as a child. However, her interests soon shifted as she realized her aptitude for Mathematics outweighed that for Biology. Furthermore, her fear of needles made letting go of her earlier aspirations easy. While she did not always harbor a passion for travel and tourism, she grew up close to the aviation industry thanks to her father's job as the First Nigerian flight engineer.
Exposed to travel from an early age, she found herself fascinated by the aircraft models she saw at home, including the Airbus, which she initially believed was a flying bus. Despite not having any intention of building a career in the travel industry, her exposure to it proved helpful when she landed her first job as a Business Analyst at Lufthansa German Airlines. Her genuine interest and passion for the travel industry were sparked in this role. For Macaulay, the constantly evolving sector in Africa presents significant growth opportunities, which drives her to strive for more.
Learning on the Job: A Crash Course in Leadership
As Macaulay looks back on her journey as a female leader, she recalls the initial challenges she faced as a Regional Marketing Manager at Lufthansa Group's West Africa division. She was tasked with leading a team of experienced women with years of experience in the company and the industry, while she had only been a Business Analyst for six months prior. It posed a significant challenge for her as she had to establish her credibility and prove her worth as a leader while still learning on the job and delivering results as a team.
Macaulay's crash course in leadership highlighted the importance of investing in hard and soft skills training, which helped her refine her leadership abilities. Additionally, she recognized the need to improve her emotional intelligence, especially in the unique situation of being a young female leader taking over a role from an older male predecessor, who might have found it easier to earn the team's respect. She quickly learned to break the gender stereotype of a female leader in a male-dominated industry by building competence, empathy, resilience, and adaptability.
Cultivating strong functional bonds with her team was also crucial to achieving high performance, and this remains an essential prerequisite for her success today. In addition, Macaulay's experiences as a female leader have taught her the importance of constantly developing leadership skills, being resilient in the face of challenges, and building relationships based on mutual respect and understanding.
"Success is not final, failure is not fatal: it is the courage to continue that counts."    – Winston Churchill
Meeting the Unique Needs of Travelers with Wakanow, Nigeria
Wakanow, Nigeria, the premier online travel booking company in Africa, offers its customers a comprehensive range of travel services. These services include flight bookings, hotel reservations, ground transportation, travel insurance, visa assistance, and other related travel services, making it a one-stop shop for all travel needs.
Wakanow, Nigeria's exceptional focus on the African market differentiates it from other travel companies. With a profound understanding of the region, the company has customized its operations to cater to the specific needs of African travelers.
Wakanow, Nigeria prides itself on its customer-centric approach and unwavering commitment to providing the best value across all touchpoints. Leveraging its advanced tech capabilities, the company is dedicated to enhancing the customer experience through innovation and continuous improvement.
Insights on Building Resilience Through Setbacks
Challenges and setbacks are a constant reality in any profession, and Macaulay's experience in the travel industry has been no exception. With the COVID-19 pandemic forcing a sudden halt to most commercial travel, Macaulay's leadership as General Manager for Lufthansa Group in Nigeria & Equatorial Guinea was tested to the fullest. She had to make difficult decisions that required her to balance organizational sustainability and employee well-being while ensuring the availability of services for passengers.
In this process, Macaulay gained valuable insights into the importance of adaptability and agility in the face of unforeseen circumstances. She also learned the significance of conducting thorough research and due diligence before entering new markets and the value of building strong partnerships with local businesses, organizations, and industry stakeholders to navigate the complexities of different cultural and regulatory environments.
Through these experiences, Macaulay emerged more robust and better equipped to lead Wakanow, Nigeria and tackle future challenges. She attributes her resilience to staying true to the company's core values and mission, which has been crucial in navigating various roadblocks and turning them into opportunities for growth.
Navigating the Changing Landscape of Travel: A Perspective from Wakanow, Nigeria's CEO
Macaulay highlights her advocacy for adopting New Distribution Capabilities (NDC) with her travel agency partners while working with Lufthansa Group. It ensured that the Nigerian travel industry kept up with the evolving global distribution standards, benefiting end customers by introducing continuous pricing and other valuable features such as fare bundling and rich content.
In her current role at Wakanow, Nigeria, a travel agency that partners with airlines, Macaulay continues prioritizing the Nigerian market in each airline's NDC distribution strategy. She has observed promising developments in the past months, including the availability of more competitive fare options for Nigerian travelers.
Macaulay also expresses pride in Wakanow, Nigeria's distribution partnership with domestic airlines in Nigeria. As an indigenous African travel tech company, Wakanow, Nigeria extends its technology capabilities to local airline partners who only typically adopt global distribution systems and rely on their websites and offices as distribution outlets. Currently, Wakanow, Nigeria is the distribution partner to seven of the eleven domestic airlines in Nigeria, including ValueJet, which offers a variety of fare options for all categories of travelers. Making travel affordable and accessible to the average Nigerian remains a top priority for Wakanow, Nigeria, and the company is committed to innovating with its partners to bring its products closer to customers.
Macaulay says the travel industry has undergone significant changes in recent years, primarily driven by technological advancements and the sharing economy. As a result, it has become easier for travelers to access information, compare prices, and make reservations. In addition, the sharing economy has given travelers new opportunities to connect with local communities and cultures.
Wakanow, Nigeria recognizes the importance of keeping up with the changing trends in the travel industry and invests heavily in new technologies and partnerships to enhance the travel experience for its customers. In addition, the company remains committed to expanding its reach and offerings to new markets in Africa and beyond to deliver more value to its customers and stakeholders.
Looking to the future, the travel industry is expected to continue to evolve and adapt to new challenges and opportunities. As a critical player in the industry, Wakanow, Nigeria is dedicated to driving this transformation by creating a more connected and sustainable world through travel.
Being a Role model and a Mentor: Macaulay's Views on Leadership
As a woman in leadership, Macaulay's journey has been filled with challenges and triumphs. Despite facing several obstacles and biases, she has received support from sponsors and allies who have helped her navigate these challenges and develop her leadership skills.
In her role as a female leader, Macaulay believes it is her responsibility to serve as a role model and mentor to other aspiring women leaders. She is passionate about creating opportunities for underrepresented groups to succeed in the workplace and uses her platform and influence to advocate for diversity, equity, and inclusion informally.
Macaulay sees being a woman in leadership as a unique opportunity to effect positive change and inspire others to do the same. She is grateful for her experiences thus far and looks forward to growing as a leader and making a difference in the world.
Macaulay's Journey of Achievements
Before joining Wakanow, Nigeria, Macaulay had a successful career in the aviation industry. For over a decade, she held various positions across Sub-Sahara Africa, overseeing diverse teams as a Regional Marketing Manager and Head of Sales, Products, and Programs for Lufthansa Group. She also served as Chairperson of the International Air Transport Association Local Customer Advisory Group and Vice Chair of the IATA Agency Program Joint Council.
As for her most outstanding achievements, she takes pride in becoming the first female Nigerian to hold the position of General Manager, Sales for Lufthansa Group in Nigeria and Equatorial Guinea. Leading teams across Lagos, Abuja, Port Harcourt, and Malabo, she was responsible for driving all commercial and sales activities for the airline group in the region. This achievement broke barriers and glass ceilings and inspired other women and young girls to pursue their aspirations and leadership positions in their chosen fields.
Macaulay shared her proud moment of being acknowledged by the International Hospitality Institute as one of the 100 Most Powerful People in Africa's Travel and Hospitality industry. She felt honored to be recognized by her peers for her dedicated contributions to the industry, and it has motivated her to continue pursuing excellence in all her endeavors.
Despite this recognition, Macaulay considers her most significant achievement to be successfully juggling her professional career while fulfilling her roles as a devoted wife and mother of three brilliant and dynamic daughters. Her ability to balance family and career responsibilities showcases her dedication, commitment, and resilience in achieving her goals while prioritizing her family.
"The future belongs to those who believe in the beauty of their dreams." – Eleanor Roosevelt
The 'Queen Mother' of Wakanow, Nigeria: Macaulay's Roles and Responsibilities
As the CEO of Wakanow, Nigeria, Macaulay is responsible for the company's and its stakeholders' overall well-being. She describes her role as the "chief caretaker," whose primary responsibility is to take care of and represent the best interests of the team, customers, and travel partners. Her team affectionately calls her "Queen Mother," a testament to her leadership style and the respect she has earned from her colleagues.
Leading with a Vision: Wakanow, Nigeria's Growth and Motivation Strategies
Wakanow, Nigeria's CEO envisions the company as the frontrunner in travel and tourism services, specializing in innovative and customized travel solutions using technology to provide intelligent travel options for its customers. In addition, Wakanow, Nigeria aims to create an unparalleled reputation for top-notch personalized customer service, a deep understanding of customer needs, and industry-leading solutions.
To maintain employee motivation, the company creates an environment of transparency, open communication, and accountability. Employees are encouraged to collaborate and work together to achieve their goals while their hard work and contributions are recognized and rewarded. Opportunities for growth and development are also provided, and employees are valued and supported in their respective roles.
Additionally, the company regularly communicates with its employees about its progress, challenges, and successes. As a result, they actively seek feedback and suggestions from team members and take action on their input, fostering a sense of ownership and pride in the company's success. It, in turn, motivates employees to work harder and contributes more to the company's growth.
As for the CEO herself, Macaulay finds motivation in the impact that Wakanow, Nigeria can have on the lives of its customers, employees, and the industry. She seeks inspiration from industry leaders, attends conferences, and networks with peers to stay current on the latest trends and innovations.
The Art of Balance: How Macaulay stays focused on both career and personal life?
Maintaining a balance between personal and professional life is crucial for achieving success while prioritizing emotional well-being. Macaulay, the CEO of a leading organization, emphasizes creating a schedule that enables her to balance her work responsibilities and personal life by enlisting the help of her team, family, and friends. She highlights the importance of having a support system and intentionally planning her day down to the hour to make efficient use of her time.
A typical workday for her starts at 5 am when she prepares her children for school, after which she spends time meditating, reflecting, and preparing for the day ahead. As the CEO, Macaulay is available for her team, customers, and partners, leading to a busy day of meetings. She recognizes the significance of dedicating the first few hours until 10 am to strategize and think. Additionally, she tries to take one day per week to work remotely.
In the evenings, she engages in some self-care activities and spends quality time with her family to wind down. She consciously disconnects from work-related tasks to ensure a healthy work-life balance.
In conclusion, balancing personal and professional life requires discipline, organization, and effective time management. By prioritizing tasks, staying focused, and taking care of emotional well-being, achieving this balance while being productive in both areas of life is possible.
"The best way to predict the future is to create it." – Abraham Lincoln
Macaulay's Personal Goals and Vision for the Future of Travel and Tourism
According to Macaulay, her company Wakanow, Nigeria's leading travel company, has an ambitious roadmap to position the company as a premier travel and tourism platform in Nigeria, across Africa, and beyond. This vision includes expanding into new markets, diversifying its product and service offerings, and leveraging cutting-edge technology to provide innovative travel solutions to its customers. To enhance the customer experience, Wakanow, Nigeria intends to invest in digital innovation and streamline its booking and payment processes. The company also plans to broaden its product range beyond flights and hotels to encompass other travel-related services, such as car rentals, vacation packages, tour activities, protocol services, rides, and travel insurance.
As CEO of Wakanow, Nigeria, Macaulay is leading the team in achieving these objectives while fostering a culture of collaboration, innovation, and excellence. She is committed to empowering her employees and investing in their growth and development, believing that a motivated and engaged team is the key to success.
Macaulay is also passionate about positively impacting the travel industry and the wider community. She intends to use her position to champion initiatives that promote sustainable tourism, supports local communities, and empower women and youth in Africa. Through these efforts, Macaulay hopes to contribute to the growth and development of Africa's travel industry while positively impacting the lives of its people.
A Message of Hope for Black Women in Business
Macaulay believes one should have faith in oneself and not allow anyone to deter one from achieving their dreams. Despite the barriers and obstacles, individuals have the power to make a difference in their lives and those of others.
Macaulay has faced prejudices and challenges in the workplace and business world and understands the importance of resilience, determination, and hard work. She encourages aspiring professionals to seek out mentors and allies who can offer support and guidance when facing challenges. It is also crucial to stay informed about industry developments and build a strong network of colleagues and peers.
Macaulay emphasizes the significance of authenticity and staying true to one's values while concentrating on core competencies. Individuals should remain focused on their unique strengths and capabilities to avoid distractions and external pressures that may hinder progress. Negativity and criticism should not derail one's efforts. She believes confidence in one's abilities and vision are vital.
Macaulay also stresses the importance of giving back to the community and positively impacting the world. She encourages individuals to remain determined, despite the ceiling for black female professionals being higher with hard work and dedication, they can break through and succeed.
"Don't watch the clock; do what it does. Keep going." – Sam Levenson
Conclusion
As the CEO of Wakanow, Adenike Macaulay has revolutionized the travel industry in Nigeria and beyond. Her visionary leadership, commitment to innovation, and passion for empowering others has made her a role model for aspiring professionals and businesswomen, particularly those of color. With her ambitious roadmap for the future and dedication to making a positive impact, Macaulay is poised to continue her impressive trajectory and leave an indelible mark on the business world.