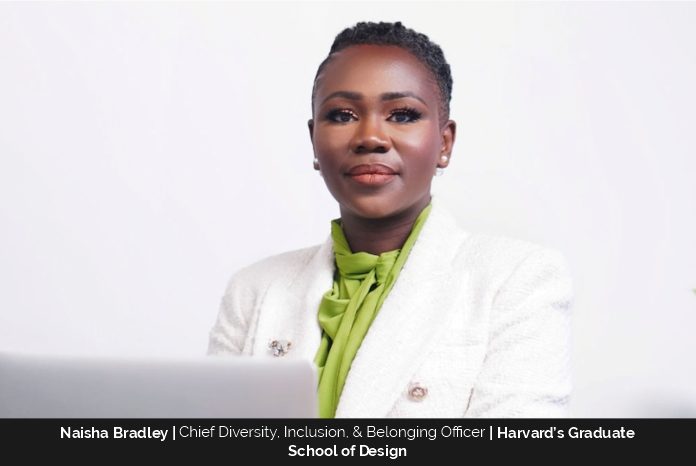 In the DEI field, it is common to face resistance from established systems and deeply ingrained perspectives. This can make the work difficult and often thankless. Unfortunately, individuals working in this field are often perceived as difficult or disruptive, which can hinder their career advancement, especially for women.
Despite these challenges, Naisha Bradley is making a significant impact as the Chief Diversity, Inclusion, and Belonging Officer at Harvard's Graduate School of Design. In this newly created position, Naisha is responsible for developing and implementing a comprehensive strategy to enhance diversity, promote inclusion, and foster a sense of belonging among all members of the GSD community, including students, faculty, and staff. Her role involves overseeing strategic planning, financial management, community partnerships, and program development for the Diversity, Inclusion, and Belonging office.
Naisha's training has equipped her with the skills to continually question systems and analyze why some individuals can navigate a system successfully while others cannot. She investigates whether the system is responsible for the unequal outcomes, and if so, she works to shift it.
Although the concept of DEI might seem straightforward, implementing it can be challenging because it involves change, something many people are uncomfortable with. Therefore, at the core of Naisha's work, she strives to help individuals understand the benefits of diversity and work towards making the changes necessary for everyone to succeed within the system.
Leading Learning Center for Design Aspirants
Harvard's Graduate School of Design is committed to educating and developing leaders in design, research, and scholarship who can contribute to creating a world that is both resilient and just, while also promoting beauty. Naisha believes that one of the most beautiful aspects of both the Design School and Harvard University as a whole is the diverse group of individuals who make up its community. While there is certainly more work to be done in terms of promoting diversity and inclusivity, Naisha is grateful to see that Harvard is actively welcoming and learning from people who were not traditionally uplifted or educated by the institution.
Consistency throughout Her Career
Naisha began her tenure at Harvard University in 2006, taking on the role of an executive assistant. Despite having a master's degree in Gender and Cultural Studies, she found herself making coffee, reading emails, and managing the schedule of a department head at Harvard's Kennedy School, a humbling experience that she likened to the character of Andy Sachs in the movie, "The Devil Wears Prada." Although the work was demanding, Naisha found it to be exhilarating, and the learning opportunities that it provided were profound. During this time, Naisha's definition of success was centered around being able to support herself financially.
After two years in the role, Naisha began to contemplate her career goals. While working in a department that focused on gender diversity, she noticed a significant gap in how the experiences of white women were frequently discussed without explicitly acknowledging their privilege. This experience piqued her interest in diversity, equity, and inclusion work at Harvard, and she remained in the department while taking on additional responsibilities to bring more diverse perspectives to the work. Naisha even requested to oversee the hiring and management of the department's interns to increase the pipeline of BIPOC individuals at the center.
After nine years of working in the department at different levels, Naisha's dedication and hard work paid off. She accepted a job offer to lead a women's center, a role that required her to embrace change and utilize the skills she had developed as an executive assistant. Her experience in anticipating needs, solving complex problems, and creating a navigable space for multiple individuals all contributed to her success in this position.
While leading the Women's Center, Naisha pursued further education and later took on the role of leading diversity, inclusion, and belonging efforts at the Harvard Design School. Her previous experiences equipped her with the necessary tools to effectively handle this role. Naisha's ability to have difficult conversations, create a safe and inclusive environment for all, and connect with individuals who feel unheard, all contributed to her current success. By valuing every experience and learning from each lesson, Naisha has been able to thrive and succeed by being her authentic self.
Creating a Culture of Inclusivity and Belonging
Naisha strives to promote a sense of belonging among all members of the Harvard community by emphasizing that every individual who walks the halls of the institution has a place there. Despite its reputation and prestige, Harvard can often trigger imposter syndrome in even the most confident individuals, as she experienced when she first received her acceptance letter from the Kennedy School. However, Naisha takes great pleasure in helping people from diverse backgrounds understand that they are valued and equal partners in contributing to Harvard's excellence. Her goal is to instill in everyone the message that "You Belong Here" and to foster a culture of inclusivity and belonging.
Recognition for Dedication and Excellency
Naisha's most recent award as Woman of the Year from the Boys and Girls Club in her hometown was the best recognition she received. It was unexpected and held a special place in her heart because of her connection to the organization. She used to work there before entering higher education, and she continued to volunteer for 15 years, moderating an annual panel on the importance of attending college and the benefits of attending an HBCU. As an HBCU alumni, this volunteer work was important to her because she wanted to be an example for children in her community and show them what was possible when attending a college that provided academic excellence and emotional safety for black people.
Following Passion
Naisha derives joy from her work, and while she strives for balance in her life, she does not seek balance in her work because the field of DEI is constantly evolving. She is always reading, researching, and learning to stay up-to-date and informed.
As for keeping her team motivated, Naisha is very selective in her hiring process. During interviews, she tells candidates that she only wants to work with individuals who can surpass her level of expertise in 5-8 years. This approach communicates to her team that she believes in their potential and wants to be a part of their success story. Once hired, Naisha trusts her team and allows them to showcase their expertise. The level of belief and trust Naisha has in her team is enough to motivate them on a daily basis, and she finds that she does not have to provide much additional motivation.
Being Authentic
At the beginning of Naisha's career, she encountered a supervisor who obstructed an opportunity for her. Despite the difficulty of this situation, she chose to confront her supervisor about it. As expected, this confrontation strained their relationship, which was far from ideal. Naisha had to quickly learn two important lessons from this experience: firstly, how to overcome personal disappointments in a professional setting, and secondly, that any opportunity meant for her would ultimately come to fruition, regardless of any obstacles or individuals who may try to stand in her way.
Naisha believes that true success comes from embracing one's true self and leveraging life's lessons for personal growth. Rather than viewing setbacks as failures, she sees them as opportunities to learn and improve. This perspective on success stems from her humble beginnings, as she lacked a clear path or established network to pursue a career in higher education or diversity, equity, and inclusion. However, her parents instilled in her the importance of persistence and determination, which allowed her to persevere and learn from her mistakes along the way.
Expanding Her Reach Beyond Harvard
Naisha has already taken steps to achieve her goals. In 2020, she recognized her desire to expand her reach beyond Harvard and launched The Bradley Firm, LLC, a DEI consulting firm, in July of that year. Since its inception, Naisha has collaborated with various organizations, such as hospital boards, independent schools, restaurants, design firms, and city administrations. Naisha considers it a blessing to have found another channel to pursue her passion and to help others understand the advantages of diversity.
When asked about her message to aspiring businesswomen, Naisha shared her mother's advice, which may seem unappealing but is truly wise. As a child who was bullied, her mother told her to "mind her business" because what people think of her is none of her concern. Women are often trained to focus excessively on the thoughts, views, and ideas of others, which does not necessarily lead to success or advancement. Each person has a unique gift, and women can become successful businesswomen by focusing on their gifts rather than being preoccupied with other people's opinions of them.