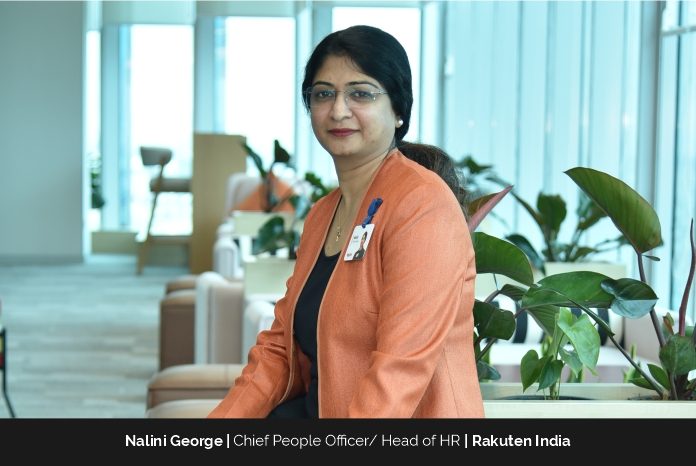 With the participation of women increasing across all industries and sectors as well as an increase in female human resources leaders over the past several years, women are entering and paving the way for historically male-dominated professions. However, the profession itself is dominated by women. HR leaders are in charge of their firms' efforts in recruiting, diversity, and remuneration.
Chief People Officer of Rakuten India, Nalini George has more than 24 years of solid experience in the sector, working with people from a variety of cultures, including India, Japan, the USA, the UK, Canada, and Korea. The company's human resources department has grown significantly under Nalini's direction over the last five years.
Nalini oversaw the effective adoption of HR best practices and strategies that were in line with the organization's overall mission. The function of HR has changed to become a crucial business enabler thanks to a growth-driven approach, in-depth knowledge, and a clever working style.
Nalini studied international business, but she happened to enter the field of human resources. Prior to an opportunity to solve an issue, she had no intention of working in this field. She became aware of the responsibilities and potential impact of this position after accepting it, not just on the organization but also on individuals' careers and families. Nalini was greatly motivated by this fortunate encounter, which also altered the trajectory of her career and provided her motivation to delve deeper into the People Function.
Since 2014, the Rakuten Group's global network of more than 70 diversified businesses has relied heavily on Rakuten India, one of Rakuten's nine technological hubs outside of Japan. In addition to a focus on business enablement, India is involved in advanced technological, data science, and research projects, such as work on computer vision, voice-based commerce, and face recognition for electronic KYC. In addition, it is developing a cancer treatment for Rakuten Medical.
With the launch of Rakuten SixthSense, a 'Code to Customer' observability platform, in 2021, Rakuten entered the B2B technology market. Rakuten SixthSense, which was created in India, will offer companies and IT leaders intuitive, end-to-end visibility of the entire IT environment, from development to business operations.
Working in Human Resources Industry
Nalini dislikes the phrase "human resource" in particular. She favors the people-function approach, which is essential for establishing company relevance. Second, she makes a conscious effort to incorporate "empowerment" into her roles.
The HR department at Rakuten operates independently, free from outside interference. This enables Nalini's team to make business decisions while keeping an eye on the needs of individuals and organizational goals. She shares, "My team is actively involved in making strategic decisions for the organization and is equally accountable for building a culture propelled by innovation and inclusivity."
Thirdly, Nalini encourages her employees to take advantage of any opportunity to learn. The influence of the people's function is impacted by being a member of the Board. She thereby ensures that her staff actively contributes to the development of the organization and does not serve in a "mere" support role.
From Life Challenges to Professional Learning
"My teacher taught us to survive with 250 ml water and two slices of bread in a 24-hour survival trek. We learned that it is not physical strength, but mental mastery that dictates our survival," says Nalini. She has found some great teachers all through her career, who have taught her to explore her unknown abilities and debunk what she believed was her "limitation".
With over two decades under her belt, Nalini has faced multiple roadblocks. Like Molière famous French playwright, rightly says "The greater the obstacle, the more glory in overcoming it."
She shares, "I would like to share this one instance in particular: early in my career, I was asked to set up shared services in 5 different countries simultaneously across continents. This meant working with language, time, cultural barriers, and even logistical challenges. Added to this complexity was that I was on my way to motherhood."
Nalini worked backwards – firstly, she knew "we needed a competent and committed team." With the team in place, she next instilled in them the deep trust and dependability they would need to wade through the rough waters. From taking late-night US calls to attending an early morning call with Thailand the next morning; the team worked pretty much 24/7.  She opines, "Our motto was to meet the finish line without compromising on quality." 
According to Nalini, this was a huge learning curve for her–managing people, relationships, business complexities, and getting things done despite tight deadlines. She adds, "The takeaway is that you cannot get to the top by yourself. You will need a team that runs along with you towards a shared goal and at the same speed as you."
Even in Nalini's current role, she manages the People Function, IT, New Business Incubation, Facilities, and Corporate Communications in parallel with the other advisory positions and being part of the Board. With each new role or opportunity, she makes an effort to learn to justify the privilege of the opportunity given to her.
Growth-driven Leadership
At Rakuten, Nalini has been directing operations for the past five years. She is pleased to have led the implementation of HR strategies and best practices that are in line with the organization's overall mission at this time. Nalini adopts a growth-driven strategy to elevate HR from a supporting role to a crucial business enabler. She serves as a senior leadership team coach and advisor while also serving as a board member of Rakuten India. Similar to this, she promotes regional employee initiatives and increases the value of the employer brand internationally.
Nalini interacts with people throughout the day to maintain her status as a leader and individual, but when she is at home, she is deliberate about being present and scheduling "me" time. She mentions that it helps her unplug and allows time for deep thinking.
Combining Innovation and Ideas
Rakuten team's vision is to be a global innovation company. Innovation is at the core of everything the teams do at Rakuten. Nalini shares, "We fully embrace the experimental culture and are open to early failures. Our employees are encouraged to push beyond the status quo, bounce ideas off their managers, and experiment." The organization runs a number of hackathons, including Rakuten's premier coding competition, Rakathon, and has a track record of funding and developing new concepts. Rakuten SixthSense, a full-stack observability offering, was motivated by an internal hackathon concept.
People Office at Rakuten, is no exception to the company's widespread adoption of innovation. To enhance the employment experience, Nalini and the team are always innovating. Robotic Process Automation (RPA) aids teams and employees in streamlining procedures, and it has technologies developed in-house to support its learning and development activities.
Success by making Positive Impact
For Nalini, success is subjective. Her definition of success is all about making a positive impact coupled with continuous learning. It is a concoction of the 3 Ps:
Passion – "I might have tiring days, but hardly a day when I have disliked my work! No rocket science here. I believe in doing what I love with all I've got".
People – "My success stories are products of my genuine effort at understanding people, identifying abilities, and unlocking their potential to help them grow beyond what one would have envisaged. I am grateful that I get to help mold a team and advocate for talent and creativity while helping businesses grow."
Problem Solving – "I love a good challenge! People, businesses, processes—whatever the problem may be, I simply love solving it. I thrive at this and, therefore, believe that I add value to the organization. Throw a problem at me, and I will solve it for you."
Visioning to Bring Change
Rakuten began operations in India in 2016, and in less than ten years, it has become one of the largest technological hubs, employing about 1800 people and planning to add more in the coming months. In addition to increasing headcount, the people function intends to strengthen Rakuten India's innovation and technological capabilities by encouraging holistic well-being and inspiring the company's human capital. Improving the overall working environment for employees.
According to Nalini, it's critical for contemporary workplaces to be welcoming, foster a sense of community, and guarantee that everyone has equal access to opportunities and fair treatment in all facets of their employment.
Being a people manager is more than conducting talent reviews and entrusting critical projects; it involves being there and looking out for your own team. Sometimes by pushing them to do better, and other times by making them feel at ease in the face of adversity. So, she wishes to inspire and build more empathetic leaders and managers for tomorrow.