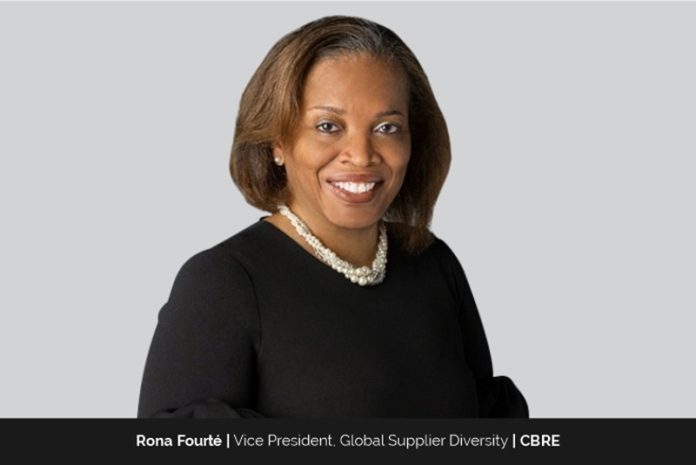 Rona Fourté, Vice President of Global Supplier Diversity at CBRE, has been engaged in supplier diversity for more than two decades and brings a wealth of knowledge to the company in areas such as accounting, community engagement, supplier diversity programming, diversity and inclusion education, and training on microinequities, aggressions, and unconscious bias.
Reflecting on her 25-year career, Rona affirms that her work in Diversity, Equity & Inclusion (DE&I) is her vocation and calling. She started her journey in accounting but found her true purpose in promoting economic and community growth through DE&I initiatives. Rona rejoined CBRE in March 2022, from formerly serving as an Assistant Controller at CBRE in 1998. Her commitment to helping diverse businesses achieve their goals is evident when she states, "When you find something you love, it's not work anymore. I embrace opportunities to talk about supplier diversity."
Rona believes that success for businesses is exemplified by their ability to increase revenue, expand their presence, innovate, and make a significant economic contribution to the communities where they operate. This can be achieved through actions like hiring, investments, philanthropic efforts, and social impact investments.
Being an accountant by profession, Rona tends to quantify success, but she doesn't limit her evaluation to numbers alone. She also considers the qualitative aspects, such as the positive social changes that occur when people are employed, which can lead to new opportunities and behaviors. For Rona, success is defined by the tangible outcomes achieved by diverse communities and how they positively influence the areas they serve.
Committed to Supplier Diversity and Equitable Business Partnerships
As the world's largest manager of commercial property, CBRE is actively working towards fostering a more equitable future by forming partnerships with diverse businesses to provide services for the workspaces and buildings it manages on behalf of its clients. With a vast supply chain and its prominent position in the industry, CBRE has the potential to influence change by increasing opportunities for diverse-owned businesses and social enterprises.
As Rona emphasizes, "CBRE services more than 90 percent of the Fortune 100 companies in the world, so we know there is a strong demand from our clients for working with more diverse suppliers. We can go to market with a supplier diversity program that has an established track record — we know what success looks like for CBRE and our diverse suppliers."
In 2021, CBRE made a substantial commitment to this cause by pledging to spend at least $1 billion with diverse suppliers, to increase that amount to at least $3 billion by the end of 2025. To actualize this pledge, the company formalized its supplier diversity program and allocated resources to support it. This program involves partnering with small firms and businesses certified as being owned by underrepresented groups, including ethnic minorities, indigenous people, women, veterans, LGBTQ+ individuals, and those with disabilities.
Rona adds, "Our program is founded on integrating supplier diversity in our purchasing decisions throughout our business. Our people are actually putting the program into practice. They are accountable for reporting on their diverse spending internally and to our clients. We have a comprehensive dashboard that procurement leaders can use to assess program performance, which is updated monthly. The dashboard illustrates the continued progress we are making and how we are achieving our stated goals year-over-year since formalizing our program."
CBRE supports diverse businesses in several ways and the foundation rests on three pillars; outreach and advocacy, development and opportunity identification. The program provides formal supplier development and mentoring to strengthen high-growth potential diverse companies. It also integrates diverse suppliers into its procurement sourcing process and offers direct engagement opportunities with its own customers for subcontracted products and services.
In addition to these initiatives, CBRE collaborates with over twenty organizations that identify and work with certified diverse suppliers, including WeConnect International, Social Enterprise UK, Minority Supplier Development UK, Canadian Aboriginal Minority Supplier Council, National Minority Supplier Development Council Inc., National Veterans Business Development Council, DisabilityIN, Supply Nation, MSD-China, Integrare, and Women's Business Enterprise National Council. These relationships play a vital role in building a diverse supplier community.
CBRE took a significant step in this direction in the fall of 2022 by sponsoring its first Supplier Diversity Summit, which attracted over 1,200 participants from the United States and Canada. This virtual event facilitated networking opportunities, learning sessions, and access to various decision makers and business opportunities.
But why is supplier diversity important? Small businesses are the backbone of the global economy, in the U.S. comprising 99.9 percent of all businesses (U.S.Small Business (SBA), 2022). Furthermore, the SBA Office of Advocacy reported demographic ownership percentages in 2017, which reveal significant disparities: 37.6 percent women, 12.7 percent Hispanic Americans, 9.9 percent African Americans, and 8.1 percent Asian Americans. Additionally, Small and Medium Enterprises (SMEs) play a major role in most global economies, particularly in developing countries. SMEs account for the majority of businesses worldwide and are important contributors to job creation and global economic development. They represent about 90% of businesses and more than 50% of employment worldwide. Formal SMEs contribute up to 40% of national income (GDP) in emerging economies.  (The World Bank www.worldbank.org)
Supplier diversity programs level the playing field, granting diverse suppliers access to the same opportunities to grow. This advocacy not only drives success but also contributes to a more equitable distribution of wealth.
Evolving Definitions of Success and the Intersection of Supplier Diversity and DE&I
When asked about success and how it is defined at her level, Rona appreciates the opportunity to share her perspective regarding the work she has been engaged in for more than two decades, particularly in the realm of supplier diversity. In some instances, this also encompassed DE&I within the workforce.
For Rona, success in this sphere is truly encapsulated by results and outcomes, especially from the perspective of suppliers. She acknowledges that her understanding of success has indeed evolved as she has grown as a leader. When she initially entered the supplier diversity field in 1999 through an introduction to a Chicago-based organization called Ralph G. Moore and Associates (RGMA), her perspective was relatively narrow. With an accounting background, she primarily saw it as a matter of tracking and quantifying spending on spreadsheets as a consultant for the firm's Fortune 100 and government clients.
However, her perception expanded over time, thanks to valuable insights from a colleague who emphasized that it wasn't solely about the numbers. It was about extending the impact beyond just tracking expenditures. This shift in perspective occurred during her six years with RGMA and vastly helped Rona appreciate the broader implications of supplier diversity. Her learning journey has taken her on a full circle, as she advanced her career  in the supplier diversity space.
Rona's transition to the field of DE&I is another interesting aspect of her career. Initially rooted in accounting, she found herself drawn to DE&I because she wanted to see more tangible outcomes beyond the traditional accounting work, which often stopped at financial reporting. Rona recognized that while accounting provides essential financial data, it doesn't directly influence the broader community or social outcomes.
A pivotal moment in her career involved a minority-owned call center business that she joined as a Controller who also had Fortune 100 firms as clients. This call center  hired individuals with prior encounters with the law, providing them with an opportunity to reintegrate into society and reduce recidivism. Witnessing the positive impact of these efforts, such as helping these individuals find homes, cars, and improve their children's lives, further solidified Rona's commitment to DE&I. This experience made her realize the qualitative impact that DE&I initiatives and supplier diversity efforts at corporations can have, extending far beyond mere numbers and financial reports.
Rona emphasizes the shift from merely focusing on explicit diversity factors like race to a broader concept of inclusion. The key objective is to ensure that everyone feels heard and valued, irrespective of their background, and to extend this practice beyond the confines of the United States. This direction aligns with CBRE's journey towards fostering a more inclusive and diverse company culture.
Overcoming Challenges, Fostering DE&I, and Embracing Innovation
Regarding the challenges in the DE&I space, Rona acknowledges their reality. Commercial real estate remains heavily dominated by specific demographic groups, posing challenges in achieving more diversity. Striking a balance between inclusivity without excluding any group is an ongoing challenge.
In discussing the initial career challenges that she faced, Rona reflects on the obstacles and life lessons that have shaped her career journey. She touches on the difficulties of thriving as a woman in leadership within her industry and acknowledges that challenges were indeed inherent. However, her upbringing played a pivotal role in her ability to overcome these challenges.
She recalls being exposed to situations from a young age where she often found herself as the only woman or woman of color in the room, a trend that started as early as high school. Navigating these experiences at a young age through mentorship from women in her family that were experiencing the same in the workplace, taught her valuable skills in finding common ground and intersectionality to move beyond being defined solely by her gender or race. This early exposure to adversity enabled her to contribute significantly to discussions by focusing solely on building her expertise and making meaningful contributions.
When it comes to her current role at CBRE, Rona highlights her contributions in the realm of DE&I. She underscores her pride in  leading a team that has built a substantial infrastructure to develop suppliers, a process she finds fulfilling as it offers opportunities for small to midsize businesses to grow and emulate the success of larger organizations like  CBRE. Additionally, she emphasizes the importance of qualitative aspects alongside the quantitative, indicating her role in improving processes and enhancing the inclusion rate of diverse suppliers within RFPs.
Rona also discusses the implementation of a process to hold prime vendors accountable for their commitment to using diverse suppliers, ultimately increasing the rate of reporting for their utilization of diverse suppliers. In terms of the changing landscape of the DE&I space, she observes a broader definition of diversity, particularly outside of the United States.
Rona notes that diversity is being redefined to include social enterprises and practices focused on indigenous-owned businesses, emphasizing that these changing definitions vary across different regions. She acknowledges the increasing breadth of diversity definitions, a trend that has become more pronounced over the last five years.
When it comes to the receptivity of businesses and organizations to the idea of DE&I, Rona suggests that receptivity largely depends on the definition each entity holds. While there has been some improvement in receptivity, she believes there is still more work to do to increase inclusion.
Finally, Rona underscores the significant role of innovation in the DE&I space. She explains that diversity inherently brings a diversity of thought, driven by lived experiences. The more diverse decision-makers there are, the more innovative and inclusive the outcomes will be. In her view, diversity and innovation go hand in hand.
Driving Supplier Diversity and Mentoring the Next Generation
In discussing her leadership journey and proudest moments, Rona emphasizes her ability to generate tangible results for suppliers. Her greatest achievement as a leader lies in the transformation of suppliers, whose revenues have significantly grown from point A to point B due to her efforts.
Rona acknowledges that some of these companies have publicly recognized her impact, and she takes pride in their continued growth and appreciation for her role in providing access and support to diverse suppliers. Additionally, she finds fulfilment in mentoring individuals who have developed a newfound interest in DE&I.
When it comes to her leadership style, Rona identifies herself as a servant leader, emphasizing that being a leader who serves and a leader who leads are not mutually exclusive. Her service-oriented nature is deeply rooted in her constitution and spiritual connection as a minister, driving her leadership approach.
Rona also believes that recognition plays a significant role in keeping herself and her team inspired. She emphasizes the importance of acknowledging team members' contributions, whether through individual or collective recognition or by participating in awards and recognitions as a company. By promoting a culture of appreciation and celebrating their achievements, Rona fosters a sense of purpose and motivation among her team, reinforcing their commitment to advancing CBRE's work in this space.
In her role as Vice President at CBRE, Rona's daily responsibilities encompass various aspects. She actively supports sales pursuits, which play a significant role in differentiating CBRE in the global market. She engages in conversations with major clients, sharing insights about CBRE's supplier diversity programs and the progress made in this area.
Rona also dedicates her time to thought leadership and participation in think tanks worldwide, collaborating with colleagues from Fortune 100 companies to stay updated on demographic changes, classification categories, and cultural norms. She is actively involved in the Chicago Minority Supplier Development Council as their current Board Chair, which was established in the 1960s and continues to be a prominent affiliate partner of the National Minority Supplier Development Council. In this role, she leads and influences the broader supplier diversity community, locally. Furthermore, she prioritizes nurturing and developing her team of eight members, empowering them to become future leaders in the field and fostering their growth and innovative thinking.
An Unconventional Balance of Blending Passion and Family
In her pursuit of a work-life balance, Rona acknowledges the challenge of blending her passion for her work with her personal life. Over her 25-year career, she has found that her deep love for her work often blurs the lines between personal and professional life.
She resonates with Oprah Winfrey's notion that when you love what you do, it doesn't feel like work. While personal and work aspects intertwine, she has been making a conscious effort to allocate time to unplug and enjoy excursions, whether on an international or local scale.
Rona and her military-veteran husband have a family of four adult children, which has made it easier to maintain this balance without constant interruptions. However, the absence of family members monitoring her daily activities sometimes results in extended work hours. Despite these challenges, Rona is committed to serving and helping individuals gain access to opportunities, which remains a top priority for her work-life balance.
An Inspiring Journey of Resilience, Dedication, and Leadership in Diversity and Inclusion
When asked to define herself in one word, Rona chooses "resilient", she doesn't give up. She is also committed to ensuring that when she seeks feedback or motivation from her team, it doesn't leave them feeling left out or undervalued for their significant contributions.
Her advice to aspiring DE&I leaders is to understand their organization's strategic priorities  and to dedicate time to learning the  internal operations. She emphasizes the importance of balancing external exposure with inside insights to manage expectations effectively.
In conclusion, Rona's journey is a testament to the unwavering dedication and passion that drives her as a leader in the field of DE&I. Her ability to seamlessly blend personal and professional life while motivating her team with recognition and appreciation sets a remarkable example.
With a deep commitment to making a meaningful impact and an unwavering resilience, Rona embodies the spirit of leadership that inspires and fosters change. Her story is a beacon of hope for aspiring DE&I leaders, emphasizing the importance of understanding organizational alignment, balancing internal insights with external exposure, and consistently working towards a more inclusive and diverse future for the generations to come.
About CBRE
CBRE is a Fortune 500 and S&P 500 company with approximately 115,000 employees serving clients in over 100 countries, headquartered in Dallas, Texas. It stands as the world's largest commercial real estate services and investment firm, offering a wide range of services, including property management, investment management, transaction and project management, appraisal and valuation, and mortgage services.