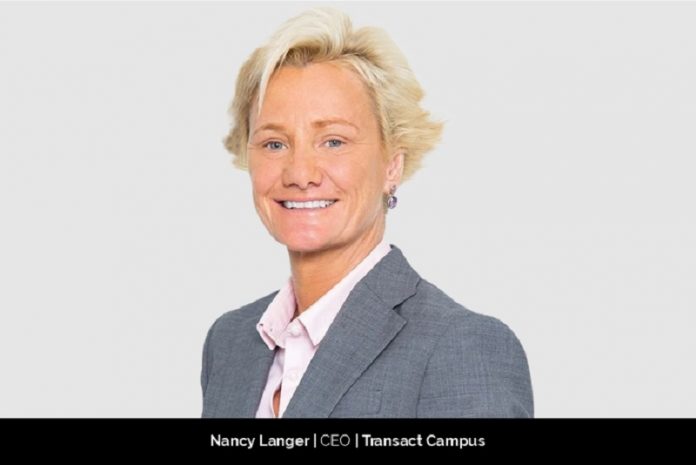 Fintech, or financial technology, has been on a multiple-decade evolution of change driven by innovation and transformation. Nancy Langer has been at the forefront and has led much of this industry transformation. Her entire career has been focused on the fintech space. Nancy has contributed to its fast-paced, exciting, and explosive growth by leading some of the most ground-breaking work in digital banking and online bill payments, Check 21/check digitization, person-to-person payments, mobile banking, and other payments technologies. Now, as CEO of Transact Campus, Nancy is leading innovation and transformation in higher education by ensuring that the company's mobile-first platform for student payments and commerce becomes a critical part of the university ecosystem. Transact has been the leader in driving innovation through digital and mobile solutions that handle all types of campus payments, commerce, and secure access requirements. Transact serves more than 1,750 universities and 12 million students with their solutions.
"I've had the privilege of working with really cutting-edge companies, and Transact is at the top," Nancy says. She wants Transact to be the leading innovator and provider for campus credentialing and payments solutions and more.
Transact Campus
Transact is a leading provider of innovative credential and payment solutions for connected college and university payments. Payment solutions software and student ID and credential solutions are the two key areas where the company focuses its efforts. Nancy says that in the last year to 18 months, they have shifted their focus from Campus ID services to mobile credentials.
The mobile IDs can be stored in the "wallets" of the country's top smartphone providers, Nancy says, adding, "We are really at the forefront of this movement."
In the summer of this year, Transact released an added feature that enables campus administrators to include local and/or national emergency hotline and suicide prevention contact information on their mobile Campus ID. "This has ensured that safety information is right at the fingertips of students, which is critical for them and their loved ones," Nancy says.
Transact's focus on mobile services does not mean that it has discontinued offering its Campus ID products. It still provides a full spectrum of Campus ID products. "But, we are seeing the mobile version save campus administrators a lot of time and money in printing costs," Nancy says.
For the company, the other big focus area is payments. "Our payments tools help college and university campuses collect and process tuition, room and board fees, money for dining services, and meal plans," Nancy says, adding that a lot of schools also use Transact for their student stored value needs.
Transact recently worked on some key integrations, which allow payments of students to be processed by their school's systems in real-time. In addition, the company has also partnered with meal delivery services and smart locker providers to facilitate contactless delivery options for students. "They can order from off-campus restaurants using their university-branded stored value accounts," Nancy says.
Premier All-in-One Payments and Campus ID Provider
Transact has served millions of students across thousands of institutions and facilitated billions of transactions since its foundation in 1984. Now, it is positioned to be the premier, all-in-one payments and Campus ID provider to college and university campuses and facilitate one connected experience for schools and students.
"We have the capability to serve other industries in the same way – really any campus or workplace setting where ID badges are needed for security and people make transactional payments," Nancy says. "There are a lot of exciting new tools in our pipeline."
In the marketplace, Transact has built an enviable reputation for its products. These products have the ability to integrate with clients' platforms and tools, and this is the other thing that sets the company apart from its competitors, Nancy says. "The ability to integrate makes our technology an easy fit and simplifies the administration of technologies from our clients' perspective – no matter how big or small."
Built on a Pillar of Innovation
As the technology landscape is rapidly changing, Transact is constantly innovating to stay ahead of the curve. Nancy points out that innovation is one of the key pillars of the company. And they have some of the best developers in the finance, technology, and education industries.
Developers are constantly working to improve the existing tools as well as creating new ones based on the need they see in the field. "That is a very literal example of Transact's innovation," Nancy says. "But, I think our entire team has its focus on being leaders and best-in-class at our work and the way we work together."
The sales team of the company is equally involved in the innovation process. They work closely with the development team and let them know the pain points and where are the needs. "Both these teams then partner with our marketing team to showcase their work and the support we provide for our client campuses," Nancy says. "All of those puzzle pieces come together and lead to innovative solutions and ideas."
Major Disrupter in Payments
"I have been with Transact for less than a year, but I can tell you that all the tools are in place for this company to be a major disrupter in the payments and mobile campus ID spaces," Nancy says. Most college and university campuses are using nine (plus) smartphone apps to meet their needs and the needs of their students, and Transact team is working toward solutions that would be all-encompassing and accessible from a central, single location.
In October 2021, Transact announced the launch of Transact International Payments. Embedded in the student payment portal, Transact International Payments will provide transparent payment tracking, rate details, and real-time account balance updates. With zero international wire fees, the amount billed will be the amount received. Finally, Transact International Payments supports bank transfer, credit cards, and alternate payment options, so students may select the international payments method of their choice.
Transact International Payments provides multiple benefits for the institution, as well. Advanced security features safeguard student and authorized third-party funds with end-to-end payment tracking, professional indemnity insurance, website and data security and transaction screening. Further, reconciliation and refunds are simplified and managed centrally within Transact Payments back office, and over-payments are restricted as Transact International Payments enables users to transfer only what they need.
"I am really excited about the team we have at Transact," Nancy says. "We're at a really pivotal moment in the company's growth."
Responsibilities as CEO
Nancy still considers herself a "new kid" on campus. Her focus has been on spending time with the leadership team, employees, and clients. She is understanding the priorities and support needed to deliver on them. She is also focused on the long-term growth strategy and laying out the plan needed to continue to grow the company and serve their clients at the highest level.
Transact has hundreds of partners and integrations. So, Nancy is spending her time with the leaders of those organizations as well. She says that it is to understand what else they could do together to push their capabilities forward.
Nancy has spent the majority of her life in the Midwest as a Wisconsinite, but Transact is headquartered in Phoenix, Arizona, so adjusting to the Phoenix summer heat has been a challenge, but she says, "the winter will certainly be a nice change!"
Right now, on a day-to-day basis, Nancy says that she is really focused on the strategy going into the start of a new year and working with her team to build out a longer-term strategy for the company to continue its fast-paced growth.
"We have been hiring a lot of new team members to be able to sustain and keep pace with our growth as a company and to meet our clients' needs, which is exciting," Nancy adds. "I'd say another area of focus for me has been establishing new strategic partnerships."
Learning from Every Setback
Like all leaders, Nancy has had many setbacks and missteps throughout her career. She, however, has never let any setback slow her down. "I try to reflect on those situations and assess what I could do differently next time," Nancy says. She also believes in learning from every setback, personally and professionally. And taps into those learning to improve and grow.
And Nancy also believes in sharing with others what she has learned. She shares that with her colleagues. "I think that's a great way to grow together as a team," Nancy says. "I also want to create an atmosphere where people are comfortable trying new things, failing quickly, learning from that experience, and sharing with others to brainstorm ideas for improvement. That's how we all get better!"
Both Success and Failure Important in Business
"Success is critically important in business," Nancy says. "Ironically, failure is, too." She believes that is how everyone learns and improves.
A competitive individual, Nancy wants to grow and challenge herself personally and professionally. And, at work, she wants to support others around her, equipping them with the tools and resources they need to be successful.
"I have served in many different career, volunteer, and advisory roles, and I always gravitate toward opportunities that have a meaningful impact on others," Nancy says. "I think Transact is positioned to do just that – to make the college experience better, easier, safer, and more connected for students, their families, and administrators."
Proud Moments as a Leader
Over the last few months, Nancy and her team have worked together to roll out some big announcements, partnerships, and product launches. And, recently, they received a certification badge from Ellucian. Nancy says that it validates their commitment to real-time ERP integration for student payments.
In the summer, the company also announced its first Canadian mobile credential school campus – the University of New Brunswick. "And we've enhanced and deployed a lot of technologies that allow campuses to provide safer environments during the pandemic – contactless meal ordering and delivery is a good example of that," Nancy says. "That's something I'm really proud of – all of our tools are centered around making campuses and students more safe, secure, and connected."
Additionally, Nancy is very focused on diversity, inclusion, and equity. "It is really important for me to help other women and minorities have the opportunities they deserve. I take great pride in driving and supporting initiatives and programs that help others, and I help ensure the work culture we have values that."
Work-Life Balance is Important
Nancy is not only a leader but also a mother and a wife. It is, therefore, no surprise that she places a lot of importance on work-life balance. And it has been important to her throughout her career. "I think most people can agree, sometimes it is easier to find that balance than others, but it's something I really strive for, and it's something I want for anyone I work with," Nancy says.
And, at Transact, Nancy says that they are constantly looking at the benefits, options, and services they provide their employees. "We believe that in order for our employees to be successful at work and in their day-to-day lives, they have to have support from the organization they work for," Nancy says.
Message to Her Younger Self and Aspiring Business Leaders
If Nancy gets a chance to meet her younger self, she wants to tell her, "Take advantage of the knowledge around you." And she also has a message for aspiring business leaders: "Listen to leaders you admire and respect, invite criticism and grow from it, learn something from every situation – good or bad."