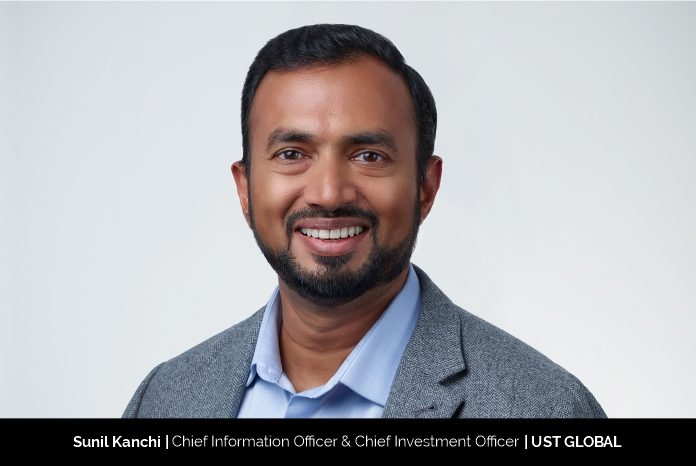 Being an expert in building high-performance teams, driving growth and profitability by deploying smart and innovative strategies, Sunil Kanchi, Chief Information Officer & Chief Investment Officer at UST, is doing wonders for the company. Believing in success as a progressive journey, he likes to follow a predetermined plan and execute it perfectly in a collaborative environment.
Climbing the ladder of success
When Sunil founded Kanchi Technologies in 2009, he was excited about being an entrepreneur and building an engineering services company that was unique and had the power to revolutionize the digital world. He adds, "As an engineer, you grow up hearing about tech giants and a ton of companies that went from start-ups to global tech giants. It's hard not to dream about building one yourself, and this thought persuaded me to start my company, 'Kanchi Technologies', with a co-sourcing model."
In 2014, UST acquired Kanchi Technologies, and Sunil joined UST as the Senior Vice President with a different strategy, a strategy where they wanted to explore partnerships that eventually turned into meaningful customer relationships for the past 7 years. Over the past 22 years, UST has transformed billion plus lives by bringing technology-led innovation to the culture that creates a more advanced environment for their company.
Evolving into a seasoned leader
Sunil believes that challenges and constant learning are part of the journey and how a person addresses these challenges is the key. Business success is only as great as the leader behind it, and self-awareness is one singular factor that sets great leaders apart. He thinks the two greatest lessons that are core for any professional journey are humility and integrity.
Looking at his professional journey and influential leaders in his history, he was moved by Mr. G A Menon, who practiced tremendous humility. He adds, "He was the person who gave us a profound purpose of "Transforming Lives" of our customers, our associates, our partners, and the communities in which we operate. When you are a humble leader, you are the authentic leader, and that will add to your repertoire skills that will make you successful for years to come."
Bringing innovative solutions with UST
Sunil states, "UST has been "Transforming lives" of our customers, our associates and their family members, and the society that we work in. For over two decades, Technology-led innovation has been the tool kit that UST has been helping our customers innovate and leapfrog their competition. UST is a leader in the Healthcare and Retail domains providing services in digital transformation technologies."
UST has grown during the pandemic taking advantage of enabling their associates to work safely, efficiently, faster, and more effectively due to the technology investments made over the last few years. Most companies like to expand horizontally and vertically to try and maximize the wallet share of their customers. UST has always believed that they would rather bring in an ecosystem of solutions of the best in breed providers as partners to focus on providing the customers the best possible solution.
Seizing the opportunity of digitization that Covid-19 presented, UST is poised for explosive growth to help their customers through the enhanced suite of digital technology solutions, products, platforms, and the recently added team members from new geographies of Eastern Europe in addition to the current team members in 28 countries that are being re-skilled.
Innovation at the heart
In their field, innovation needs to be imbibed in almost everything from processes, services, business models as well as customer experiences for a sky-rocketed success. Although the COVID-19 pandemic opened the doors to add a touch of innovation at breakneck speed, businesses are adopting this new change and bringing excellent transformation for enriched customer experiences.
Sunil adds, "Perhaps, the significant changes that we have seen at UST are bringing AI and Machine Learning for supporting technology innovations as we are bringing unique customer experiences. In 2021, UST launched a Frictionless shopping solution called 'UST Walk-In, Walk-Out' that has changed the complete in-store retail experience and consumer buying patterns permanently."  Owing to this, there has been an exponential rise in consumption, user base, as well as investments in partner companies.
Setting Game-changing strategies
Operating as both the Chief Information Officer and Chief Investment Officer of UST, Sunil is leading the internal digitization and automation for swift and seamless internal technological transformation. He has even commenced new ME (employee) centric solutions sharpening the focus to automating processes and implementing the future of Finance and HR solutions for undertaking the best business decisions.
He states, "As Chief Investment Officer, I have implemented a game-changing partner ecosystem, that has recently been showcased as a case study in management guru Ram Charan's book "Rethinking Competitive Advantage" on pages 94-97. Moreover, over the years, I have been leading the acquisition strategy that brought in 13 strategic additions to fuel the inorganic growth."
Having displayed a consistent performance, he has been recognized for his commendable efforts time and again. Sharing his success, he states, "In 2013, the Milwaukee Business Journal named me as one of its "40 Under 40" business leaders to watch. Also, I am a certified Lean Master and Six Sigma Green Belt. I feel the biggest recognition as a leader is seeing UST's growth as one of the world's leading digital solutions companies."
Surviving through the pandemic, the work culture has changed to working remotely from anywhere. However, they still try to maintain the human connection by communicating regularly and curbing all the stress and pressure. While communicating, listening is also considered essential since employees, customers, as well as partners, head towards positive people during these tough times. For him personally, the pandemic was a blessing in disguise since he got to spend more time with his two sons.
Fast-tracking UST's future
Getting ample support from a robust partner ecosystem and an aggressive acquisition strategy, UST has continued to enjoy two decades of organic growth. UST is all set to accomplish new heights with great efficiency and smart future technology investments further as well.
For all the upcoming business leaders, his simple message says, 'Success is a journey, where every participant feels like a winner at the end. Rarely is any success won single-handedly, especially in business. It's always a team win."