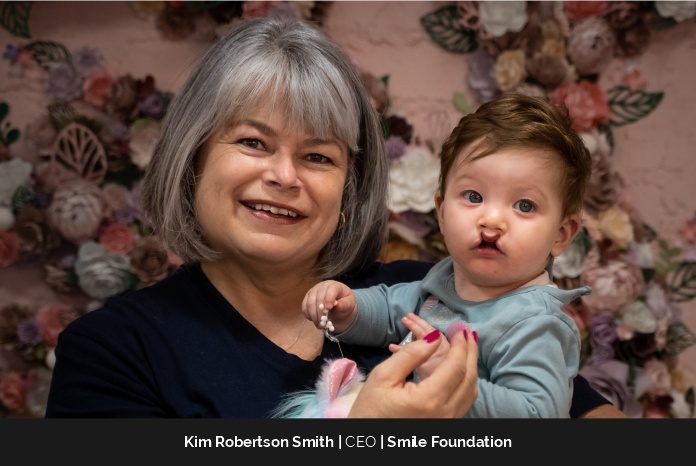 Many of us have started to think that laughing is something that only kids do. According to research, adults typically laugh just around 15 times each day, compared to children's 400 daily laughs. Laughter improves the body physiologically. If anything, we should be promoting more therapeutic laughing in all of our interactions since it helps individuals feel less pain. A South African non-profit organization called Smile Foundation, headed by Kim Robertson Smith, strives to help underprivileged children have life-altering plastic and reconstructive surgery to treat facial deformities that they were either born with or developed as a result of trauma.
Kim has the ideal qualifications to manage Smile Foundation since she spent a decade working in the medical field before spending 26 years in the corporate world. They have created extensive rules and processes to simplify the organization and make it even more vibrant with the help of their outstanding staff.
Kim's career was inspired by her desire to help others Before starting Smile Foundation, she managed the sales and marketing for a company that provided advanced wound and burn treatment. Kim wants to make sure that every kid can get the help they need to live the life they should be living, free from prejudice and bullying, and grow up to be healthy, balanced people.
Spreading Smile
Since its establishment, the Smile Foundation has provided assistance to kids who have ear and nose problems as well as facial anomalies such as cleft lip and palate, facial paralysis, and other disorders. So far, the academic hospitals that the foundation partners with around the nation have treated more than 4,000 children.
Given the dangerously high occurrence of juvenile burns in South Africa, one of its main goals has been to treat reconstructive burns in children. Kim states, "We now also facilitate educational programs for schoolchildren to tackle burns prevention, burns awareness, tolerance, addressing bullying of someone who looks different, and debunking the myths that are prevalent in our culture of looking different."  She adds that the organization also provides fellowship assistance to registrars so they may advance their expertise in certain approaches and provides training to nurses who require on-going skill development.
A Passionate Leader
Kim views her selection as CEO and Executive Board Member of Smile as her greatest achievement. She discovers that she has to lead the business into its next stage of development while being responsible to funders, contributors, and the board of directors. She considers herself an inclusive and empowering leader who is intelligent and visionary.
In addition to the care they give, Kim and her staff also aim for excellence in the relationships they form. She says, "We go out of our way to ensure every donor is met with an experience that makes them feel "we would do this again"."
Prioritizing Care
Smile Foundation is on a mission to transform the lives of children affected by facial abnormalities and severe burns through the best possible surgical and psychological care. The team states, "We fight to help every child that needs us. No matter the perceived limitation of our resources. We've been at this a long time and we know how to equip families so they succeed in the long journey to recovery. We've spent decades ensuring the process is paved with empathy and professionalism."
Kim says, "We may be an NPO, but that doesn't mean we let others determine the ceiling of our vision or impact. For us, the bar is high." She further adds, "We're proud, bold, and unapologetic for the way we show up. Everything we do is done with the utmost care, compassion, and consideration." She also mentions that the team might be small, but what it achieves together is as big as it gets.
Succeeding Against Odds
Kim qualified to study medicine, but unfortunately her family couldn't afford to send her to university, so she supported herself by becoming a registered nurse, midwife, occupational health care professional and theatre professional. She never stopped studying after that. She says, "Education is one of the most important things for society. I believe one should always invest in themselves and grow and develop constantly."
It was difficult for Kim to make the shift from a clinical medicine career into a business-related sector, but she managed it with help and further courses in business management, sales, and marketing.
Spreading Happiness and Trust  
Being part of the Smile Foundation requires a commitment from the entire family. Kim shares, "We are all passionate about what we do, the Smile Family and my personal family." She doesn't do anything on her own, having the support of a very capable and passionate team and board of directors makes all the difference.
Kim believes in, invests in, and empowers her Smile team, which keeps all of them motivated. Seeing the Smile on a mom's face when her 3-month-old baby comes out of surgery with a perfect smile keeps Kim's team motivated. She says, "Holding a child in your arms who now has the opportunity to live a normal life makes all the difference." This is also what gets her up in the morning. She does provide an environment that supports work-life balance, and she believes it creates a happier environment, reduces stress and creates more productivity.
Changing Lives
Everyone has a stage in their lives when they feel the urge to offer more value and make a difference in the lives of others. Kim's life has always been about helping others. She has been active with the Smile Foundation for the last 21 years, serving in little ways as a volunteer. In fact, she participated in the very first surgery performed by the Smile Foundation. In the year 2000, she was in the operating room with Professor George Psaras, the Medical Director of the Smile Foundation, who performed the first face reanimation operation in South Africa. Kim's life has come full circle. She shares, "I have always felt part of the Smile family. With work and life experiences, I have acquired the necessary skills and abilities to take charge of this remarkable organization."
Being CEO of Smile Foundation for the last year has culminated Kim's plans for the rest of her life. Her ambition is to have a good influence on the entire community and to make a difference in the lives of children so that they, too, may live a life filled with hope and promise. She feels that there is no higher feeling or measure of achievement than seeing happy smiles on the faces of children and their parents, transforming lives, and making a difference.
Embarking on a Public-Private Partnership
Smile Foundation is hoping to form a public-private relationship as they embark on the next stage of their journey. This public-private collaboration will increase capacity to serve more paediatric children with craniofacial abnormalities. When organizations that can help Smile Foundation view the before and after images of a kid who has had surgery, they earn benefits in a very short period of time.
Treating children with craniofacial anomalies is a specialized field with numerous complexities. As a result, the Smile Foundation plans to offer a world-class craniofacial reconstructive surgical training program that will be endorsed by the University of the Witwatersrand.
Kim's mission is to gather enough money to help every child who needs face and burn reconstructive surgery. www.smilefoundationsa.org
Quotes:
"True kindness lies in the act of giving without expecting anything in return."

"If you can be anything, be kind"