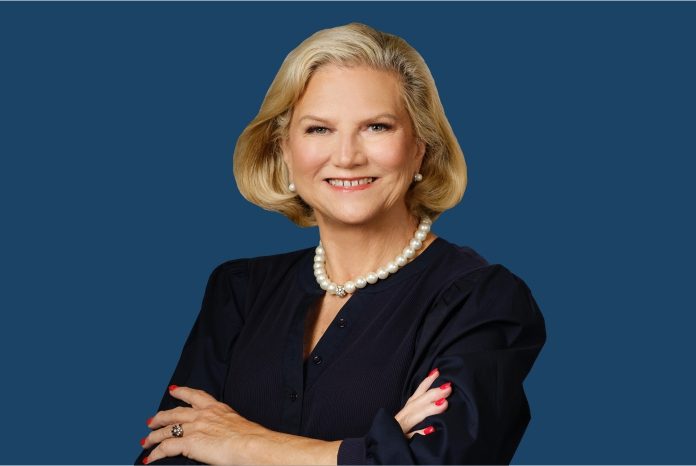 Dr. Tulinda Larsen, President of the Utah Advanced Materials and Manufacturing Initiative (UAMMI), is making waves in the pursuit of women's equality and empowerment in the workplace. Inspired by Sheryl Sandberg's seminal book 'Lean In: Women, Work, and the Will to Lead', Dr. Larsen has been leading the charge to break down barriers and reshape the landscape for women in advanced materials and manufacturing industries.
Dr. Larsen's journey has been marked by dedication, innovation, and a passion for change. Beginning her career as a staff economist for the US Department of Transportation, she rapidly ascended the ranks, eventually becoming Vice President of the Regional Airline Association. However, it was in her 50s that she recognized the need for change. She founded Skylark Services LLC, became a licensed drone pilot, and embarked on a mission to champion gender equality.
"I was inspired by Sheryl Sandberg's message that women need to 'lean in' and take their seat at the table," remarked Dr. Larsen. "But I realized that it's not just about individual action – it's about creating an environment where women are supported and empowered."
UAMMI's Impact on Women's Empowerment
UAMMI, a public-private partnership nonprofit focused on advancing Utah's advanced materials and manufacturing industry, has become a cornerstone of Dr. Larsen's advocacy. Recognizing the systemic challenges women face, UAMMI has implemented several initiatives to drive change:
Forefront of Advanced Manufacturing: Dr. Larsen has been celebrating women leaders in advanced manufacturing, featuring 15 trailblazers from 13 companies who are driving the industry forward.
Return-to-Work Program: UAMMI has established a program to support women re-entering the workforce, providing them with opportunities to regain their professional footing.
Partnerships and Education: Collaborating with organizations like the Girl Scouts of Utah and the STEM Action Center, UAMMI has been creating pathways for young girls to explore manufacturing and engineering careers.
Skills Development: Through workshops, seminars, and partnerships with organizations like America Makes, UAMMI is equipping women with the skills and confidence to excel in the traditionally male-dominated fields.
Dr. Larsen's impact has not gone unnoticed. Her dedication and achievements have earned her the title of one of "Utah's 2023 30 Women to Watch" by Utah Business, showcasing her as a trailblazer in the fight for gender equality.
Championing Women in Utah Companies
The profiles of these organizations, developed by the Utah Governor's Office for UAMMI, shed light on their efforts and commitment to women's empowerment:
Women's Leadership Institute of Utah (WLI): Founded in 2015, WLI focuses on nurturing women's careers and leadership development, advocating for their presence in corporate and political leadership roles. Their unwavering support for women's career growth and encouragement has marked them as a beacon of empowerment.
IsoTruss: IsoTruss is revolutionizing the building materials industry with innovative products that are stronger, lighter, and more durable. Their inclusive culture that supports working women is integral to their success.
Women Tech Council: Addressing the gender gap in the tech industry, Women Tech Council works towards making technology accessible to women, promoting diversity and flexibility.
World Trade Center Utah: With a global reach of over 2,200 trade and business partners, WTC Utah accelerates growth for Utah businesses by expanding their market strategies and networking opportunities.
Tech-Moms: This organization, founded by three enterprising Utah women, is dedicated to women in business. Their comprehensive training programs provide women with the skills, community, and support necessary to thrive.
EDCUtah: For over three decades, EDCUtah has championed economic development, strengthened local communities, and setting an example of women's support in business.
Catalyst Campus Utah: Catalyst Campus Utah fosters collaboration between government and private contractors to advance innovation and economic development, promoting diversity and inclusion in the process.
Northrop Grumman Space Systems: As a leader in advanced technology, Northrop Grumman champions innovation across diverse sectors, creating products and solutions that impact air, cyber, sea, space, and land domains.
Kinect Capital: Addressing gender disparities in startup investments, Kinect Capital is actively working to close the investment gap for women-led startups.
Spectrum Recruiting Solutions: Focused on manufacturing and engineering, Spectrum Recruiting Solutions supports women in finding careers in traditionally male-dominated fields.
My Tech High: Celebrating individual strengths, My Tech High provides flexible, tailored education programs centered around technology and entrepreneurship.
Zions Bank: A staunch supporter of the Utah Women's Leadership Institute, Zions Bank is committed to increasing women's representation in leadership positions and promoting pay equity.
A Bolder Way Forward
Despite the challenges revealed by WalletHub's ranking of Utah as the worst state for women's equality, Dr. Larsen remains steadfast in her commitment to driving change. UAMMI's efforts, coupled with collaborative initiatives like the Bolder Way Forward movement led by Dr. Susan Madsen's Utah Woman & Leadership Project, are shifting the paradigm and creating a more equitable future for women.
About UAMMI
The Utah Advanced Materials and Manufacturing Initiative (UAMMI) is a public-private partnership dedicated to advancing Utah's advanced materials and manufacturing industry. UAMMI strives to elevate women in the workforce through various initiatives, driving positive change in the industry and society.
Website: https://www.uammi.org/
Instagram: https://www.instagram.com/tulindalarsen/?hl=en
Facebook: https://www.facebook.com/tulinda.larsen/
Twitter: https://twitter.com/uammi_utah
LinkedIn: https://www.linkedin.com/in/tulinda-larsen-40aa3a10/