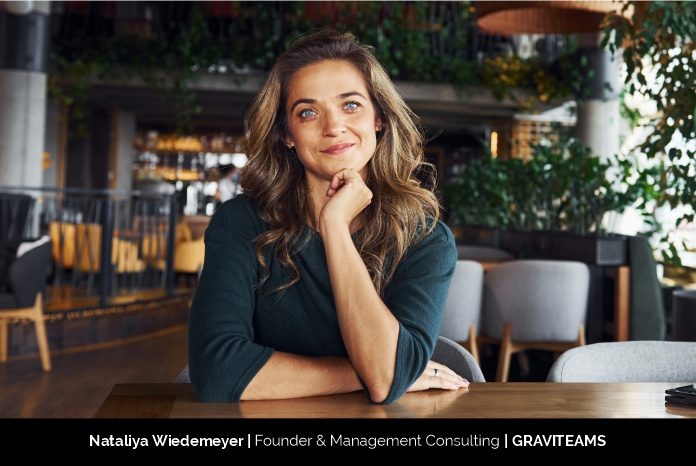 Nataliya Wiedemeyer, Founder of Graviteams Management Consulting, is an entrepreneur who gained knowledge and experience from the corporate world and developed a successful organizational consultancy firm. At the beginning of her career, she has offered her expertise at different management consultancies serving clients in Europe, the Middle East, and Asia and also worked as a project manager for a reputed bank in Germany.
Graviteams is a Management Consulting firm for future-ready leadership, innovative business models, and engaged teamwork. With a people-centric integrated transformational approach, the firm helps organizations to connect the people through technology and in the spirit which ultimately results in driving their business performance and productivity.
Imparting new dimensions of performance and productivity
The services include leadership and team coaching, advisory projects, corporate workshops, facilitation, speaking engagements, and webinars. Nataliya is a certified brain-based coach, and she ensures that her coaching for business leaders and entrepreneurs is aligned with the newest research in neuroscience.
Her management consulting services include the systematic process of organizing innovative practices, advising on innovation, strategy, and cultural transformation. Team development imparts tapping into the implicit knowledge and the potential of the people involved and helps them to engage efficiently with each other. Facilitation of effective and productive teamwork, which is the most important driver for success is carried out by structuring and guiding dialogues, meetings, events, decision-making processes, and other activities using intentional strategies that help groups converse and collaborate more respectfully and productively. Training helps to transfer knowledge within the organization and to enable employees to gain new skills. The company closely involves itself with organizational leadership and helps in influencing the potential of the employees, this integrated approach gives a boost to the creative culture. Large-scale strategic objectives of organizations are broken down into manageable goals that various participant groups can focus on.
Importance of "Team" in the Workplace
During her tenure with the Banking Sector, Nataliya realized that the success of a company lies in its employees. Complexities of any Organization can be only sorted with an efficient team effort. It's not a one-man show. Strategic decisions and their successful execution are possible if dynamic leaders and front-line employees work in collaboration. The synergy between them enhances the success of a plan. Collaboration effort should extend beyond the formal teams within the organization and should include other stakeholders, like suppliers and most importantly, customers. Direct connection with customers is crucial to improve the work efficiency of any organization and to reposition it in today's competitive market.
We rise by lifting others.
Nataliya says "As a founder of Graviteams Management Consulting, I feel blessed to help our esteemed clients reach new dimensions of performance and productivity. Through our structured collaborative approaches, the companies successfully develop and implement innovative strategies to achieve their goals." As an entrepreneur, she shoulders responsibilities to build valuable relationships with clients. Interacting and targeting prospective clients, mentors and mentees, potential business partners, networking, and delivering the expected goals. She strongly believes that social media recognition and financial success are byproducts and not the ultimate goal of an entrepreneur. According to her ultimate success is achieved if her company can enhance the client's worth in the business. In her own words," I am not successful, if I have engaged with a team in an organization and I am unable to create a positive impact, can't push them closer to their goals or could not spark a brilliant idea. I get personal satisfaction if my clients' businesses boom and that's the ultimate goal for me."
But carving the success path is never easy. Nataliya asserts that challenges make you stronger, more resilient, and wiser. Failure and setbacks can teach you important life lessons. The entrepreneurial journey is not a cakewalk but often requires loads of effort, dedication, and commitment.
Utilizing her immense knowledge, she believes organizational cultures with dedicated management who engage and empower their workforce can become successful. In today's world, there is rapid advancement in innovation and technology. Thus, it's highly important to keep the human aspect abreast with the technological changes.
Success happens when effort meets opportunity.
She believes in the mindset of abundance and firmly trusts in the power to interpret circumstances as opportunities instead of seeing things as challenges or defeats. "In the business world, people often have a scarcity mentality. They think business opportunities, market shares, and resources are limited. An abundance mindset refers to the paradigm that there is plenty out there for everybody". According to her both in business and life, one should focus more on creating opportunities and win-win situations.
Life's Philosophy and Advice to aspiring women entrepreneurs
In today's modern world, Nataliya feels, that both genders should have opportunities to contribute their best. Success comes to those who thrive and work hard for it. "I feel proud as a woman entrepreneur and leader when I can actually help another woman to see herself as capable, motivated, and worthy of success. I like coaching women entrepreneurs because it gives me the highest return in terms of gratitude and it gives them a very high return too, sometimes life-changing… Yes, the best recognition is seeing my women mentees and coachees succeed as entrepreneurs," says Nataliya with pride.
Three myths women need to break to become successful entrepreneurs.
I empower women by coaching them to unlock their power from within. So often it is not about the external circumstances, but about our attitudes and reactions to those, and as women we are often stuck in our heads. Here are some of the more frequent limiting beliefs, that businesswomen tend to hold:
Not ready – women may decide to forgo a promotion or not take on additional responsibility out of the fear of not performing well enough. In this regard, men have a different attitude by being open to growing their skills along with their responsibilities.
Underplay their role in the success – it may cause women discomfort when drawing attention to their successes and taking credit for their accomplishments. This is the wrong time to be humble, as failure to claim credit for own success is failure to claim credit for the hard work and the created value.
As women, we often juggle a lot – career, children, household. Wanting to be perfect in every dimension creates a lot of mental strain and perfectionism is an unrealistic goal. Letting go of it usually frees so much energy, that we actually can do better – at work and in private.
Advancing the role of women in society and the economy is the key driver of Big Change
In the Middle East promoting and helping women to succeed in leadership, and entrepreneurship are not only important ways to narrow down the gender gap but also opportunities to create powerful effects.
"I see it as very important and beneficial to any organizational culture to have women and men equally represented in leadership teams. Women make half of the population and in many parts of the world, the Middle East is no exception, for higher levels of education and career entry positions, we usually see roughly equal representation of both genders, often even with a slight tilt towards women. But at the higher management levels, many industries and corporate organizations are male dominated. Along with education, the support system including access to mentorship, sponsorship are the most important factors for success. This region is booming, and the number of jobs and business opportunities is expected to double by 2030. It would be great if many of these would be created and filled by women so that the region moves closer to gender parity.
Future Goals
Nataliya is a mother of three and likes reading, sports, and traveling. She constantly polishes her talent and enhances her skillset by connecting with interesting people, listening to podcasts, and attending training programs. Under her leadership, the company has ambitious plans to grow exponentially. Personally, Nataliya will be working towards inspiring more women to advance in leadership and to become successful entrepreneurs. She is all set to procure her ambition and passion for helping organizations to achieve their goals.