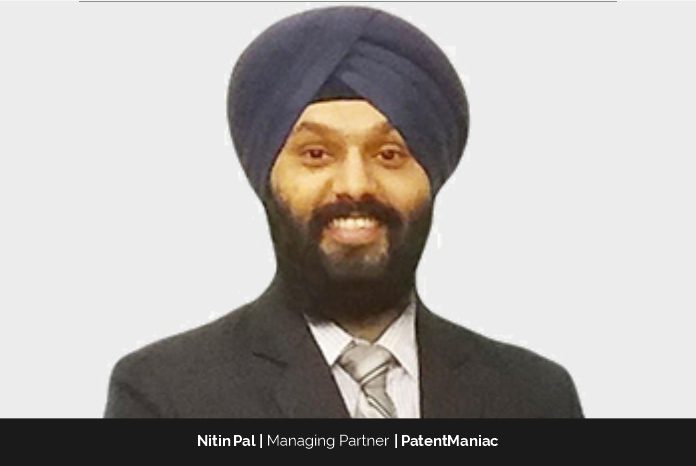 Mr. Nitin Pal is the Co-founder and Managing Partner at PatentManiac which is a Law Firms & Legal Services company with estimated 34 employees. The company was founded in 2010 and has a C-Level management level.
Bringing in more than 13+ years of experience in Intellectual Property Research and Analytics, at PatentManiac, Nitin is currently responsible for handling the patent related matters for the company. Additionally, he oversees the company's geographic expansion and key business development initiatives. Nitin has led continued growth of the company's business since inception and has been responsible for steering PatentManiac's strategic plans. In addition to providing prosecution support to global high-tech firms resulting in more than 200 patent applications, he has advised several patent brokerage, monetization and licensing firms in successfully commercializing technology portfolios.
"My vision for PatentManiac is to be recognized as the premier service provider in the IP consulting space and leverage latest technology to optimize processes across the patent lifecycle, thereby facilitating a spurt in innovation," states Nitin, who define himself as an 'Adaptive' person.
The beginning of Nitin's legal career
Nitin started his career in a top-notch KPO firm in Gurgaon, India way back in 2008. He worked there for a while after which he joined a Start-up dealing in the same line of services. "It's true to say that you learn everything in a start-up," he states. Nitin understood every aspect of IP lifecycle, interacted with variety of clients and their different IP needs. He believes that this exposure grooms you well for a longer run and that is what happened to him.
Once PatentManiac was established, Nitin already had 3-4 years of IP experience but with diversified clients. This helped him a lot in catering different client needs. "I, along with my co-founder have been awarded various IP excellence awards but the most precious one is the first one by Questel IP, as it was the first recognition. Recently, we have also been awarded a U.S. patent that we are looking for licensing," says Nitin. Currently, there are many other patents in the pipeline.
Challenges make you stronger and adaptable
Hard times come up without a prior notice and we should be prepared that challenges will come. If there are no challenges, learning and growth always suffer. This makes task repetitive and no one comes up with innovative ideas. Subsequently, team members feel stagnant in their learning and look for opportunities that hit an organization on a longer run. The service provider needs to ensure that quality of work delivered is cost –effective and better than the competitors.
"Working on an hour-based model was challenging as it took more manual efforts and the ticket outcome was low. This is a major deterrent for new players," says Nitin.
Additionally, the business development model should be very nicely placed as majority of work is on low-ticket model. Hence, while developing and strengthen the team a healthy pipeline is requires in place, which further requires strong business development model. PatentManiac has invested largely on client engagement models and development of business development team is overseas and India.
The growth of PatentManiac under Nitin's leadership
PatentManiac has grown tremendously over the years, both in terms of client portfolio and adapting to state-of-the-art tools deployed to provides best IP services to their clients globally. "I would not refrain to mention that we have been getting really good response from US, European and Asian markets and the demand of cost-effective and quality IP services has made us set up a benchmark in this field," says Nitin. As a law firm, they have been awarded various accolades from renowned organizations for providing qualitative and decisive IP services. Nitin states that this has motivated them to perform much better.
PatentManiac has shown an average growth of more than 20% for past 5 years. Moreover, they have seen a consistent increase in headcount of IP experts. They plan to double the team side from 40+ team members to 80+ members in the next 1-2 years. They are expanding in every vertical within the IP space. They support 1000+ active clients across the globe.
Recently PatentManiac has collaborated with San Diego based law firms to manage their patent work. Additionally, they have opened their offices in South Carolina as well. They are also trying to pitch in and work along with their associated partners in the United States to support Fortune 500+ Companies, Individual Inventors, and Universities etc. "We have recently been awarded with IP Excellence Award by Questel, India," Nitin states proudly.
Staying motivated and having a avingHavinwork-life balance are key factors for success
Personally, Nitin maintains a distance between personal and professional life. It's NO working on weekends. However, he has limited hours available after office as they mostly cater to US clients. However, he ensures that they strictly follow "No-interaction" policy on weekends or after office hours. "We have increased our team strength over time to ensure we have plenty of resources available for expedited project deliverables. We also make sure we equally compensate all employees if they are employed on a non-working day, but is only under extreme circumstances," Nitin explains.
Nitin considers himself to be fortunate to have a team of motivated IP professionals who enjoy their work. They have a limited iteration rate as they keep all team members indulged in various official and interactive activities, so that no one feels left alone. They also put in a lot of efforts to train their team members through various in-house and out-sourced training organizations to ensure they are officially well informed on their technical knowledge. "This makes them confident as well as keeps them motivated," he says.
Future plan for success and growth
t PatentManiac, they forsee a bright future and their main focus is to geographically expand in various regions including Europe, Asia and Africa. They have been trying to open offices in these regions and are in the process of getting authorization soon. Once that is done, plan to begin expanding in these regions and appointing teams to handle IP services in these markets. They also plan to increase their operation team in India, but they are awaiting a response from these markets.
Nitin is optimistic because they have seen company grow organically over the years, maintaining a clientele from different fields requiring IP/Patent services ranging from start-up to medium size organizations. "We have more than 90% retention rate and have been advising on IP needs for years now. We have seen companies making right use of IP that we developed. Moreover, we have been conducting awareness seminars to make product/technical innovators and inventors aware on the use of safeguarding their inventions," he explains.
Nitin's personal goal is to set-up an innovation team within PatentManiac and file at least 5-6 patents on a yearly basis. Moreover, he is planning to set up a licensing arm of PatentManiac that license their patents with potential buyers as well. They have already started and have filed 3-4 patent applications last year. Additionally, they just got approved with their first patent in USA as well.
His message to upcoming IP lawyers is: Make yourself informative on patent/IP matters so that you are well informed practically rather than theoretically.