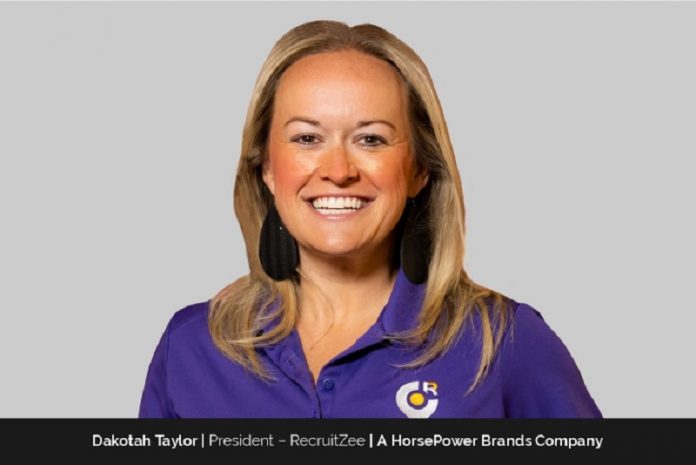 Dakotah Taylor, brand president of RecruitZee is one of the 10 most influential people in the Talent Acquisition Industry and a leading figure in the staffing sector, needs no introduction. Her passion speaks for itself. She is devoted to creating a recognizable brand and strengthening her teams. The talent acquisition trailblazer is way ahead of her time, and she blends her experience and foresight to foster the humane element in her industry. With 17 years of knowledge, she has excelled in high-volume employee management and addressing difficult situations. According to Dakotah, success is doing what someone enjoys and excelling at it while being aware that they are contributing to the betterment of others. One must also include a dash of impact in the mix! Today with her exceptional skills and innate qualities, Dakotah has become an idol to emulate for aspiring women business leaders.
Stay tuned as, we, explore those milestones, challenges, junctures of defeat and moments of pride that sums up this woman.
HorsePower Brands and its Services
HorsePower Brands is a portfolio known for providing exceptional experiences for its clients. Franchise veterans Josh Skolnick and Zach Beutler started the company in 2019. The company's goal was to disrupt the franchise business by providing franchisees with a growth and support platform prioritizing efficiency and transparency in operations. Currently at seven brands, the company expects to add three in 2023, with the anticipation of 25 brands by 2025.
RecruitZee is the platform for hiring internal roles at HorsePower Brands as well as external positions for their franchisees.
"We are successful when our franchisees build their teams," says Taylor. They have a staff of professional recruiters that focus on each brand to attract and retain top talent for its franchisees. She explains, "While we may not always have the position at the exact moment, we have opportunities for future conversations."
Role and Responsibilities as Brand President
We know that a substantial amount of accountability is associated with holding any prominent position, and Taylor's professional role is no exception. Although RecruitZee is part of the HorsePower Brands portfolio, the operations are within her purview as brand president. She is responsible for managing operations and P&L, as well as fostering a cohesive team. Taylor is doing more than just constructing a name for the company; she is assembling a group of dedicated workers who embody the company's core values.
Maintaining a Culture of Integrity and Innovation 
According to Dakotah Taylor, it is a testament to the founders and CEO Josh Skolnick, Zach Beutler, and Tony Hulbert, who have built HorsePower Brands on five guiding principles: Intellectual Capital, Purpose, Execution, Winning Energy, and Backbone.
Every decision made in the company is filtered through the lens of these core tenets. In Taylor's words:
"During the hiring process, we talk to them, share stories about the values of our organization and how we desire to see this come full circle."
Adding some clarity to the subject, Dakotah shares about Watercooler Wednesday (WCW), a weekly gathering of the company's upper management. During this event, the C-suite provides company updates and encourages workers to share how they exemplified the specified values through cross-collaboration. It's an excellent method of disseminating goodwill among employees. She continues by saying that Wednesday is her favorite day of the week since it is 'WCW,' and the entire staff is at the office together. It's proof of the positivity of the brand and vision Josh, Zach, and Tony have created, and it permits them to commit fully to it.
The Best Recognition as a Leader
Excellent leaders strike a harmony between business acumen, success, and integrity. They are strategic thinkers and planners who can inspire their teams to work together thanks to their vision, courage, honesty, humility, and laser-like concentration. And Dakotah Taylor is a perfect embodiment of that. In 2014, she was recognized by Big Brothers Big Sisters of the Midlands as National Mentor of the Year for her excellent leadership skills.
However, she never allowed her success to get into her head. She has kept her feet firmly on the ground and is always eager to learn new things. It is one of her most notable qualities, which is why she's among the 'Top 10 People in the Talent Acquisition Industry.'
When asked about her best recognition as a leader, Dakotah replies:
"My bucket is most full when I see my team succeed." Like a true leader, she enjoys celebrating their wins more than hers. She further expresses that as RecruitZee has had such explosive growth in the past six months, her bucket is heaping!
Attempting Uncharted Waters with a Leap of Faith 
A wholesome shift in circumstances might occur suddenly, and in most cases, it happens out of the blue. Dakotah's life path was significantly altered when a friend hired her at a medical staffing firm right after she graduated from college. She had a job in her field of study, management, and marketing. As we go into 2023, her love of human interaction and connection, which began in 2005, remains unwavering.
It might be news to many that her landing in the recruitment industry was accidental. But she has been acing it from day one. Becoming a leader with recruitment responsibilities has been a turning point in her budding career. She thinks that because the business is expanding rapidly, everybody pitches in to help find the best individual to fill each open position.
For Dakotah, it is a sign of the faith placed in her to care for her people when they recommend her to them, friends, family, and loved ones. She says recruiting is all about finding the right person for the right job, which is why she enjoys it so much.
Recalling a fantastic experience, she had 15 years ago at a BNI Group (Business Network International), she describes how she met Vince Vigneri at Renaissance Financial while recruiting. Fast forward seven years, in the summer of 2022, he contacted Dakotah to notify her that he was prepared to relocate. This news came as no less of a surprise to her. She feels elated that Vince has taken the initiative to get in touch and express his interest in working with HorsePower Brands, and now he's iFOAM's Director of Operations.
Taylor explains that this is more proof that anyone you meet, whether today or more than a decade ago, has the potential to become your next great hire.
Amid Adversity, We Emerge More Resilient!
Dakotah conveys that the competition for available talent is the hardest she's seen in her 17 years in the industry. Through the years, she has hired people for various positions, including those in the medical field (such as respiratory therapists, Polysomnographers, and EEG technologists). It also includes recruiting for the IT sector, as interns, as management trainees, as executive development associates, and now for positions in corporate headquarters. While local recruitment processes may vary, the core competencies required to be successful are universal. Dakotah says that mastering the franchising business was the most challenging part of packing and moving. She considers herself very fortunate to have had many supportive mentors around her at HorsePower Brands.
Evolution and Transformation of the Industry
From close proximity, Dakotah has been observant of the job market all these years. According to her, it has undergone significant transformation in recent years and now provides a diverse array of professional options for qualified individuals. Nonetheless, the discrepancy makes it challenging for job seekers and companies to find qualified candidates. She shares that it's not only a 'wild world' for a recruiter but also a fantastic one for people looking for work.
On the flip side, it's a problem for businesses, too. Numerous employment opportunities go unfilled due to a need for more qualified applicants. Candidates are behind the wheel. Hearing "no" from a brand actively seeking to fill an open position, is upsetting. Dakotah adds:
"However, I tell myself, my team, and our managers that "no" means the next opportunity for another candidate. It's about finding the right match! HorsePower Brands is an EOS Company, and we work thru Traction – it's about finding the right person for the right seat."
Effects of Technology on the Talent Acquisition
Dakotah Taylor believes that newer technologies have made recruiting more competitive and efficient. To save time for everyone involved, it is now standard practice to discuss financial expectations early in the process. LinkedIn, Facebook, and Instagram are just a few examples of how social media have aided in building a company brand and finding new employees.
Professional and Personal Quests
Dakotah Taylor has a clear vision on her professional front as a leader. When it comes to HorsePower Brands, she has big goals for the upcoming years. She explains by saying,
"The goal of HPB is twenty-five by 25." It indicates that by 2025, the business will focus on 25 distinct ideas (brands/verticals). She adds that RecruitZee is vital to that expansion, and the company's staff is totally on board.
Likewise, in the field of talent acquisition, her aspirations her defined.
Regarding her personal goals as a leader, Dakotah Taylor has four. She wants to grow her team, build others into leadership positions, hire individuals who don't have recruiting experience and teach them how to do it and scale to be four times their size.
Striking A Perfect Work-Life Balance!
The RecruitZee brand president emphasizes maintaining a healthy work-life equilibrium, even though some weeks may naturally be busier than others. Dakotah finds great joy and delight in devoting her full efforts to whatever she takes each day. She says that her team is what has kept her going. She considers them lively and spirited, with the motto "work hard, laugh harder." They are an extremely vocal bunch, with everything from jokes to team gift exchanges being audibly broadcast from a mile away. According to Dakotah, one of the recent gifts was a dog pencil holder they dubbed "Keith." She adds, "His home is on Sarah's desk, but sometimes he vanishes."
Source of Motivation
Leadership at HorsePower Brands is open about the company's motivations. Dakotah explains that the "why" is at the heart of the company's culture. When asked to elaborate on her motivation, Dakotah notes:
"Honestly, my 'why' is my family! It includes my husband Curt, my 12-year-old son, Drew, my team, and many friends at HPB!"
Dakotah Taylor in One Word!
The sapient woman picks up 'Dedicated' as the word to define herself. And we can't agree more. People in positions of authority like Dakotah Taylor understand that leadership is not about grandiose displays of power. Leadership entails maintaining your team committed to a mission and inspired to give it their all, even when the stakes are high, and the repercussions are grave.
It's about preparing the way for other people to succeed and then stepping back to admire their accomplishments. So, she enjoys checking in with her team to see how she can help, chatting with potential new hires, and collaborating with her team during discovery meetings. When asked about her favorite part of working there, she articulates, "I also adore our office "pop-ins," which are a part of our culture." According to her, team members frequently visit Dakotah because of the candy dish in her office, from which she offers a new variety of candy at least twice a month.
Message to Aspiring Recruitment Professionals and Business Leaders
Dakotah Taylor says she wants to encourage individuals with aspirations of becoming recruiters or business leaders by telling them they can make a difference in people's daily lives. Many mistakenly believe that recruiting falls under the umbrella of human resources, yet it is entirely comprised of connection development, communication, and sales. When one describes a position and the company to a potential employee, one creates an image. Make them feel like they already belong in your team.
Dakotah concludes by saying:
"It's also fun in that every day is different, the position offers a lot of variety and fun, and it fills your bucket daily. And while sometimes it's hectic, and the job keeps you on your toes, you have to grind to push onward."