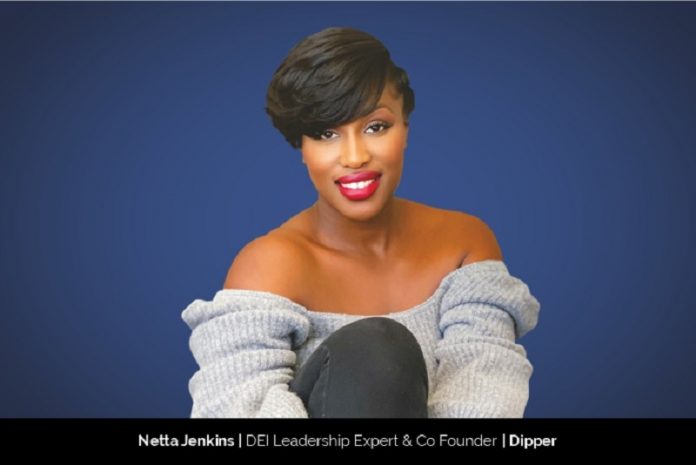 Success holds a special meaning for everyone. For Netta Jenkins, Co-founder of Dipper and Founder of Holistic Inclusion Consulting, success means results – clear-cut, measurable results. It's beyond examining the issues and making proposals. It's implementing action-driven goals and then taking accountability. In the corporate space, that means having DEI-specific KPIs that cross beyond the hiring team to all aspects of the company, including product development.
She explains it by the example of LinkedIn's reach. She states, "I'm so grateful to see how the number of followers I have grows every day, but what makes a difference is how they converse with each other and have grown a community literally under my posts! That spreads the message and educates far beyond the numbers."
So, to uplift the people of color and provide them a workspace where they can share their thoughts without any issue, Netta co-founded Dipper. She adds, "Dipper is not a moment; it's a collective movement. It's not a shooting star; it's the North Star."
Climbing the ladder of success
As a young entrepreneur, Netta followed the footsteps of her mother. She adds, "I was taking what my family, especially my mother, a successful business owner, taught me and was spreading the word."
She completed her BA in Communications, Marketing, and Leadership from the University of Rhode Island in 2008.  She even handled the responsibilities of URI Orientation Leader there and became the academic advisor for more than 2000 incoming freshmen students during their summer orientation.
She was awarded the Cox Communications Scholarship, which is awarded to the top ten students, recognizing exemplary high school seniors in service communities who are pursuing a degree in Communications or a communications-related field.
After completing her BA, she went on to attain her MBA degree from Cambridge College in 2013.
By expanding her knowledge base, she founded Holistic Inclusion Consulting in 2018, which is responsible for conducting diversity training for employees and executives at corporations and creating a diversity and anti-racism strategy that drives representation on leadership teams and boards.
She met another black woman all set to transform the market for people of color, and they decided to develop Dipper. She expresses, "I don't think there's anything that a Black professional can identify with more than being the only one in the room. That's what led to my co-founder and I embracing on sight the moment that we met. That's also what we're trying to remedy with Dipper – that feeling that BIPOC are alone in their struggles."
With Dipper, they are building a community and sharing not only what they go through but how to help others through it or to avoid it. By reviewing what companies do right and have done wrong, they can help the professional siblings make decisions about where to work and help companies know what they need to fix.
Getting stronger with every passing day
From a very young age, Netta witnessed the struggles with racism. She adds, "It was personal hurt that drove me into the DEI field. I saw bias attacks first against my family and then as I grew, against me." So, she decided to raise her voice and make a difference for people going through the same struggles.
She believes that mistakes and failure are strong motivators to achieve success and transform society. When someone makes mistakes, it represents that they are not stuck at some point and are making progress in the right direction.
As Marian Anderson rightly said, "None of us is responsible for the complexion of his skin. This fact of nature offers no clue to the character or quality of the person underneath." Owing to this fact, no matter the bias, she never lets her voice get suppressed in the noise. She wanted to do something different to tackle this bias and help others struggling from it. To counter this bias, she co-founded Dipper to help others and carry them together.
Within her company, she feels that the prime issue is to grab attention towards DEI. She states, "So far, the challenges have been to have corporate leaders recognize the value of DEI and then to gain the understanding of how to implement DEI principles on a meaningful level. There's a lot of work to be done, but there's also been progress."
Transforming the corporate workspace with Dipper
Netta's consulting business, Holistic Inclusion Consulting has helped many  firms drive DEI impact into their workspace to provide a better environment for the employees.
She states, "Having advised numerous clients at different stages of their DEI growth has sharpened my skills and expertise. Whether it's coaching senior leaders, setting non-BIPOC employees on a learning path to full allyship, or guiding Employee Resource Strategy Groups – yes, that's Strategy groups, who I encourage my clients to pay and make a full part of company infrastructure – I'm ready not only to advise the next company or serve on a corporate board (as I do currently for Betterment.com), I also can anticipate what Dipper members will say and what Dipper intelligence can provide to good corporate citizens."
Dipper helps professionals of color build profiles, network, but most importantly, to be heard and learn about the corporate workspace one review at a time. Having a platform like Dipper allows professionals of color to guide each other to the best workplaces.
She adds, "Dipper is a community where we look out for each other, as we might on a neighborhood level, but with a social-media reach and power. Dipper also gives companies the opportunity to create profiles, share DEI initiatives, commitments, and accomplishments, as well as list open jobs for our community to review and apply."
Having witnessed the bias and its struggle closely, Netta wanted to make a difference and raise the voice for the people of color. By founding Dipper, she wants to create a healthy workspace where the employees, especially people of color, have the freedom to express their views and enjoy the work.
Focusing on the healthy workspace, she expresses, "The most immediate concern is addressing the needs of Black, brown and all people of color. Early on, that was giving them a safe space to be heard by someone who understands. The first part of that might've happened organically and then in employee resource groups. Then, it was heard with the designation – if not hiring – of a DEI representative. I'm glad to say I'm in the position that should exist: a high-level DEI professional who reports into the C-suite, developing and implementing accountability-driven DEI-specific KPIs. The marginalized folks can see that they're not only being heard but measurable steps are being taken."
At Dipper, everyone values trust and accountability. Dipper is building out a community that takes care of one another. The aim is to grow on the individual level and taking the team together to new heights. Dipper members build a profile, join a network, and then rate and review their workplace experiences, especially how each company treats them as professionals of color, what the DEI practices and principles look like, and how they're heard and valued.
Life as Co-founder of the company
Netta co-founded the company with her colleague Jacinta Mathis as she found true partnership by associating with her. She adds, "We both manage all aspects of launching a platform, gaining membership, seeking corporate support, and spreading the word through our LinkedIn Livestream series, "Shut Up and Listen!" where we hear from leading DEI voices who drop gems for our members and followers."
She believes that communication plays a crucial role in progressing forward. Having good communication within the team allows the inflow of new ideas, which can result in a new breakthrough. She focuses the point by saying, "One word is the word! Communication is key in all aspects of my work: Dipper reviews, educating corporate leaders, informing, and then reading the conversations of my LinkedIn followers. It all starts with the word."
She expresses that her faith is the foundation of her personal life. Being a strong, faithful leader, she likes to tackle some issues with the strength she gains through it and carries it with her in the professional life.
While talking about the aim for the Dipper, she says, "I'm aiming to make Dipper a spectacular success, and immediately it's an outgrowth of my DEI work in the corporate world, but I can also look at the casting work I did – knowing how to build a pipeline or even how to present yourself to the world."
She believes education plays a vital role in honing leadership skills. Having a good academic background, she feels confident in her dreams and is all set to transform the workspace in the corporate market for people of color. She showers light on the point by adding, "Education and leadership take knowing how to hold an audience, so learning what works or doesn't help me in spreading the word about Dipper and DEI in general."
She expresses that aspiring businesswomen should drive their careers with a sense of purpose and avoid sitting and waiting for the right role. She adds, "You can learn and grow from experiences that might not fit into your original plan, but also have a plan to move on from that at a point of your own choosing. Stay ready!"
Thoughts on work-life balance
Achieving balance on the professional and personal front is a little tricky for Netta. Aside from holding down three jobs, she also has a love-filled family life with her husband and three kids, two of whom are under two years old.
She adds, "Having the support of my employer, Unqork, to maintain my ventures, including Dipper and my consulting business, is critical." The current time demands her to excel at managing her time between her family and work, and she does that with finesse.
She expresses that motivation to progress comes through her work itself. Both Netta and her team know the value of their work in the market and aim to deliver it with the best results.
She states, "We're talking about implementing humane principles in the workplace for marginalized groups. That in and of itself is rewarding."
However, she still leads the team upfront and makes sure that everyone in the team knows their roles well.  She adds, "I still make sure that my team knows that I appreciate them and that they should recognize the good work that they're doing, on so many levels, but the purpose of DEI in the first place is a powerful motivator. It's even easier when doing my consulting work because I have companies coming to Holistic Inclusion who are ready to do the work and are open to change. That's also a great motivator, which helps balance out some of the stress the field can bring."
Future prospects of Dipper
Netta adds, "Once Dipper is established as THE community for professionals of color, where they network, share their work experiences and moves corporate America into an awakening that helps us all, I hope we can take what we've built and use it as a source of information outside of the workplace. It could and should help build a public policy with what I hope is a rich resource for anyone paying attention."
On her consulting front, she wants to help the companies create a better workspace and be an example for others to follow.
She expresses, "Building on that work as well as Dipper; we can improve wider and wider communities. Just like a Dipper member makes the workplace better one review at a time, the Dipper platform and community members will help make the human community better, too."