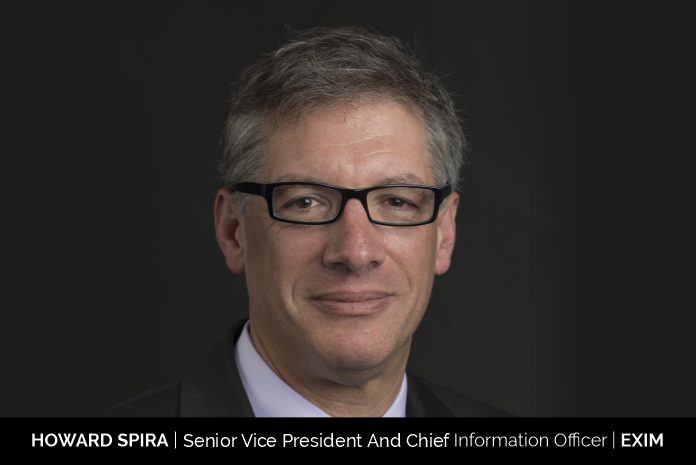 While CIO Views has discussed different versions of leadership though our many interviews, there is a simple yet distinctive definition of who a leader is. A leader is the principal player in a group. A leader orchestrates, synchronizes, and identifies the ability of each person in the team and nurtures an environment that brings out the best in each of them. The growth of a leader is defined by the success of his or her team.
Debunking stereotypical myths of leadership, Howard Spira, Senior Vice President and Chief Information Officer of the Export-Import Bank of the United States (EXIM), has a unique perspective on leadership to grow and thrive not only in finance, but any industry.
After years of experience and participation in leadership training, Howard does not follow a textbook version of leading a team but has learned and evolved a simple yet effective style of leadership that is defined by those who have succeeded in life through their experience together. Howard shares a few thoughts about his perspectives on leadership.
What did you want to be when you were growing up? What led you into the finance industry?
My interests had always been in science. When I attended college, I thought I was going to be a doctor or some other type of scientist. I went to Cornell, and even if your focus was science, you had to take courses outside of your major, so I signed up for some economics and basic business classes. I found a lot of my science training was useful to look at business problems. I needed to earn some money while in school, and I ended up working on a research project that used math and computers to help farmers make business decisions about what and when to plant. I had to navigate the risk involved in investing money into a crop before it could be sold for a return on that investment, and that experience led me into the finance industry.
Give us a brief overview of your professional career before becoming the CIO of the Export-Import Bank of the United States?
As mentioned above, I started working on projects in the agriculture industry that involved buying and selling risk. At the time, the financial services industry was quickly evolving to become more oriented to math and computers. I had my first "real job" with Andersen Consulting's New York City practice, solving problems in bond trading and processing. I got my first shot at leadership when the manager had an accident that kept him out of the office, and I stepped in to lead the team. I quickly went from consulting with Andersen to Smith Barney, where a partner I had worked for had been hired into a senior position and asked me to come along. I was assigned several complex projects that had an interesting mix of business and technology challenges, and I started working my way up the leadership rungs of the IT department. After my time at Smith Barney, I received an opportunity to work at GE Capital, where I became the CIO of the commercial finance business.
When GE restructured to focus on industrial businesses, I joined Goldman Sachs, which had been a partner with GE on a lot of the work I did in international distressed asset investing.
When we had the financial crisis in 2008-2009, the U.S. Treasury Department needed help and was searching for someone to be the head of technology for the financial rescue team. I was selected for that position.
Public service was profoundly impactful to me. I had never served in the military or spent substantial time volunteering during my life up to that time. I was so impressed in getting to work with people committed to something larger than themselves; it made me feel good. After the financial rescue team wound up, I wanted to return to my roots of international commercial and investment banking but stay in public service. I was honored to be selected as the CIO of EXIM in late 2014, where I have been ever since.
What is EXIM?
The Export-Import Bank of the United States (EXIM), the nation's official export credit agency, is an independent federal agency with a mission of supporting American jobs by facilitating the export of U.S. goods and services. EXIM fills gaps in private export finance in order to bolster U.S. job growth. The agency provides trade financing solutions – including export credit insurance, working capital guarantees, and loan guarantees – to empower American companies selling "Made in the U.S.A." goods and services.
Is the finance industry a competitive one? How do you deal with competition?
The finance industry is competitive. At EXIM we do not have traditional competition, but we definitely have competitive pressure. EXIM is an agency with Senate-confirmed political leadership. We do not compete with private-sector financial services, but EXIM fills the gap for American businesses by equipping them with the financing tools necessary to compete for global sales when private-sector lenders are unable or unwilling to provide financing. In fact, we often partner with the private sector to solve problems for our ultimate customers U.S. businesses. So, as I mentioned, nobody works with EXIM unless they are confident that EXIM is providing value for the fees we charge. That's why if you look at the leadership of EXIM, you will find a group of extremely talented professionals with strong pedigrees in the financial services industry.
Which sector do you prefer: private or public?
They are both great.
I think public service attracts talented people, and everybody should serve. In public service, mission and service tend to be the key drivers – not salary. I have never been more honored than to have the opportunity to be a public servant. There is also a lot to learn in being a leader in a federal agency. It was interesting and challenging to make that transition. I had some great, experienced public officials who helped and coached me. I also have no regrets about, and was thrilled with, my experience in the private sector. Finance has always been very competitive and a forward-leaning industry with respect to technology. I have had the chance to work with extremely talented people. I found it energizing.
Tell us about your responsibilities as the CIO and Senior Vice President of the agency?
My responsibility is to lead the team of professionals that provides the technology that serves our customers and EXIM staff. I oversee all the operational arms to support that technology delivery, including teams in infrastructure, information security, and telecommunications. I also oversee all the specialized financial applications and services that we deliver to EXIM's customers as well as all the applications and services to support the agency staff.
I have the largest non-salary budget at EXIM because, after the people, technology is the most significant part of any financial company. I also have the most complex portfolio of services and contracts because of the extensive operations that my staff manages within EXIM. I also am a member of EXIM's executive team, and I am expected to bring new ideas to the table and find ways to leverage technology for the benefit of our customers and employees.
How have you approached being a leader? What makes you unique as a CIO at EXIM?
I was very interested in learning about leadership because I was always fascinated when I met somebody who made me want to bring out the best in myself. I wondered: How did they do that? As a scientist at heart, I said, "Let's study that." I have a small mountain of books and took as much training in the space as I could. I am not a CIO who happens to be at EXIM. I am a commercial banking executive with deep expertise in the products, operations, and technology of international trade finance. So the main difference, in my mind, is that in addition to being respected as a technology professional, I am respected as a business colleague within the agency. Because of this framing, I can move with agility and focus beyond your normal CIO.
What are your greatest achievements?
My greatest achievements are the people that I have met and helped along the way. When they succeed – however they define that – I succeed.
I have had the privilege of working with some exceptionally talented professionals who told me to pass it forward and help the next generation. So when I look at a list of people who I have worked with and see them succeed, it is one of the things that makes me very proud.
I also have an exceptional wife who is a professional in her own right. We have three grown children, and everybody is thriving. That's one of my greatest achievements. I think if you summarize it, when I influence someone's life in a positive way, it's my greatest achievement.
How do you manage to balance your personal and professional life?
I think anybody in the executive suite knows that people need their leaders to be there and be focused, and that is a lot of work. Great leaders should also tend to themselves because if they are not functioning outside of work, it's hard to be effective at the office.
I think one of the things I have focused on in discovering that balance is knowing myself. Now I realize that knowing yourself might sound easy, but it's actually something that is quite challenging.
You can't relax, renew, recover, or inspire yourself if you don't know who you are. I have participated in professional education and executive coaching that has given me a deep appreciation for the psychological side of what people need. For me, for example, exercise and a bit of excitement are important. My typical day at EXIM begins with an 11-mile bike ride from my home in Bethesda to my office in Washington and it ends with the reverse trip. I have 30 – 45 minutes of cycling where I can transition between my personal and professional life with no interruptions. Some of my best ideas "pop out" of my head after a ride, even when I was not thinking about them.
I also have hobbies that I throw myself into, where I lose myself, and stop thinking about the office and recharge. One of my hobbies is kayak building. When I am building, I turn on some music, silence my phone, and I am in a workshop creating with my hands. I sleep well. And when I am in the office, I am 100 percent and highly focused.
Describe yourself in one word and how is that professionally important to you?
The one word that best describes me is "introspective". I think to be effective, you need to step outside of yourself and watch yourself like you are watching a movie and understand how others are seeing you. Watch yourself from others' perspectives. If you can do that, you can work your way through a lot of issues personally and professionally.
How has the global crisis of COVID-19 influenced the business operations, and how has EXIM handled the situation?
It has had a major impact.
First, it has impacted our clients in terms of what they need from us and how we interact with them as we collectively address this rapid change in business and operating environments. Our agency's support is counter-cyclical, so the private sector needs EXIM's support more so during a crisis like this one. Second, it has significantly impacted how we operate internally to keep our workforce safe and able to function.
The organization has really risen to the challenge, and IT has been at the center of quickly pivoting to an all telework environment as well as satisfying the customer and information needs that arise out of rapid change.
In addition to ensuring the technology works, our team has been very focused on outreach and communications because if you have the technology, but your workforce is not comfortable using it, you have not effectively addressed the challenge. We send routine emails to all members of the EXIM community about how we can effectively work together and take advantage of the technology that is allowing us to operate. We also identified telework ambassadors – regular staff who were willing to work with other team members to pull them up the learning curve with our telework tools and habits for effective remote working. It is very exciting and humbling to see the team operate in this situation. We  have quickly risen to the occasion and pivoted the entire organization to operate comfortably in this new normal.
During times like this, CIOs need to shine. All the leadership is looking at us to ensure this organization continues to operate because it has never been clearer that the competency and creativity of our technology team is at the heart of holding an organization together at a time like this. The collaboration and telework tools, as well as several key digitization projects we invested in, combined with the agency's talented and telework-competent staff are what is making this work.
What keeps you and your team motivated?
I think CIOs who are effective must be naturally curious, and if your curiosity is alive, it is easy to be motivated. My staff seems to respond to that approach as well.
My goal is to set up an environment where it is safe to be curious because when you are curious, sometimes unexpected things happen. You can sometimes burn your finger if you are curious because maybe you did not understand that something was hot. If I can create an ecosystem that nurtures that curiosity while properly balancing the needs of execution, then motivation will take care of itself. My people give me 100 percent every day they come in, and they are dedicated and engaged.
The other thing I focus on is bringing clarity of direction and what our destination looks like. I focus on having the staff understand key principles by which we make decisions so that they can judge for themselves if their strategy is a good one.
What is your vision for EXIM?
I want EXIM to be the place where American companies come when they need support in trade finance, where they find our talent to be exceptional, and where our products are modern and resolve their problems or challenges. When our customers work with our technology, I want them to say, that was great, professional, and easy. I want our employees to be empowered with the tools they need and enjoy working with. I want them to say EXIM has a great IT team.
What distinguishes you as a leader? What is the importance of leadership?
I work hard to be approachable and to keep my staff first on my priority list while remembering that results matter. I think I am a natural introvert, so I have had to work hard at being approachable and at being attuned to what matters to others. I also believe leadership can be continually improved. It's a complex set of skills and competencies worthy of serious study, and I have worked hard at it. I don't think it came naturally for me.
Leadership is important; it matters and makes a difference. The exact same pool of talent can produce vastly different results under a competent leader versus an incompetent leader. A team simply won't be effective or perform without skilled leadership.
But the most important aspect of leadership for me is to nurture the next generation. It takes a lot of investment and effort to create a CIO, and we need to encourage people to take leadership roles and create the leaders of tomorrow. In this critical and dynamic situation the world is facing today, leaders must solve tomorrow's problem, not focus on yesterday's complaint.
We want to thank Howard for taking the time to talk to CIO Views during this very busy time. CIO Views is proud and honored to have had the opportunity to talk with Howard, who has inspired us to challenge our perspectives on leadership.