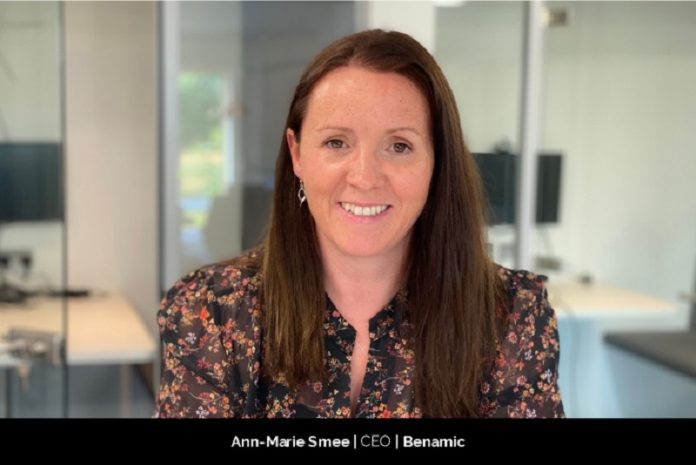 With 15+ years of entrepreneurial success, Ann-Marie Smee, CEO of Benamic, is an innovative global promotional fulfilment and AI strategist who provides commercially viable sales & marketing strategic thinking for different enterprises. Regarded as the all-knowing leader, she takes the challenges with out-of-the-box thinking to produce better results for everyone. Following a flexible approach towards her clients, she likes to walk in their shoes, understanding their needs and requirements and aim to deliver the promised results.
In this exclusive interview with CIO Magazine, Ann-Marie Smee shares her journey to become a strong ambitious leader who brought a metamorphosis with her creative promotional contents through Benamic.
The rise of an innovative leader
Ann-Marie completed her BA(Hons.) in European Studies with German from the University of Limerick in 2001. She then, joined Aon Risk Services as a consultant and worked there for two years. Later, she entered the headhunting space with JPA Recruitment as the Recruitment Manager & Headhunter in Ireland & Scotland in 2004. She adds, "I cut my teeth as a headhunter in the recruitment space, which is a diverse and sometimes cut-throat sector." The role honed her sales, relationship management, and marketing skills. Explaining her role further, she states, "Fundamentally, you have to get yourself out there and market yourself as a consultant to grab maximum opportunities. This was my first foray into putting a 'face' on a company via various advertising and PR tools."
In 2008, she started her Master's Program in Human Resource Management from the University of Limerick to widen her reach and gain necessary skills of the management industry.
In 2009, she joined Benamic as the Global Sales & Business Development Director. She was responsible for managing and implementing Trade/Consumer promotional campaigns for MNC's in 100+ countries. With her solid team, she offered robust systems for allowing flexibility within each market and enabled clients to scale up & provide efficiencies in terms of 'go-to market' & brand experience. She adds, "We enable clients to have greater economies of scale & comparative reporting, in real-time. We provide all back-office services required to execute any campaign (e.g., legal services, funds transfer in-house, claim processing, customer service, generation of codes, POS design & print, logistics, data collection, and analysis, etc.)."
When she progressed into a management role within the same company, she was exposed to the challenges of running a business, focusing on the bottom line, and looking to the future in terms of growth and opportunity.
She shares, "I had worked with Benamic, as a Business Development Manager, at 'the coal face' since the company was founded. As such, I had a very solid understanding of the business, our USPs, our strengths and weaknesses, and for what our clients want and need. Therefore, when I was offered the role of CEO, I seized the opportunity. I had so many ideas that I wanted to develop in terms of service offerings along with lots of improvements I wanted to make operationally, to optimize efficiencies.  I also wanted to add completely new services to our product portfolio in order to 'future proof' and digitize our business."
AnnMarie believes the trick to climb the ladder of success is to not over-think things. She says, "If I spent too long ruminating about the responsibility the role of CEO would bring, and all the challenges it would present, I may have doubted my ability and talked myself out of it! I think you have to walk through the doors that open for you."
Evolving with the flow
AnnMarie believes that success changes its definition as one progresses further in life. She expresses, "Winning my first global client with Benamic was a major success. However now, success can be having a high Net Promoter Score with our clients and proving our excellence in service, adding a new industry vertical, or expanding into other territories."
But no matter the time frame, it is crucial to have fun and love the work to be successful in life. Having fun while working gives a person meaning, keeps the morale high, and pushes one to explore new opportunities to rise and shine.
'What doesn't kill you makes you stronger'
AnnMarie is a firm believer of this notion, and throughout her career, she has crossed several hurdles on her path and evolved into a seasoned leader. She expresses, "I've dealt with many challenges. Not least Brexit and COVID-19, but also a full repositioning and rebrand of our company, building completely new service offerings like Smart Messaging, conversational marketing and AI, operational optimization via automation and many more."
However, with every challenge, she learned a valuable lesson that groomed her perspective as a leader. She mentions, "One of the most pertinent 'learns' I value is to be agile as a business, and to have a diverse service offering."
Benamic is a promotional fulfillment and MarTech company that creates, executes, and manages B2B and B2C promotions on behalf of worldwide brands. The in-house team works with these brands to enable them to engage with their end-users, drive sales, gain market share and drive loyalty. An example of this could be a pan-European cashback promotion where consumers would be rewarded for purchasing a promotional product. Initially, they focused primarily on the Consumer Electronic vertical, as this was a good fit for the services they offered at the time. Had they not diversified into other verticals and added digital services like voice-activated forms, rich communication services (RCS), and other digital and AI services, COVID-19 could have created a real issue for them. AnnMarie adds, "Luckily, our suite of robust and flexible services enabled us to scale up our activities from offline to the online strategy with ease."
Groundbreaking services of Benamic
Benamic operates in over 150 countries and is an innovative global leader in promotional fulfillment. They strategize with their clients in order to determine 'best in class' promotional campaigns, which are tailored to their client's business goals and objectives. AnnMarie states, "Our solutions are designed to support multinational brands to promote brand cohesion across multiple territories, to drive efficiencies via economies of scale, to promote sell-out, support new product launches, drive brand engagement, bolster channel relationships, enhance end-user loyalty, drive repeat spend and/or increase basket spend and to drive high yield ROI."
Their robust campaign engine enables these brands to run flexible promotions and to view all related performance metrics in real-time. Their solutions incorporate expertise in design (CX & UX), marketing, country-specific legislation, global distribution, global funds transfer (in-house), global customer service, processing, and all related back-office support services. These activities are supported by cutting-edge technology and reinforced by the highest security standard being ISO27001 & 9001 certified and GDPR compliant.
Reshaping the traditional marketing & advertising industry with a twist
Benamic holds a crucial and integral position in the brand marketing and advertising space. Teams at Benamic design all the clients' online promotional content and ensure that they never fail to keep the overall brand messaging and identity intact. Owing to this, their clients rely on them for brand representation in all domains be it, public or promotional marketing.
Explaining this with an example, she states, "Our pioneering Google and Apply pay virtual prepaid debit cards, which can be provisioned to the end user's e-wallet, directly rewards our clients and users for their loyalty. Essentially, we also gave traditional loyalty programs a digital facelift and were first to market in Europe."
Not only this, under AnnMarie's leadership, they successfully launched one of Europe's first 'Smart Messaging' campaigns, to tap into hyper-connected end users. 'Smart Messaging' essentially enables full web browser capabilities within the SMS functionality and is 'next gen' SMS technology which allows brands to build more engaging two-way conversations, directly with their end users. Moreover, it also helps in skyrocketing the sales (by 160% in some cases), increase upsell/cross sell, perform surveys, add valuable product education, offer more rewards, add new product launches and convert abandoned cart sales seamlessly. AnnMarie is happy to be the face of this new 'swipe' economy.
Trust-worthy and Passionate Pioneers
Benamic has always been recognized for its solid core values. From carrying a progressive attitude and proactive nature, to being genuinely passionate about everything they do, Benamic is treading the path to emerge as the go-to-market leader for promotional strategy and performance. Since the brand has a true global scope and scale, they are creating a seat at the table with key global brands to strategize, share expertise and cater to their specific requirements at any scale.
AnnMarie adds, "As pioneers of new tech applied to product promotions and service delivery, it's great to see our clients take that leap of faith, and to work with us on these exciting initiatives – even when they're not always as 'tried and tested' as the more traditional routes. It is through the strength of these relationships, our proactive nature and emerging tech which has enabled us to stay ahead of the game."
For AnnMarie, the development of a new digital marketing and innovation team and its amalgamation with the sales team has been her biggest recognition till now. Over time, she realized that divisions working independently do not generate higher results. Moreover, she confidently adds, "Benamic has a terrific team of designers and developers, who not only create online promotional content such as promotional landing pages, claim/entry forms, micro sites and online banners, but who also focus on cutting edge UI and UX end user journeys, which make participation seamless. Coupled with these activities, we support our clients with ongoing innovation which is specifically geared at removing barriers to entry regarding end user engagement."
Further, her move to acquire new clients that hold a big foot in the market portrays her thought leadership and ability to disrupt the existing market ahead. This has also helped them become more reliable in the eyes of brands. Lastly, they have done successful rebranding to redefine their position in the market as an agile and robust partner.
Think BIG to achieve BIG
AnnMarie has kept a simple vision and is laser-focused to achieve it. Her vision is 'to become the best partner for brands who want to promote their products or services globally.' She even says, "I want world domination!" and is keeping her teams immersed in making this dream a reality. She has carved a full-proof strategy for teams to go far above their capabilities. She adds, "That's not something you can train or teach – it happens organically because our teams genuinely care about the company's growth. We all directly contribute to the success of the company and regular communication and townhall style meetings help in ensuring that we're all on the same page." Moreover, all teams work together to actively contribute, as well as map out the company's strategy going forward.
Life of a Proactive business leader
Being the CEO of Benamic, AnnMarie has to wear multi-faceted 'hats' everyday. It may seem like a daunting job, however having unconditional support from the teams make it super easy to handle all jobs perfectly. She has learned to love the variety of her job role, as no day is same, and there are learning points at each step. She feels privileged to have such a rewarding and invaluable experience in her job.
AnnMarie says, "I'm CEO, but I also choose to participate in new client acquisition and retention and directly contribute to revenue. I find it keeps me very much at the forefront on the business and gives me real-time insights into what our clients want." During the COVID-19 pandemic, most parts of her day went into team and client calls. Working in such a fast-paced environment became her everyday job and brought significant revolutions for her clients daily.
Simplifying Global Business Future
Keeping the vision in mind, everyone at Benamic is converging towards the path of optimizing tech solutions for transforming global business for all clients into simple goals. Currently, they are working on fulfilling their plans to develop a sophisticated SaaS based platform that would impart 100% budget transparency to all clients on different marketing activities and even proffer comprehensive user metrics and promotional performance at a global level.
AnnMarie knows that implementing these steps will surely refine the promotional strategies and enable the clients to measure or analyze ROI of specific activities, and fine-tune their promotional strategies, besides making more money for them.