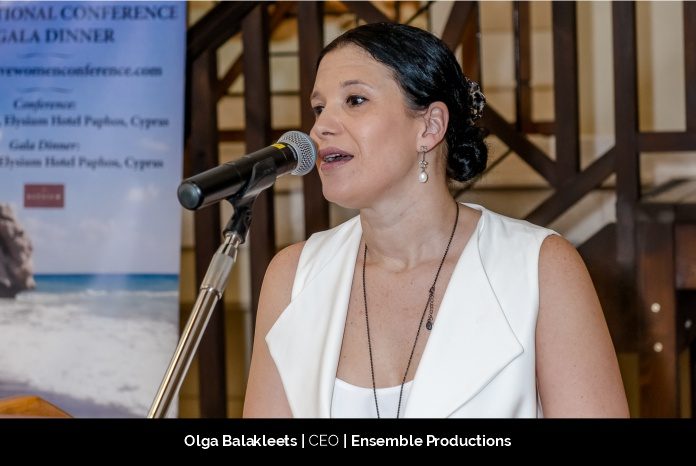 It is vital to be creative and flexible, especially in today's fast-changing world and after experiencing a pandemic that challenged the events industry. Olga Balakleets is the CEO of Ensemble Productions, a company that specializes in organizing international events in the UK and internationally.
According to Olga, at Ensemble Productions, the team tries to produce new creative ideas which have recently started to flourish online, something they would never have imagined before. It's also crucial for them to be as accessible as possible, encompassing all types of performing arts genres and merging them with current technology, which is a key component in the growing events business. Olga always encourages the team to follow the latest news of such technological developments which could be implemented in the projects and make them more special.
Before founding Ensemble Productions, Olga mostly performed as a concert pianist. Then she gradually began organizing smaller events, aiding other festivals and creative agencies, and acquiring her perspectives and expertise, all of which were crucial in helping her launch and expand her events firm. Before stepping in as an entrepreneur, Olga organized a two-week festival concentrating on traditional and contemporary classical music and engaging over 250 performers at London's previous cultural centre, the Southbank Centre. These experiences gave her enormous confidence in her ability to continue on this road. She says, "My performances around the world as a soloist with orchestras and chamber groups have also played a great role in the understanding of events and many aspects of the entertainment industry." 
Born to Lead 
Some people are unable to work for others and have a strong desire to lead. Olga is one example of this. After a few positions for various firms, it became apparent to her that she needed to create her own company and lead others. "It's how you're born, and it's your destiny to be a leader or not," she adds.
Olga has been a performing musician since she was a youngster, and she learned early on that she enjoys collaborating with other musicians and artists, not just as a performer but also as someone in charge of organizing concerts and other projects. She eventually founded her events firm and organized her first cultural festival. This is the world she is familiar with, with all of its complexities and problems, and she likes working in the entertainment sector.
Ensemble Productions 
Ensemble Productions is an events company that produces several annual international cultural projects around the world and is happy to take on new ventures. We initiate our projects and realize projects and events on behalf of other clients, private, corporate, and governmental. The spectrum of our work is vast, and I never want to limit what we do and what we can offer.
A Responsibility that Turns into an Opportunity 
Olga's work as an event organizer most likely began while she was a student at the St Petersburg Conservatory in her home country, Russia. She was tasked with overseeing the planning of student performances outside of the Conservatory. She realized it was thrilling for her, and others saw her as a leader. She hasn't stopped arranging events since then, and they've just gotten better and bigger. She says, "I was fortunate enough to be recognized for my work on numerous occasions, receiving very valuable awards from governments and various organizations in different countries. My highest recognition is the Pushkin Medal, the highest award you can receive for your contributions to cultural services in my native Russia." Being appreciated as the founder and leader of Creative Women International Platform gives Olga wonderful recognition as a leader as well.
A Follower of the Cooperative Leadership Style 
Olga is a very involved CEO who is practically involved in every part of her job since she believes in cooperation and the continual exchange of ideas. She develops concepts, leads discussions with partners, clients, and sponsors, manages budgets and financing, communicates with the artists and organizations the team works with, oversees all logistics, and even has a role in marketing tactics. She believes it covers almost everything, and she does not believe it is inappropriate for a CEO to be extensively involved in all aspects of the company's operations. She sees the nature of her work as that every day is a different day, with a different schedule and tasks. Since the team has improved so much during the last 1.5 years, she asserts, "Our skills for working remotely make our work and leadership easier. You simply need to know your work and your team well enough to successfully coordinate this work. I never tried to define myself in only one word, but if I must, it would probably be 'optimist'. "
Working in a Challenging Industry 
The entertainment industry is very challenging with lots of risks to be taken, which naturally leads to men mostly working in it. Olga says, "It is super challenging and at times you have these additional challenges because you are a woman." She further adds, "If this is what you love doing and you feel that you are in the right place, you will succeed and you will overcome these difficulties like women leaders in any other male dominated professions."
"The show must go on."
In the entertainment industry, one has all sorts of challenges. Olga says, "You get stronger every time you lose, when you are criticized, when you have to make serious compromises, and sometimes even when you fail in some people's eyes. As we say, "the show must go on" and this is one of my main mottos. Whatever difficulties and challenges are, you must deliver, you must fulfill your obligations and not hurt anyone on a way of resolving your difficulties".
What is success?
Olga's definition of success is receiving appreciation from other people. She feels it occurs when a job produces values and has a good influence on other people's lives in some way. Commercial success, she believes, is a nice bonus that everyone should strive for, but it cannot take precedence over the human elements of people's lives and work.
Always Giving the Best 
Maintaining a sense of balance is another issue that everyone, especially women, must fight. According to Olga, one must be exceptionally well organized and aware of one's priorities. She finds, "Many of us women have proved that it is achievable to be a good businesswoman, wife, and mother. Sleeping less, planning well and you are there. "
According to Olga, she never needed to push herself at work since she had a strong desire to provide the best for those who expected something from her. However, she does believe that leaders must encourage their workers by making work exciting, acknowledging their contributions and efforts, and finding ways to reward them. It's also crucial to choose employees who are truly enthusiastic about the work they'll be doing.
Planning to Spread Awareness through Entertainment 
Olga has a lot of ideas for the company's future, especially now that she's back after this unexpected for everyone break. She visions of expanding the geographic scope of the organization's activities, entering new countries where the organization can make a greater contribution, and developing meaningful projects that will help people understand fully what is dangerous in the world today and address these issues creatively and constructively. She feels, "You can produce a powerful message when you organize large events worldwide and transmit them, so I would like to create a chain of such life-transforming events which will hopefully change lives for the better." 
Olga's goal as a person and a businesswoman is to continue to grow and contribute to society and to be a role model for her son.