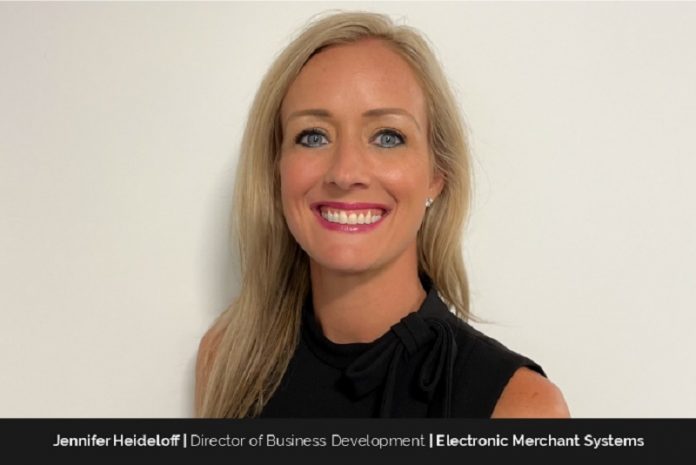 Jennifer Heideloff is the Director of Business Development at Electronic Merchant Systems (emscorporate.com) a top-rated, leading provider of online payment processing company with a range of electronic payment solutions based out of Greater Cleveland.
Electronic Merchant Systems (EMS) payment processing and merchant services, builds lasting relationships and designs every partnership, whether with a merchant, financial institution, vendor, or teammate, to be collaborative and mutually beneficial.
The benefits of a merchant services program
A merchant services program is a valuable tool for financial institutions to attract and retain business customers. By providing businesses with the ability to accept credit and debit card payments, financial institutions can offer their clients a convenient way to conduct transactions.
In addition, merchant services programs can also help financial institutions cross-sell additional products and services to their business clients. By offering businesses a comprehensive suite of banking products and services, financial institutions can build lasting relationships with their business customers.
In today's competitive marketplace, merchant services programs can offer a unique way for financial institutions to gain and retain their business customers and open doors for them to cross-sell additional services to their clients.
For financial institutions, having a strong and trustworthy relationship with their merchant services provider can encourage their business banking clients to rely on their institution for help when they need it.
Empowering their clients to accept credit card payments and automatically deposit those payments into bank accounts brings financial institutions an immediate string of deposits. EMS believes in building partnerships that stand the test of time.
"At EMS, we believe we're better together. We strive to uphold the five core values of our company; integrity, service, compassion, dedication, and innovation, each time we enter the office," says Heideloff. "Our team works together, but we also serve our community together and enjoy life together. We are one team, with one vision, striving after one mission – to empower merchants everywhere."
A leading provider of payment processing & merchant services solutions
Electronic Merchant Systems (EMS) is an industry-leading provider of payment processing and merchant services solutions headquartered in Cleveland, Ohio, with offices and agents located across the country.
With a strong presence across the country, and 12 regional offices, EMS also offers 24/7/365 customer service from their headquarters in Cleveland, Ohio.
Since 1988, the company has been helping business owners grow their financial well-being by offering a comprehensive suite of innovative, cost-effective payment solutions and high-quality customer service.
Their current suite of products and payment solutions includes:
Mobile Processing Solutions
eCommerce & Online Shopping Carts
Point of Sale Solutions for Restaurants & Retail
Countertop Payment Terminals
Surcharge & Cash Discount Programs
Cash Advance Funding
Gift & Loyalty Card Programs
Web Hosting & Design
EMS developed these solutions by first listening to general feedback and holding one-on-one conversations with merchants to determine their payment solution needs.
Then, the team balanced those results with the capabilities of current payment technology. EMS plans to move forward in the same fashion, with each merchant's best interests at the center of its growth strategy.
Differentiated by their service and people
Credit card services can seem the same on the surface, but when you offer a solution this important, you want to have a strong relationship with the company and its people. Electronic Merchant Systems is proud of their two differentiators: their service and their people.
EMS' service is designed to be the most user-friendly experience possible. Their goal is to make it easy for businesses of all sizes to accept credit cards, so they can focus on running their business. Their people are what truly set them apart.
"EMS is proud of the service we give our partners. We will meet with you in-person or virtually to discuss how we will care for your business clients," says Heideloff.  "At EMS, we understand the trust our partners place in us when they send their clients to us for credit card services. EMS will help you retain your clients and ultimately improve the banking relationships you have with them."
Offering merchant services comes in several different forms and, when it comes to merchant services at EMS, a financial institution has a lot of options. EMS tailors a local payment processing setup to their client's specific needs and provides tools they can use across their business to save money, streamline operations, and drive sales.
Minimizing the risks associated with merchant service programs
The industry would agree that merchant service programs are necessary as a value-add for financial institutions and their clients. But when financial institutions offer merchant services, they face a number of risks.
The traditional risks associated with trusting a merchant services provider include losing your business clients due to rate increases, substandard service, and lack of communication from your provider.
Heideloff offers a list of key characteristics that financial institutions should look for in their merchant services provider to help protect their clients:
Minimizes merchant services program attrition
Pledges verifiable, high quality, 24/7/365 customer service
Delivers a consultative sales approach that best serves your accounts and treats them fairly
Facilitates access to the lowest processing rates possible, by offering multiple processing platforms
Improves client success rates compared to industry averages
Provides your business clients with expert advice to help manage their payment card processing
Helps you gather more core deposits
Optimizes your core bank solutions to round out card processing with ACH and/or RDC
Incorporates PCI compliant standards to assure secure processing compliance
EMS' partner program provides the best service, communication, rates, and value-added benefits possible.
A trusted culture of caring for customers
EMS offers a level of personalized attention and support that merchants and partners simply won't find with other providers. Throughout their 30+ years in the payments space, they have a long history of providing excellent customer service and producing high-quality work.
EMS has served hundreds of thousands of small to mid-sized businesses, and business owners across many industries trust them to provide reliable payment services and support, a call the company is happy to answer.
"A partnership with EMS means personal, loyal attention. When you join our Payment Partnership program, you'll be assigned a dedicated Business Development Manager who will take the time to get to know your business and the merchants you serve," says Heideloff.
EMS' culture of caring for customers has helped them stand out in the industry. For instance, their customer service team is available to EMS customers and partners 24/7/365 via phone and email. Whether a customer has a question at 3 PM or 3 AM, they can rest assured that a dedicated professional will be standing by to take their call.
Because everyone at EMS cares about people, the company doesn't have to spend their time and resources trying to figure out what make them different, because their true distinguishing quality is embedded within the company itself.
This approach to doing business is one of the reasons why you'll find EMS on lists like the Top 10 Most Trusted Payment and Card Solutions Providers of 2022.
Building trusted payment partnerships
EMS provides outstanding support for Payment Partners who want to add merchant services to the top of the list of services they offer.
Heideloff, who is responsible for establishing and growing these relationships, believes that entering into a partnership with a top-quality merchant services provider should be a lucrative endeavor for any business.
To ensure the success of this partnership, there needs to be mutual trust and understanding from day one. Therefore, the team starts by establishing an expectation of frequent communication from both sides.
The key to a successful partnership is in understanding each other's goals and developing an effective strategy for achieving them. This is especially important for new partnerships because it helps develop a mutual understanding of goals, consistent strategy, and ultimately – success.
"Working closely together drives the roots of trust deeper into a partnership's foundation and encourages steady growth," says Heideloff. Over the past two years, she and her team have diligently developed the EMS Payment Partner Program, which offers a customizable partnership experience.
Through this program, partners receive more than access to merchant services and payment processing solutions. They also gain the support of an established provider equipped to offer dedicated support, product marketing assistance, and training opportunities.
"Our product and sales workshops offer training that extends beyond merchant services," says Heideloff. "We provide tools and takeaways our partners can use in their day-to-day discussions with their members or clients. Each workshop is a flexible, interactive session that can be customized to the partner's needs and provided in person or virtually."
To learn more about EMS' commitment to reliable customer service, check out their 4.7-star rating on Google from over 1,000 genuine reviews, and visit the company's YouTube page to watch customer testimonials.