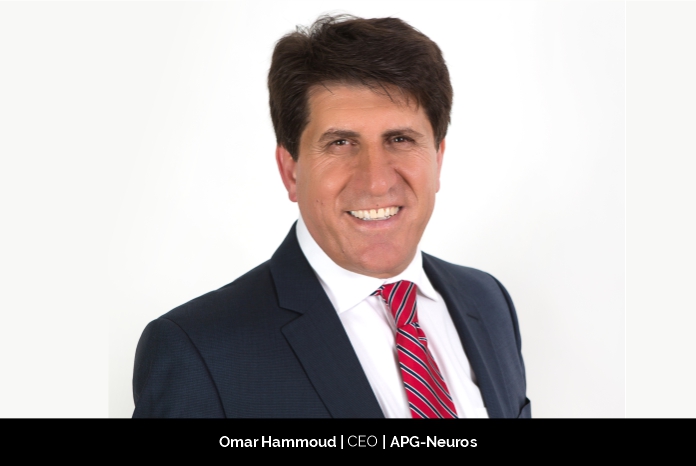 To bring a change in a certain community and break the ongoing traditional shackles requires strong will and expertise in the new idea. Omar Hammoud, Owner and CEO of APG-Neuros, values this fact and has directed his knowledge and expertise of 25 years in aerospace and aviation to revamp the wastewater community.
The aeration technology used in municipal and industrial wastewater treatment was antiquated and had suffered for generations the pain of liquidated quality and talents departure, and all that remained were low cost and inefficient products combined with antiquated ways of doing business. The decision was made to found APG-Neuros as a newcomer into this market with innovative technologies and persistence to transform the market and grow a good business.
Climbing the ladder of success
Omar's engineering background structured his way ahead. He states, "I built strong technical and leadership qualities over my previous 25 years in leadership positions with the three leaders in the aerospace industry, General Electric, United Technologies, and Safran Group. I began my career working in high technology nuclear power generation and aerospace applications. These industries are highly technical and supercritical when it comes to designing products for safe and reliable operations."
APG-Neuros was born when an opportunity was identified to bring collaborative ideas and innovative technologies, and a new way of doing business from aerospace and defense into a stagnant industry.
The aeration market in wastewater treatment and industrial applications suffered from the pain of quality liquidation, and talents departed for generations.
APG-Neuros identified that these pains represent a great opportunity that can be addressed by a newcomer with leadership qualities, that if persisted, can lead to transformation and grow a good business.
The road to success was not easy as they had to develop a new product and convince the community to adopt it. However, Omar led the team in the right direction with his deep knowledge and skills and steered the company to transform the sector.
Tunneling through the challenges
Being a pioneer in the sector, the team has to fight all the battles to create a positive impact. The first challenge came in the shape of technology development.
Omar states, "We must bring in successful technologies from other sectors such as aerospace, defense, high-speed rail, and power generation. We do it with our investment, and that puts a challenge and burden on us."
However, the team was able to counter this burden with their customer's loyalty. Many of their customers are willing to take their product into operation and help them with the product launch.
He mentions, "We also have development partners that support our product developments and partner investment companies that see our vision and our strategy and give us the financial support we need."
Besides all this, the COVID-19 pandemic slowed the progress as it disturbed everything globally. The pace of development of the products reduced but having a solid, hardworking team at his disposal, Omar was able to push things and get back on the wagon. With the support of their customers, the company was able to launch the products last year even after some delays.
Bringing innovative products with APG-Neuros
APG-Neuros developed very innovative aeration systems that reduces further the energy consumption by employing Model Predictive Control (MPC) This Artificial Intelligence based state of the art aeration control enables air delivery reduction to a lowest level possible by using historians and computational models. The US Department of Energy (DOE) selected APG-Neuros as part of strong team from the US to demonstrate MPC at a major waste treatment facility in California in 2021-2022. The use of AI in aeration control to lower energy consumption in wastewater treatment is viewed as the next huge growth opportunity and APG-Neuros is well positioned to address this opportunity starting its current 600 customers.
APG-Neuros supplies the complete aeration system with all instruments and controls. In addition, the company manufactures the high-speed turbo blower for industrial plants and the wastewater treatment industry. Their product offerings include their 2006 introduction NX series turbo blower Single and Dual Core models ranging from 30 HP to 1000 HP.
Omar states, "We have helped our 600 customers save over US$ 400 Million in energy cost with our 1500 units operation over the 15 years period. This savings is compared to a total maintenance cost of only US$11 Million, showing a Benefit to Cost Ratio of 37.4 times."
In addition to the NX series, they also introduced two more recent innovations: the 1 MW (1,500 HP) Turbo Blower with power class ranging from 750 HP up to 3000 HP and a new family of Gas Turbine Turbo Blowers starting with their 230 KW (300 HP) model that use natural gas or biogas – current development plans underway call for use of Hydrogen as fuel – rather than electricity as the source of power.
He adds, "We developed a variety of customer service offerings including comprehensive protection and support plans combined with making our smart connected devices such that our customers can be supported, 24 hours, 7 days a week, remotely at a moment's notice."
Revamping the wastewater treatment with APG-Neuros
Omar expresses, "I observed over the years working with municipalities and wastewater treatment plants that they, like many other industry sectors, have taken notice of climate change and became more focused on energy efficiency, conservation measures, and productive use of their renewable resources. This change resulted in a bigger demand for our high-efficiency Turbo Blowers."
The company contributed by helping its customers define their energy consumption and providing them with viable options to achieve their carbon emission reduction goals.
The team also developed a brand-new product, the Gas Turbine Blower, that allows them to use their renewable biogas production, which is often flared, most economically to reduce emissions and lower their operating costs.
Core technology and Growth of APG-Neuros  
The applications in aerospace and defense industry helped APG-Neuros develop its Turbo Blower technology, both the electric and the gas fuels products.  The aerospace technologies propelled the Aero Engines from Unmanned Aerial Vehicles (UAV) to F-16 military aviation programs for decades. Thus, this technology is fully tested and completely trustworthy.
He says, "The core of the product technology is the 3rd generation dual layer bump foil air bearing which is oil-free and non-contact, needing no lubricating or associated maintenance thereby resulting in lower vibration from the rotor during operation. Its proven durability and endurance have been demonstrated through over 1.1 Million starts in a very stringent application Turbo Blower for the automotive fuel cell, equivalent to more than hundred years' lifetime in a typical aeration or wastewater treatment operation."
Starting in 2019, the company introduced state-of-the-art proven non-contact magnetic bearings in all models above 150 HP.  APG-Neuros is the only company in the world that offer a complete product-line with both bearing options. Customers can choose either option. The Magnetic Bearing as a technology has been around for decades and has proven its reliability in wastewater stringent treatment applications. In addition to the position sensors the magnetic bearing requires a magnetic bearing controller to control the levitation for start-stop and during operation.
Other than that, the turbo blower is equipped with a high-efficiency impeller, specially designed using in-house software that works on aero gas turbine engine technology. Offering excellent fatigue life and integrity, it is a solid forging impeller machine consisting of 5-axis machining, a larger diameter, and a precise impeller shape blended with optimal speed to impart higher efficiency. Moreover, the Permanent Magnet Synchronous Motor (PMSM) transfers EMF to load rather than windings and slip rings with no physical contact between stator and shaft, which promises high precision motor speed control.
Sharing his vision, Omar states, "I want the company to be the world leader in the development and commercialization of high-efficiency turbomachinery and advanced process controls to reduce energy consumption."
Managing Work-Life Balance
As the Founder and CEO of APG-Neuros, Omar has to wear multiple hats to keep the company functioning in a steady flow. He says, "I am currently responsible for developing the vision, setting out the strategy, and executing the strategic plan. I manage all this while developing customer relationships, acting as leader, coach, and supporter to staff to help them achieve the set goals."
As an accomplished self-made leader, it is quite challenging to ensure a perfect balance in his personal and professional life while carrying this much responsibility. As a solo entrepreneur who commenced the company's operations in the basement of his home in 2005 and won the first project of blower installation in 2006, he has worked dedicatedly to over 80 employees and over 1500 units installed in over 600 customers facilities by 2020.
Still, he tries to manage his quality time with his family. He shares, "I manage to spend quality time at home and enjoy daily workouts and outdoor activities over the weekends. As far as putting long hours at work, the way I see it is that if you love what you do, work should not feel like a burden."
Global future Expansion Plans of APG-Neuros 
Omar is focusing on taking the upcoming products and services of APG-Neuros to the international markets for expansion. They are working on spreading their wings to Continental Europe, the Middle East, and South America.
After that, they are planning to move ahead in East Asia, and for that, they are analyzing the situation with the APG-Neuros sub-contract manufacturing partner located in South Korea.
For further success, Omar opines that the government procurement laws need stern reformation to add more innovation. Not just this, he says, "Improving the municipal agencies' decision-making and empowering them to educate themselves and evaluate their alternatives to more easily procure what they believe to be the best product from the best company will further assist APG-Neuros to develop even more interesting products and technical solutions."