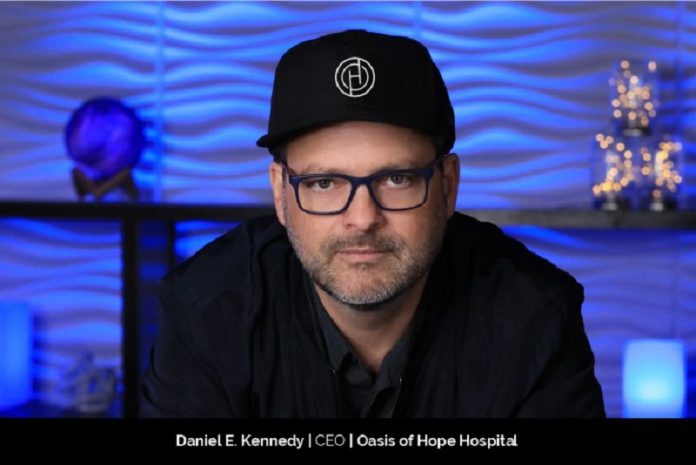 Daniel E. Kennedy puts hospitality back into the hospital by providing compassionate medical care. As CEO of Oasis of Hope Hospital, he follows his grandfather's footsteps, concentrating on holistic treatments and preventive medicine. His patients say he faithfully serves God and humanity. He owes his success to his grandfather, Dr. Ernesto Contreras, Sr. and uncle Dr. Francisco Contreras who gave him the opportunity to lead the organization.
Oasis of Hope is located in Mexico on the border with San Diego, California. It is convenient to get to, but the region presents challenges, including changes in immigration policy, globalized commerce and culture, technological advances, and most recently, travel restrictions due to COVID-19. Keeping the hospital on course to be socially responsible and help people while managing external forces is not a forty-hour workweek.  According to Daniel, he doesn't have a formal start and stop time at work stating, "I flow continuously toward creating and implementing strategies that improve our patients' healing experience and maintain the hospital's viability. My passion for our mission keeps me motivated."
Keys to success
Daniel measures his success by how well he serves Oasis of Hope's corporate charter, shareholders and stakeholders.
Corporate charter: He keeps Oasis of Hope's mission, guiding principles, and values fresh in the team members' minds. Its mission is caring for the whole person–body, mind, and spirit; sharing the healing power of faith, hope, and love; and advancing medical science to end cancer one patient at a time. There are two guiding principles: to bring no harm to the patient and to love their patients as they love themselves.
Shareholders: He focuses on increasing the value of the hospital by providing unique and effective integrative cancer treatments, fair and transparent pricing, and supporting managers of small business units within the hospital group.
Stakeholders: He is committed to serving patients, their families, and the Oasis of Hope team members. He feels successful if he ensures a safe workplace where everyone receives respect, kindness, and equal opportunity.
Taking the plunge to lead an organization
After Daniel graduated from San Diego State University, he worked as a scuba instructor and dive shop manager. His uncle, Dr. Francisco Contreras, a famous integrative oncologist, invited him to join Oasis of Hope to unleash his true potential. Daniel readily accepted.
Within the first month, he feared that he wasn't going to succeed. However, his close friend encouraged him not to give up a once-in-a-lifetime opportunity to work at Oasis of Hope. Those words ignited courage that led him to work the first seven years of his career under his grandfather's mentorship, whom he calls "a master of compassionate care."
He adds, "My grandfather taught me that even if no medication could help, a doctor caring enough to sit by a patient's bedside is healing. He embodied the idea that people don't care how much you know until they know how much you care. Patients knew that Dr. Contreras, Sr. REALLY cared, and a few told me that looking into his eyes felt like looking into the eyes of Jesus Christ because they felt so much love."
Comprehensive Services of Oasis of Hope Hospital
In 1963, Dr. Ernesto Contreras, Sr. founded Oasis of Hope to provide integrative cancer treatment, combining conventional treatments with research-based alternative therapies. Core elements include whole-body hyperthermia, high-dose intravenous vitamin C, Ozone therapy, proprietary nanotechnology liposomal formulations, plant-based nutrition, and a potent dendritic cell vaccine immunotherapy.  Moreover, patients experience a culture of holistic healing fueled by medical competence and human compassion. He made Oasis of Hope a place for physical restoration, emotional renewal and spiritual revival.
Daniel says, "My grandfather considered social support to be vital. That's why we don't charge for a loved one to share the room and healing foods with the patient. We don't isolate patients. We get them out of their rooms to experience community.  Round tables in the dining hall promote conversations at mealtime. It's there where friendships are formed for life. We also have treatment rooms where patients are together.  Social support is what makes Oasis of Hope a healing experience."
Daniel's progressive role in cancer treatment:
Traditional oncology is diseased-focused, with tumor destruction as the goal. Oasis of Hope is patient-focused, working for life extension, improving the quality of life, restoring the immune system, emotional renewal, spiritual revival, and tumor regression. Daniel shares, "I believe Oasis of Hope will be recognized over the next ten years as an authority on targeted immunotherapies.  Our five-year survival rates will demonstrate how effective our medical protocols are. I hope we can influence others to promote lifestyle medicine over aggressive chemotherapies and costly gene therapies."
Daniel has led Oasis of Hope by:
Introducing cutting edge medical devices
Facilitating electronic medical records with remote access
Developing the Oasis of Hope eHealth mobile app
Introducing nanomedicine and liposomes
Oasis of Hope eHealth empowers patients with scheduling, video conferencing, treatment and prescription management, education and cooking class videos featuring new delicious recipes each week.
On the use of nanotechnology, he shares, "It's typical for alternative cancer treatments to prescribe between 30 and 60 nutritional supplement capsules a day. We deliver the same therapeutic benefits with only three teaspoons of our nanoceuticals, which relieves the burden on our patients' gastrointestinal tracts." Daniel is a challenge-loving person and feels that they invigorate, breed innovation, and offer a creative outlet.  He confidently leads his teams in crafting elegantly simple solutions that yield positive patient outcomes.
Although Oasis of Hope has high survival rates, not all patients will make it. He expresses that whether patients beat cancer or not, they all deserve to be treated with dignity, love, and compassion. He has dedicated his life to equipping people to face the fight of their lives bravely. His most significant honors were to work shoulder to shoulder with his grandfather and being recognized as a WELL+GOOD health expert.
Taking the firm to the next level
Under Daniel's leadership, Oasis of Hope has advanced in five key areas: Information systems, Operations management, Lifestyle education, Patient treatment experience, and Medical technology.
Information Systems
Daniel joined forces with the hospital when the Internet was in its infancy. Social Media was not even on the radar.  The hospital had some basic personal computers running spreadsheets and typing programs.  He led the team to launch their first website and later harness the power of social media platforms such as YouTube, Facebook, Twitter, and Instagram. Understanding that patient education was vital to treatment compliance, he built a television studio to produce motivating educational videos. Oasis of Hope its first cooking app for iOS and Android called Healthy Long Life, which is the same name as the documentary on Amazon Prime that Daniel produced and directed. He also led the hospital in the transition to cloud-based applications.
Operations Management
After joining the hospital, Daniel observed chaos in the management. Doctors were running it at their convenience while patients waited for long hours to see them. He implemented a new patient-centered methodology, meeting their needs and providing the best experience.  He states, "We use design thinking that challenges the assumption that doctors know best and embraces, that patients know what they need us to provide." Empathy for the patients is the driving force of our strategic planning.
Lifestyle Education and Treatment Experience
Dr. Ernesto Contreras, Sr. would minister to patients' bodies, minds, and spirits. He would examine patients and prescribe treatments in the mornings, and in the afternoons, he would gather them to sing silly songs and tell jokes. His laughter and music therapies were purposed to boost the patients' immune systems by providing emotional support. On Sundays, Dr. Contreras would share the word of God and lead hymns to care for his patients' spirits. Today, his son Francisco Contreras leads Sunday services. After he passed away in 2003, Francisco and Daniel emphasized emotional and spiritual support and further developed their lifestyle education program.
The doctors lecture on their treatments. Nutritionists teach about healing foods. The pastor leads daily devotions with worship songs and prayer, and the psychologist provides individual counseling and group therapy. They invested in a rooftop garden and a cooking classroom to grow cancer-fighting organic produce and teach patients how to prepare healing foods.
Medical Technology
Daniel loves technology and recently designed and equipped the hospital's hyperthermia and ozone center with state-of-the-art medical devices and machines. He championed nanotechnology and the development of proprietary liposomal formulas. Under the direction of Dr. Francisco Contreras, Daniel has helped develop the Oasis of Hope immunology laboratory. Currently, he is spearheading the hospital's eHealth mobile app.
Balancing roles at Oasis of Hope Hospital and Home
Daniel's responsibilities involve providing essential resources for each team member to deliver high-quality services and treatments to patients. These resources include the mission, vision, values, continuing education, human resource support, training, standards, uniforms, materials, legal counsel, fiscal planning tools, education on health regulations, medical supplies, medical equipment and devices, office space, office supplies, ergonomic office furniture, up-to-date computers, telephones, and software, motivation and encouragement.
He handles tasks of a plethora of departments to work harmoniously to deliver high-quality, compassionate medical care. He describes his job as the circus act with one person keeping ten plates spinning without letting one fall.
He points to daily devotions for filling him with peace and motivation to help others. His habit is to listen to the Daily Audio Bible sometime before dawn. Later, he devotes time to his morning self-care routine at 6:00 am. He sends group texts at 8:00 am to support his teams and dedicates the next three hours to reading research papers, correspondence and developing new treatments or management modalities. He breaks his intermittent fast after 11:00 am with a blueberry, kale, and plant-based Greek yogurt smoothie. He spends his afternoons visiting various departments, patients, and his boss, Dr. Francisco Contreras.
When it comes to balancing personal and professional life, he shares, "Work is not my obligation; it is my vocation and my joy. Instead, I consciously and consistently spend time with my wife, children and grandson. I love being with my family doing activities they like to do. I avail myself to them any time of day that works for them. I can do that because I work seven days a week. I don't have a formal start and stop time, so if I can be there for my family when needed because I can make up work later."
He keeps his team members motivated by checking in daily, sharing words of encouragement and affirmation, listening to their ideas, and involving them in developing and implementing solutions.
What Oasis of Hope patients say about Daniel E. Kennedy:
"Daniel Kennedy is as every CEO should be—kind, intentional, and extraordinarily generous. He has carried Oasis of Hope to a new and beautiful level while continuing to honor and uphold the original vision of his grandfather. It is the joy and honor of each patient to meet him, know him, and call him friend," says Phoebe D., Oasis of Hope patient since 2017.
"I knew Daniel Kennedy had the heart of a servant the first time he walked in my room when I first arrived at Oasis of Hope. I felt like we had been friends for a long time though we had just met. As I watched him over the next few months, I saw a gentle heart but strong leader who cares deeply about the Oasis of Hope mission. My family will forever be indebted to Daniel and his family for introducing us to a new way to fight cancer. We are beyond grateful." Says Brad Palmer, Oasis of Hope patient, President, Boys and Girls Christian Home Ministries, Inc.
"Daniel Kennedy is truly a one-of-a-kind CEO. To be in the oncology realm of life, one must possess an unimaginable passion for helping others at the most critical and defining time of their life. Mr. Kennedy truly shows compassion at its finest from the moment that you meet him. He is down-to-earth and very kind. His quest for helping others is Parallel to none. He truly makes you feel important and gives you his undivided attention, and makes you feel at ease during a difficult time. The zest for growth and change at Oasis of Hope under Mr. Kennedy's direction is seamless and welcomed by all the patients and their families", says, Michelle Tucker, Oasis of Hope patient.
Future goals of Oasis of Hope Hospital
He plans for Oasis of Hope to form highly effective personalized immune targeted therapies for improving patient outcomes. As a USC Doctor of Social Work program student, he wishes to use his valuable experience and contacts to advance long, healthy and productive lives. Moreover, he wants to open a non-profit organization for improving the health of marginalized populations. As an author and a filmmaker, he is committed to empowering people through books and documentaries.  He is particularly excited about his documentary series Healthy Long Life on Amazon Prime.
Sharing his message for budding business leaders, he says, "Always be a student. Great leaders don't think too highly of themselves. Instead, they seek to surround themselves with brilliant and inspiring leaders."
Resources:  
1-888-500-HOPE
Call 1-888-500-HOPE (4673) for a free personalized cancer treatment plan and eBook, or fill out the online form https://www.oasisofhope.com/medical-questionnaire-ebook/
Watch Daniel E. Kennedy's documentary series and download cooking app at www.HealthyLongLife.com