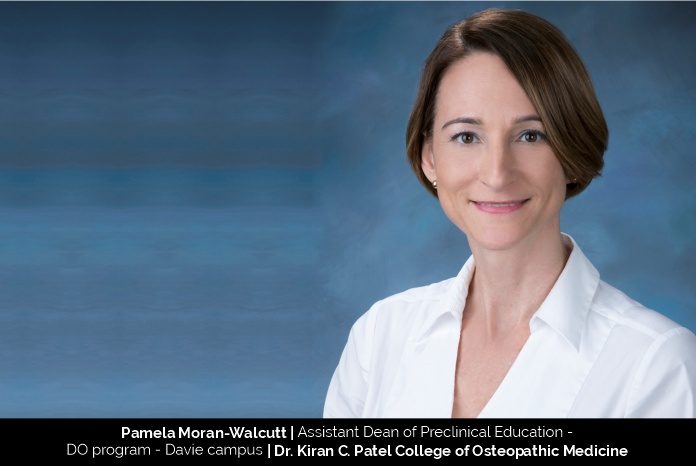 Pamela Moran-Walcutt, Assistant Dean of Preclinical Education, DO program, Davie campus of Dr. Kiran C. Patel College of Osteopathic Medicine, had an early teaching interest; however, her life had other paths prior to her becoming a physician. Her passion for education grew when she started interacting with patients, students, and her attendings as a Family Medicine resident. That is how she started traversing the path of educating future physicians and serving their future patients.
Now that she has savored the taste of success, she states, "To me, success is reaching my personal and work goals, keeping a smile on my face and on those around me, and being satisfied with where I am in my life. My success is being the best me I can be."
 "Challenge equals Opportunity"
For Pamela, life is a journey with many possible paths to take. The selection of the path helps a person learn more about themselves and their support system. She considers any roadblock a learning opportunity and stays grateful for those who were put in her path to pave the way for personal growth.
She adds, "During medical school, residency, and early in my career at NSU, multiple challenges arose in my personal life. Balancing my work and family life was extremely difficult during those times. I was initially reluctant to share my family responsibilities with others, but ultimately, I became better in both my family and professional roles because of the changes I made. When events occurred that seemed like barriers to continuing my career path, I sought help and made it through." To her, challenge equals opportunity.
Being a physician, Clinic Director and now an Assistant Dean of Preclinical Education, during a pandemic has been one of the most demanding experiences physically and mentally she has encountered in her career and doubts future challenges will compare. She is proud of how the NSU KPCOM team strategized a way to provide care to patients, a quality education to students and support to each other. She is thankful for the education and training she received which prepared her for being a physician and educational leader in unprecedented times.
Journey with Dr. Kiran C. Patel College of Osteopathic Medicine
Attending medical school as a 'Non-Traditional' student at NSU KPCOM, Pamela completed her clinical rotations and then an NSU family medicine residency training program at Palmetto General Hospital in Hialeah, Florida.
Later, she joined the faculty as an Assistant Professor of Family Medicine at NSU KPCOM in 2012 and began teaching first and second-year medical students as a facilitator, lecturer, and/or course director in multiple courses, as well as initially precepting medical students and residents in the Family Medicine Clinics.
Further, she explains, "During my first year, I joined the Employee Health and Wellness Center and then served as its Clinic Director from 2017 until October of 2020 when I stepped down to join the Office of Preclinical Education as an Assistant Dean. I continue to serve as a faculty advisor, Chair and/or member of multiple committees, student organizations and professional boards."
Carrying the vision through the education revolution
With the growing transformation from offline to online platforms in the education realm, she believes it is crucial to teach students additional skills to evaluate the quality of the medical information and resources that are now instantly accessible with a tap of the screen or click of a mouse. Educators need to present course material in a relevant and engaging manner, as we compete with all the other resources students use for learning.
Stating her personal vision, she shares, "My teaching philosophy is to focus on the needs of the students while balancing the desired outcome: create caring osteopathic physicians who will represent our school and our profession well. In my various roles, I strive to balance reducing the stress for students with continuing to challenge them academically as well as have them maintain skills of attention to detail, time management, and self-reliance that will help them be life-long learners."
Innovative programs in pandemic
Pamela's experience as the parent of a child with learning disabilities strengthened her belief that the educational field needed to be innovative and open to change so that it can always adjust to best serve all students.
With the COVID-19 pandemic, educators have stepped up to share amazing solutions and implement innovative programs quickly to 'stay in session,' which in turn has accelerated the development of the educational field.
Even at NSU, the task force of leaders commenced their preparation early on, with meetings held months prior to the expected impact. They ensured that the faculty and staff were trained in new technology, and a blend flex model was implemented.
She adds, "At KPCOM, a focus was on keeping a high-quality education and having students graduate on time. Leadership consulted with accrediting bodies, other educational institutions, and faculty. Preclinical and Clinical education offices adjusted schedules and worked with faculty and staff to develop solutions such as exams on Zoom, virtual clerkships, and the delivery of material in a virtual platform. Faculty and staff focused on supporting students and each other." The best part is that many of these implemented changes will continue to stay in place as they brought a plethora of positive changes in the curriculum delivery during the pandemic.
A Walk through Pamela's Routine
Being the Assistant Dean of Preclinical Education, Pamela is on a team led by Dr. Marge Wilkinson and Dr. Hilda DeGaetano to keep an eye on the first two years of medical education.
She handles the role of overseeing the preparation, implementation, and item analysis of exams and is responsible for pre and post-course preparation as well as completing special projects such as educational resource review. She also serves as a consultant for several courses.
Her day kickstarts with numerous meetings and tackling a 'to do' list of tasks related to her preclinical, committee, or clinic-related work. She says, "Two afternoons a week, I see patients as an attending physician in the Employee Health and Wellness Center, which serves employees and their families. At the end of the day, I check in with team members."
Having a supportive spouse to share all family responsibilities has helped her maintain quality family time. Keeping a positive attitude, she also sets weekly goals to stay motivated and continue doing what she loves the most.
Charting the future plans
Pamela's long-term goals are to continue her efforts creating compassionate osteopathic physicians who will provide the best care possible to their patients and will be an asset to any community to which they become a part.  Personally, she aims to gain more experience and knowledge to become a better educator of the future members of her profession.