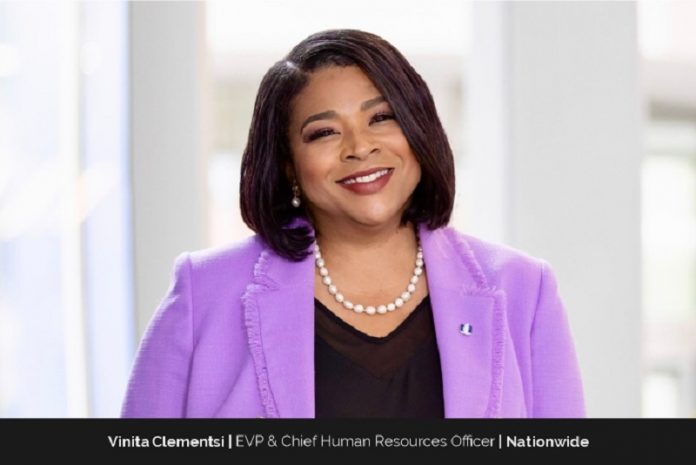 In mid-2021, amid a raging COVID-19 pandemic and complex societal and political challenges, Vinita Clements was selected for the role of a lifetime to lead as Executive Vice President, Chief Human Resources Officer (CHRO) at Nationwide. Despite disruptions all around, she maintained a focus on preserving Nationwide's strong culture, ensuring associate engagement, strong HR performance and keeping the company's purpose at the forefront.
Through an orientation for action and empathy – she has more than succeeded. Under her leadership, the company has stayed true to its values and found new ways to elevate its culture in a changing environment. As a result, Nationwide achieved historic levels of engagement in 2022 and continues to be recognized as an employer of choice for its strong culture, performance and commitment to diversity, equity and inclusion.
Stronger Than Ever        
Vinita joined Nationwide in 2004 and has held a variety of HR leadership roles throughout the enterprise. Now as the CHRO, she is using her wide range of experience to guide the company's strong culture. She is actively influencing organizational change, cultivating Nationwide's workplace of the future and continuing to create an environment where all associates can see themselves and thrive.
As CHRO, Vinita is responsible for the company's overall people strategy, including talent and acquisition, diversity, equity and inclusion, benefits and compensation, associate wellbeing and safety, talent management and development, organizational effectiveness and more. Today, Nationwide is stronger than ever, providing stability and confidence for its members and partners.
Nationwide, a Fortune 100 company, is based in Columbus, Ohio and is one of the largest and strongest diversified insurance and financial services organizations in the United States. It provides a full range of insurance and financial services products, including auto, business, homeowners, farm and life insurance; public and private sector retirement plans, annuities and mutual funds; excess & surplus, specialty, and surety; pet, motorcycle and boat insurance.
Nationwide has been in business for over 95 years and built a reputation as a "company that cares." According to Vinita, they are guided by their North star, "We value people." The company's goal is to create a world-class working environment that fosters collaboration, caring, belonging and makes everyone feel valued and empowered to do their best work.
For Vinita, the values and company mission, "To protect people, businesses and futures with extraordinary care," are at the forefront of all she and her team do. "We have done a tremendous amount of work to ensure those nine words are easy to understand, resonate with all people and are kept at the center of everything we do so our associates can connect with our purpose," she says.
Additionally, she and her team worked diligently over the past year to simplify the company's values so that every associate can understand and live them.
To sum it up, Nationwide is a great fit for Vinita as a leader.
Leadership in Service to Others
Vinita is an inspiration to those who are considering career journeys that may not be linear, as she hasn't always been in human resources. She began her professional career in sales and made a choice to change her career to follow her passion.
When she was promoted from individual contributor to sales leader, her new role prompted her to understand the importance of motivating people to achieve results. During conversations with team members, she would ask questions to help her understand more about what motivated her associates. The discussions were a great way to develop relationships and trust. "Once I started to understand their reasons and passions, we were able to start excelling as a team," she adds. "This was when I realized I wanted to become more of an advocate for people and I knew HR was more in line with my passion."
Her decision and belief in her purpose paid off. As a catalyst for change, she is known for her empathetic, passionate, transparent and authentic leadership style, which allows her to make a huge impact because people trust and believe in her.
Vinita's career is a testament to her belief that challenges make one stronger. Taking risks and accepting stretch assignments built additional strength and capabilities. "Development is not always easy," Vinita points out.
In the process of facing challenges, Vinita discovered the value of having the right support system – mentors, sponsors and leaders who supported her throughout her journey. "Any time you take on something new, it's important to have the right support system, it makes all the difference," she says.
For Vinita, success is a journey versus a destination. She feels successful when she has opportunities to challenge herself and accomplish her goals. She measures her success in her ability to help and influence others. "I'm at my best when I've been able to help create a better situation for others," says Vinita.
And that she has. Focused on culture and taking a long-term view of what's important to the company, its customers and employees, she has helped create a workplace where each associate can thrive. She is passionate about helping associates and leaders reach their potential through mentorship, formal programs and everyday opportunities.
Her exemplary leadership also stands out based on her admirable record of accomplishment and influence while working to better the community and serve others. Vinita actively pursues her passions in the community by supporting programs focused on arts, contributing to her being recognized as a trailblazer by Smart Business Columbus, by Savoy as one of the Most Influential Black Executives in Corporate America and others. She is a member of the Executive Leadership Council and the Senior HR Executives Council. She serves as board trustee for the Columbus Symphony Orchestra, the Columbus Urban League and the African American Leadership Academy. She also serves on the advisory boards for Catalyst, The Ohio State University Fisher Leadership Initiative Corporate Advisory Council, Nationwide Children's Hospital On Our Sleeves advisory council and previously, the Ohio Foundation for Independent Colleges.
So with all of this, how does she maintain balance? "Mindfulness is very important and essential for me. Through my faith, I live a life of gratitude which enables me to stay calm and keep things in perspective," Vinita says.
A Changing Landscape
Over the past year, Nationwide, like other companies, has continuously been faced with unprecedented challenges. Vinita and her team, working with their CEO Kirt Walker, have guided the organization through these challenges. "We've been able to provide effective ongoing support for our associates," Vinita says. They have also handled challenges such as regulatory changes, continued societal, economic, and political issues, and talent trends such as the great resignation, great attraction and now concerns of a recession.
With employees reflecting on what's most important to them and their families, along with a more competitive workforce landscape, Vinita is focused on driving initiatives that will help the company thrive in this changing landscape. These initiatives are evolving and enhancing Nationwide's inclusive culture by redesigning the associate experience to meet the changing needs of the workforce, acquiring and retaining top talent, preparing the workforce for the future and driving operational excellence. "Many are looking for workplace flexibility, a better cultural fit, greater financial incentives and benefits that help them take care of themselves and their families, while working for a company where their careers can flourish," she adds.
For Vinita, investing in associates is a top priority as they innovate for the future. Nationwide's Future of Work Center provides associates with the opportunity to grow the skills needed for whatever comes next. The focus of this initiative is on key technology and future skills, and learning paths that enable an employee to lead, innovate and adapt as well as gain digital competencies to help drive the business forward.
Additionally, in 2021, Vinita's vision and leadership combined the company's Diversity, Equity and Inclusion (DEI) and Talent Acquisition offices, which has proven to be a best practice to hire great talent for the organization. "We're also using innovative ways to recruit," Vinita says. These practices include LinkedIn Live, strengthening strategic partnerships, apprenticeships and internships.
What's Next?
Nationwide knows engaged associates create a better experience for its customers. Vinita points out that listening to associates will remain the most essential element of her people strategy. She intends to continue to focus on key strategic differentiators for the workforce, including innovative and creative ways for building a workplace where people can thrive and do their best work every day.
"We are focused on equipping leaders with the capability they need to be successful not only today, but tomorrow," Vinita says. "We will deliver an integrated talent experience that will continue our journey to evolve a talent platform that empowers associates to grow and develop their careers, making Nationwide a career destination for all."
Message to Aspiring HR Leaders
In her message to aspiring HR leaders, Vinita encourages them to "always put people first" and that includes "taking care of themselves." She adds: "Nationwide's number one value, 'We value people,' has served us, our associates, and customers extremely well."