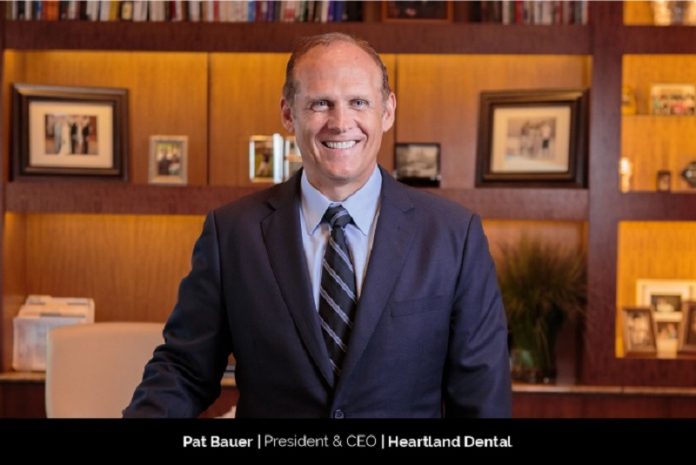 Pat Bauer dreamed of leading a company since he was a child. He also wished to follow his father's footsteps into healthcare. He dared to dream big, and today, he is living his dream as President and CEO of Heartland Dental, the nation's largest dental support organization providing non-clinical, administrative support services to dentists in over 1,400 locations.
At Heartland Dental, Pat is responsible for the oversight and management of all its operations and day-to-day functions. He is also passionate about promoting both personal and professional growth that stretches beyond his daily duties. Pat's daily work routine includes a whole lot of listening and talking to people, and he spends quite a lot of time doing that. Once, when his children were younger, he brought them to the Heartland Support Office for 'Take Your Kids to Work Day.' Later, when they were asked how it was, they replied, "Dad just talks to people all day."
It is, however, not the case of: all talk and no time to ponder or action. "It's important for me, as a leader, to spend the time that I do, connecting with people, but I also proactively carve out time to think! That's also important," Pat says.
Starts the Day with Positivity   
Pat radiates positivity and true enjoyment of his work. Every morning, before officially starting his day, he writes down, "I am positive." And he loves what he does. His wife often tells people, "If you're not happy with your job, don't talk to Pat, because he really loves his."
From Working at a Gas Station to Heartland Dental
Growing up, Pat knew he wanted to work in the healthcare sector as he saw his father working in the industry. He was the president of an ambulance company. Pat gained early experience working with people when he was an assistant manager at a gas station at the age of 17. "This early work experience in customer service ultimately set me up for success. The lessons I learned in that role have continued with me to this day," he says. Pat's first job out of college was as a Junior Accountant. While he did not enjoy the work much, it was in this role that Pat was first recognized for his kindness as a leader.
Ultimately, he got into the dental industry because the right opportunity came up when he was looking for a job. "Now, 30+ years later, I am still growing my career in this industry," says Pat.
Pat joined Heartland Dental in April of 1997 after working at Metro Dental Care for nine and half years. His time at Metro Dental Care was focused on operations and culminated in the Chief Operating Officer role. Pat met Dr. Rick Workman, Heartland's founder and executive chairman, in 1995 and made the decision to join the Heartland Dental team a few years later as the Chief Operating Officer, later moving into the Chief Executive Officer role.
A very pleasant and happy leader, Pat is known for being nice to everyone. He has become a role model to his team, by living the values. "I set the tone at the top," he says. "And, when team members and supported doctors see that from myself and our Executive Team, they realize the expectation to live the values is a reality."
Pat highlights that people are motivated to deliver the best service when they truly believe their work makes a difference and if they are challenged.
Recognition as Leader
Pat has been recognized as an exemplary leader multiple times – both internally and externally. In June of 2019, Pat won the annual Glassdoor Employees' Choice Award, which recognizes the Top CEOs that employees love working for in countries throughout North America and parts of Europe. Among the 900,000 companies and CEOs reviewed on Glassdoor, one of the world's largest job and recruiting sites, Bauer had received an impressive approval rating of 92 percent.
For Pat, two moments stand out above all else when it comes to receiving recognition as a leader.
One of the moments that come to his mind is when he was six months into his job as the Junior Accountant. At the time, a new employee had joined the company and he offered to take her to lunch. "Shortly thereafter, my manager came to me and told me that she had promoted me to supervisor," Pat says, recalling the first time when he felt recognized as a leader. When Pat asked his manager, "why," she replied, "because managers are nice to people, and we need more of that."
The other moment was during his tenure at Heartland Dental when Dr. Workman said to him, "Pat, why don't you just be the CEO of Heartland. You're already doing the job."
Largest Dental Support Organization 
Heartland Dental supports over 2,300 dentists in more than 1,400 dental offices across 38 states. Dr. Workman had a vision early on to enable dentists to be the best they could be without distractions. "By providing world-class support and services to our customers – the doctors we support – they, in turn, are better equipped to provide the best dental care to their customers – the patients," Pat says. "This relationship paired with Heartland's doctor-led culture and business model transforms and redefines dental care."
Everyone plays a key role to make Heartland Dental successful. From executives to supported doctors and team members, everyone wants to help each other be successful. "At the same time, we keep one another accountable – from the top of the organization to our supported practices," Pat says. "When living your core values starts at the top, it trickles down through the organization."
Right Time, Right Partners, and Right Innovation 
Heartland Dental also focuses on research to stay informed of trends and inform the evolution of Heartland's support services. Pat shares that they dedicate time and attention to researching and discussing the external environment, with a focus on key environmental factors, from customers and competitors, to economic, legal, regulatory, technological, labor, resource, and global factors that may impact the support they provide to doctors.
"We also spend time in supported dental offices and in the industry to stay abreast of advances across the industry," Pat adds. "With this knowledge, we are able to look ahead and not just react."
Heartland Dental wants to be on the cutting edge with advances in dentistry opportunities for supported doctors and grow in such a way that improves the way they provide support to doctors. "For us, it's all about the right time, the right partner, and the right innovations," Pat says, adding that they want to engage in thoughtful partnerships and implement proven advances when they are ready for their supported doctors to help them be their best.
Future Plan for Heartland Dental
Heartland Dental is aiming to support 5,000 highly-satisfied doctors by 2025. Pat is confident they will achieve this goal by living their vision, mission, and core values.
"We attribute the success of our growing network to our knowledge of how to support one dentist really well," Pat says. I don't see why we can't keep expanding our reach and helping more doctors serve more communities."
And Pat believes from the bottom of his heart that dentists are better with Heartland Dental's support than they are on their own.
Integration of Healthcare and Dental Care
 Both dental and health care industries continue to evolve, to best meet the needs of patients. Pat, however, points out that despite the significant evidence on the connection between oral health and overall health, they have yet to integrate healthcare with dental care. He can now see advances in this direction. "But, I think this is one of the most important advances that lie ahead of us in health care," Pat adds.
Challenges Are Opportunities
Pat is a certified instructor for the Advanced Achievement Leadership program with Dr. Gerald Bell at the University of North Carolina. He follows Dr. Gerald Bell's 100 Problems a Day Theory, which says that everyone will experience 100 problems a day – from smallest to severe.
"No matter how many challenges you overcome, there are going to be more waiting for you around the corner," Pat says. "But there is a difference in surviving and thriving when managing a challenge." And he prefers to thrive when faced with a challenge.
Pat looks at challenges as opportunities to rethink the current ways of working and create a solution. "Challenges make us all stronger, and if we can teach people to solve problems, our people will be more agile and innovative," he says.
Balance in Personal and Professional Life 
Balance does not have one definition in Pat's dictionary, but he believes achieving balance across your personal and professional priorities is critical. He says that balance is personally defined. "It means something different for each of us, that's why as individuals we have to understand what balance looks like."
Pat attributes his personal and professional balance to his strong support system and considers himself really fortunate to have a great wife. "We support one another through and through, and we both make sacrifices to have the best life we can have together," he says.
Success and Personal Goals
Success is another thing that Pat believes has no uniform definition. "It is what you determine it to be for you," he says. "It looks different for every one of us." But, he adds that it is important to have a system in order to accomplish success as you define it.
Pat shared that he is a big advocate of writing down goals. "Simply put, writing goals works," he says. "Goals help us focus our attention and plan a path forward that leads to the success we want to achieve."
Pat's passion for goals is reflected in Heartland Dental's annual processes. Every year, supported doctors team members, and executives write down their top ten individual personal goals. These goals help everyone chart a path forward. "For me, every year one of my goals is focused on work, and is the benchmark is always to be the best CEO in healthcare that I can be," Pat shares. "When I was a COO, it was to be the best COO I could be."